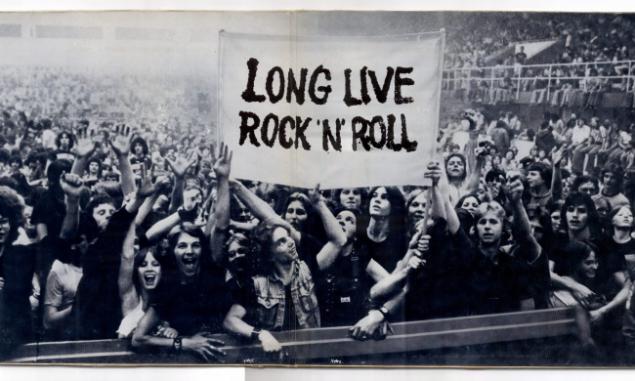 Website, dancing, the World Day of Rock-n-rolla.Rok 'n' roll, the main world music '50s, appearing on the dance floors and radio, instantly blew relatively quiet swamp then prevailing rhythm and blues, country and others. In concert, the audience finally started to get up from their chairs and arrange a frenzied dance, the girls first started to scream and recognized heroes in love, but the musicians themselves - to move on stage. And it is not as if they have the whole body in a cast, but openly, freely and, according to the hypocrites in general, even indecent.
Rock 'n' roll - is the joy of life in its purest form. This youth, vigor and happiness. Let's take off the headphones, turn up the volume on the speakers and vdarit of rock 'n' roll!
Bill Haley & His Comets - Rock Around The Clock
Iconic song of the era of rock 'n' roll - it was crucial that the people en masse began to sit down on the music, and finally became desperate to hang out at the concerts, not just sit on a chair, folding handles on the knees.
And not the last value in this had the charisma of Bill Haley, who would have looked like a salon manager for the sale of used vehicles, if not Freaky twirl on his forehead, from which the girls went crazy.
Chubby Checker - Let's Twist Again
The song from which the legs begin to move as it should be - if extinguish cigarette butts, remember, yes? - Even in children. Most organic traffic for this composition full of cartoonish voice Chubby Checker.
Chuck Berry - You Never Can Tell
Chuck Berry wrote this song, when in jail, which came almost by accident. Song of the wedding of young people appears in the legendary scene from "Pulp Fiction" with John Travolta and Uma Thurman. You know how to dance.
Little Richard - Good Golly Miss Molly
If you ever saw Little Richard, you should not have any questions about why Valery Leontiev looks, and not otherwise. Almost complete copy except for contribution to world music, of course. Little Richard was engaged in rock 'n' roll just a few years, then hit his head in church music (what a transition it?), But managed to keep a great and deep impression.
Little Richard - Tutti Frutti
Without this song, even though we tried to put no more than one song from one hero era of rock 'n' roll (except Elvis, of course), our material can not be called though a little inadequate.
"Ouham-of BAM-Lum-ba-lam-bang-bang," if you know what we are.
Chuck Berry - Johnny B. Goode
"I guess you guys are not ready for this ... but your kids will like it." Remember this place from the movie "Back to the Future"? A funny homage to the creators of the creators of the movie incendiary music in its history.
But this song, written in 1955, ranked first in the ranking of Rolling Stone of the 100 greatest guitar songs of all time.
James Brown - I Feel Good
If you meet one day a man who has not lifted the mood of this tremendous emotional track, issue him the title "of a dull dull" and a sympathetic pat on the head. Hymn of joy from the fact that a loved one nearby, has a magical effect on everyone. If you are not dancing while listening to this collection, get up and go to dance immediately.
Bo Diddley - I'm A Man
Bo Diddley is famous for several things: first, for his twenty-minute speech he managed to tear 4-5 string guitar, and secondly, garage rock and other similar trends appeared in our music thanks to Bo and his peculiar bat.
He loved music and Beatles Rolling Stones, Aerosmith, psychedelia and even punk. And we like it.
Ray Charles - Hit The Road Jack
Incredible song scandal, in which a woman needs from a man, so that he immediately gathered his things and left her forever, and the man asks her, "Cho said you ?!", accused of brutality and promises revenge. It is worth it to get to you at the hearing, and you will not soon get rid of it.
Interestingly, the female vocal belongs to the civil wife of Ray Charles and mother of his child.
Fats Domino - The Fat Man
The first single of one of the first black rock and rollers claims to be the first rock and roll song in the world in general. And Fats Domino still alive, relatively alert and miraculously survived the hurricane "Katrina" in New Orleans.
Carl Perkins - Matchbox
Song of the "bad" guy with no prospects and an empty matchbox is not a major hit ancestor rockabilly. But because historically, that most famous song Perkins - «Blue Suede Shoes» - know more not performed by the author and by his countryman Elvis Presley. His second hit - both rhythmic and relaxed «Matchbox» damn good and just like music, and as evidence of the origin of the new rock 'n' roll sub genre.
Jerry Lee Lewis - Great Ball Of Fire
Jerry Lee Lewis is best known for the fact that occasionally connects to the piano at the head and feet; that married the 13-year-old great-niece; that love to wave a gun and once wounded his musician; and, of course, a masterpiece of rock and roll songs. Being almost 80 years old, he still writes and gives concerts.
Buddy Holly - Peggy Sue
Buddy Holly died in a plane crash when he was only 22 years old, and rock 'n' roll was the main thing in his life only three years, but it was and is considered one of the main creative forces in this genre. 13 on the list of "50 greatest artists of all time," confirms this.
Little Richard - Long Tall Sally
Without this it is impossible to imagine the song collection of rock 'n' roll. Just forget everything and dance for fun.
Creedence Clearwater Revival - Travelin 'Band
This song came out in 1970 and too reminiscent of Good Golly Miss Molly Little Richard, but rights holders were able to come to an amicable agreement. Therefore, it is still popular, and appears in the film, television and games.
Elvis Presley - Blue Suede Shoes
Perkins just once heard a man utters his clumsy girl who stepped on his gorgeous shoes. The next morning, the song was ready. A few years later she was found a sign. And in 1986 «Blue Suede Shoes» entered into the Grammy Hall of Fame.
Elvis Presley - Hound Dog
This song gave a decent and well-mannered guy from Mississippi image of a rebel and popiratelya standards. It was under her, he first started to perform all of these indecent, but such sensual and emotional wiggle on stage, on which once shook the whole of the Puritan America. Presley said that his upset in this way, but nevertheless did not stop to dance, and that is how he is remembered.
Elvis Presley - Can not Help Falling In Love
And to finish, we offer symbolic. The same song - did not rock 'n' roll tempo - which for eight years, King ended all his speeches. Lyrical ballad "I can not help but fall in love with it" from the movie "Blue Hawaii" in the end of the concert was another hallmark of Presley. Under the final drumbeat Elvis hurriedly ran away from the scene, and after half a minute Vegas-entertainer announced in a stentorian voice: "Ladies and gentlemen! Elvis has just left the building ».
Ladies and Gentlemen! Rock and roll has just left the building!
Also listen to:

Post beautiful French music
The great jazz standards
Solar Music Brazil
Divine arias




via www.adme.ru/vdohnovenie-919705/bozhestvennye-opernye-arii-470605/