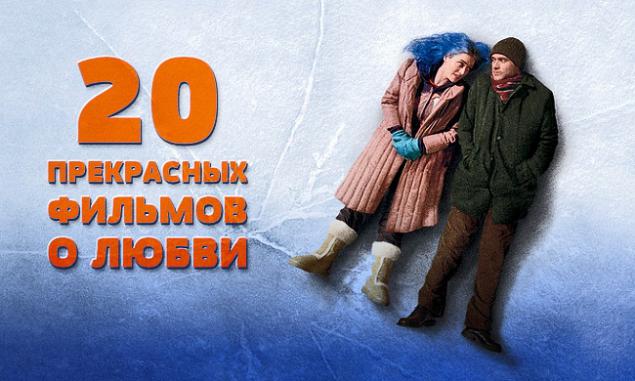 Talking about love is never easy, and even harder to make films about love - too thin line between sensuality and sugary, tragedy and drama. Like a painter, you need to carefully and harmoniously mix paint and apply finishing touches, playing with the light, gently and harmoniously to pave the way to the depths of human feelings.
Website gathered in this post are films about love, which has won the love of the audience: they look and revise cite and listen soundtracks from them.


Ghost / Ghost h3>






Life and death seem incompatible poles, but in the movie "Ghost" they are very close to each other - and to blame the love. So nice to portray her in the frame fails a little. Feelings of the protagonists, Molly and Sam believe the same as their own, if it is we're burning with emotion, to burn through. For this Patrick Swayze, Demi Moore and Whoopi Goldberg kowtow.




Titanic / Titanic h3>






"Titanic" ... One reminder of this film is enough to skin crawl. It is not just the story of the collapse of the unsinkable ship, is the story of a fragile and vulnerable first love against the backdrop of the terrible catastrophe of human scale. She shared the cinema into two parts: before the "Titanic" and after. Because either before or after the movie did not have scenes in the film, which would be on the scale of touching and could surpass the first kiss of Jack and Rose on the bow of the giant ship.




Roman Holiday / Roman Holiday h3>






In the wonderful "Roman Holiday" there is simply no term "life." This is a film for all time and for all, and there is hardly a man who would remain unconquered beautiful Audrey Hepburn, Gregory Peck impressive, eternal Rome, the light of love, excellent humor and sad drama. In "Roman Holiday" is all that a person needs to open new facets of love, freely and naturally.


Eternal Sunshine of the Spotless Mind /
Eternal Sunshine of the Spotless Mind h3>






You can erase from the memory of love. Discarded from the heart - that's another story. Directed by Michel Gondry, the wizard in the picture is very clear and unique to his manner showed that in life you can not just like on the keyboard, press delete. In this he was helped by a terrific cast, and especially Jim Carrey and Kate Winslet.




Amelie / Le Fabuleux destin d'Amélie Poulain h3>





Amelie dreamer finds in her bathroom with a cache of old toys and lights up the idea to return the "treasure" rightful owner. This act of kindness changes the life of a girl, and the heroine begins to "interfere" in the lives of other people in unexpected ways. The film turned our life, too, but without the delightful music composer Jan Tiersen is impossible to imagine Paris.




Dirty Dancing / Dirty Dancing h3>





Romantic love story, dance, strong friendship and love again .... The "Dirty Dancing", this is the atmosphere of the film is passed through a screen and draws a fascinating, and certainly every girl after watching the film wants to learn to dance as well. And love.




Before dawn / Before Sunrise h3>





You probably know this feeling of butterflies in your stomach when you fall in love. The painting "Before the Dawn" it is this: close, sincere. Universe characters in the film, Jesse and Celine lasted all day, but hell for him to live, you can not just go and miss, but, alas, continue. It is the dream of every man, embodied on the screen thanks to Richard Linklater. And let everyone in your life will be one such day.




P.S. I love you / P.S. I Love You h3>





«P.S. I love you "is not just another slezovyzhimalka. It's a smart and good movie, talking to the audience in a language they understand, but on the topics that we are able to perceive only with the heart. We see how fragile is what it looked like yesterday indestructible and eternal. And we see that love does not need a lot of beautiful words ... Need only three.




You can not dream h3>





Wonderful, amazing and beautiful film about love Soviet schoolchildren Katie and Roma. Thanks to him, we can get a feel for what it is - wait for the letter next to a mailbox, mail order negotiations, to live without SMS, mobile phones and e-mail, and only listen to the voice of a loved one and pereslushivat on the tape with "reels».




Real Love / Love Actually h3>





"Love is all around us. It is real everywhere, "- these words begins the film, and it seems that you can watch it a hundred times, and it still will not get bored. In love with his housekeeper writer, an aging rock star, bored prime minister, a widower, porn actors - all the heroes of the film have witnessed something very important. Yes, we exaggerated, but it does not happen in life. But this movie is a dream, so cynics please do not disturb.




Bear's Kiss h3>





The film blowing in a different reality. Sergei Bodrov was able to create a story, but what realistic - and fantasy entwined in her life into one big ball. The history, the atmosphere, acting, amazing unforgettable music, the eyes of Sergei Bodrov Jr., both animal and human, the smile of the protagonist with a mixture of hope, pain and love - all this makes you forget about the world and immerse themselves in a beautiful and sad tale of love which eventually overcomes all obstacles.




Legends of the Fall / Legends of the Fall h3>





This is one of those movies that, after the final scene does not end, but remain with us forever. It is so amazing shot, and the history of it so ably played by all, without exception, the actors that even knowing all the dialogue in advance, looking him in the thirtieth or one hundred and sixth time, we are still experiencing the same as the day when they saw him for the first time . Because the "Legends of the Fall" - a story of real people that we live all the 133 minutes of the film.




Romeo and Juliet / Romeo and Juliet h3>





Great film adaptation of the great novel by William Shakespeare. Perfect if Romeo came down from book pages, holding the arm of her lover, a young beauty Juliet. Verona in the film so vivid and so sunny. All at the same time young and old as the feeling of love, which can not be together. And, of course, music ... magical music Nino Rota.




Office Romance h3>





"Office Romance" - one of those movies that you want to watch again and again, and each time it will be interesting and funny. Lovely and favorite actors, who created charismatic images, replicas, has long entered into use, enchanting music and poetry, vivid pictures of the fall of the city of a bygone era ... This movie - treasure.




Fountain / The Fountain h3>





The three stories in three different periods of time, the history of selflessness in the sense of one man. And every story can be awarded a single film, and each story should be awarded the "Oscar" - even if only for his sincerity, even if only for love.




The Lake House / The Lake House h3>





A film about the love between two people who share a distance. But it is not calculated in kilometers, not the city, and time. The original story is removed is simple, but beautiful, and awesome music so subtly intertwined with the image that they become one. Therefore, the film "The Lake House" was very gentle, romantic, sensual and catchy.




One Day / One Day h3>





This hymn to light feelings, romance anthem impregnated with the smell of old books, green grass and rolls, the singing of the wind, laughter, smiles and sincerity of life itself - so we would describe this picture. Creative, touches the soul, incredibly bright ribbon. Movies about life. A beautiful fairy tale. But that's life itself is much more ugly. But that's another story.




Gone with the Wind / Gone with the Wind h3>





There are good movies, but there is simply a masterpiece, and that these include the film "Gone with the Wind." You can always revise and each time find for yourself something new in this incredible story of a strong spirit of a woman who was not like the others and cope with these blows of fate, with whom I can not cope even some men.




9 and a half weeks / Nine 1/2 Weeks h3>





The film, which is a must see at least once in their lives. View for young Mickey Rourke, Kim Basinger fascinating and all-consuming passion. It is stronger than reason and intellect. Stronger thought, fear, hatred, and, yes, it is stronger than love. Suppose for a moment, for a moment, or a 9 and a half weeks, but most of all in this world.




Vanilla Sky / Vanilla Sky h3>





The film tells about true love. Erupted suddenly, but has become a hero for the most important thing in life. It is not the way you envision it. For it is possible to dispense with reality. But then love will be treacherous puzzle of consciousness, from which the only way out - is to open your eyes.




Valentine / Blue Valentine h3>





It's a crazy film, cold to shiver, the real, as the weather outside. And it's about love. Dean (Ryan Gosling) and Cindy (Michelle Williams), "bathed" in it, but after a while they are fed up with their feelings. Inexplicably, it was transformed into another and became a burden. But more importantly - whether the two will be able to keep the human family and to revive those fragile relationship of love and passion, which they were.




Inadequate People h3>





In this film there giperpopulyarnyh actors, expensive special effects. But there is something from which the Russian cinema we all have weaned - talent. Talented Roman Karimov, one works as a director, script installation and the music in his film. Talented actors have played a vital and believable "inappropriate" people. Therefore, love is in the film turned out just like in life - neither more nor less.



P.S. A film about love myriad. So, dear readers, share comments movies that impressed you. And we will draw up a new collection.

You will also enjoy our kinoposty:
20 films worth seeing all women
25 films c Christmas mood

via www.adme.ru/tvorchestvo-kino/25-filmov-kotorye-priblizyat-novogodnee-nastroenie-807160/