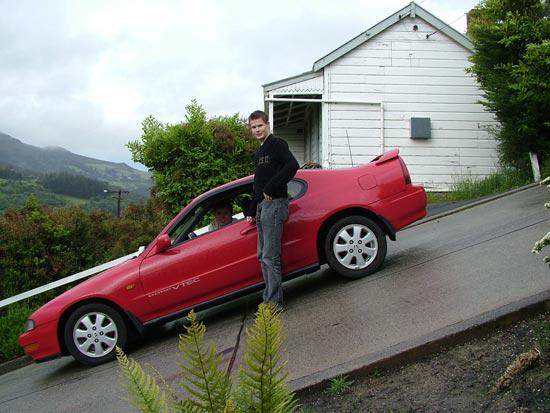 Baldwin Street - a street in the city of Dunedin in New Zealand. Street, listed in the Guinness Book of Records as the steepest street in the world. At 359 meters long street rises almost 80 meters. Thus, on the steepest segment 161, 2 meters it rises by 47, 22 meters, which creates a slope of 38 degrees.
Dunedin was founded in 1848. When building up the city, and there was the steepest street in the world. The steepness of the street was unintentional. As it was in many other parts of the city, and the whole of New Zealand as a whole, the streets were planned in London, with absolutely no regard for the relief.
Baldwin Street Project, as well as all Dunedin, was designed by Charles Kettle, completely unaware that the north-eastern part of Dunedin's not the most suitable terrain for paving roads. And only came to implement the project workers found that they are waiting for a little trouble.
As a result, the upper part of the street, a steep, had to cover the concrete, or in hot weather of the asphalt surface, located above, just be dripping down.
Baldwin Street is the venue for the annual event called «Baldwin Street Gutbuster». It is a race in which competing as quickly as possible is necessary first to run down the street from the bottom up and then from top to bottom.
Source:
www.billionnews.ru
via factroom.ru