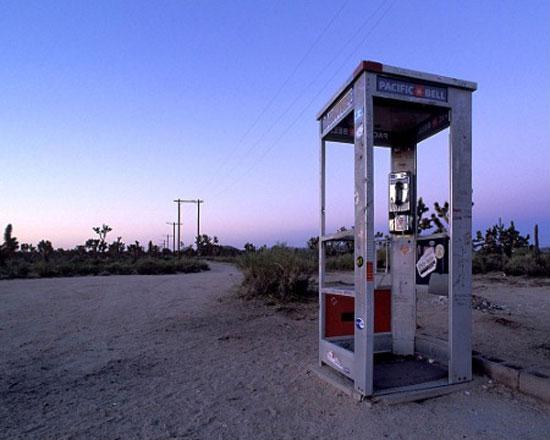 One of the most secluded booths in the world was installed in the Mojave Desert, California around 1960. Do this, geologists who carried out some work nearby. After diligent seekers ores gone, the current telephone booth inside (it went wires supported by a truly endless procession poles) remained in the sands. Lonely and forgotten. Initially, it was the number + 1-714-733-9969, later the code was changed to 619 and then to 760.
The real fame came to her much later. In 1997, a guy nicknamed Deuce learned about exotic booth and began to dial her number. Every morning when Deuce shaved, he saw in the mirror sticker Post-It, on which he wrote himself: "You forgot to call yesterday at a phone booth in the middle of the Mojave?" He did it for a whole month, until someone named Lauren did not answer the call.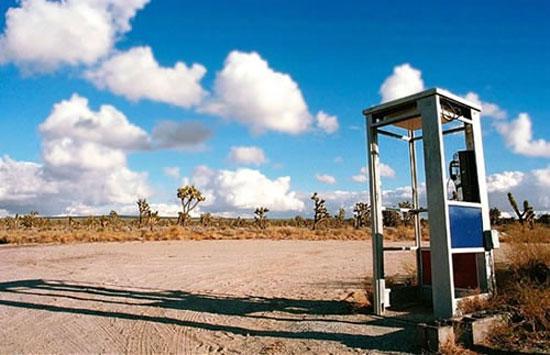 After he shared this experience on his website, booth in the Mojave quickly gained popularity. Fans booth phone calls, hoping that someone will answer, went to her to respond to calls and messages left on it, which is why over time shed covered with graffiti.
Booth standing at the intersection of dirt roads in the middle of the desert, has become a place of pilgrimage for people eager to communicate. It even began to hold rallies. Calls itself the booth did not stop because people are attracted to the opportunity to call "nowhere" and get an answer from a random person.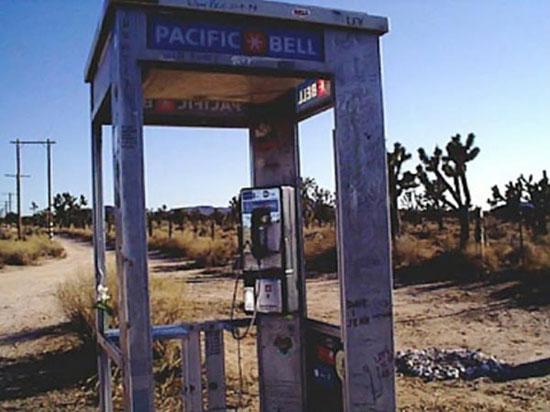 Booth was dismantled 17 May 2000 at the request of the company PacificBell US National Park Service, which is on the balance of the Mojave Preserve. In accordance with the policy PacificBell room was permanently turned off.
The official reason was the undesirable environmental effects of large numbers of visitors. Fans was a memorial plaque, which was also removed by the National Park.
On motives of the history of the telephone booth was filmed "Mojave Phone Booth».
Source:
www.deuceofclubs.com
and ru.wikipedia.org
Fact Sergej Galushkin
via factroom.ru