Heroic dog breed boxer by the name of Carmen is struggling to recover after his attempt to save a life in a fire.
The researchers have not yet established why lit basement of the house in a suburb of Cincinnati. But when firefighters arrived, Carmen lay on the face of his master Ben, who was unconscious on the floor.
So, at the risk of his own life, the dog tried to save the man. Now the animal to be no less difficult struggle - but this time in his life.
33-year-old Ben Ledford died a short time later in hospital.
According to veterinarians, the animal's condition improved slightly since admission to hospital, but everything is still unstable. Carmen is breathing with the help of the ventilator, her eyes red with smoke and damaged lungs. It is very difficult, but the animal is kept for his life and continues to fight.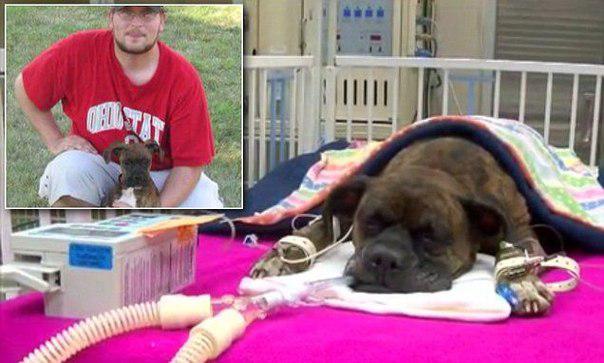 family of the deceased organized a fundraiser for the treatment of Carmen. Overall, they have donated $ 4500, which will be used to pay the bills from the clinic, where the dog is. On the page of the site CrowdRise, where it was reported fundraising, native Ben Ledford sincerely grateful to everyone who helped their pet, and promise to keep up to date with any news about the health of Carmen.
Hopefully, the heroic animal will soon go on the amendment. After Carmen deserves all the best for his selfless act. Incredible devotion dog strikes to the core. These animals - real friends of man.
www.youtube.com/watch?v=OuwmXv8kXAM