Earlier in the places where there were dense forests, people built the road. However, migratory animals often cross the roads. Wild beasts that go on the roadway, can cause a lot of problems. If the animal is large enough, then the random collision of the car with him, may suffer both sides. Even small animals could cause serious road accidents and cause considerable financial damage. Every day on the roads of the United States killed about one million animals.
How to solve this problem? You can not put a huge fences and make the animals spend my life on only one side of the highway. Nature designed so that the animals from time to time need to change the place of deployment. They are looking for the best climate for yourself, new places with large stocks of food and fresh water. Therefore, we decided to put into practice the idea of ​​building an animal bridges and tunnels. According to him animals can move about freely without risk of being shot down.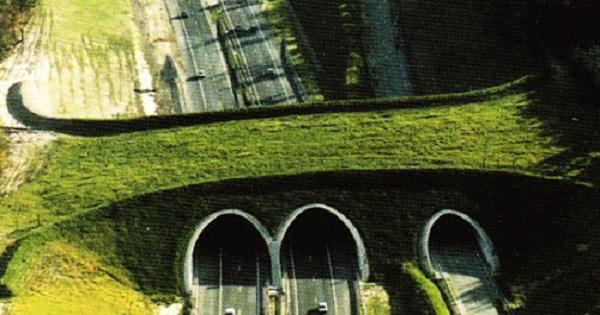 Bridges does not provide for the establishment of normal concrete transition and the continuation of this forest, the animals are in a natural environment for themselves. However, the video can be seen that the transition for some species of animals across the bridge - it's not an easy thing. Also, to achieve a positive result requires thousands of such bridges. The construction process is already under way in many countries ...
Regardless of how many bridges to be built, some species still will not be able to save from the collision with the car. Let's face it, how many times you are knocked the bird while driving? Also, the question remains how to get the animals to cross the road is specially created for them by the bridge? We do not all people crossing the road at pedestrian crossings ...
Share this interesting article with your friends, maybe some of them will want to create something like that, and in our country!
www.iflscience.com/technology/art-building-animal-bridges#overlay-context=