Today released the first body avtovazovskoy novelty - sedan Lada Vesta. It will be painted white. Thus, the start of the project Lada Vesta will take place in accordance with the planned schedule. That there are plans to release the first car factory workers September 25, 2015 remain unchanged.
Source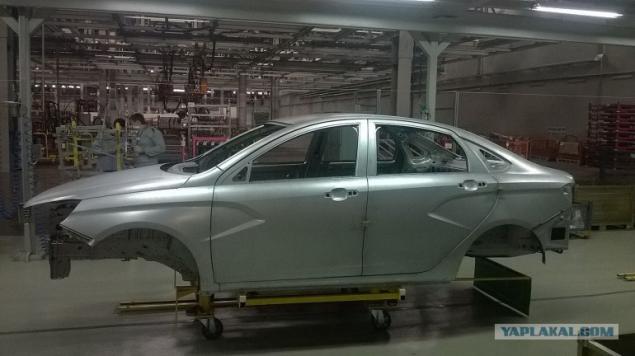 Began production of a pilot lot sedan "Lada Vesta" in Izhevsk. Today is the first body of new items painted in white ("ice" nemetallik). Thus, according to the head of the enterprise Bo Andersson, project models developed in accordance with the schedule, and the first car to be released according to the schedule - September 25, 2015. Body Lada Vesta developed a method of mathematical design - on digital model are configured and the line of welding and painting. It can count on the high quality of production.
Project Director Lada Vesta Christina Dubinin said that the pilot body is made entirely - welded frame, installed hanging nodes. Part of the nodes of the first body were delivered from Togliatti. This is a good result due to teamwork and AvtoVAZ Izhevsk car. After welding, the body will go into Paint Shop, which already have been carried out preparatory work on the lines of anticorrosion coatings and robotic paint finishes.
Over time, the Lada Vesta supplant the conveyor Lada Priora. Estimated volume of issuance of new items - up to 120 thousand cars a year..
Recently Bo Andersson, while on a visit to the company "Asia Auto" in Kazakhstan, said that 2016 will be a joint Russian-Kazakh joint venture for the production of models of AvtoVAZ, including Lada Vesta. Participation in the Volga car joint venture will be 25%. Half of the products will be sold in Russia.