AvtoVAZ President Bo Andersson showed the second official image of sedan Lada Vesta. Photographs of the interior of the car, he laid out in his Twitter. Judging by the pictures in the center console will Lada Vesta is a large multimedia display. Also worth noting Multifunction - he first appeared on the domestic models. In addition, the flagship of the Russian automobile industry is climate control and a brand new instrument panel with italics.
Source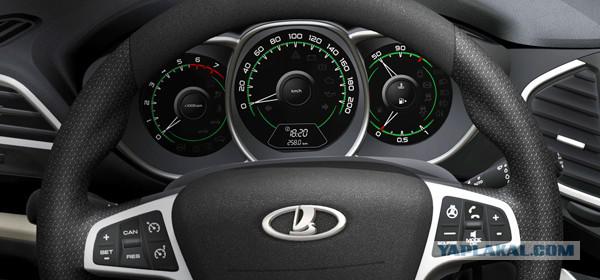 The first image Lada Vesta was demonstrated three weeks ago. This occurred during the presentation of Lada Granta liftbek in Kazan. Judging by the teaser, the novelty will be made in the style of another concept car AvtoVAZ - Lada XRAY. In particular, the car will be similar grille and head optics, which will get LED running lights. The debut of the car, recall, will be held at the motor show in Moscow in August, and the mass production model sent in September 2015.
According to Bo Andersson, the novelty will be the best in class interior and the best cost of ownership. «Lada Vesta restore pride in AvtoVAZ" - said the president of the company.
Lada Vesta succeed in the model number and the brand Priora car will be built on a new versatile platform Lada B. It is assumed that the novelty will appear at dealers in four trim levels. We already know that AvtoVAZ testing a new robotized transmission, which will be installed on the Lada Vesta. The new box will be made on the basis of the rope speed manual, which is now used on Kalina.
First information about the new model of the Russian producer came in February this year. About the company announced plans Boo Anderson at the conference dealers in Togliatti. At the factory has carried out the first stage of modernization of the assembly line at the main line. In September last year Photospies filmed novelty during road tests. The pictures were published in social networks. It was reported that already collected five pre cars.
Vesta - female name that is mentioned in the mythology of various peoples. In particular, the ancient Slavs. Name associated c hearth, coziness, spring and renewal of nature. "Specialists AvtoVAZ also took into account that the name is easy to remember and euphonious. New name for Lada cars designed with branding company BrandLab », - said at AvtoVAZ.