Musical comedy. USSR, Odessa Film Studio, 1983
Director: Vladimir Alenikov.
Cast: Egor Druzhinin, Dmitry Barkov, Inga Ilm, Alexander Lenkov, Alyosha Gusev, Maxim Polyansky, Light Protasenkova Andrei Kanev, Inna Alenikova et al.
And it all started with the "Jumble" where Vladimir Alenikov bent his steps with the aim of self-realization. By the time the children's comedy fiction remained almost the only place where he could make a film on the official start.
In view of the major causes of weight Alenikova long time could not break into the elite cohort of Soviet filmmakers. Therefore, their first three pictures he shot with his own money, which earns translations. Bought film in the back of the operators, assemble at night in the studio, paying guards ... Then came the idea to go to the newly opened magazine "Jumble". Gathering will in a fist, Alenikov turned to Alexander and Boris Grachevsky Khmelik.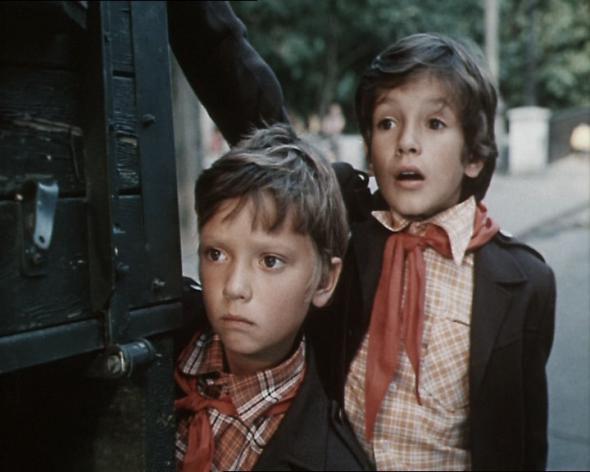 - Khmelik suggested he come up with some plot. The next day I came to him and showed me written thirty-eight stories. For me, it was not much of a problem. One time I was teaching at the school, was even acting director, so some experience I have attended.
Thus began a career in Alenikova "Jumble". Gradually, through the efforts of Vladimir Mikhailovich among other kinozhurnalnyh characters designate two are not burdened with unnecessary knowledge and strict discipline schoolboy - Petrov and Vasechkin. At first, their external and internal appearance spontaneously vary, but over the years, two little rascal acquired very specific features. Petrov - slightly chubby natured romantic Vasechkin - nimble and sneaky varmint. These savory character types just could not go unnoticed. They had to do something. And Alenikov did.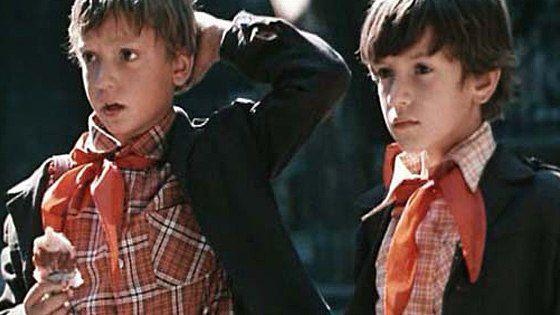 - I had a good school friend Peter Brandt. Petrov written off in the first place with him. A Vasechkin - a name of another boy from our school. While, on the other hand, Vasechkin - is likely to myself. In my youth I was very spirited and energetic. I constantly expelled from school - one, two, three ... The parents were horrified. I was very bored in class, so I'm endlessly engaged invention some adventures.
As it turned out, the proposal Odessa Film Studio to write a screenplay about Petrov and Vasechkina Alenikova received very timely. After the failure of his film "There was a customizer" with Rolan Bykov and Elena Sanaeva he realized that in Moscow the chance to get another statement he has virtually none. The more that do that for him it was not so difficult, as the stories about Petrov and Vasechkina accumulated about fifty.
For his first official feature film "The Adventures of Petrov and Vasechkina" Alenikov scored big team debutants. Much to the dismay of officials from the movie for the first time appeared on the screen liberated, independent and totally otvyaznye kids from another life.
I must say that in the search for children peresherstili all of Moscow, Kiev, Odessa and Leningrad. Passed through the hands of filmmakers around seven thousand children. In the end, the three of them found in Leningrad.
Vasechkina by chance, and not to pull, was the son of an old friend Vladimir Alenikova - choreographer tape and now theater director Vladislav Druzhinin. When, after passing all the tests, Yegor Druzhinin was cast, he asked the director: "A Petrov did you find? If not, I will give it to you now. " Indeed, Yegor was right. His friend Dima Barkov, with whom he sat at the same desk, was the ideal candidate for the role. No one else was no need to look for.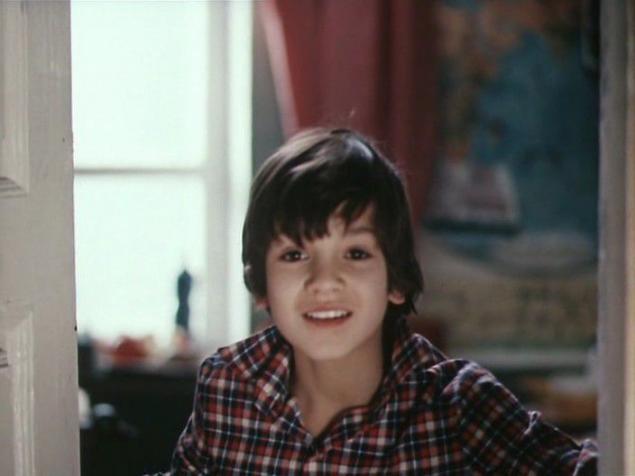 Played Masha Startsev Inga Ilm immediately conquered the whole crew. She came with her two saucers for eyes and reading the script, said: "You know, I think that's a very good touching love story, but it should be funny, because the children are still small." Finally, the question decided in her favor following the incident. Alenikov withdrew toward Petrov and Vasechkina, pointed to a group of girls standing nearby and asked, "Tell me honestly, who are the real Mary Startseva?" The boys said in chorus: "Inga". No more questions.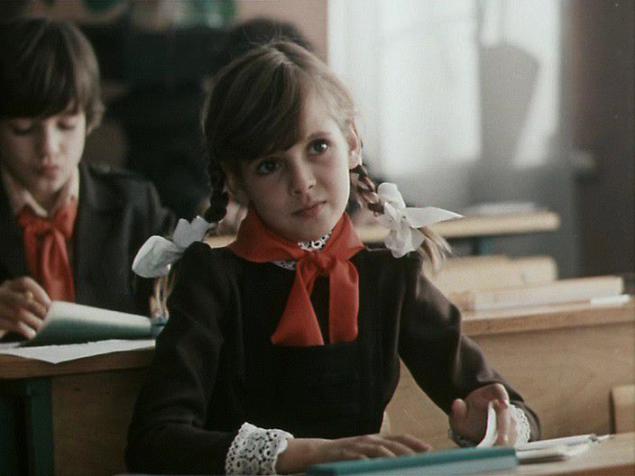 Besides children, the tape was filmed many great actors: Sophiko Chiaureli Yuri Medvedev, Lyudmila Ivanova ... French teacher and class teacher and Vasechkina Petrova played the first wife of Vladimir Alenikova Inna. Anatoly Kuznetsov played himself. Rather, the second time in his life, 12 years later, he again became Sukhov. To achieve an absolute resemblance to the hero of the "White Sun of the Desert" even had to track down "Lenfilm" his old Red Army tunic and fully restore the makeup.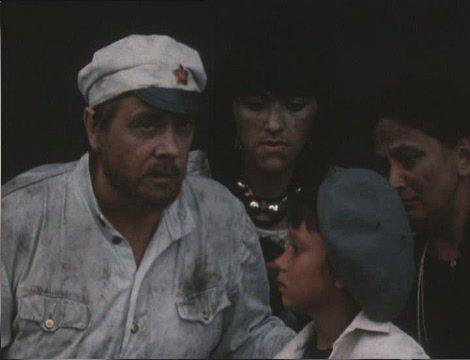 But the real problems were ahead. Perhaps now it is difficult to imagine that an innocent Aki turtle children's musical lain on the shelf State cinema for two years. We should have the logic of the then socialist foundations guardians to understand why the Soviet children was not recommended to get acquainted with the adventures of two gay boys and their girlfriends fighting.
The first act of the comedy was the visit to the director of television Alenikova association "Screen" Boris Hessini which was to give a "good" picture of freshly baked. To the surprise of the director, the film is not just accepted, not accepted with the scandal. Hessini slammed his fist on the table and said: "Here is this show we will not ever! This is not a music pioneer, pioneer plastic and not solid at all Americanisms. "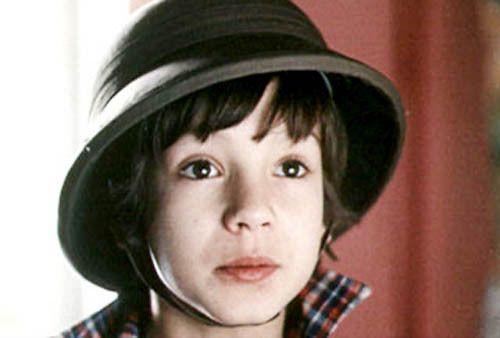 What do not understand is the fact that after the "closing" of a movie, Alenikova charged immediately remove the other, and about the same Petrov and Vasechkina. Despite the protests of the director, whose prospect of a lifetime to make films about the two bonehead not rejoice resolution boss was quite clear: "We must - then we must."
Thus arose the second masterpiece of the pioneer life - "Vacation of Petrov and Vasechkina." According to the scenario in the framework of two series of children's musical - "Hooligan" and "Knight" - went painfully familiar literary hits "Inspector" and "Don Quixote." The result came out absolutely incredible satire: pioneers in the role of officials, bribing, and chairman of the unit in the form of the mayor, shaking from fear of the authorities. Such desecration honor pioneering Soviet kinobossy could not withstand. The sentence was short but eloquent: "Thank you. Goodbye. " The film went on the shelf, and career Alenikova could be considered almost complete.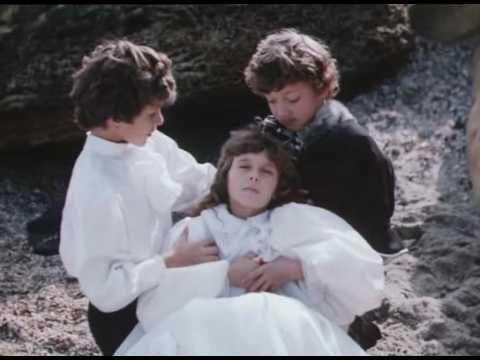 Nevertheless, while in Moscow, "Peter and Vasechkin" safely gathered dust in the bowels of the monstrous State cinema, Odessa studio at your own risk began to send both at various film festivals tape. As expected, funny stories made a lot of prizes in Kiev, Gijón and Bratislava. But in the capital Cerberus these achievements, apparently produced no effect. Plaintive requests of the latest people in the country - Natalia Sats, Dmitri Kabalevsky, Sergei Mikhalkov, Anatoly Alexina - with a request to allow the films to the screen remained unanswered.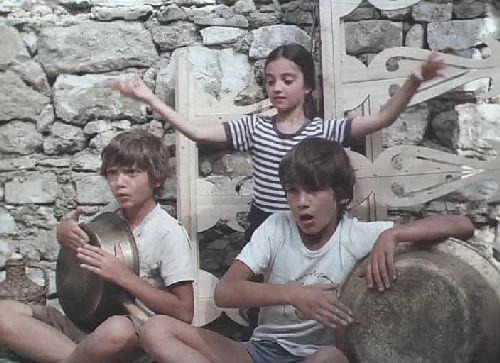 Alenikov decided to apply personally to the chairman of the Public Broadcaster Lapin.
 - I was surprisingly quickly joined him, and then took quite a remarkable conversation that I remember word for word for life. I explained Sergey Georgievich that wonderful children's films for some unknown reason, specifically that year are on the shelf. Wasted a lot of work and a lot of money. At that Lapin replied: "Well, my dear, what do you want? Films something very bad. Just terrible, impossible to watch. " On my desperate arguments about the success of the paintings at international festivals followed discouraging words: "So it's a capitalist festivals. They are specifically awarded to us to substitute. Do you at all, my dear, there's some other profession? No? It is a pity because in the movie you will not work anymore. All the best. " And hangs up.
As it turned out later, in the old Soviet tradition Lapin did not even think to look "Petrov and Vasechkina." But from its highest verdict was no less deadly. Looks like two wonderful boys, do not fit into the harsh ideological framework, was destined to remain in oblivion forever.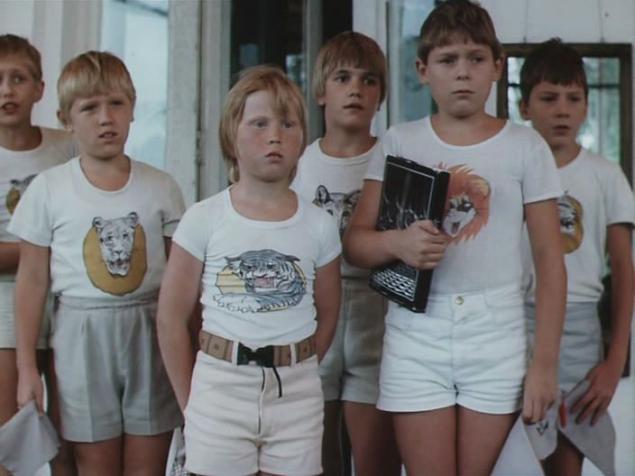 But despite the endless failures of the Alenikova its almost mythical struggle for the fate of his offspring, he left no hope for a better future. Began an exciting climax of the action, which in complication of the plot and reigning in his passion was able to beat any Hollywood blockbuster.
Good deal of thought, the director decided to appeal to the head of the party beloved Comrade Andropov. Above there was nobody. But how to get to the Secretary General? Alenikov remembered that, according to rumors, his daughter works in some Moscow music magazine. After a brief search with the telephone directory in the hands revealed that high-ranking lady serves edition of "Musical Life." Flushed with success, the director immediately sent to the editorial office, where he was their last hope in the face of Irina Y. Andropov.
 - Once I was faced with the secretary general's daughter, between us began a very remarkable conversation. There was nowhere to retreat further, so I immediately went on the attack: "Dear Irina, I am a director, took such musical movies. I would really like you to view them. Still, your music magazine. I greatly admire your publication and your talent, so it is very important to me, how you will respond. "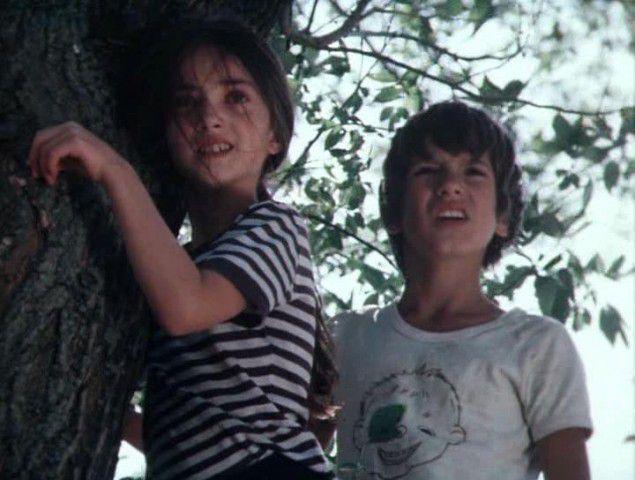 We talked an hour and a half, until Andropov did not surrender, "Okay. When? "It takes place on Friday, and we agree on Monday.
After such a terrific luck I felt master of the situation. He returned home and called the studio in a foster Director Boris Hessini and persistently asked to book the hall for Monday for five consecutive hours. Whereupon said his stellar phrase: "Family Andropov come watch my movies."
Then things began to evolve at lightning speed. On Saturday morning at eight o'clock in the apartment Alenikova rang. Director woke deputy chairman Lapin Stella Zhdanov. The most that neither is innocent voice she said that not to worry because of that, everything is great, and "Peter and Vasechkin" are already in terms of display. Alenikova Wishing all the best, she advised him to study a television program.
As he was, in his pajamas, dumbfounded director rushed to the mailbox, pulled out the newspaper "Pravda" and was surprised to find that on the following Saturday and Sunday scheduled premiere suffering tape. I think many people had great sweat Friday night in time to change all the plans and time to make appropriate changes to printing.
Due to this unexpected turn of events, the need for the highest viewing disappeared by itself. Andropov and Alenikov phoned, wished each other good luck and, to everyone's satisfaction, the alleged canceled
Picture Show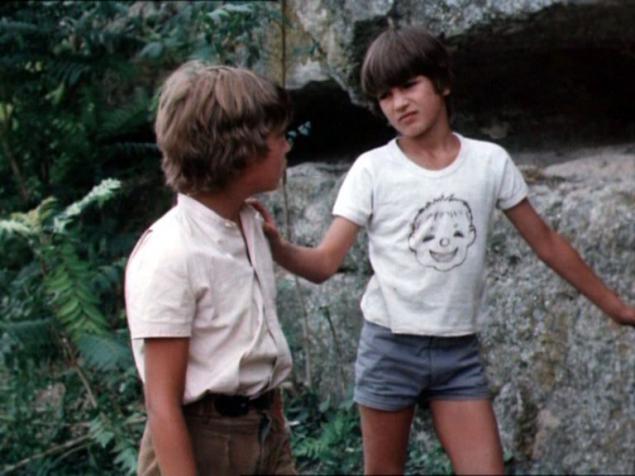 The fate of the legendary trio has developed differently. But, apparently, Petrov Vasechkin Masha could find themselves in life.
Yegor Druzhinin graduated from the Leningrad Institute of Theatre, Music and Cinema. Some time spent in Petersburg Youth Theatre. Then he went to New York, where he graduated from the famous dance school. The competition tap-dancers in New York, he even managed to get the gold medal, leaving far behind the traditionally strong in the dances of African Americans. Currently Yegor lives in St. Petersburg. He became a famous choreographer.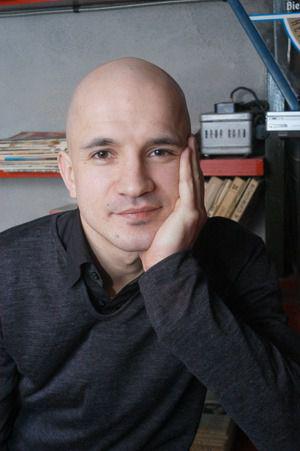 Dima Barkov initial impact to the business. This is, in fact, he was able to - things were going great. But all of a sudden it again drawn to the actors. As a result, he spit on everything and graduated Petersburg Academy of Theatrical Arts.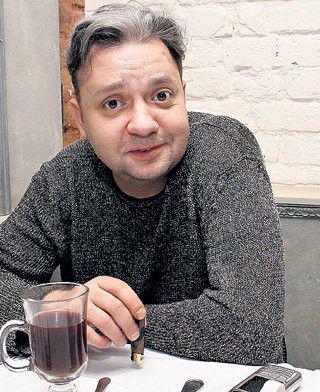 Even after the success of his debut film Inga Ilm for anything in the world do not want to become an actress. She was going to be a biologist, delirium white mice. But fate decided differently, and now Inga - actress of the Moscow Pushkin Theater. She filmed a huge number of different pictures. She married an Irish film director. They live in Moscow. However, one time she just like Yegor goes to the States. But then came back. Here she liked a lot more.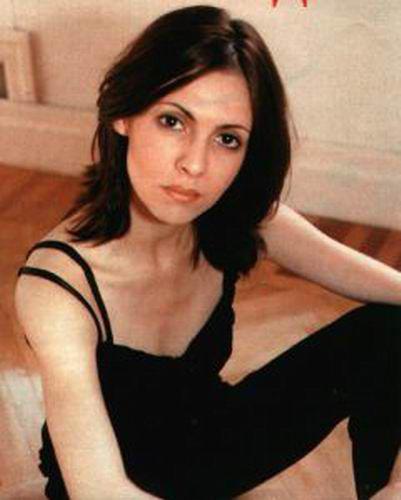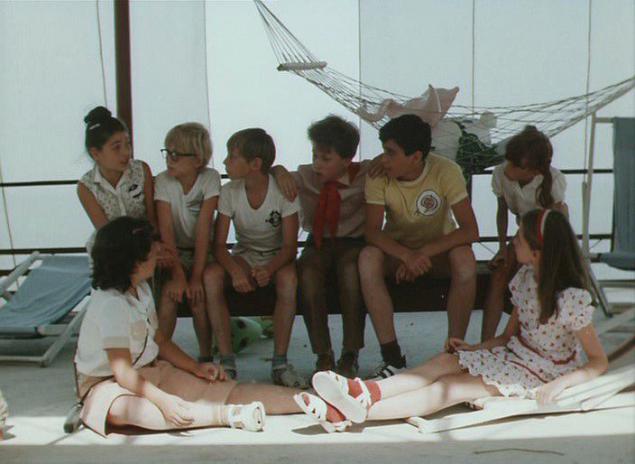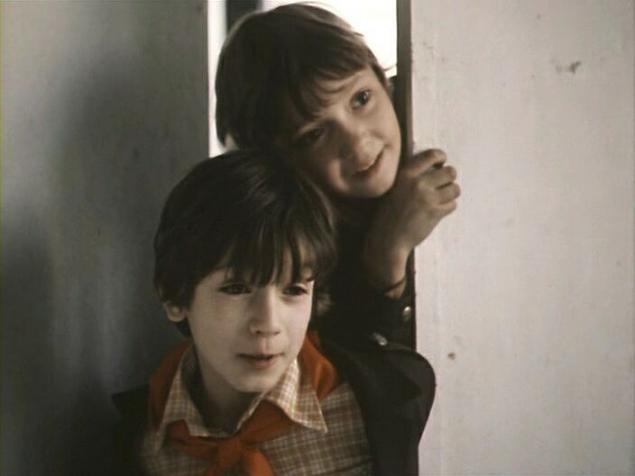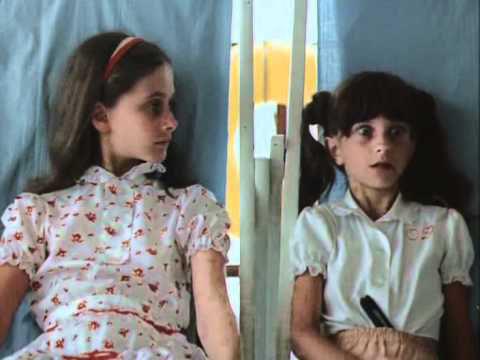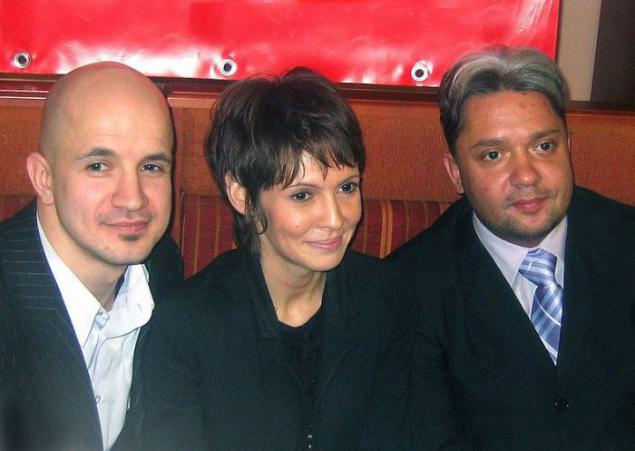 Source: rustrana.rf