Want to see your house from the bird's-eye view? A fly over forests and cities? In this post I will talk about the amateur aerial photography. Show how inexpensively, shoot photos and videos with the kite.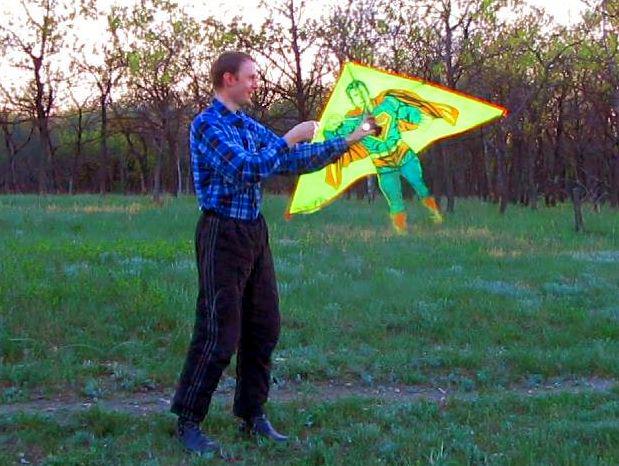 The Serpent and the camera h5> The Serpent then you can use any, just to fly. I took the cheapest for 7 hryvnia. A camera is not very desirable heavy. Suitable camera or mobile phone. My kite easily lifted his phone NOKIA, weighing just over 100 grams, even in small wind!





But not everything is so simple! H5> Camera in the air strongly shaken! As soon as I'm not a snake its crepe, image receives a strong trembling and blurred pictures. After a few trial runs, I realized that the camera needs to be fixed not to the serpent and to the line. The camera should be no closer than 30 meters from the snake, otherwise it will greatly erode. You'll want to run the camera high up in the sky! So better buy a fishing line once a kilometer. Will approach 0, 4, or 0 6 fishing. A reel to reel her better from the old fishing rod, attached to the screwdriver. Firstly, it will not be confused, and secondly, will not become loose fishing line, as when you wrap your hands. Get smooth motion, and shaking the minimum. Check my test video clip!




Warnings and Safety h5> At first I worried that the camera can break from a fall from a greater height, but practice has shown that snakes down the camera very smoothly, like a parachute. So the camera from bumps, I do not like not defending. Provides a much greater risk that the snake likes to land in the most inappropriate places! Wind can stop or change its direction and snake flies on top of the tree. Or how I got - right into the river! Snakes quickly got wet and sank ... But fortunately fishing line was quite strong and we were able to pull out the camera to the surface through the algae.

Better to see once than to hear 100 times. Watch the video, where I described the process of aerial photography:




And if the light wind? H5> Do not worry! You can run a snake with a scooter, bike or run. The main thing is that he climbed to the top of the wind is always stronger and more stable than at the bottom. As you can see, nothing complicated. Try it, you will succeed! It's very exciting. Share your experience in comments. His video can be sent to us, we will discuss together the best side of your video. Well, that would be the best video came, remember:
- Better camera fixed to the scaffold, and not to the snake
- To run better in the open, with no trees
- The fishing line on the reel to reel convenient screwdriver.










Warning! H5> Never fly a kite in a thunderstorm! You're probably wondering why? Therefore, in the next post I will describe how I would run zmeyuku during a severe thunderstorm, that even with a metal wire on board! I know, my dear reader, this is what you want!
The most interesting thing is just beginning!

Source: habrahabr.ru/post/238123/