We shot a short film on how to live our zoo. Do not judge strictly, dear, we really, really tried to show everything as it is. In addition, talk a little about zoorabote.
9 photos. [Next]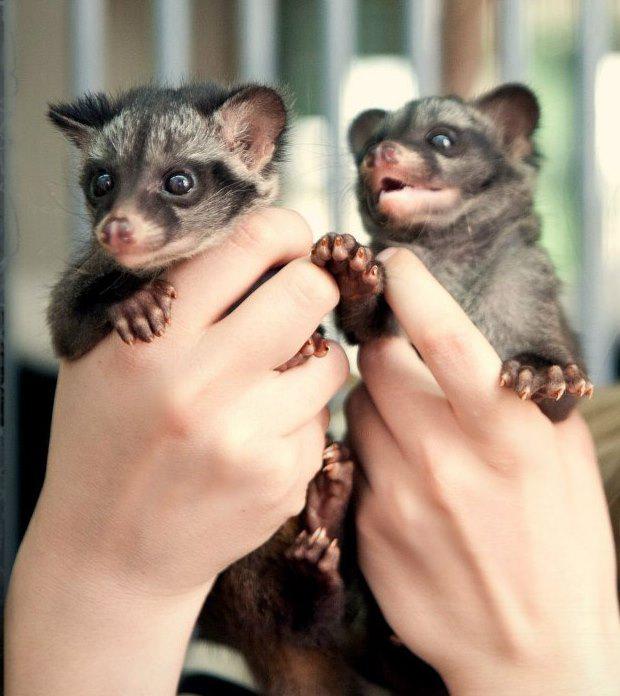 I live in a zoo. And it's not a joke. Ever since childhood, my dream came true and I got a job at the zoo, I'm here every second, at least mentally. In another way - the more you recognize this place from the inside, the stronger it binds with your life.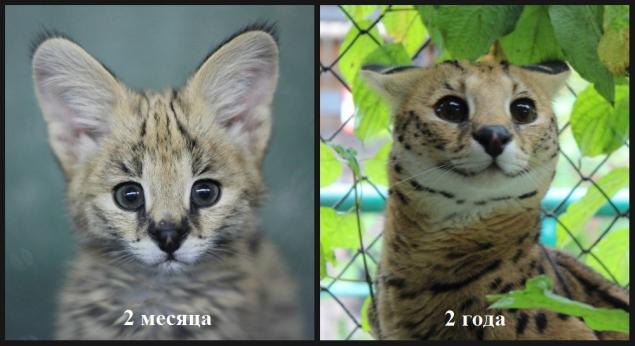 In the early days I was very fun, and now love that people here are called by the names of the departments: "A Giraffe on corporate go? A Bird? Call the monkey, ask Exotics ... "And yet here you can call reptiles. Employees aquaterrarium take up the phone and calmly say, "Bastards." Well, it was so early, now they are called aquaterrarium proudly, because three years as we have built up a huge building full of fish, snakes, turtles, lizards, unique in its kind. "Where screwdriver? - And his Giraffes in leopardyatnik claimed. " We have gardeners, doctors, kitchen, cats, canines, monkeys, ungulates. Total running almost three hundred people.
The photo kinkajou Fairy.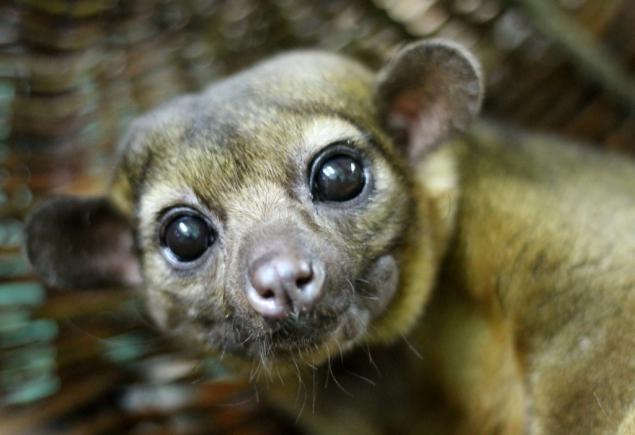 Zookeeper arrive at 8 o'clock in the morning, some before. Galina, who cares for the bears, comes at 6:30 to wash basins. Sometimes shout at his players (3 brown, 2 Himalayan, 3 white bear), but always tasty sandwiches spoils of whole bread with honey and nuts. Bears love her and listen.
The photo-bear Aurora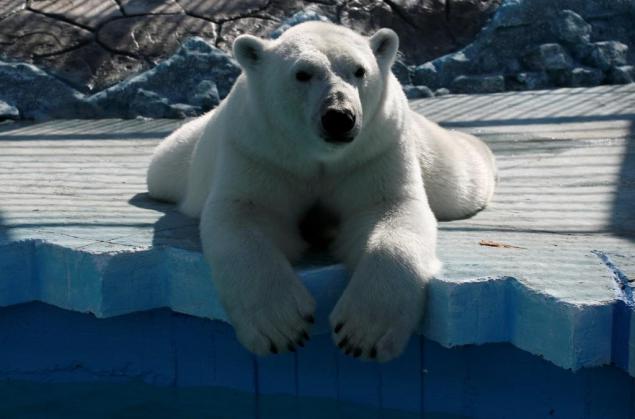 When retracted in monkeys, be prepared that you will not only throw a carrot, but they can spit and throw something nasty. Love for wildlife she is, see that not bitten. There are, of course, and tamed, who can stroke, but it is a rare exception, and all at your own risk.
The photo civet cat Eve.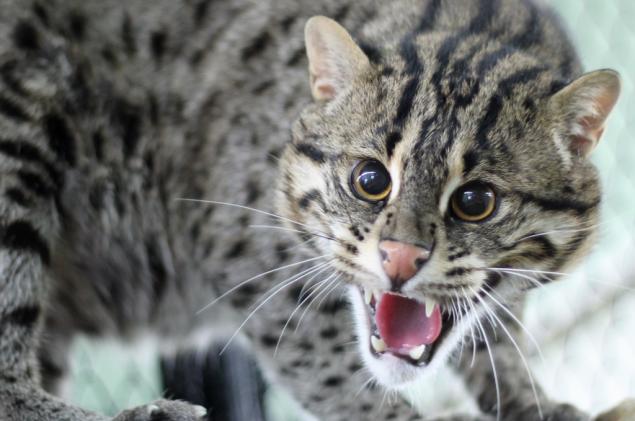 I'm doing the news about the zoo. My work gives me the opportunity to visit all departments and even get to where everyone is not allowed. For example, a huge laboratory aquaterrarium there from floor to ceiling only aquariums and terrariums and narrow passages between them. Terrariums are teeming with tiny lizards, size of 2 cm, zoologists cockroaches feed them with tweezers.
Chameleon 7 cm.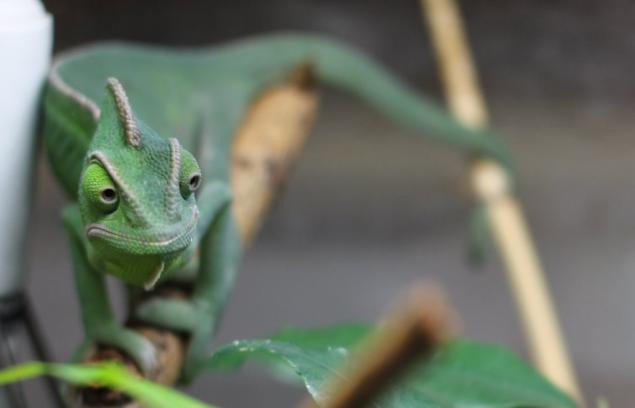 In pingvinary can go only in a sterile surgical suit and not to touch anything. There in the kitchen refrigerators take out layers of frozen fish. Defrosted interfere in the bucket with sea salt and gills in each stuffing some capsule with vitamins. Penguins are fed with hands, in another they are not able.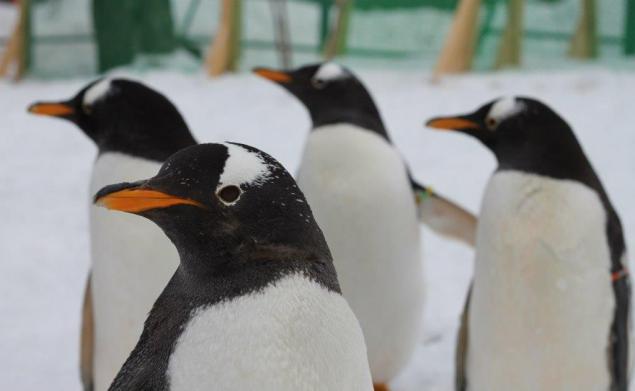 I often say, and now say that the "poor animals sitting in cages will need to let them out." To this I want to say that most of the animals are not in the first generation born in the zoo of wild caught rare: to save species threatened with extinction, or if the animal is in distress. For example, as we got to the white-bear - their mom was gone (probably killed or died), the girls went to the hungry ones. Before you take them to the zoo, the more formalized a bunch of documents. Rescued. Polar bears are now rare. For many animals will not, or cut down the forest, or waiting for poachers to kill and sell in parts or to catch and sell as a living toy.
Photos of Elijah Naymushina cubs Aurora and Victoria.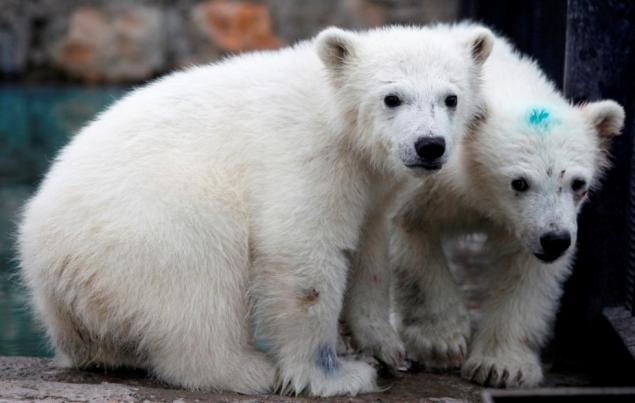 When I meet friends, all the polls first thing asked, "Well, whatever your little creatures are you?" It infuriates honestly)))
And yet, here are answers to frequently asked questions:
1. the lion nobody comes. There distillation system runs for all dangerous animals. Door-partition inside the enclosure, called the gate, open the handle on the outside. Animals accustomed to pass, because then receive food.
2. Monkeys do not trim your nails.
3. Animal nobody combs. Is that hand - horses, Huskies, donkey, pony.
4. The food is very good, only the choicest fruits and vegetables, fresh meat.
5. Lion eats 8-12 kg of meat per day. We have 4 lion, tiger 4.
On a photo a young tigress Juno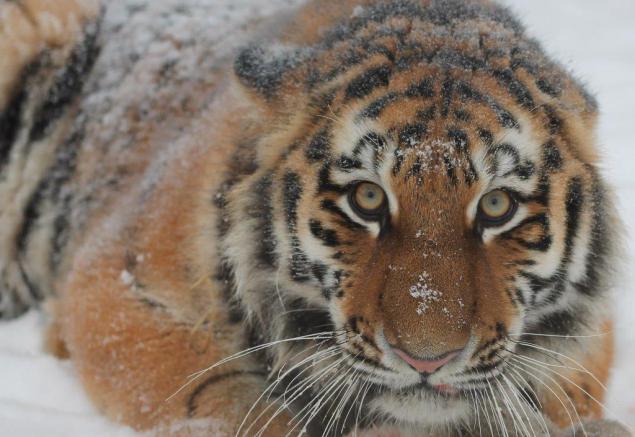 Today Krasnoyarsk park flora and fauna "Swarms creek" celebrated his birthday. He was 14 years old. In the first year there were 80 animals. Basically the local fauna. We now have nearly 6.5 million heads of 720 species. And beautiful garden of more than 270 species of perennials and annuals 120,000.
I love my job and all that I wish, thank you, if you've read)