- Do not teach me how to live, better help us financially!
- And at the same time remember that all and I always will solve itself. For the simple reason that I - a man.
- If a woman like a man, is it important profession, nationality, party membership? It's all for the profiles, but not for life.
- Georgy aka Gogh, aka Gosh, he's Yuri aka Gore, he's Jora, live here?
- Now is not the time.
- Time is always the same! Before you get something, you need to earn, earn!
- Sometimes you hear such nonsense, but it turns out - a point of view.
- Very much I some ideal turned out.
- Do not worry, life will mend.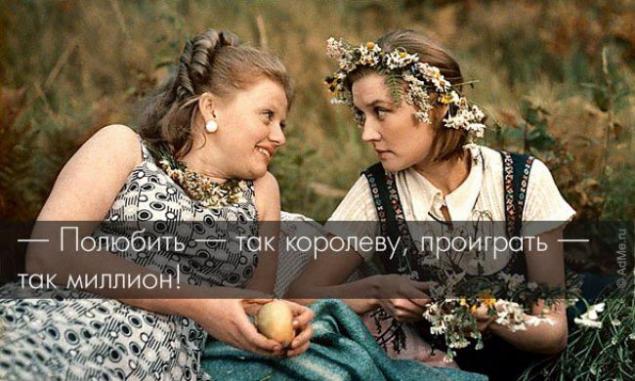 - I have five rubles, why can not I getting home I liked a woman?
- Well enough to my house, and no back.
- Walk'll make it. Walk so to walk.
- Good guy have to do most, but not ready to receive.
- Please, specifically how to help?
- Yes, a lot, a lot of problems! Specifically - funds are not sufficient, the man is not enough!
- What are you scared him, I have it so modest.
- Yes I Am. Intelligence is clearly not disfigured.
- You acted like a real man!
- I acted like a normal man!
- I can even say that you are, for example, is not married.
- If I do not wear a wedding ring, it's more of nothing says.
- Yes, even if you wear three wedding rings, you're still not married. Do you think an unmarried woman.
- And that unmarried women look like something in a special way?
- Of Course. They look appreciatively. So watch the police, senior officials and unmarried women.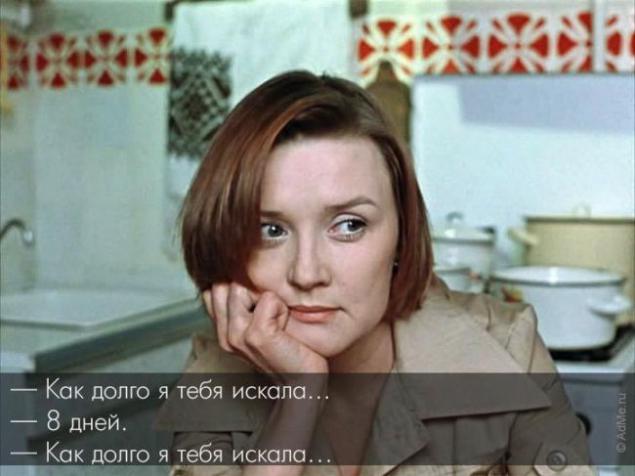 - I broke the machine that prints money.
- Good for you, Kate! We are your kids you always set an example. Everything he wanted in life, achieved.
- That's right. Only until you guys did not tell me that just when all will achieve in life, most wolf howl want ...
- But I'm an optimist. I just recently said the cemetery is well acquainted with the widowers.
- Loneliness!
- Do you have a feature: you all listen, listen, and then right in the forehead ask a question, and almost always the case. This, you know, almost masculine directness. Some peasants even like these women.
- Hellow! The hostel is listening!
- I honestly do not always understand female logic: like all good man, and a woman chooses another, some zamuhryshku and happy with it.
- And where Tonya?
- In the morning, drove off with Nikolai to the country.
- Ooh ... Well, everything! Sucked philistine bog!
- To become a general's, it is necessary for the lieutenant to get married.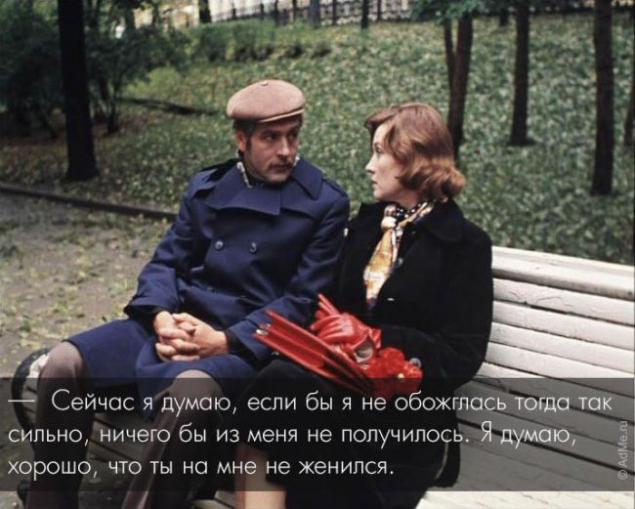 - Have you every morning these "extreme circumstances". Called hangover!
- The owners sent a telegram - come the day after tomorrow. That's what people intellegentnye - advance warning - afraid to catch unawares.
- Hey, why do not you get married?
- You waited ...
- Men prefer women intellectual professions.
- If I were now able to drink a glass of soda - drinking badly want - I would be perfectly happy.
- Well, it ceases to be a languid evening.
- In all apartment to let. No one out. In the case of resistance to open fire!
- I suggest to friends houses.
- I have a counter-offer, let's be friends ?!
families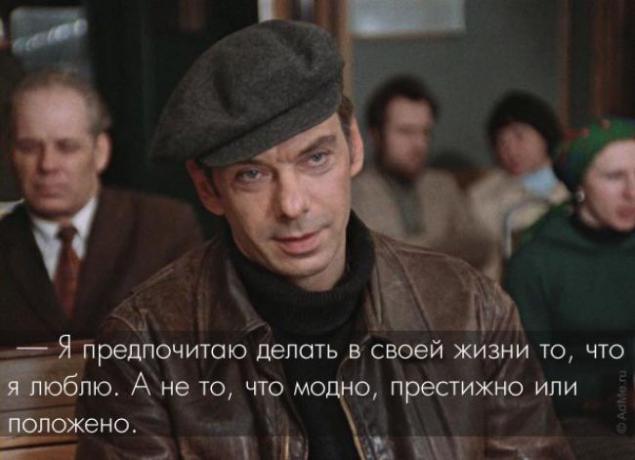 Source: news.rambler.ru