I have worked in several social networks and I can say that about one in every system of relations with the users. All routine. On the day of writing two pervert five students, two little girls. When you sit down to work, you have to mount all: politics, perverts, deviants complaints. People send in stories about life, poetry, pictures of genitals.
Basically, the service desk working girls - 80 per cent of young people get bored all day to sit in one place and write. But some girls really like, and they find themselves in this (1).
Special requirements in order to get a job support staff, no. The main thing - it is kindness, sociability, desire to help. Support - is largely the face of the site. Basically, all they come after university. The youngest worker in our 20 years old, the oldest - 30. Yet it is work for the young, need a quick response.
Responsibilities
I have a journalism education, and it helps. Although the school I had a triple on the Russian language, I try to write correctly. When in a hurry to send a reply, and you can start a sentence with a lowercase letter, and write the misspelled word. Home Agent - it's fast print and find a way out of the problem situation (2).
Each social network has its time limit to answer - from five minutes to 24 hours. Ideally, the user should be limited to aid two or three answers. Answers agents checked managers, can leave in a special program any comment. Evaluated primarily goodwill and fast solution of the problem (3).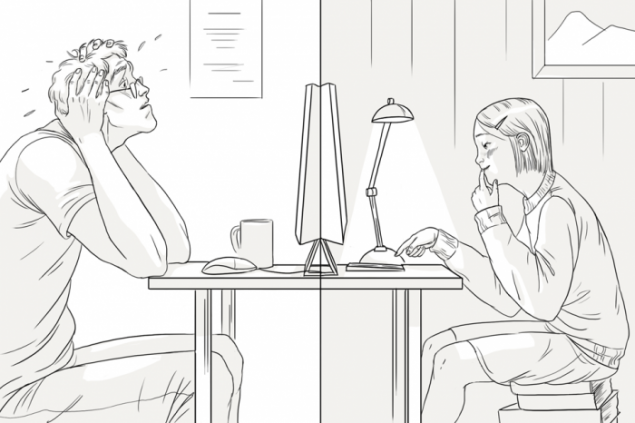 The specifics of
Support staff working for twelve hours. There are night shifts, because a lot of complaints. In recent years, more and more acts in connection with the events in Ukraine - many complain of abuse. There are people who write 24 hours a day. On sites with premium features like Mamba, «Fotostrana" or Mail.ru it is necessary to respond to every call, even if it is one swearword. On it is a standard phrase such as "Hello, you're asked to support such a social network, ask your question properly." If one user will go to the site, it's minus a few thousand rubles (4).
Employees of "VKontakte" could not respond to these messages and stupid questions. Informal responses even welcome. Pavel Durov treated "VKontakte" not very serious, and 80% of users - a youth. They say that in 2005-2006 Durov himself responded to the message. As far as I know, the change of leadership from this style abandoned, decided to develop the site as an advertising platform (5).
At that complain
The largest group of writers in support - are adults. They do not understand the specifics of the Internet, where you may want to call, and how will not be any consequences. Such mainly complaining each other. Another class - children who come after school, and they are bored. Schoolgirls accuse other schoolgirls that they stole from their photos.
One young man asked him why he puts the girl huskies and wrote her a message, but she did not respond. Such questions also need to be responsible. I am writing on the case: "Apparently, she did not like you." No need to come up with workarounds and invent nonexistent errors on the site.
Very often with support staff trying to get acquainted, asked to leave a phone number. On this issue there is a standard response: "We do not disclose the names of our employees».
Etiquette in correspondence with customer support are not always respected. Half the people say hello and say thank you, many write Kapslok "You UEFA C ** **** AND THE EURO AND YOU do." It is very annoying (6).
The privacy of correspondence
In the social network, in which I work, developers and support staff have the right to read the correspondence. If someone complains of a pedophile, it will be checked. Also, check the correspondence at the request of authorities. Often, if you do not see the message, it is difficult to understand the situation. But the support staff rarely abuse their capabilities. This may be attractive only at first. His Woman I, for one, never tested, I am sure it (7).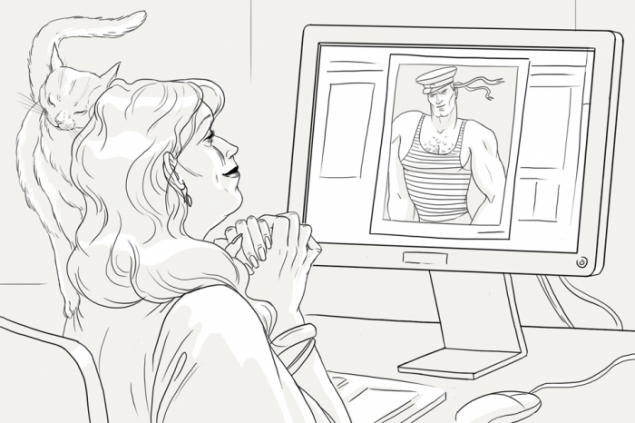 More and more complaints about the scam goes. Lonely woman decided to find a husband stumbled on some sailor who lives in Finland. According to him, he was in a difficult situation, therefore, asked to translate a thousand dollars. It took a long thinking. This happens all the time. In addition, the Internet of girls bred for candid photos. Complaining about it is useless, any lawyer will refuse to take up the case. Sami still moved, sent (8).
Users complain dating mainly on the genitals. Because half of the people who hang out there, they are sent.
Strange questions (9)
Some questions, of course, is introduced into a stupor. It happens that the users describe their perversion agent. Write grandmother, who did not even realize that the message on a social network - it's not the same as an SMS. Sometimes people ask what is the avatar. I make a screenshot of the "Wikipedia" and expelled them.
I once came across a little girl from Yakutia, which has finished all. All change she wrote a lot. I asked what the size of the field between the photographs, why it is so, why the menu fields are following each other in that order. She sent questions lists, get to the bottom of everything. If you believe her questionnaire she was 9 years old. She probably just be bored.
There are also questions like "What to do with the body?". This, of course, a joke, but I had to answer seriously: we can not give advice, do not touch the functional site.
Earnings
The staff of the support services in social networks is generally from 6 to 10 people. Typically, agents earn up to 30 thousand rubles, "VKontakte" a little more. In order to get paid in full, in "VKontakte" must be answered if I am not mistaken, on 40 thousand hits per month. That is a lot, in order to treat a number of messages, you need to gain experience for three months. Also, the salary depends on the grade of your answers, which left users (10).
Career growth in the service support possible, but small: the maximum you can become a senior agent and co-ordinate the work of others. But few people working here more than a year or two too exhausting (11).
UPD: To discuss the post joined by representatives of "VKontakte", apparently accepting everything said at his own expense. Therefore it is necessary to note: the hero of this article works in other social networks. And to avoid further misunderstandings, we publish comments and remarks left on this item Agent Support Service "VKontakte».
1.) It is a controversial thesis. For us it is not so, approximately 50/50 per cent. It depends on the people themselves. Agents-men often do not concede in response to female agents. If someone does this job do not like, they just leave themselves on their place come the other. Through flexible schedule can be answered at any time and from any location. Many agents support travel the world for a long time, migrate to other countries, without taking for this vacation and this time continuing to meet the support.
2) Literacy - one of the basic requirements for agents to support the "VKontakte". As a rule, illiterate applicants drop out at the stage of preliminary interviews. If you went to work for the agent starts too fast, he makes notes as he does not improve. If literacy and response form all really bad, it can be a cause to part with such an agent.
3) We have a distributed structure. Of course, there are a few guidelines and decision-makers, but the basic control is that all the agents see the answers to each other and can give each other notes, allowing you to quickly share experiences.
Since users "VKontakte" a lot (more than 200 million, an average of 60 million active every day), there is no fixed time limits for a response. The service is designed so that just as soon as possible to answer the question. Questions dealt with in turn. If all went, the question came to an agent, it must respond immediately if there is no need to clarify something to check. Now we managed to equalize the load so that the waiting time for the user does not exceed the average of these same 24 hours. Depending on the circumstances, and the answers may come faster.
4) We do not have shifts, schedule free. The main indicators - the number of issues addressed and quality of responses. And quality is determined on the basis of domestic plants and opinions of colleagues. We understand that you can not please all users. If someone wants to send spam or unlock banned for drug trafficking page, it will complain about anything and everything, to celebrate the agent answers bad, threatening to leave the site, and so on. N. So the agent may face only his unwillingness to work. There are mechanisms for the protection agents from the overly talkative members. This not only protects nerve agents, but also allows them to help new users without losing all the time on the same talkers.
5.) With the departure of Paul, nothing has changed. The vast majority of employees, including those in support stayed the same. All settings and priorities have been preserved. Even the welcome text and documentation, which are oriented new agents due to the remote nature of the work, since then has not changed.
In 2005-2006, Paul was able to answer support, since the site appeared in the second half of 2006. Perhaps the author meant that Paul told his friends and classmates - the first users "VKontakte" - how to use it. :)
6.) Do not refrain from personal comments: Obviously people do not enthusiastic about his work. Yes, there are such issues, it is not uncommon. But when they begin to respond with thoughts, "Yes, you finally leave me alone," the work is fast becoming a routine and the agent itself out. Maybe it's too overloaded work schedule (40 thousand questions a month, as referred to below). The network "VKontakte" an opportunity to respond to the box. Sometimes you can afford a little hooliganism, if you see that the user will understand it. Or, if the head is occupied by others, simply do other things and come back to work in a different mood. The good conditions permit.
7.) I can not answer for other networks, but "VKontakte" it does not apply. We often have to even ask to send private messages to a service account. It is difficult to work: it is difficult to convey to users that we can not just "check out" of a user or community prosherstit his correspondence and other private material, as it seemed someone suspicious. But we believe that The security of personal data really important.
8.) Alas, fraud - is a big problem of social networks. Even if there was a possibility of direct access to the correspondence, it is difficult to determine who is a crook, but someone framed competitors. In most disputes, we recommend that users contact the police. Open employees access to correspondence in this case, not a solution, forgery can arrange that. With regard to blackmail intimate materials, we were able to establish an effective fight against this phenomenon, even within existing constraints.
9) Yes, there are some very strange questions. And then, again, it all depends on answering. Historically, "VKontakte" working creative people who are not confused and do not enter into a stupor similar questions. I now looked on "What to do with the corpse?" Customer service "VKontakte". Just bring all the answers in a row the agents, who like users:
- Hide behind the wall.
- Pavel Durov knocked down the wall, we now have microblogging, and I think the body is not fit for microblogging.
- For some, it is WE, and for whom the wall. All together. Stenomikroblog great.
- Thanks, but I already threw the corpse of a friend in the microblog.
- Just tell me your address, then people in the form of interest.
- In hydrofluoric acid, for example. But it will be a long time, do not expect 30 minutes, the body will rest for two days. Also in the bathroom is not necessary to dissolve: acid easily dissolves the metal. But the plastic container is fine.
There are also more original answers to the more strange questions, they can be read in the official community support teams and various entertainment communities.
10.) Do not have the slightest connection with reality. Agents "VKontakte" and at times, even ten times more.
40 thousand hits per month - that's about four per minute treatment, based on the fact that the agents working on the Labour Code (20 days a month for eight hours), and not confined to computers and current hits, so they do not fall asleep. So this is a completely inappropriate inflated figure. Again, in fact, the norm of the issues at times, even ten times less.
The salary is really more specified. The company pays all taxes and provides full health insurance. If desired, and the hard work of the agent can receive twice: answering more questions, or doing other duties.
11.) Elder agents we have. Over time, the work of the action agents acquire other responsibilities, try their hand at other areas on the site. Support Service EC will soon be three years, dozens of agents have worked for over two years. If one of them leaves, it remains very worried about it. Generally, people leave in the first months of operation, if they see that it is not their business. If the agent is still working, as a rule, it is a long time. Helps the opportunity to try out other areas where the network "VKontakte" a lot: advertising, approval, anti-spam, system administration, and so on. N.
©