Galileo is a platform for smart phone or iPod Touch, which will allow to shoot spherical panoramas, taymlaps video rotated by a predetermined degree and just take the device to control in real time. Two years ago this gadget
gathered on Kickstarter
just over $ 700k and now You can find it in the free market.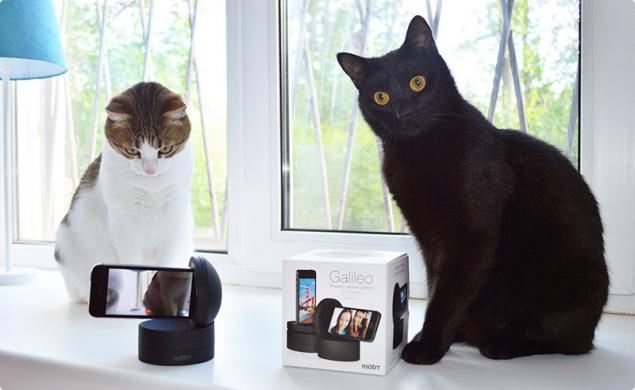 As already mentioned, the gadget specializes in helping in photography, so I recommend everyone to see our video review that shows weakness and dignity Galileo live.
But duplicate video presentation with Galileo project page on Kickstarter.
// player.vimeo.com/video/75385832 video>
First look at Galileo h4>


Galileo fits neatly in a box, which also has a charging cable without charging unit, a few instructions, the gadget itself and three removable gum that will tightly embrace the iPhone 4s, 5, 5c, 5s or iPod touch. Immediately it is worth saying that the devices are not supported on Android.




Once Galileo gets into the hands become visible once two esteem gadget that pop up before turning it on. The device is very nice to hold. Very pleasant to the touch surface of the touch plastic. Special thanks to the smooth running of moving parts of the gadget when Werth his hands. Overall tactile sensations Galileo made on all 100.




Galileo is powered by its own battery capacity of 1000 mAh, which provides from 2 to 8 hours of battery life, depending on the intensity of exercise. I charge Galileo always happy with it.

On the lower plane of the gadget is an indicator of battery charge. To know her status, you need
simply turn the base left and right. It's fun and very comfortable. Charger connector at the gadget - microUSB, and charged it pretty quickly from the usual USB. Also downstairs there is a tripod mount.






To begin using Galileo, we need to download the app in the AppStore Mottr, which will provide an opportunity to associate the device with your smartphone to download and special applications. By the way, to connect your phone via Bluetooth and the gadget is also easy to twist left and right base platform. It is time to consider the above-mentioned functional and special applications. After all, the whole force of Galileo is precisely in them lies.




Interactive panorama Sphere h5>

We begin with an application for review of shooting panoramas 360 degrees. The free app will allow Sphere shoot panoramas, which can then be embedded in a web page and then view even from a smartphone, almost like virtual reality objects. Do not know how it's better to call, just to see how it looks in our overview video above. It is worth noting that the panorama is glued automatically and requires no user gestures that sometimes causes a small displacement. And on the page it looks like this:

99,928,335




Timelaps and shooting video acceleration h5>

Appendix timelaps allow taymlaps shoot video, exposing the recording time, the frame rate and the angle through which Galileo rotated during shooting. It is worth noting that the free version of the application can be removed only 15 seconds taymlapsa, and to make full use will have to buy the paid version for 169 p. By the way, if you shoot taymlaps video on iPhone 5s, then due to the fact that the video is glued together from the photos that are made once in a while, we get the output video with a resolution of 4K. For example, we filmed the process of shooting our previous cine.



When the excitement of taymlapsa as such passes, I notice that there is an application in which you can specify
complex motion path for Galileo. That is, either manually controlled with other devaysa or content with the ability to specify only turn at a specific angle in the horizontal plane. You can not set the first turn at 30 degrees horizontally, then simultaneously rotate horizontally and vertically, and then again at 30 degrees horizontally, but in the opposite direction.

Also, when shooting panoramas or taymlapsa need to enable airplane mode on your phone, or a message on Skype or any other notice may terminate recording, which will have to start again.


Feel operator in the studio RecoLive MultiCam h5>

This application is best to use on the tablet. It will feel like an operator who controls several cameras and immediately shot and edited the video. Outline conditions. You, as the god of this installation sit separately with the tablet connected to the network vayfay. At the table sits in front of the speaker and it is installed smartphone that is running this application and it is also connected to vayfay. A side view of Galileo stands with a smartphone with the same requirements. The operator at each time point can switch recording from one camera to another, and can also swipe to control the movement of Galileo.


Interactive video chat h5>

One of the killer-device features - video chats. That is, I put the smartphone into Galileo, you call
and I can control the platform to your taste, studying my surroundings. This will conveniently communicate directly with one or a crowd of people to look at the surroundings of the interlocutor, who is calling from exotic locations. Sounds cool, right? But that's only the application developers gadget is still not released. A website hangs indefinitely - "this summer." And at the moment, you can download only the version of the application that works with gadgets on the same network wi-fi.


Some more interesting features h5> If you are using a smartphone and a tablet, you can control with a tablet inserted in the Galileo iPhones. This will gently remove objects dynamically, for example dancing couple running a cat passing by the machine. Also there is an app that will remember your face and it always will be monitored. I just figured out why this is necessary, except to do the self 24 hours a day.


Cons h5> It is time for the first results and we'll start with the cons of their sum:

No support for Android;
Up to now there is no application for video chats (only version that works within a network vayfay);
The need to charge another gadget;
Sometimes on panorammah arise phantom people or obscure joints;
Not all applications for shooting free;
The need while shooting manually translate the phone in air mode; < /
The lack of application in which you can specify the path for the complex motion of Galileo.


Strengths h5>

Tactile sensations, pleasant to look at Galileo and especially pleased to twirl her hands;
Gadget takes great time-laps video in motion; li >
Automatic gluing and shooting panoramas 360 degrees;
Ease of use. Gadget conveniently connects to your phone, check the user to conveniently charge, all applications are very simple and easy to use;
Someday released application for interactive video chat;
Galileo allows you to shoot video smoothly driving and turning the filming smartphone;
There are still a lot of applications with features like face tracking, management of multiple cameras, and other.
 



Conclusion h5> Galileo was a very nice gadget. It all starts with the box continues tactile sensations and ends easy to use. Galileo will allow the capture panoramic photos from travels and returns to him the cold winter evenings. This gadget will make great taymlaps video and you do not even see them again in our future reviews. For someone Galileo will open up a whole new world! If that someone has an iPhone =)

Source: habrahabr.ru/post/226833/