May 7th, 35 years ago, there was a war veteran, a famous actor Alexei Smirnov.
Honored Artist of Russia Aleksei Smirnov played in 22 years of acting work 85 film roles. That is a lot, given the fact that he lived only some 59 years. And for all this time, starred in only one starring.
Here they are, face Smirnov's immortal phrase of the painting "Operation" Y "and other adventures Shurik": "And the compote?" "Come on, Darling me how space ships travel through the Grand Theatre," "Shura, this is not our method! Shura, or maybe not? - It is necessary, Fyodor, right! "," Who does not work, eat! Learn, student! "," You have accidents on the construction site were? Is not it? Will! ". Well, one of us after such quotations will remember the colorful, humorous face actor-comedian? But he had the fate is not fun, even tragic in many ways.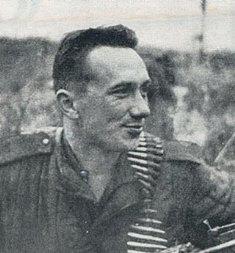 And I remembered the actor in the film "Striped flight". It Smirnov beautifully played watchman Mitya Knish. Then he pointed out his work in many films, but somehow, briefly. Professional interest, he did not call me. But in 1978 I met with Leonid Bykov. The director brought us back in the old House of the actor, his film premiere "Aty-Baty, were soldiers." Conversation. And I learned quite amazing things about Alexei Kravchuk, which Leonid Fyodorovich friends since the early sixties. It turned out that Smirnov - Cavalier dozen military awards, including two Orders of Glory! This is a great sign and a soldier (rarely awarded Lieutenant. - MZ) combat award - the same cross of St. George. Suffice it to say that during the years of the Great Patriotic War of Glory III degree were awarded nearly a million people. Second degree - 46 thousand. A first - only 2,562 fighters.
Before the figures of culture-war veterans, order-bearers all my life I feel a sense of reverential admiration. With many generous life gave me acquaintance, wrote about some in military publications. Bulletin of Eugene - two orders of the Patriotic War, the Order of the Red Star, two medals "For Courage"; Peter Todorovski - three of the Order of the Patriotic War, injury, contusion; Michael Shuydin - Order of the Red Banner and Red Star, seriously wounded, disability, was promoted to the rank of Hero of the Soviet Union; Yuri Nikulin - the medal "For Courage", presented to the Order of Glory III degree; Nicholas Dupak - Order of the Red Banner, World War II, three injured, disability; Anatoly Papanov - two Order of the Patriotic War, seriously wounded, disability; Innocent Smoktunovskij - two medals "For Courage", the capture, link; Vladimir Etush - the Order of the Red Star, seriously wounded, disability. - But that is quite a famous actor was a knight of the Order of Glory of the two - this I could not remember.
With gratitude Bykov wrote Leningrad coordinates Smirnov. And even spoke with Alexei Makarovich by phone. We agreed to meet necessarily. Did not happen. I studied at the Academy, and Smirnov lived in Leningrad. Hard was ill. Less than a year after our conversation he was gone ...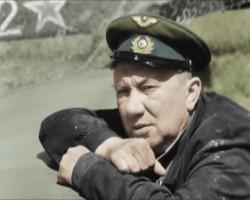 And he was a native of the city of Yaroslavl province Danilov. In the mid-twenties the family moved to Leningrad. Makar Stepanovich early left this world. Anna Ivanovna was left with her two sons. At school Alex played in the drama circle. So the question is - what to become in life for a guy did not exist. In 1940 he graduated from the school at the Leningrad Theater of Musical Comedy, and was accepted into the company of the same theater. Managed to play only one role. The war began. Smirnov could stay at the elementary theater, but went to the front as a volunteer for 25 of June. Firing platoon commander fought third artillery battery 169 th Red Banner Mortar Regiment 3rd Artillery Zhytomyr Red Banner Order of Lenin Division breakthrough RGC. At various times, the compound acted on the Bryansk, 1st Ukrainian and 2nd Belorussian fronts. Being Guard Sergeant Smirnov often went to explore.
Extracts from his award-sheet: "Comrade. Smirnov personally destroyed three fascists. Replacement of defective mortar commander. Scattered two platoons of infantry. In the area of ​​the village Onatskovtsy Smirnov with his platoon killed mortar battery, machine gun and 30 enemy combatants. In the next battle Sergeant Smirnov with a platoon destroyed two heavy machine guns, 75-mm gun and 35 enemy infantry. He was awarded the Order of the Red Star ».
"On July 20, 1944, near the height of 283.0 Smirnov personal example inspired his comrades. Captured seven of the Nazis. A week later, near the village of Zhuravka Smirnov with his subordinates soldiers clashed with a group of 16 people enemy. 9 was destroyed and captured five Germans. For special personal courage Smirnov awarded the Order of Glory III degree ».
"On January 17 1945 battery Smirnov was ambushed near the village Postashevitse. Smirnov personally killed three and captured two enemy soldiers. During the crossing of the river Oder, Smirnov swimming ferried on itself mortar. Foothold on the left bank, he destroyed two machine-gun point and up to 20 enemy soldiers. He was awarded the Order of Glory II degree ».
Reach Berlin Alexei Makarovich could not come. In one of the battles already in Germany, he was wounded and a strong concussion. So the medal "For Service in Battle" was awarded to Sergeant in the hospital.
Together with the documents and assignment of komissovanii lieutenant's rank. Smirnov returned to the Theatre of Musical Comedy. And here began his life's adversities. He lived with his mother in a communal apartment. Terribly in poverty. In addition, mother, powerful, strong, but after the death of a capricious woman during the war, the younger son Arkady began to suffer severe form of mental disorder. Seizures have occurred sporadically in her. Alexei Kravchuk's mom doted and bravely endured her painful antics, nitpicking. Because of this, even had to leave the theater. Although once confided to a friend the artist Vladimir Pashkov, the reason something more substantial. The fact is that having the nature of a rare and wonderful voice - throaty bass - Smirnov had absolutely no hearing. This is rare, but it happens. In one of his films, musical comedy actor, dubbed Eduard Khil.
The same Pashkov recalled: "Lesch worked hard and well. Peter I played well in the play "Tobacco Captain". Not lazy, went to the famous actor Nikolai Simonov and dragged the great friend of mine. With this king he bungles the right and left, earning money for the nurse for her mother. We Lesha eventually left the theater in operetta ensemble Michael Ksendzovsky and toured nine months of the year. And his mother needed a reinforced care. Heavy and oppressive character was a woman, even regardless of her illness. Say, compelled his son, he went on tour, leave all your belongings up to hours at home, so that women of easy virtue to him, "handsome", did not stick. And Alex went to a tracksuit. To leave somewhere in the people he was forced to beg for clothes in our wardrobe mistress. Girl Smirnov sympathetic and gave out props. However, my friend on tour are not particularly amused. Never went to restaurants. Ate in cheap eatery. And all the money sent to the penny mother ».
Alexei Kravchuk was never married. Besides that enjoyed fantastic success with women. It was said that the reason for his bachelor life were the same injury and concussion, after which Smirnov could not have children. He and his girlfriend Lida Maslova, who was waiting for him throughout the war, allegedly deliberately rude and refused to further relations. Even if you agree with this version, it is unlikely that it was decisive. As it happens in life, everything was much more difficult. Artist, firstly, no idea how it will lead to the house, the mother another woman. Admitted: "I will be forced to live among the two enemies." And, secondly, Smirnov did not know how to build their elementary relations with the fairer sex. It was innate clumsiness exactly the same extent as the hearing. Every time acquainted with another pretty special, it seemed that finally met his fate. Deeply decent man, he and others saw only the good. And then he offered his hand and heart. In reality, these women often moved selfish motives. Another would be: well-known actor, dressed immaculately, apartment in Leningrad, residence. Later it turned out that gorgeous dress - from the theatrical wardrobe, and the apartment - two tiny utility rooms located in the first floor of an old house in the street name Narodovoltsy Lavrov. Yes, and we must live with a strict and domineering in-law, who was holding her son not even an iron and steel in the iron. And so it happened that many ladies with whom Smirnov acquainted on the road, came to Leningrad, but did not get what they expected, returning back home.
Relationship with her mother for Smirnov were heavy cross, in a sense, even humiliating for him. The old lady literally terrorized his son, without understanding that completely deprive him of the many joys of life, including family perspectives.
And, despite this, Alex Makarovich patiently, stoically looked after my mother, as for a small child. Literally. Changed her diapers, cleaned, cooked, ran to the shops. Even sang lullabies to her at bedtime. In short, to satisfy all her whims. On this basis, actor converged very close to Leonid Bykov, whose wife also suffers from a serious mental disorder. Leonid Fedorovich Smirnov took in his first film "Bunny" on Foley cameo in the theater.
A couple of years they have played together Soviet spies in the eponymous film, I. and A. Samborski Shvachko "Scouts". The main Exposé of the picture were ordinary soldiers Bulls and Smirnov. Since then, the friends are not separated until his death.
A really popular in the Soviet Union Alexei Smirnov was only after the role of the drunkard and parasite Fedi, which has already been mentioned. And this despite the fact that he has behind him by the time it was twenty-five film works. Even very successful - gangster Bill Driscoll of "Business People" by L. Gaidai. But for him it was the popularity of some lightweight, no first-class or something. So, anyway, it seemed to the entertainer. Like all comedians in the world, he believed in the soul itself tragedian. And this circumstance has perhaps the greatest creative dissatisfaction Smirnov. Extremely modest and shy man, he sincerely believed in vain but that the quality of his innate, plus more absurd comic appearance does not provide turn his artistic talent and create images of Shakespeare, Dostoyevsky, Ostrovsky, Chekhov.
And shamefully timid-Smirnov was a surprise. Pashkov recalled that for a long time no one in the theater, or later, in the company of the Ensemble Operetta not even aware of the merits of the front of his friend. They accidentally opened. It happened in 1954 in a secret town of Kapustin Yar. There was a huge military training ground, where the missiles were tested. Naturally, security was everywhere. But Alex really wanted to wander around the neighborhood to look for rare copy for your collection. (All my life Smirnov collecting various reptiles, insects, spiders ... Some are fortified, other zasushivat known only by his technique. A more skillfully carved all sorts of crafts from the roots and branches. - MZ). "We went with him, and went until climbed over the barbed wire. Out of nowhere, there were soldiers with machine guns. And took us under the white knobs along the river Kapustinki. Look, sit some people in shorts. Sunbathe, cook soup. And suddenly my Lesch cheerful marched toward one of them: "Comrade Marshal, let me report: Platoon 169 th Red Guards Mortar Regiment Lieutenant Alexei Smirnov, who served under you on the 1st Ukrainian Front!". I looked closer - bah! Yes this is Zhukov himself! Before that, I saw him only in newspapers, newsreels - a tunic, with orders and medals. And here -nevysoky elderly man in a striped shorts with tummy. "What are you doing here?" - Asked Lesha. "We are in favor, Georgy, the local House of Officers" - "Good evening come and see." And came. And told our theater management about what a hero is in the team. And then another, and gave a banquet for all the artists - with caviar, with several kinds of deficiency at the time of sausage with vegetables and fruits. True, he was not present at the table. Here we have Leschi and steel pry about his military achievements. Just tick from it pulled information. Feel free to make excuses. I do not know why, but he never talked about his military adventures. And anyway, if anyone else had such front-line services, it at least would improve their living conditions. After all, it cost him only present in Lengorsoveta documents on its merits and on my mother's illness - anywhere bosses would not gone, given a new apartment. Did not come, did not require ».
Convinced finally that his wife will never find, Alexei Smirnov decided to adopt a child. And I must say that children and animals are very fond of him.
Artist Victor Kosyh (Danka in the popular action film "The Elusive Avengers" in the film "Welcome, or No access denied" starred pioneer Bones Inochkin) once told me that the guys during filming days on end hanging on his uncle Lesha (the film - summer camp caretaker). And for all he found a good word, though small, but fairing. This is God's truth about a child's love. Actor haunted orphanage for handicapped children. Brought there own made wooden toys from which the kids were thrilled, candy, cakes, soda pop. There he drew attention to Vanya - closed, quiet boy with congenital heart disease. Alexei Kravchuk made strenuous efforts to adopt a child, but he did not succeed. Guardianship authorities, proznav that the hands of the actor - a mentally ill mother, strongly opposed.
Smirnov is the unfortunate failure knocked out of the saddle is thorough. He earlier, happened sinned relatively "green snake", but then for the first time in my life went into a long binge. And just at this time - so the higher powers were necessary - the lifeline of the senior companion threw Leonid Bykov, invited him to his great film "go to fight some" old ". And despite the fact that officials from the movie strongly opposed to the role of an aircraft mechanic Makaritch approved by the Leningrad actor Alexei Smirnov. "There is this ever! He has the same stupid face! "Retorted the Bulls:" Excuse me, but this man, as you say with "stupid face" - soldier, Commander of the Order of the Red Star and two Orders of Glory! "-" It's more of nothing says "-" It says only that without Smirnov film I will not put! »
It was after this picture Alexey Makarovich and real fame came. Taking into account the previous two front we can assume that, finally, the artist Smirnov became a full knight of Fame. Of course, without a place would be so wonderful picture. Who would not say that, but in art, as in life, there are no irreplaceable people. Still, we should thank God for the fact that the two great actor came together in two films about the Great Patriotic War. And "go to fight some" old man "- surely one of the best that the removal of the war. There in the film some creative energy, coming from tragicomic relations, the immortal frontline brotherhood Russian and Ukrainians, who never be forgotten, no matter what the current upheavals.
In recent years, life health Smirnov deteriorated significantly. Auca his reckless daring frontline: one crossing with mortars on the shoulders of swimming through January Oder what cost. But fighting adventure Smirnov in the war with a vengeance in the platoon would suffice.
In addition, in all of its 85-minute film actor never resorted to the help of understudy. Thought it beneath their professional dignity. Well, it goes without saying that the frequent references to alcohol health veteran also not strengthened. So much so, that because of their sores Smirnov could not even play in the film by Leonid Bykov "Aty-Baty, were soldiers", where he was persistently invited him. The last major work by Alexei Kravchuk was a comedy directed by Czechoslovak Oldriha Lipsky "Circus in the Circus." There he played the role of a clown by the name of ... Smirnov. Then starred in three more films. However, his appearance in them for the short episodes. In the movie "Your profession" his name is not even listed in the credits.
Finally broke the will to live Smirnova is an urgent need to give a mother to a nursing home. Because of progressive disease, it is no longer recognize him. Nurse Alla Kononov told that Alex Makarovich then went into a terrible bout.
The actor was hospitalized at the Mariinsky Hospital.