Russian President Vladimir Putin has signed a law aimed at countering attempts assault on historical memory regarding the events of World War II.
According to the Kremlin press service, federal law criminalizes the denial of the facts established by the verdict of the International Military Tribunal for the trial and punishment of the major war criminals of the European Axis countries, the approval of the offenses established by the said judgment, as well as for the dissemination of false information on the activities of the USSR During the Second World War.
Continued under the cut ...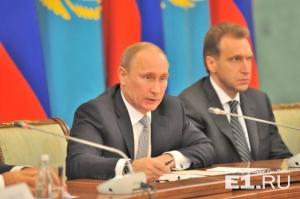 As punishment for this public act set a fine of up to 500 000 rubles. or imprisonment for up to five years. The amendments made to the Code of Administrative Offences, the Criminal Code and the Criminal Procedure Code, the Criminal Code is supplemented by an article entitled "Rehabilitation of Nazism».
Normal "publicity" means a fine of up to 300 thousand rubles (up to 3 years of imprisonment). Tougher sanctions proposed to establish for the same acts, committed by a person using his official position or the media, "as well as the artificial creation of prosecution evidence." For this set a fine of 100 000 to 500 000 rub., As an alternative to - imprisonment for up to five years, with disqualification to hold certain positions or engage in certain activities for up to three years. Also introduced criminal LIABILITY up to five years in prison for desecrating the days of glory and memorable dates in Russia, associated with the Great Patriotic War. Norm provides for sanctions for "spreading expressing clear disrespect for society information about the days of military glory and anniversaries of Russia related to the protection of the Fatherland, as well as the desecration of symbols of military glory of Russia, committed publicly." For it shall be fined up to 300 000 rubles., As an alternative to - community service, specify "Vedomosti».
Source.