Just a year ago, 19-year-old Belarusian student dropped out of high school and decided to continue their studies at a university in Italy. Today, he will tell you about the peculiarities of life in the resort town, will show his apartment and share a list of your expenses. I am 20 years old, I am from Gomel. As a child, I made several trips to Italy, to the town of Pisa in Tuscany, on the program "Children of Chernobyl". Italian family, which at the time took me help and now with the University decide to find housing, begin to learn. They have I lived until his apartment searched. University of Pisa, one of the best universities in Italy, I chose another and because there was an opportunity to reaffirm the education that I have managed to get in Belarus.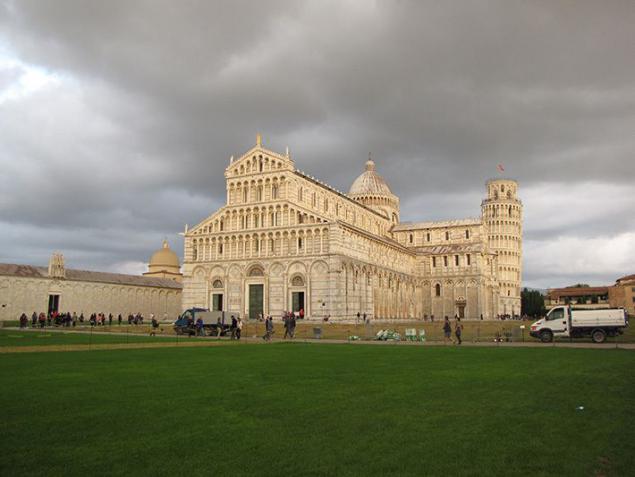 Apart from studying, I worked in a small studio in Pisa. Unfortunately, according to Italian law student (at least officially) can not earn more than half a day. In the studio I earn € 400 a month.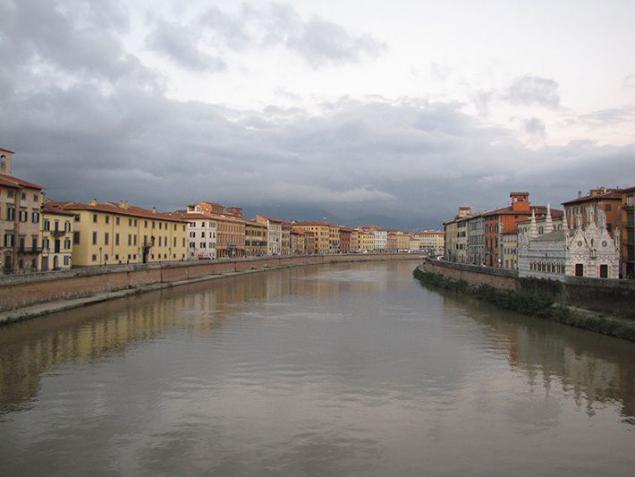 University scholarships I have not. With my parents I was lucky, they send me every month for about € 250. So my monthly budget is € 650, and the money is enough for me, in principle, at all, but of course, I'm not all can afford to let on and had much to save.
I deliberately chose not to live in the most Pisa. This is a fairly large city by Italian standards, also very touristic, with corresponding disadvantages. For example, rent a room (not an apartment!) Is worth an average of about € 250 per month. In Carrara, I found a fully furnished two-bedroom apartment in a 15-minute walk from the sea for € 450 a month. In it, I live with my classmate, Italian, and all costs for the apartment we therefore divide in half.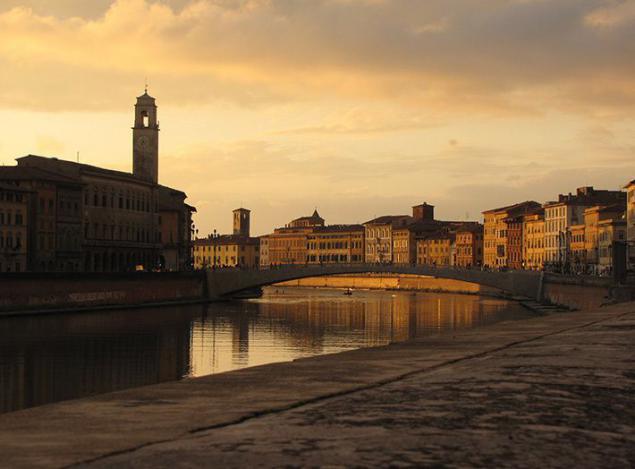 Accommodation search on the local sites where individuals and agencies place their ads on the lease. Standard commission real estate brokerage agency for his services here is two monthly cost of renting an apartment. However, I was lucky: I found an apartment from private owners on the internet, the commission did not have to pay the agency. From the beginning of the search and to the signing of the contract took place about a month. It was an interesting proposal in Pontremoli, but this little town too boring for young people, and far from Pisa and the sea.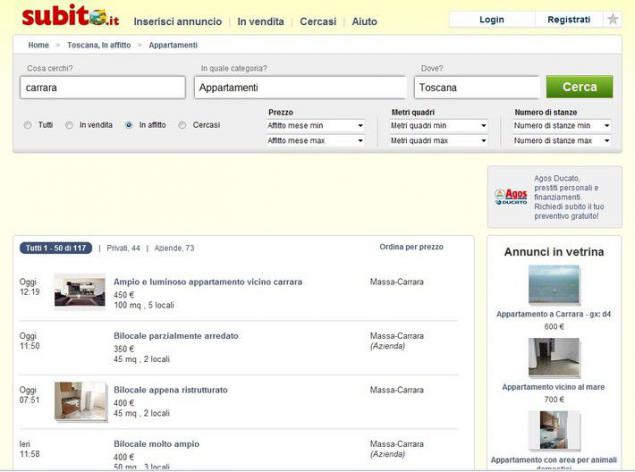 I stopped at Carrara. It's quite a large seaside town, the marble capital of Italy. The Apuan Alps surrounding the city still are numerous quarries and the famous Carrara marble.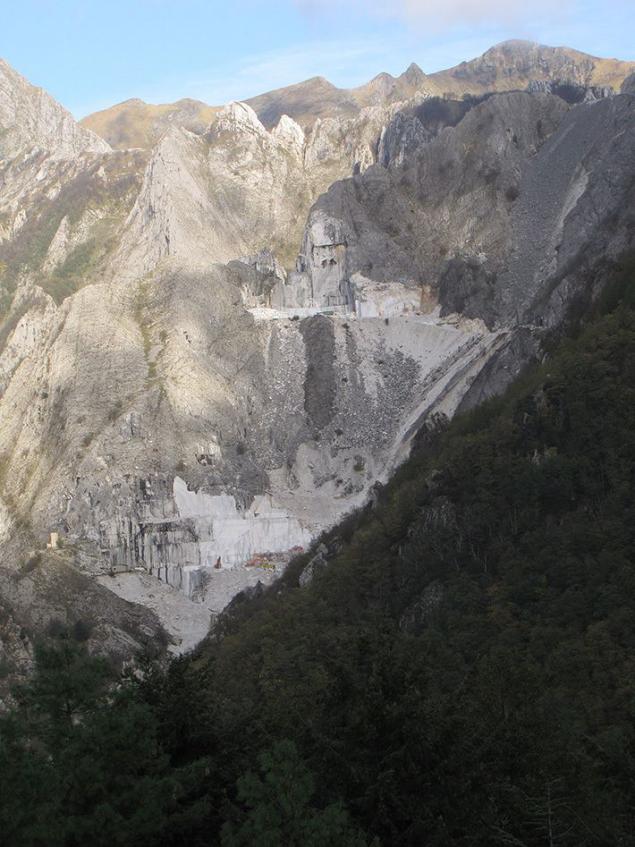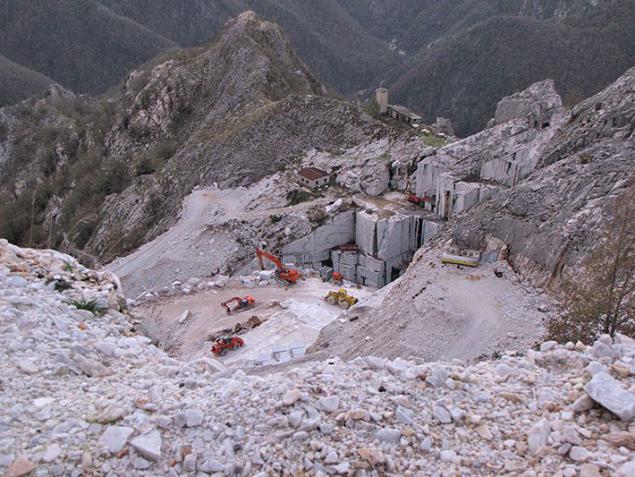 First Carrara apartments, approach me at a cost not much. The city is located in the foothills, and one option is to life right on the slopes. Nice view of the Tuscan coast, but, unfortunately, inaccessible using public transport area, in addition to the complete absence of infrastructure, even banal stores.
The second apartment was located in the center of Carrara, problems with shopping and entertainment was not, but had a big problem with the apartment. Her rent (without utilities and other expenses) was worth € 400, but there was no furniture inside. The windows looked out on the river, having used not only bottled spring and all the heat a little, but also a specific smell. In addition, the owner refused to make an official contract on delivery of housing, and all the time I was threatened to be ejected at any time on the street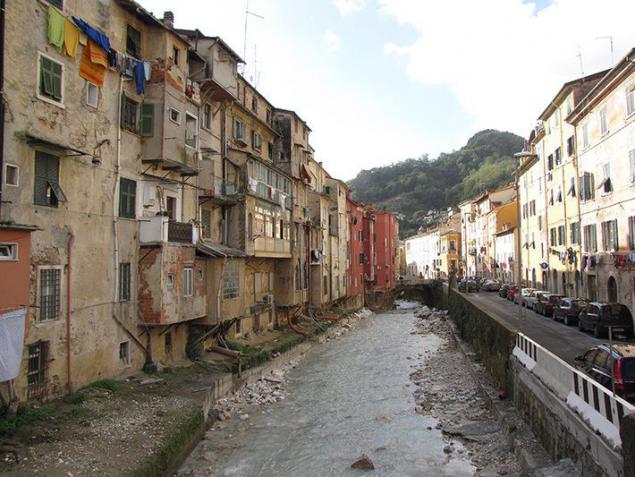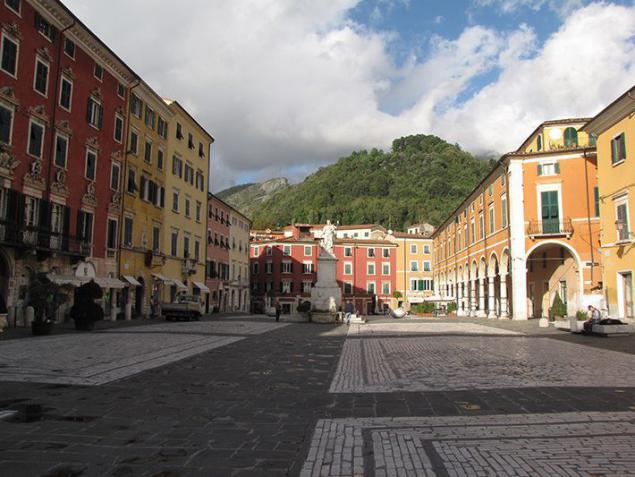 In the end, my patience was rewarded. I found a two-bedroom apartment in the nearby town of Marina di Carrara, Carrara is part of the agglomeration, a 15-minute walk from the sea. Typically, the owners rented it for the summer visitors - from July to mid-September. I'm just coming off-season resort - from mid-September until the end of June, conveniently coinciding with the school year at the university. At this time the apartment costing us € 450, of which € 350 - the actual rent and € 100 - a condominio, home maintenance (elevator, cleaning) and one parking space. Parking at the house locked barrier, outsiders will not be able to use it.
This is a common, very typical of the Italian residential four-storey house of the 1970s. I was lucky with the area: it lives mostly intellectuals, brutal working with the marble quarries in the house no. When signing the contract the owners have taken a deposit for an apartment, two rental cost, which upon its completion will have to come back to me, unless, of course, I did not ruin the house.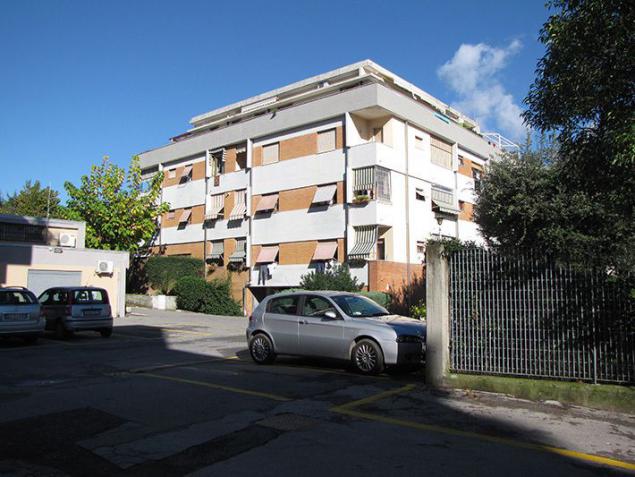 Here is the entrance. Marble in Carrara do not regret - it looks very typical of this city.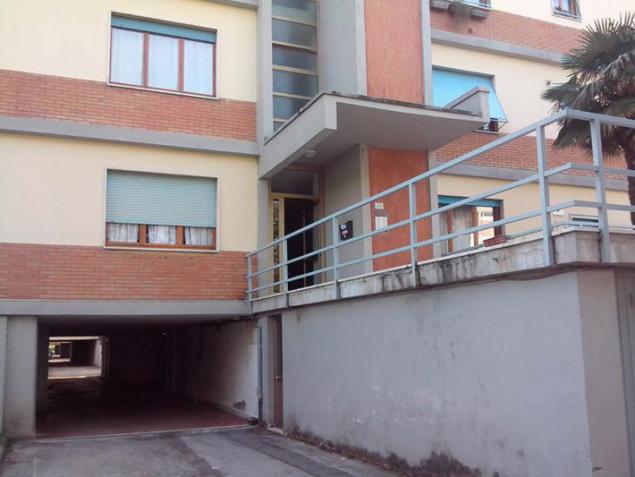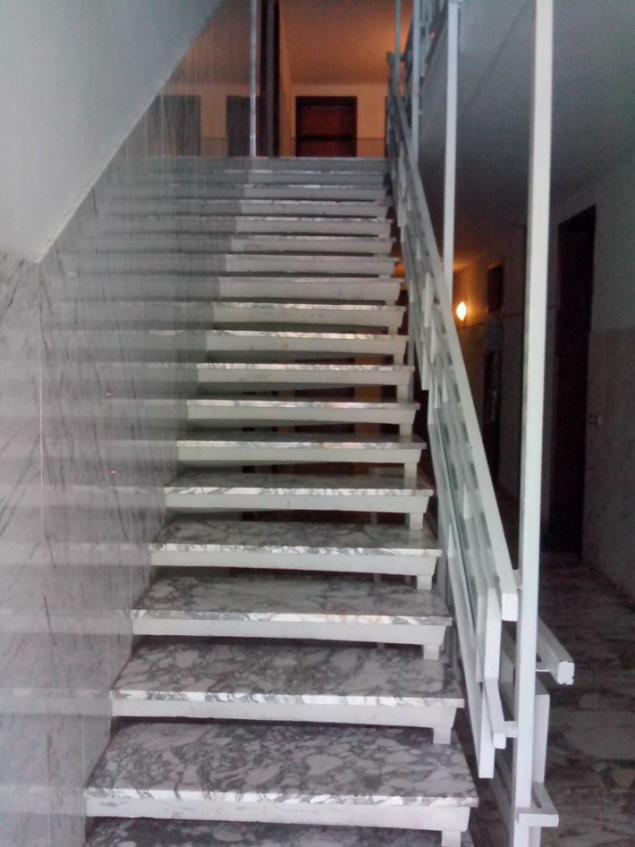 Me and my classmate went to the two-room apartment with total area of ​​76 square meters. The apartment has seven beds, allowing us easy and fun to take visitors here. The bathroom is usually combined, but the presence of the window adds the joy of using it. The apartment when the universe was absolutely everything, including dishes, kitchen appliances, washing machine and so on.
Living room.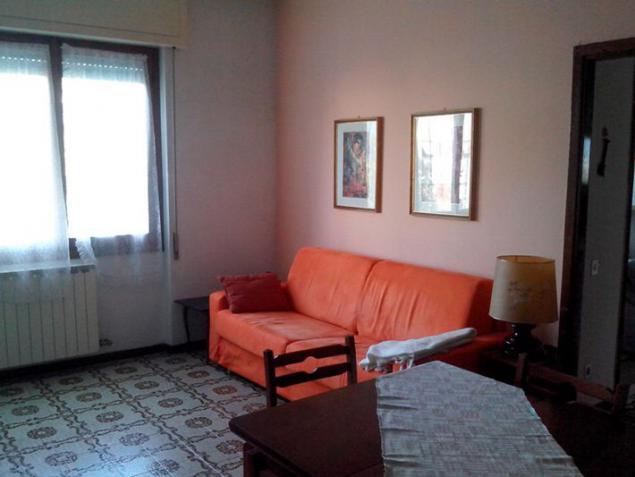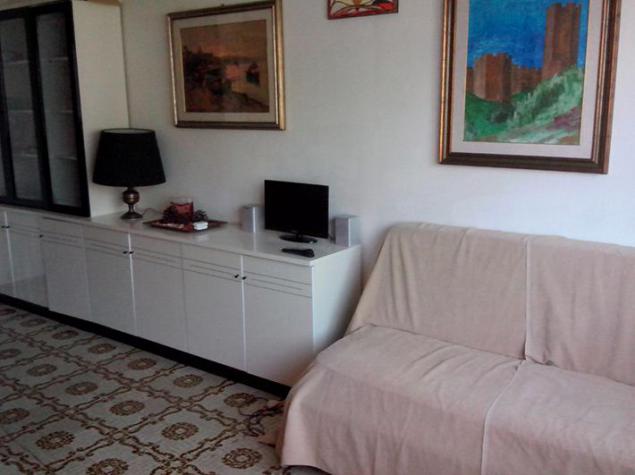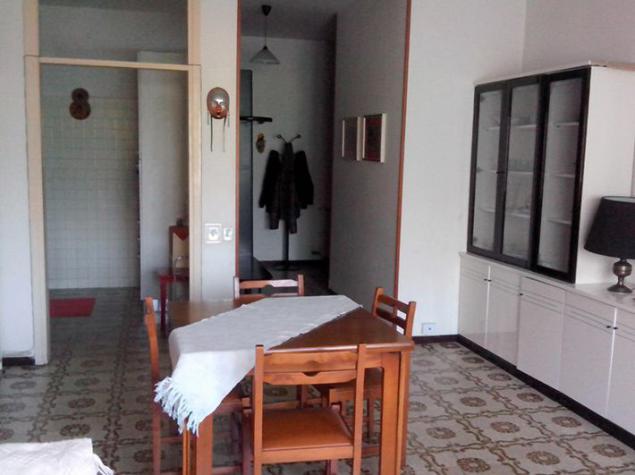 Central heating is not here, each apartment has its own gas boiler, heat water as needed and in accordance with your wishes.
Soon after settling my own home windows replaced. In the old frames inserted single glazing, but even from this (taking into account the local climate) then once it became warmer. In addition, the window can always seal and, for example, lower external shutters, which further improves thermal insulation. Minimum temperature this winter was 3 degrees, the average - 10. I usually include heating from seven to eleven at night, that was enough. The cold morning in the shower saves conventional heater, again provided by the hosts. If you wish, you can give up the heating of certain premises. For example, I turned off the radiators in the corridor. All of this affects how much you ultimately cost apartment.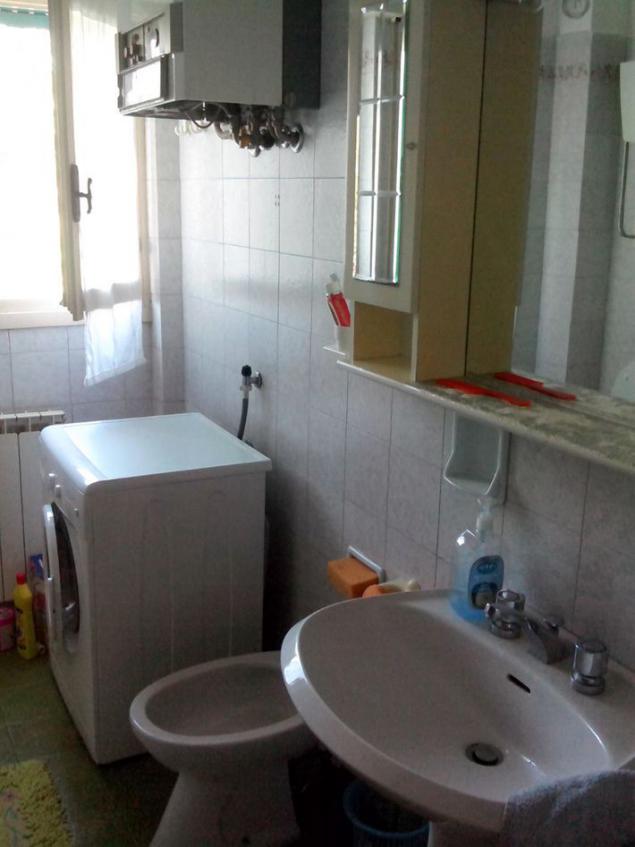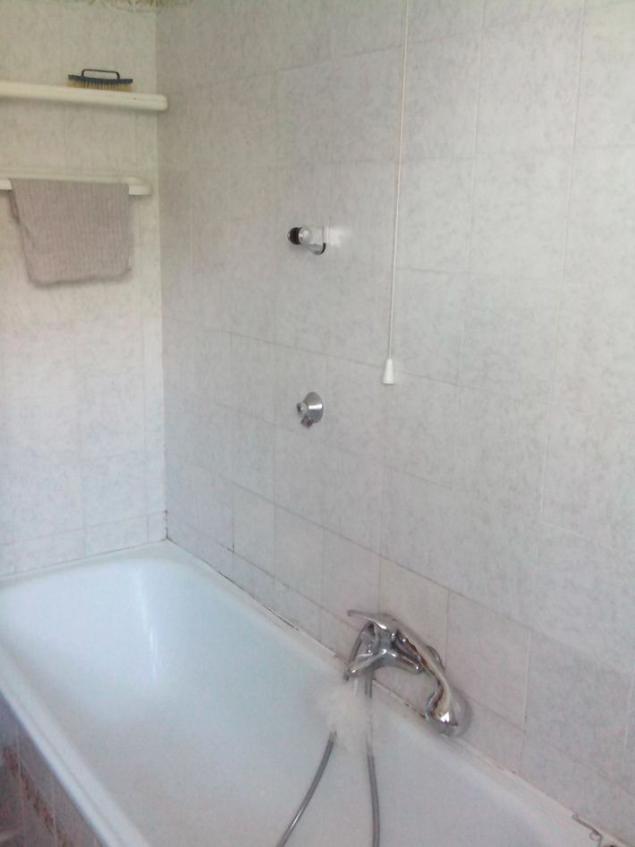 During the winter season (from mid-October to mid-February) gas bill (heating, stove, hot water) amounted to € 168. I remind you that this amount we honestly shared with a companion half.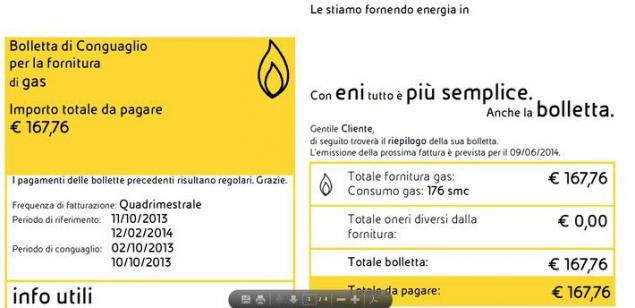 Electricity. An important difference from our reality - the lack of monopoly of the state. You yourself can choose from whom to buy gas or electricity. The companies supplying different rates, constantly pass some news on the campaign in an attempt to lure customers. Previously, my hosts buy electricity company Enel, and the gas - from ENI. Now and then, and another is purchased from ENI, to offer a comprehensive approach for such a discount.
Of course, you yourself can adjust their energy consumption. At night and on weekends (bank holidays and Sundays, Saturday is considered a business day), cheaper electricity, respectively, for example, are trying to erase all or at night or on Sunday. With proper distribution of power in two months (electricity bills are sent every two months) manages to save another € 25. On average, two electricity to us in economy mode, costs about € 40 for two months for two. When guests arrive, electricity, of course, spent actively.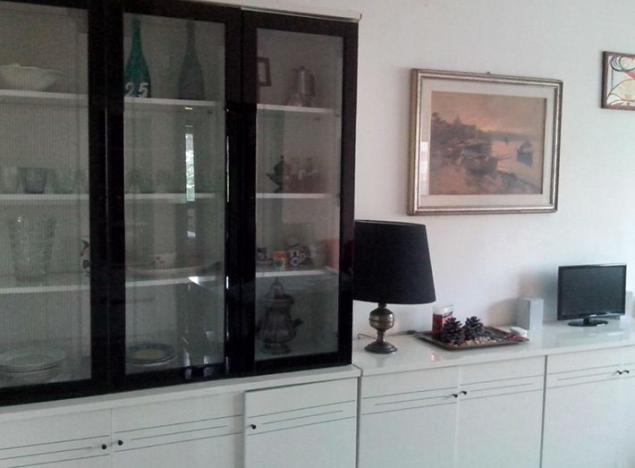 Cooling water consumption is not limited to a single count on her not. Every month we pay for it 13 €.
Fees for garbage disposal vary depending on the appetites of the municipality of a particular municipality. In Carrara garbage disposal is very expensive, we pay for it as much as € 26 a month. And, for example, in the neighboring commune Weight rates below two times (!).
Internet - via 3G-modem. The monthly fee (€ 19) included 1 GB of traffic per day, exceeding the limit is 20 cents per 100 megabytes. Mobile from Vodafone - € 9, 90 (350 minutes to all networks, 350 SMS and 1 GB of mobile traffic).
On average, our apartment is costing me and my friend in the € 525-550, of which I pay half of the amount. From my budget to rent and associated costs ruthlessly eat a third.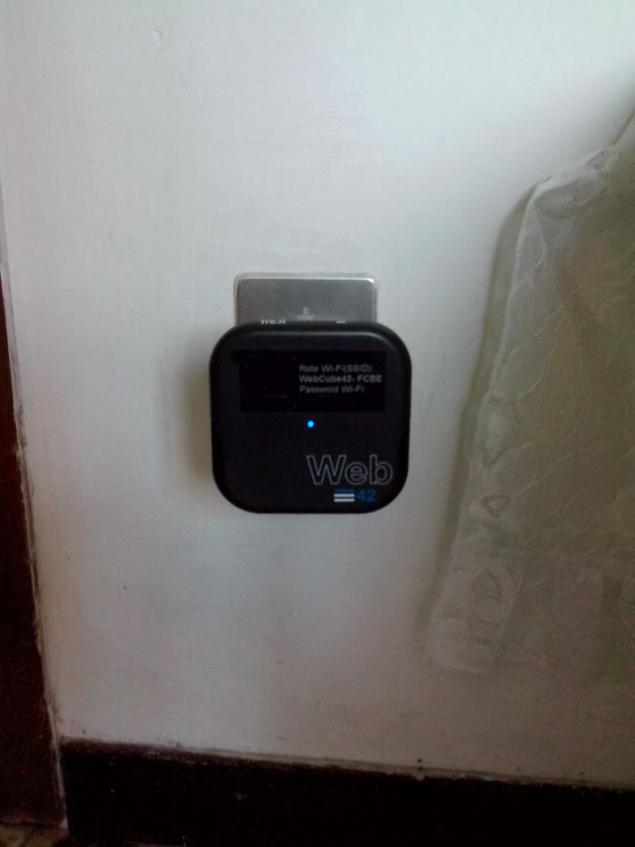 Bedroom.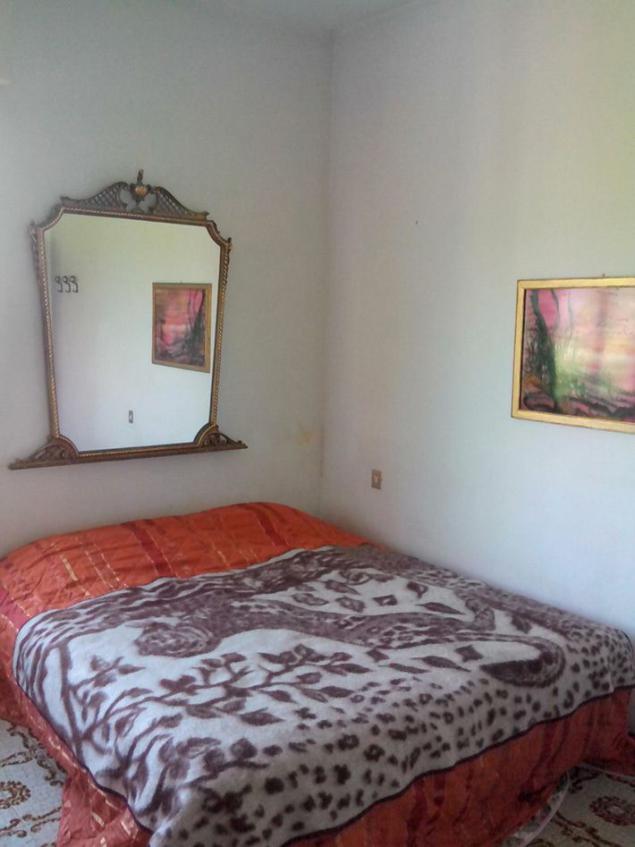 The main feature of life in the resort - an increase rents in the high season. From July to mid-September, and my hosts require for the same apartment is not € 450 per month and € 300 per week, however, this amount includes all other costs. However, on a vacation, I still planned to go to Belarus, so this situation is win-win, beneficial for all. In summer it is hot (up to 35), comes a lot of tourists.
The view from my windows.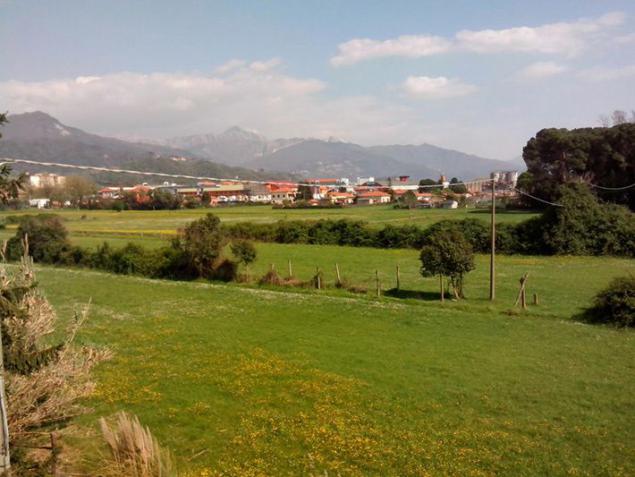 Now for my other expenses. In the hypermarket every week I buy products by an average of € 35. This is a normal diet with a good Italian meat, fresh fruit and vegetables, the famous local groceries. Of course, I'm trying to save, watch for promotions in different supermarkets, use coupons, good in Italy, this is all right. For example, a normal rabbit in a store can cost € 6, 50 per kilogram, in the other - € 7, 80, and the third - € 8, 10. If you do not pay attention to discounts and buy whatever you want, into the first store then the expense is likely to increase in half to two times.
My kitchen.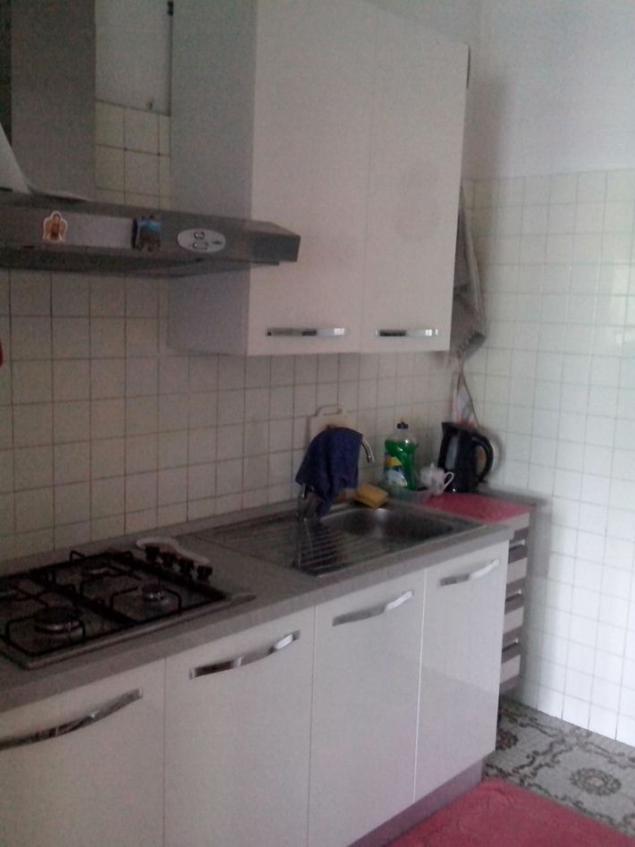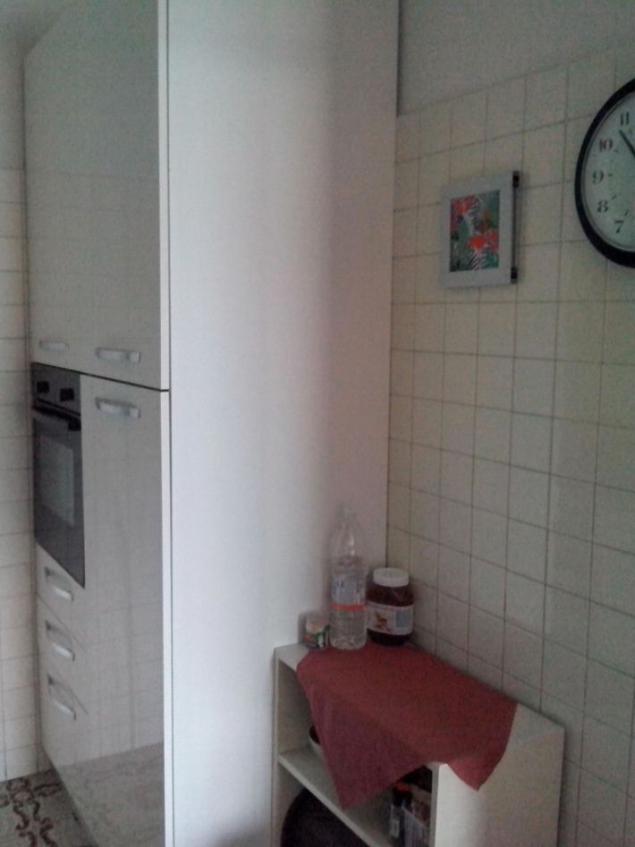 In Carrara, I ride a bike, I do not have a car, but my classmate is. Annual recycling on the small size of the city Mercedes 1999 issue of € 168. Inspection required every two years, - € 60. "MTPL» - € 530 per year. Petrol filling stations at different costs in different ways. For example, Esso petrol offers for € 1, 67, diesel - € 1, 57.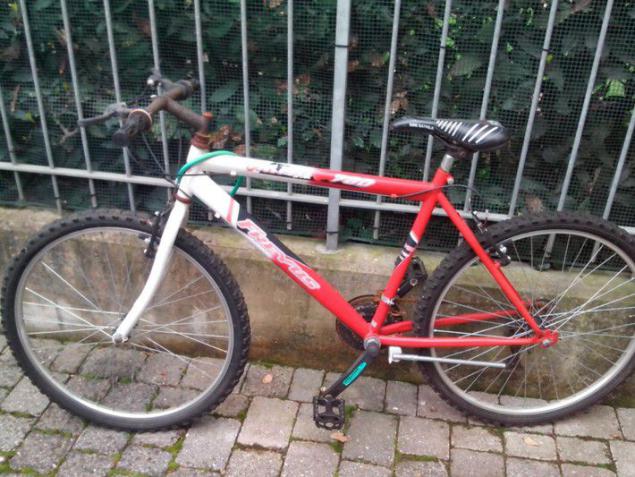 An important article of my expenses - rail. Before I reach the station I usually within 15 minutes on foot. Trains to Pisa my run regularly and frequently enough, in a way - 40 minutes. The average threshold of the apartment to the door of the University I get 1 hour 10 minutes. The monthly travel card costs me € 75. This is a fairly significant amount, but the trip to Pisa in one direction costs € 5, 50. Before lunch I lecture, then I earn, at seven or eight in the evening I was at home.
Station.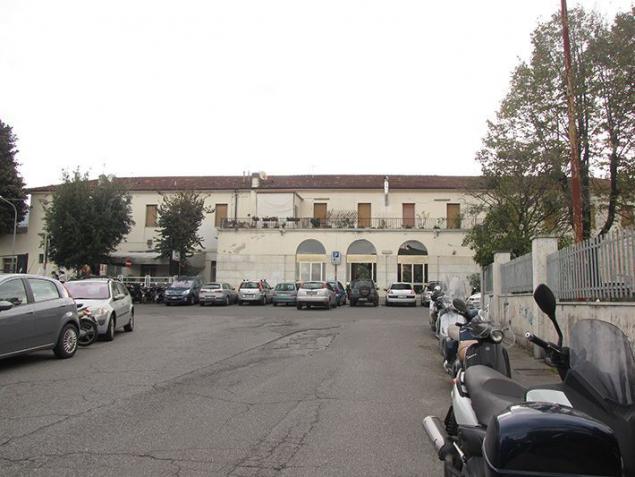 Discotheques, bars, restaurants in Carrara enough, especially since mid-April, when the city appears more and more tourists. Several times a month I can not afford to dine at home. Good pizza restaurant in the home - € 6-8, a glass of beer - € 4-5, half a liter of house wine young - € 5-7. Frankly, these stronger drinks here do not want to drink.
The monthly subscription to the gym costs € 47-65. Annual cheaper - € 40 per month.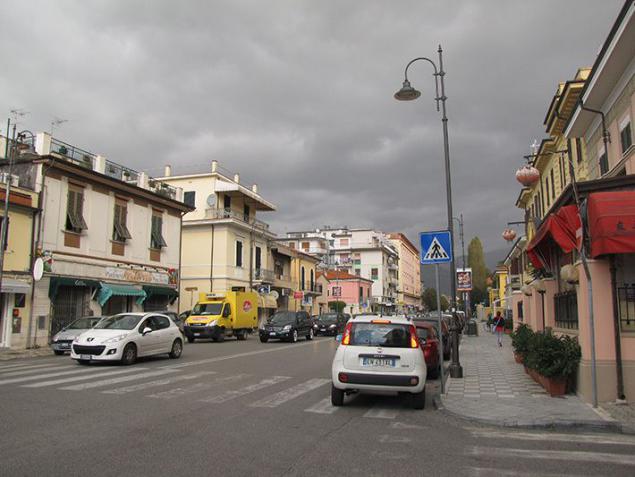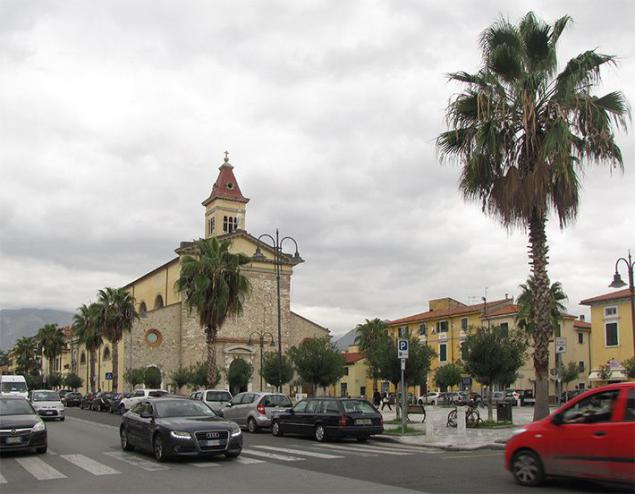 On weekends bored difficult. Tuscany is full of attractions, there is always somewhere to go and what to see.
My monthly income is - € 650, flow - the same. Enough money, but put off, alas, is impossible. Of course, now I have something to deny yourself, saving both, and to a certain extent rely on help from their parents. But I understand that all this investment in education, my light and hopefully bright future.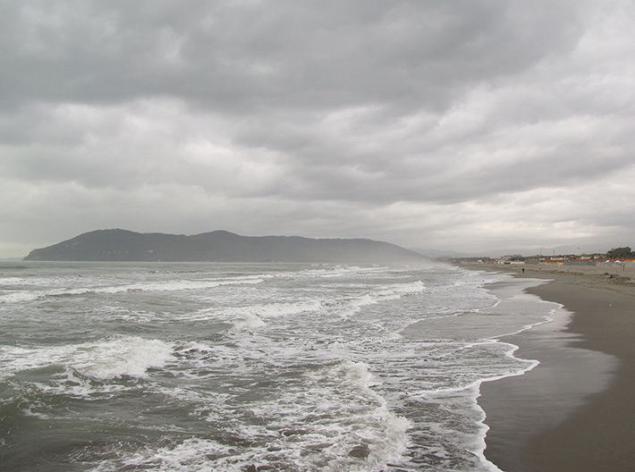 Source: gomelnews.onliner.by