The most romantic and beautiful season for weddings - this, of course, the month of May. At this time, rapidly begin to bloom trees, flowers everywhere, nature wakes up in the air and felt the heady aroma of love. I hope that today's air and tender selection will be a great inspiration for all future brides reason to dream or awaken the best memories of your wedding.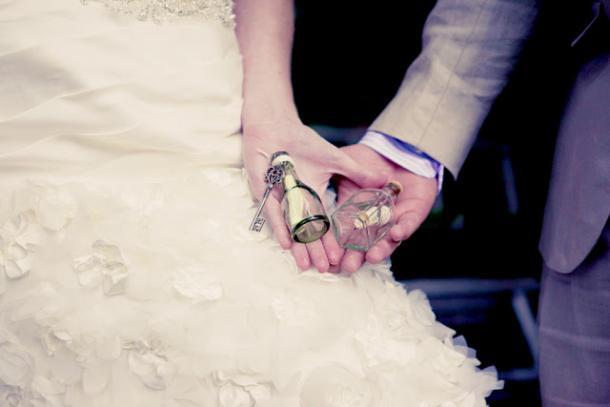 With such a huge variety of feminine silhouettes, lace, jewelry and various materials say "Yes" it will be very easy! Below - 12 a wide variety of dresses for every taste and budget.
1. Carven
Dress with a pencil skirt to the floor in the best traditions of minimalism - the choice of those who appreciates first of all the simplicity and elegance of dress. There is something particularly beautiful in all sorts of dress without stones, ribbons, bows and flowers on all cylinders. If you are looking for something elegant and feminine, look in the store brand Carven. They obviously have something to make you happy.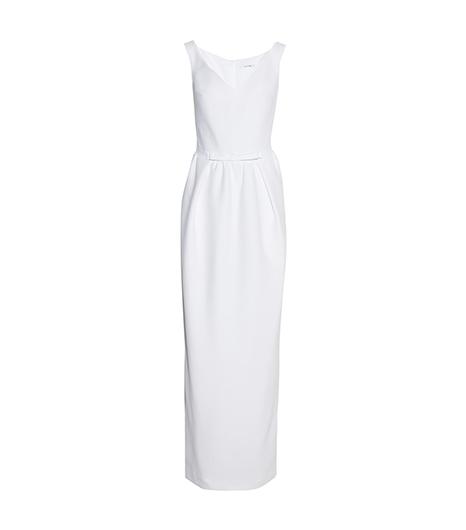 Carven Crepe Maxi Dress ($ 850)
2. Rachel Zoe
If your understanding of elegance and sophistication - a delicate lace, elegant embroidery and translucent fabric, the model below just for you!
Rachel Zoe Dane Mesh Gown ($ 575)
3. Rochas
Wedding - event in women's lives is truly a unique and magical, so many do not skimp on wedding gowns. For these and create an exclusive, special dresses, like little works of art from fabric and yarn.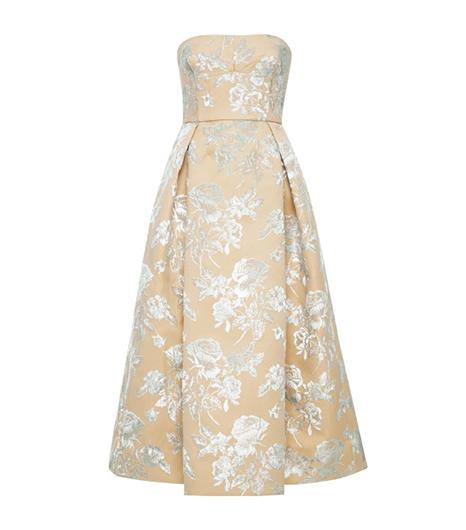 Rochas Floral Bonded Duchesse Satin Dress ($ 5685)
4. Tory Burch
Increasingly, women refuse to ball gowns with kilometer loops in favor of refined minimalism. Especially strange magnificent royal dress will look on the modest little celebration for the friends and relatives. In this case it is better to choose something discreet and at the same time spectacular. As an option - from large mini dress lace and silk pleasant creamy.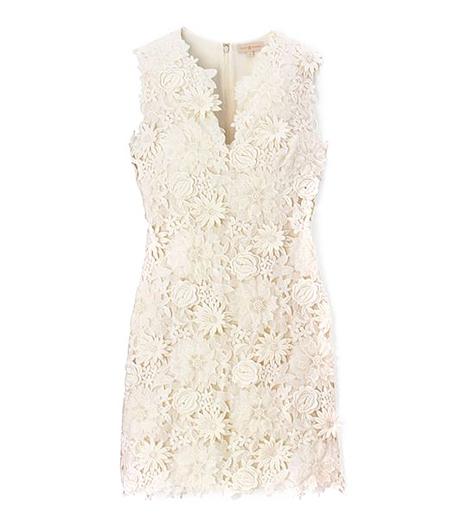 Tory Burch Merida Dress ($ 795)
5. H & M
Who said that to buy wedding dresses need to break the bank or credit to grow rapidly? Budget brand H & M offers a refined version of a Greek-style for a truly ridiculous price. This brand stands for something, what would you spend your money on a honeymoon, not a dress that will wear only once in a lifetime. To close such a philosophy - a run to the store H & M!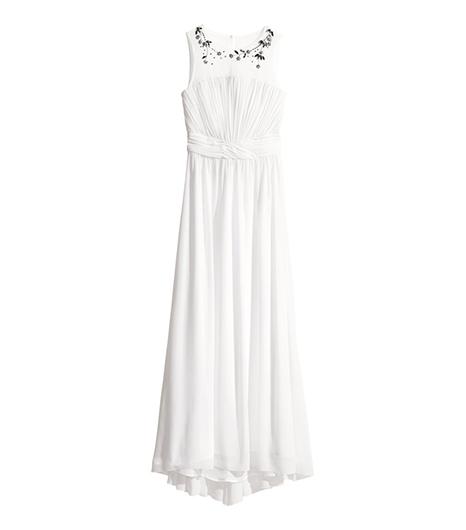 H & M Rhinestone-Trimmed Dress ($ 99)
6. Alice + Olivia
One such simple, but so attractive wedding dress this spring.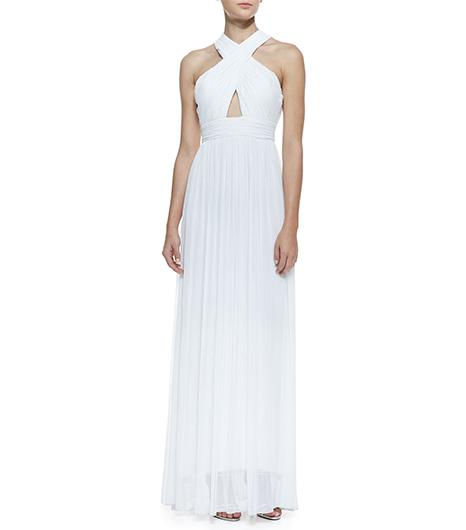 Alice + Olivia Jaelyn Cross-Front Pleated Chiffon Gown ($ 484)
7. Laundry by Shelli Segal
This breed - a real godsend for the smaller and slender brides.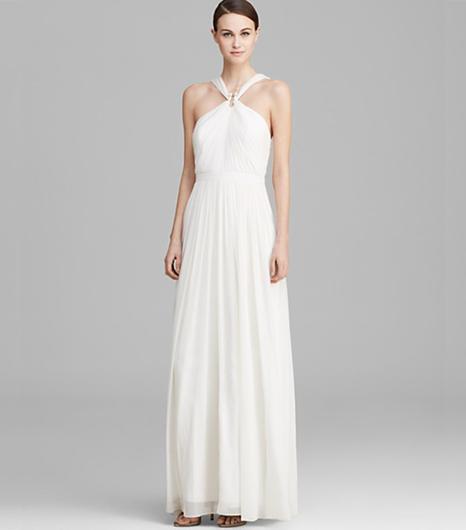 Laundry by Shelli Segal Shimmer Gathered Bodice Gown ($ 365)
8. Anna Sui
Themed wedding is getting more and more popular, especially with the atmosphere of past eras. An ardent admirer of the 20-ies - exquisite retro dress unusual, but very delectable shade.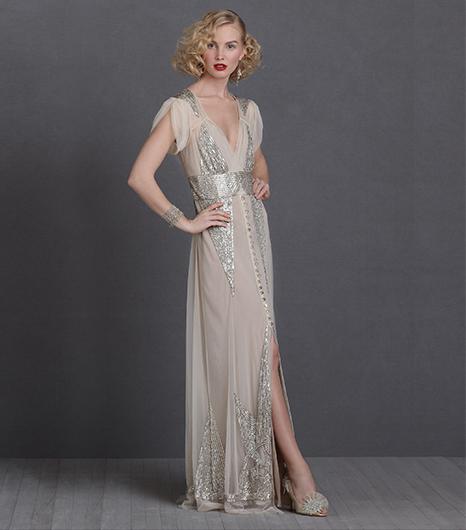 Anna Sui Aiguille Gown ($ 1200)
9. Helmut Lang
Very recall the popularity of semi-transparent dresses and look closely to it effectively and simply opening fee, without superfluous details.
Helmut Lang Sheer Inset Maxi Dress ($ 345)
10. For Love & Lemons
The previous model was not too transparent? Do not worry, there are more open. For example, this exquisite lace dress, enchanting in its simplicity and elegance. You can combine it with the big jewelry or leave untouched, adding a beige heels and bright red lipstick.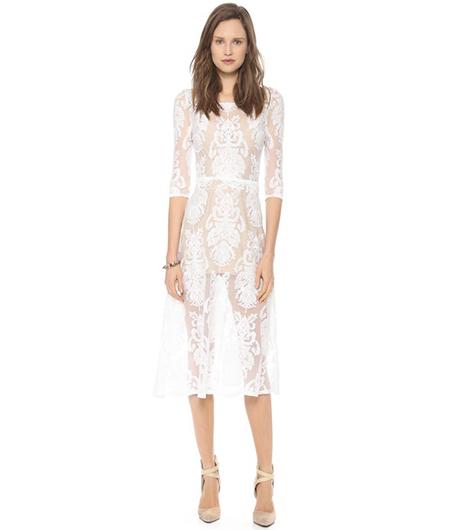 For Love & Lemons San Marcos Dress ($ 224)
11. Reformation
Everyone's favorite brand Reformation never ceases to please its fans: the last surprise was the wedding collection that came out about a month ago. In it - modern and elegant wedding dresses for fashionable and confident.
They lack all that so irritates many bridal salons: abundance ryushechek, ribbons, flowers, body skirt, which is not included in every doorway. These dresses have absolutely nothing extra. A flying tailoring and delicate, thin fabrics accentuate your natural beauty and charm.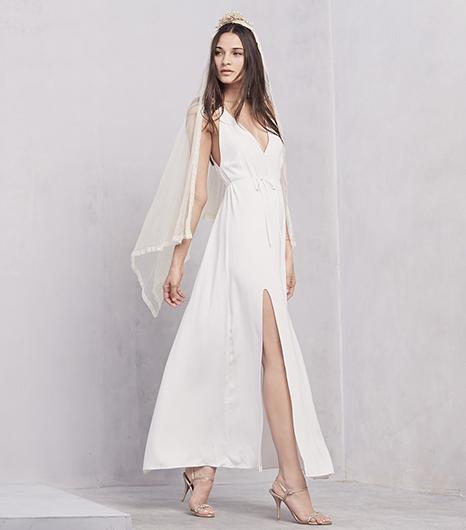 Reformation Citrine Dress ($ 518)
12. Black Halo
Clear lines and unusual architectural silhouette of the dress - a selection of modern and trendy brides.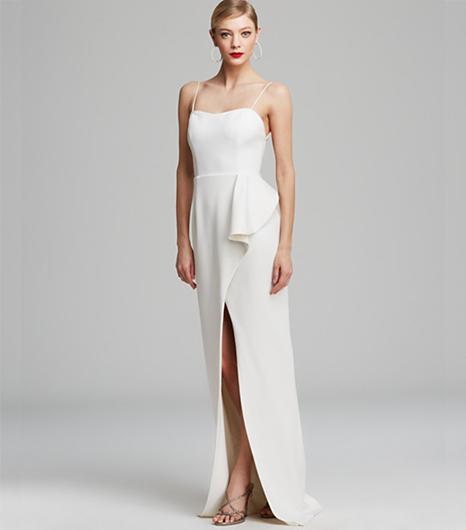 Black Halo Spaghetti Strap Neoprene with Cascade Ruffle Gown ($ 575)