We wedding dresses a rich and fascinating history. Let's look into it to find out some interesting facts and entertaining istorii.Platya on talonamV 60s Soviet bride came to the registrar for registration or simply a festive dress or outfit sewn to order. The first wedding salon USSR opened only in 1962. But here to buy a dress, veil and the groom's suit could only coupons that were issued in the registry office when applying.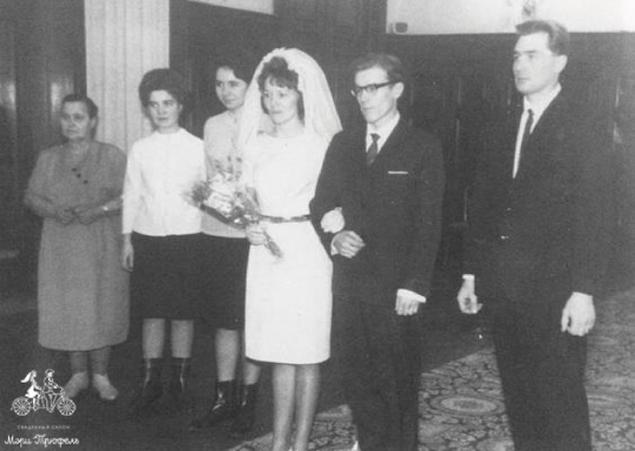 Paper fragility
Paper wedding dresses Asya Kozin - that's really really dresses at one time! However, the wizard creates the fragile masterpieces not to be worn and for beauty. Generally, the wedding - the constant search for the object and the artist's research. One of her latest collections - stunningly beautiful brides wedding dresses Mongolian. Stylized costumes reflect the diversity and richness of Mongolian wedding culture.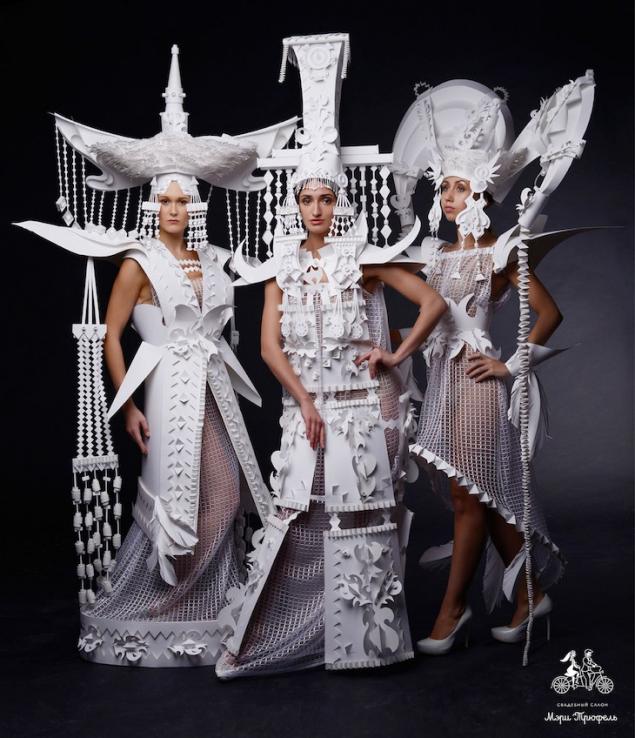 Masterpiece praktichnostiPopytki turn the wedding dress in practical clothes were made more than once. Recent versions of dresses, Transformers, created by Eva Bendigo, Hayley Paige, Zuhair Murad, Oscar de la Renta can be called successful.

Wedding Dresses transformers - a kind of prefabricated parts which can be put on or removed, depending on the situation. The most selling model - dress with removable fluffy skirt. Detachable skirt from the waist or mid-thigh, leaving the bride in a short dress, straight cut. Very easy to use format for a banquet, when the ceremony is over and you can relax a little.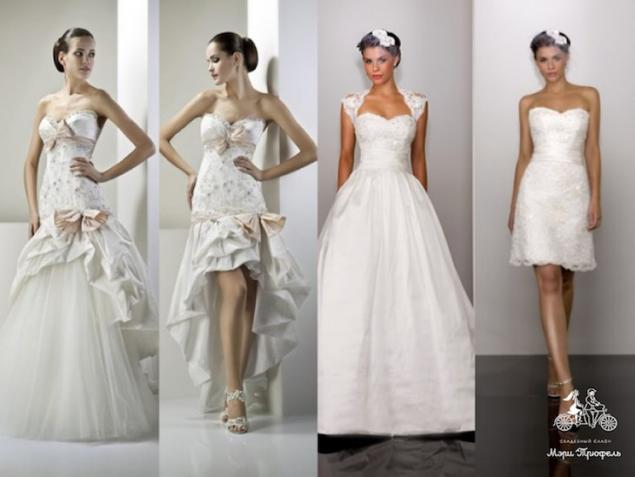 The prototype of the wedding dresses, Transformers has become Infinity Dress - «endless Dress" Lydia Silvestro. The first show of this dress on 5 May 1976 in London. Nearly 30 years the format of the garment especially no one was interested, but in recent years some wedding designers have adopted the idea

Dress Book of Records GinnesaKosmina Englizian -. Designer from Romania, created a dress, decorated with 16,793 pearls and 42 583 crystals Swarovski. on the background of these figures, the weight of the dress in the 12 kg and poshedshie him 35 meters laces do not seem quite so, and impressive!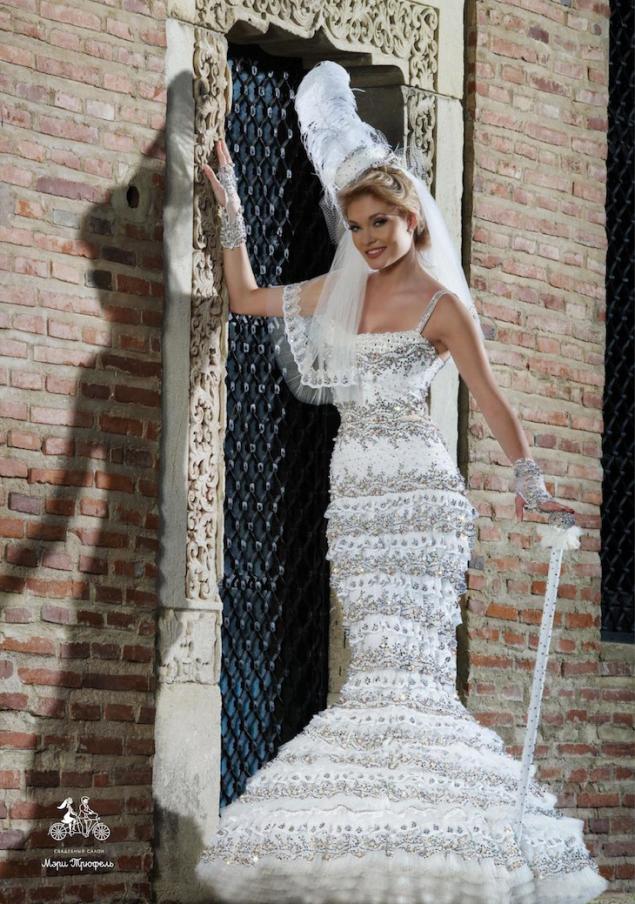 Walking as a walk: the most expensive wedding plateSamy expensive wedding dress created in the last 5 years - a dress for 8, 3 million dollars.. Masterpiece with 502 diamonds and a thousand large pearls stitched in 2013, the Japanese designer Ginza Tanaka.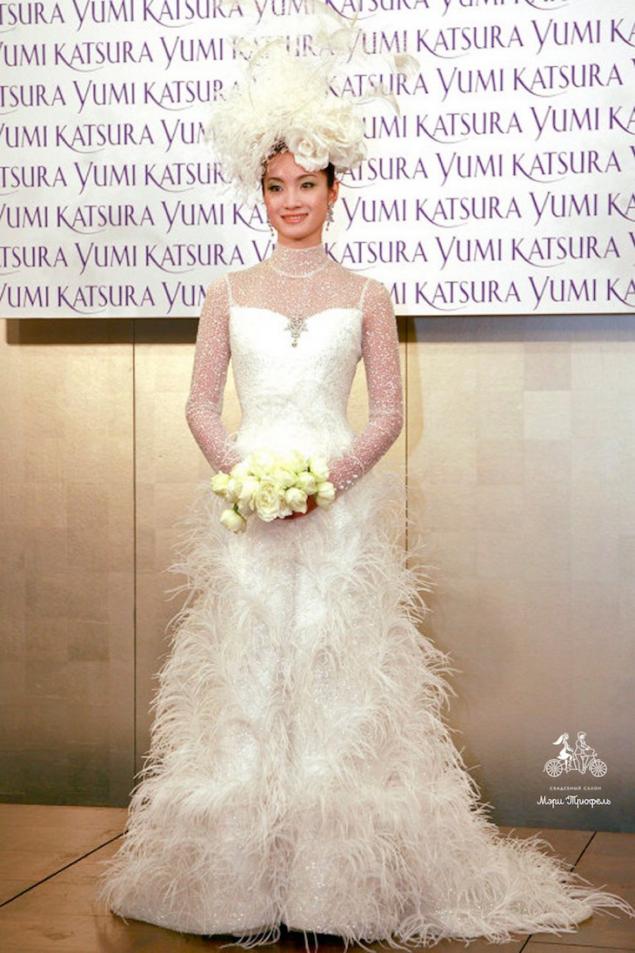 Cheap and cheerful: wedding dresses from KitayaKogda Russians discovered Aliexpress, thrifty bride rushed to order in China wedding dresses. According to statistics, search engine Yandex spring 2014 wedding dress you buy on Aliexpress was interested in more than 6 000 people a month! Treading on their rakes and watching other people, even the most thrifty agreed with the proverb with the times - "a miser pays twice." Since 2015 the interest in Chinese outfits declined steadily and by the spring of this year, the purchase of wedding dresses on Aliexpress interested only 900 people a month.

Dress in head 60% of girls between 12 and 30 years know exactly what will be their wedding dress. What is most interesting, more than half of respondents still no one there! Psychologists suggest that women are not so important when and with whom they held a wedding. But the style and color of the dress, decorations, veil and accessories girls think through in advance. Very previously!

Pay all pravilamSoglasno old English tradition, successfully marry need something old, something new, something blue and something borrowed. Strong > When in 1981 Diana Spencer - the future Princess Diana - married the Prince of Wales, she wore a dress made according to this tradition. "Something old" was lace ruffles on the bodice - they belonged to his grandmother Queen Elizabeth II. New was the dress itself. "Something blue" was sewn in belt blue bow and "borrow" Diana asked her mother's golden horseshoe with a tiny diamond.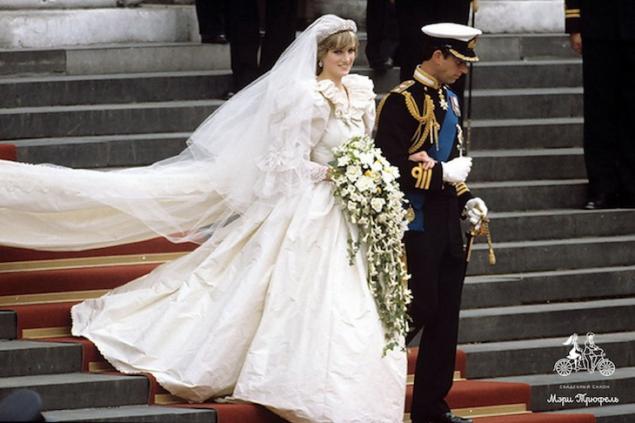 most star-studded wedding modelerPozhaluy, most wedding dresses for stars and persons of royal blood could create the fashion designer Valentino Garavani. His dresses married Princess Maxima (later the Queen of the Netherlands), Marie-Chantal Miller (wife of Crown Prince Pavlos of Greece), Jennifer Lopez, Elizabeth Taylor, Swedish Princess Madeleine, Anne Heteuey. A designer Jacqueline Kennedy dressed up to the crown twice! The traditionally lush wedding dress in 1953, Jacqueline married John F. Kennedy, and in 1968 in a shortened beige dress with lace combined second marriage to Aristotle Onassis.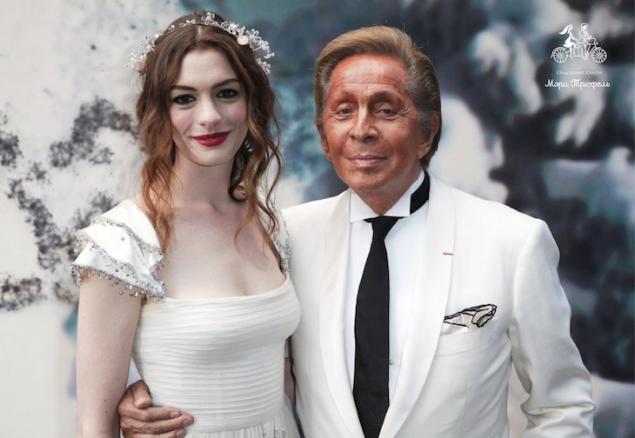 1000 hours plateVyazanye wedding dress handmade extraordinarily beautiful and spectacular. But did you know that this outfit takes an average of 17 km of yarn and Bole 1000 hours of painstaking manual labor? But the result is worth it, is not it?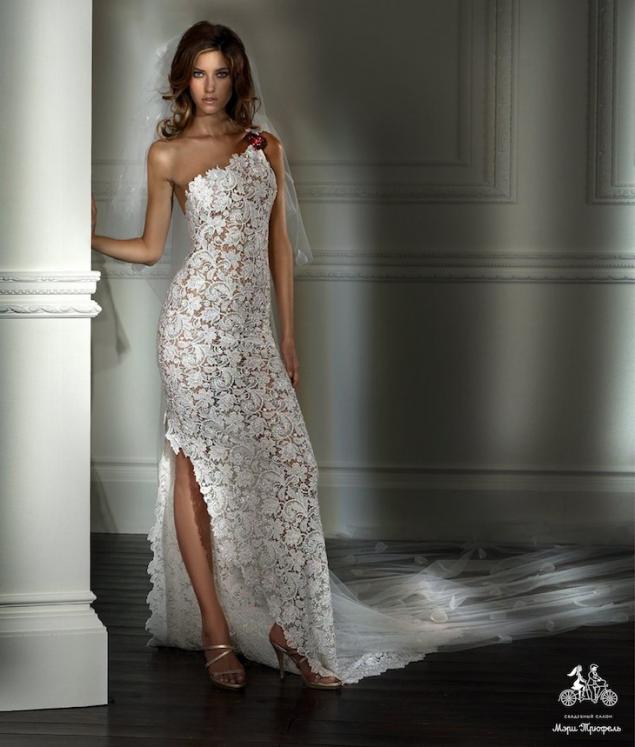 Even more interesting news and models of dresses online wedding salon "Mary Truffle» - Marytrufel.ru

. via factroom.ru