Some vehicles of the US market, which is not officially sold in Russia
US - the automotive country in the world. Thousands of kilometers of excellent highways, low prices for cars, small interest on loans ... And yet - a huge range of each manufacturer with models to suit all tastes. Which in Russia can only be bought on the "gray" schemes without guarantees and with a huge fee.
The American model is not represented in Russia, very much. Here we collect the most interesting inhabitants of overseas dealerships, dividing them into categories.
source.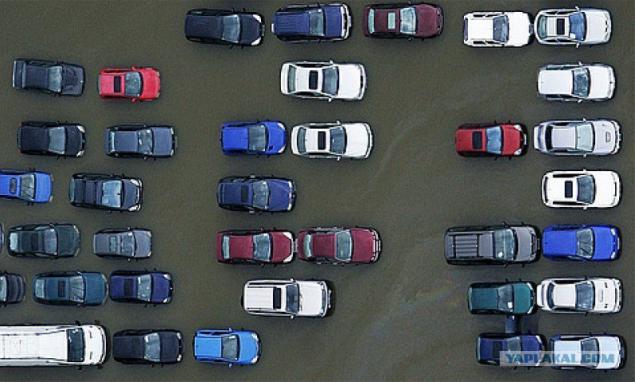 Large sedans
Toyota Avalon
Price in US $ 31 340 - 41 400 (1 097 000 - 1.449 million rubles).
Engine: V6 3.5 (268 hp), or a hybrid 2.5 (200 hp).
It is the flagship brand in the markets of USA, Canada, Korea and the Middle East. Until 1992, when she made her debut model was the leader of a car with Japanese roots - Toyota Cressida, which was the option LHD Toyota Mark II. For the United States needed a car full of his own design, he became the Avalon. Avalon was originally built on the platform lengthening Camry, and later developed his own, together with the Lexus ES.
The current generation Toyota Avalon, painted in the new corporate "pointed" corporate style, appeared in 2012. For the first time in the history of the model was created a hybrid version with atmospheric row Quartet, which consumes, according to the Environmental Protection Agency United States, no more than 5, 9 liters of fuel per 100 km in the urban cycle.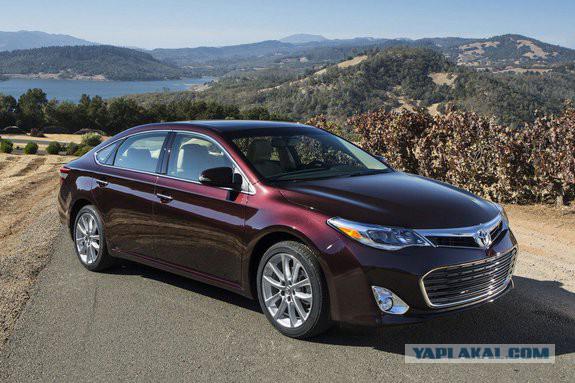 Chevrolet Impala
Price in US $ 27 170 - 36 215 (951 000 - 1,268,000 rubles).
Engine: 2.5 (195 hp), a hybrid 2.4 (182 hp) or the V6 (305 hp).
Impala name for the United States - legendary. It's kind of American "Volga", but at times more successful. It's no joke: the current generation, sold the spring of 2013 - is the tenth in the last 56 years. However, it is worth noting that the Impala twice to leave the market: in the mid-80s, and a decade later. But the new generation is built on the basis of the extended Opel Insignia, has a very expressive design in the spirit of Camaro and good prospects on the market.
Anyway, this is the first American-made sedan that gets the highest score (95 out of 100) of the expert Consumer Reports magazine since 1994! All this time the ball was ruled in the US Japanese models. Understanding the requirements of the market, Chevrolet Impala has a hybrid version eAssist. Curiously, in parallel with the tenth generation model on the assembly site of GM in Ontario (Canada) up to 2016 will be to collect and previous Impala (it was called the Limited), but only for corporate clients.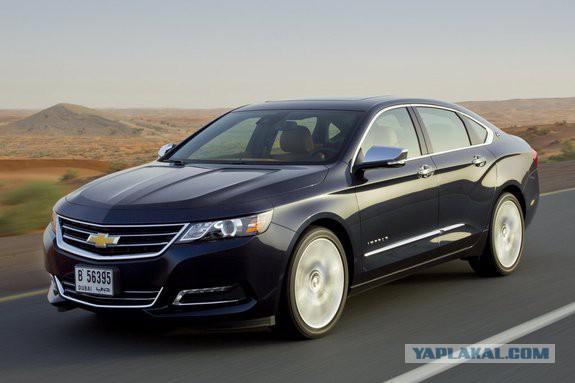 Ford Taurus
Price in US $ 26 780 - 39 980 (937 700 - 1 400 000 rubles).
Engine: 2.0 Turbo (240 hp), V6 3.5 (288 hp), V6 Twin Turbo 3.5 (365 hp).
"After sleeping" invasion of its market powerful Japanese rivals, fordovtsy first upset and even laid off Taurus, but in 2010 still revived model, providing its good "muscular" design, front-wheel drive with optional full and modern engines in the European spirit.
By the way, the new Taurus, among others, has a police version Police Interceptor Sedan, which replaced the service of the legendary, but the order of the obsolete Ford Crown Victoria. However, the replacement of the police themselves unhappy - they complain about the fact that the Taurus is not as much space as in the "old lady Victoria." Perhaps it is the tightness of the main "scourge» Ford Taurus, even compared to "Japanese."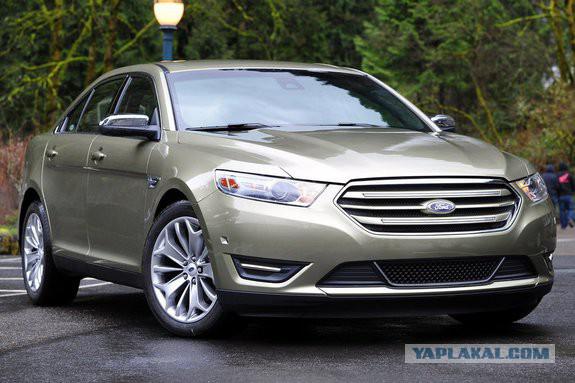 Crossovers and SUVs
Toyota FJ Cruiser
Price in US $ 27 680 - 30 130 (969 000 - 1.09 million rubles).
Engine: V6 4.0 (236 hp).
Toyota FJ Cruiser made as a stylized legendary compact SUV Toyota FJ40, unreleased from 1960 to 1984. Being much larger (model shares a platform with the Land Cruiser Prado), FJ Cruiser almost exactly ancestral front with round headlights, which makes it uncompromisingly recognizable in the stream.
FJ Cruiser is not very ill-prepared to off-road driving. In his arsenal - 200-millimeter clearance, the ability to overcome the 70-inch ford, permanent four-wheel drive and relatively short overhangs, providing 34-degree approach angle and 30-degree - Congress.
However, the only available engine is a petrol V6, and useful for off road "torque" of a diesel engine in the range is not (despite the fact that "the same» Toyota FJ40 from the 60s produced predominantly on heavy fuel engines). But there is a "crossover" version: c rear-wheel drive and four-wheel. After all, most buyers seem more important than actually be.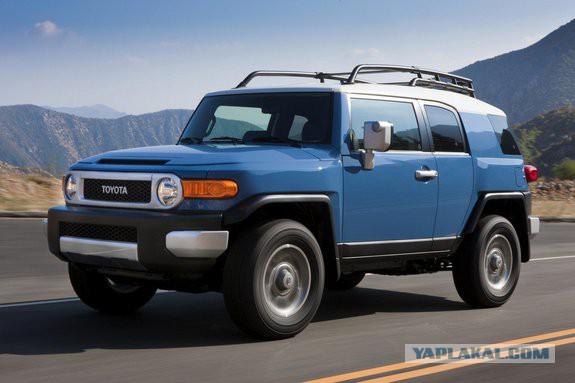 Chevrolet Suburban
Price in US $ 47 300 - 64 7,000 (1,690,000 - 2,311,000 rubles).
Engine: V8 5.3 (355 hp).
Name Suburban («suburbs») - a world record among car brands. The first generation of the car presented in 1933, and in spring 2014 debut already eleven. For '81 - no liquidations, pauses and revivals.
Looks Chevrolet Suburban is as monumental as it is immutable demand for it among Americans. It is the largest crossover mark. If you compare it with the Tahoe, Suburban is longer than half a meter. And despite the external similarity to the "little brother", the closest relatives of the platform are its more lavishly equipped versions GMC Yukon XL and Cadillac Escalade ESV, and full-size trucks Chevrolet Silverado and GMC Sierra.
Last, twelfth, generation made its debut in the autumn of 2013 and has only just gone on sale in the United States. GM's particularly emphasized the fact that the new Suburban, due to deliberate in terms of aerodynamics design and technology Active Fuel Management relatively economical. In the city of Texas Giant consumes just over 15 liters per 100 kilometers.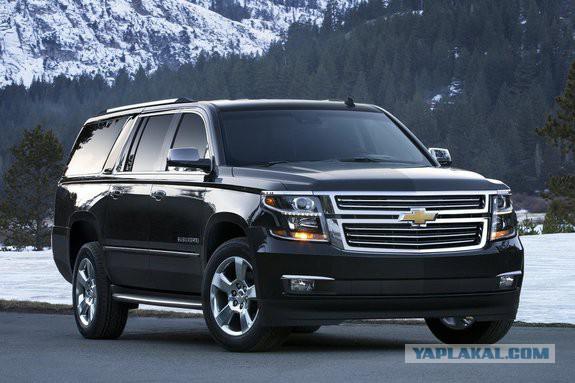 Ford Flex
The cost of US $ 29 910 - 38 495 (1 054 000 - 1.357 million rubles).
Engine: V6 3.5 (287 hp), V6 3.5 TwinTurbo (365 hp).
This unusual crossover in the US lineup is between Ford Edge and Ford Explorer. Why are we brought Edge, Flex and not a mystery - leave it to the conscience of marketers. For the US market Flex marked the final transition to the philosophy of crossovers, because at the same time replaced the wagon-road Ford Taurus X and minivan Ford Freestar.
The main buyers of Flex - family people, because 5130 mm in length can accommodate three rows of seats with comfort for passengers, and two series - a great comfort to them and piles of luggage. Moderate roads on the way to the ranch or a camping helps conquer the optional all-wheel drive.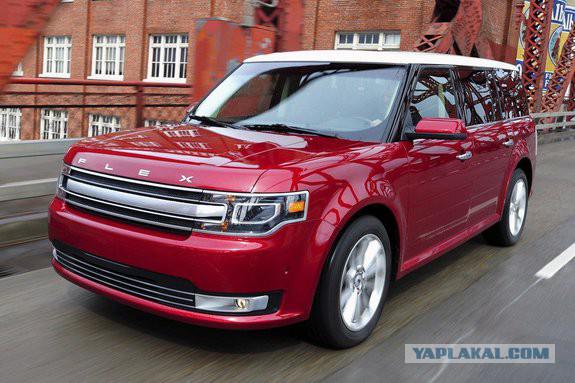 Pickups
Toyota Tundra
Price in US $ 26 200 - 44 550 (917 000 - 1 560 000 rubles).
Engine: V6 4.0 (270 hp), V8 4.6 (310 hp) or V8 5.7 (381 hp).
Toyota, as we know, has very ambitious plans in the US market. Satisfied with the leadership in the compact segment with the Corolla and the business segment with the Camry Japanese do not intend to, so at the end of the 90's are working hard conquest of market technicals. Toyota Tundra sales not nearly live up to the "big three", however, and can not be considered a failure model, as the Nissan Titan.
Third-generation Tundra came as recently as late 2013. Looking at her, it became clear: toyotovtsy not going to look for their own way and offer more compact and less brutal pickups as their competitors. The new Tundra was "angrier" and monumental.
The top version is really pleased with luxury finishes, about which Americans say Lexus quality. Thus, in addition to elegant CrewMax, where on the second row can sit leg to leg, there is a more utilitarian version DoubleCab and Regular Cab, sharpened to a greater extent under the carriage of goods.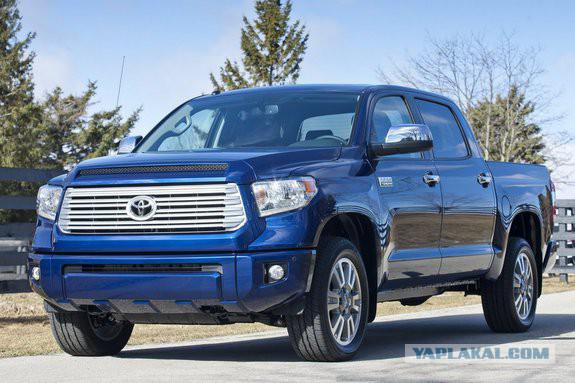 Ford F-150
Price in US $ 25 930 - 51 890 (914 000 - 1.83 million rubles).
Engine: V6 3.7 (302 hp), V6 3.5 TwinTurbo (365 hp), V8 5.0 (360 hp), V8 6.2 (411 hp).
Today Ford F-150 - the best-selling car in America, if we consider not only passenger cars, but light commercial model. From the "big three" technicals of the New World, this is the most ancient lineage - since 1948. Who sold the twelfth generation, but in the autumn of Americans are looking forward to the thirteenth, had time to "light up" at the Detroit Motor Show in early 2014.
Ford pickup line is incredibly broad. In addition to the standard three cab variants (single, two-row and increased), there is an off-road version of the Raptor, as well as luxury Platinum, and Limited. There are extra-heavy pickups: giant Ford F-250 Super Duty and more reminiscent of the Soviet size "Turf» Ford F-650. The main buyers of their - of private carriers and other businesses, but there are fans who take this technique only for the image.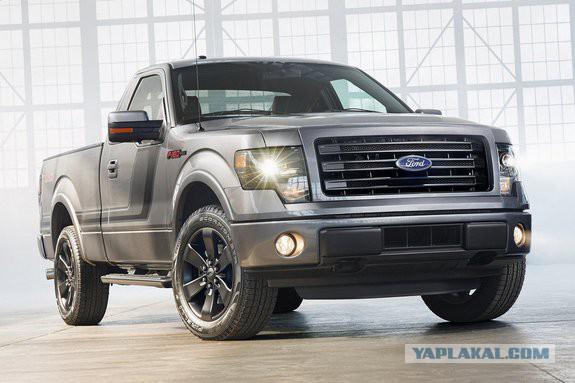 Honda Ridgeline
The cost of US $ 29 575 - 37 505 (1 042 000 - 1.322 million rubles).
Engine: V6 3.5 (250 hp).
Specifically, Honda managed to make a pick-up in a sporting spirit. Designers clearly inspired by the way Chevrolet Avalanche, but to realize this concept they did at least as good and in his own way. In the US, Ridgeline has not the biggest, but very loyal circle of fans. And this car is very much like the smugglers for the abundance of hidden alcoves, where you can hide undeclared goods.
Honda Ridgeline debuted in 2005 and has since gone through several facelift. Most likely, 2014 will be the last model, and Honda for some time to fall out of mid-size pickup segment. The new generation Ridgeline is not expected until 2016.
Other cars
Chevrolet Express
Price in US $ 28 705 - 50 310 (1 025 000 - 1.797 million rubles).
Engine: V6 4.3 (195 hp), V8 4.8 (285 hp), V8 5.3 (310 hp) V8 6.0 (342), V8 6.6 diesel (260 hp.).
Express - is now the representative of an endangered species of American vans with chopped forms. Ford E-Series, the main competitor, this summer will be replaced prosaic European Transit. Chevy Express, apparently, too, is long. Anyway, in this generation, because it debuted in 2003.
In America, the Chevrolet Express can be purchased in a variety of options: in the passenger or cargo performed, with three types of the wheelbase, with the "mechanics" or "automatic" in the posterior or all-wheel drive version ... There are as many as five V-shaped engines to choose from, however, performance efficiency and vyborosov harmful substances would lead any "green" European disquiet and resentment. If someone was not enough freedom, then Express features a slightly more expensive version of the charismatic and GMC Savanna.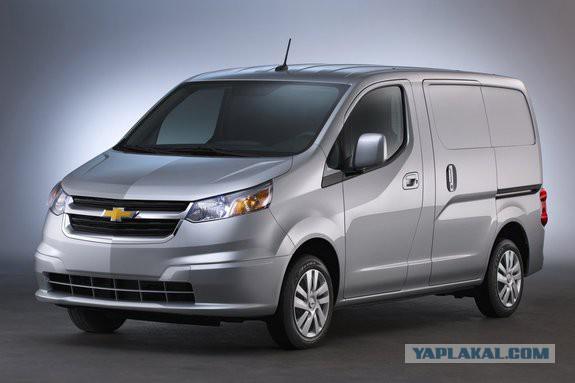 Honda Odyssey
Price in US $ 28 825 - 44 450 (1,016,000 - 1,566,000 rubles).
Engine: V6 3.5 (248 hp).
It is in the spirit of Honda: under the same name to sell two models: the larger US and smaller for others. In the case of the Honda Accord, as we know, in the end it has become a global model, but the Odyssey minivan are still two: American and Japanese.
The current generation Honda Odyssey from Alabama debuted at the 2011 Chicago Auto Show and is a classic family van with seven seats and ample opportunities to transform the passenger compartment for those who are not yet sick "krossoverizmom." Updated in 2013 brought not only a fresh appearance, but also a modern 6-step "automatic".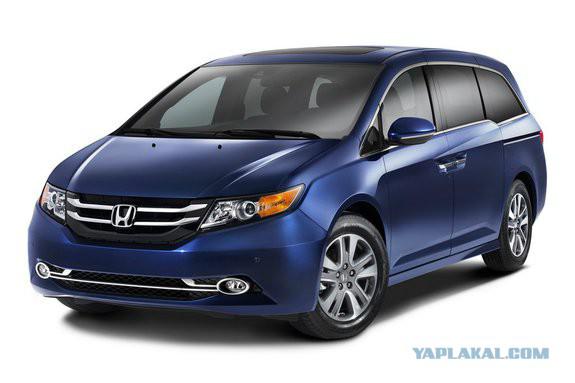 Nissan Cube
Price in US $ 16 760 - 8860 (590 000 - 664 000 rubles).
Engine: 1.8 (122 hp).
Nissan could not put up with the success of "black box", ie Toyota bB, and two years after its release to the market issued Cube. It is not necessary to scrutinize the specifications of this machine - anything interesting you will not find. The focus is on design: balls and asymmetric exterior glazing and interior, which is inspired by the authors outline a jacuzzi.
This is a car for the American hipsters of the big cities. The current generation was released in 2009, and the following is unheard of. Cube is hardly too popular model: in particular, in 2011 it was removed from sale in Europe, leaving a purely Japanese and American products.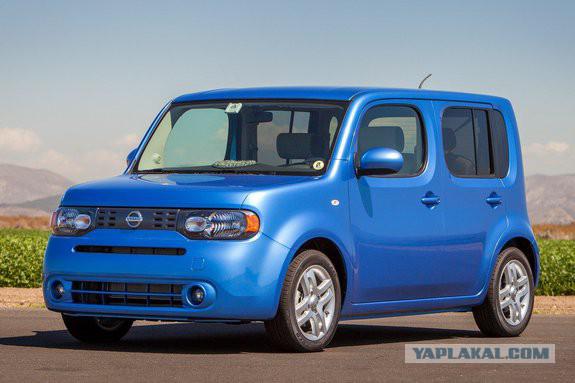 Purely American brand
In addition to the individual models, in the US there are a number of car brands for the domestic market. All of them, of course, not independent and owned by large conglomerates, so the range of their components "perelitsovannye" versions of popular cars for those who love originality. Unfortunately, the economic crisis has "killed» Pontiac, Plymouth, Saturn, Mercury, and Oldsmobile. But something still remains.
Lincoln
This brand concern Ford bought in 1922, so that the experience of creating a luxury version of mass cars has since gained enormous.
It is necessary to pay tribute to the designers: modern Lincoln difficult to confuse with Ford. In many ways, their design helps charismatic front end with a "split" grille. The range includes two sedans - MKZ (based on the Ford Mondeo) and MKS (Taurus), as well as four crossover: MKC (Kuga), MKX (Edge), MKT (Explorer) and the Navigator (Expedition). By the way, in addition to the United States, Lincoln models are also sold in the Middle East, and soon will come to the Chinese market.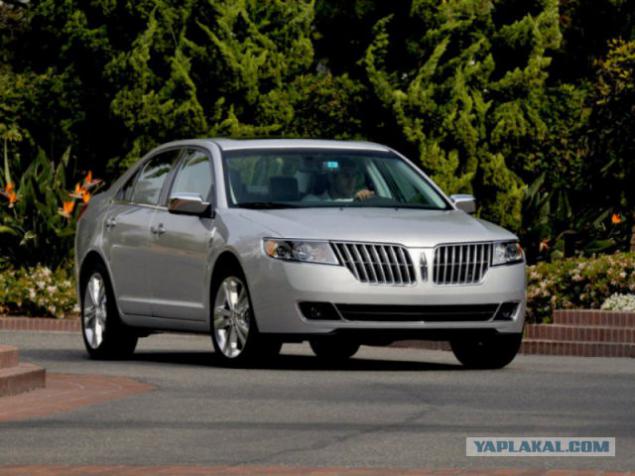 ...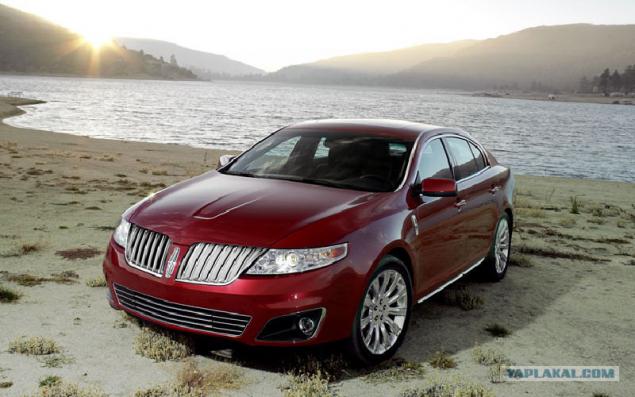 ...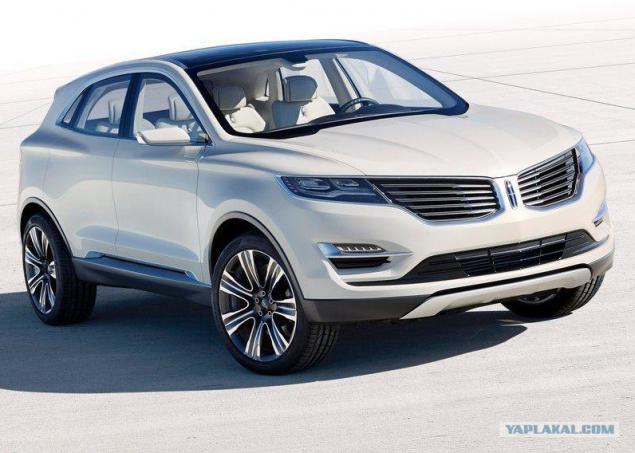 ...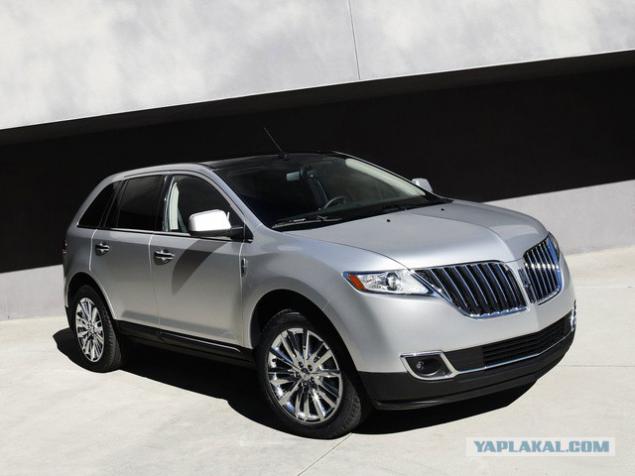 ...
Buick
Buick - is "almost premium" division of General Motors. As we know, consumer goods GM sold under the Chevrolet brand and Opel, and premium cars - badged Cadillac. So Buick occupies an intermediate position between them.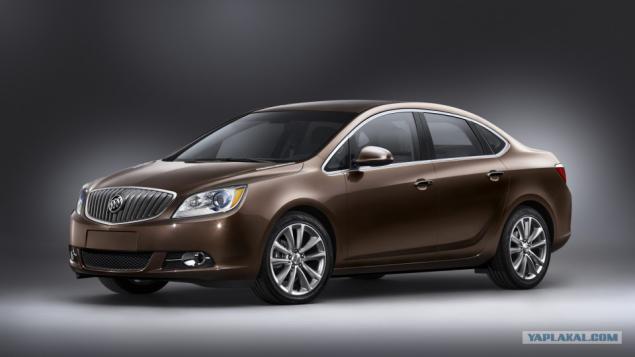 By contrast, a design concept of the brand, in defiance of "Chopped" Cadillac has smooth lines and sleek silhouettes. In general, more reminiscent of Opel, than Chevrolet. Lineup small sedans Verano (based on the Opel Astra), Regal (Insignia) and LaCrosse (elongated base Insignia), as well as crossover Encore (Mokka) and Enclave (Chevrolet Traverse). Due to successful entry into the Chinese market in 2013 Buick brand has managed to end up with more than one million cars sold.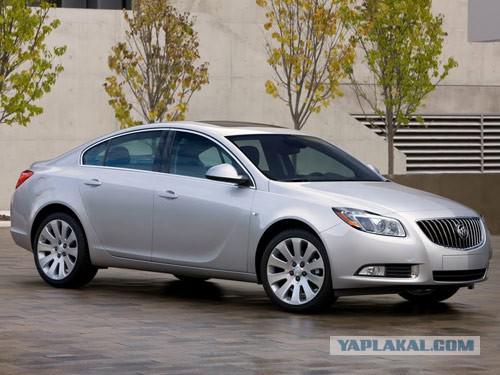 ...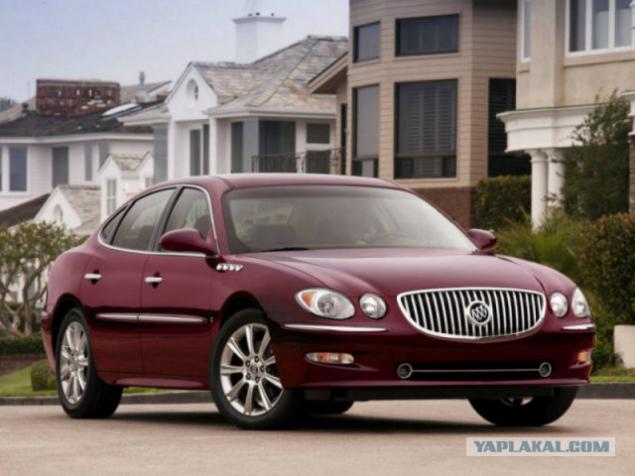 ...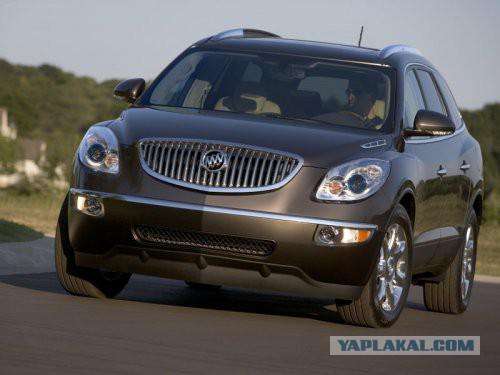 Scion
In the early 2000s concern Toyota realized that their cars do not like young people. Toyota or Lexus - it is very practical, but not cool. The result is a brand new Scion, with which the Japanese favor with representatives of the so-called Generation Y.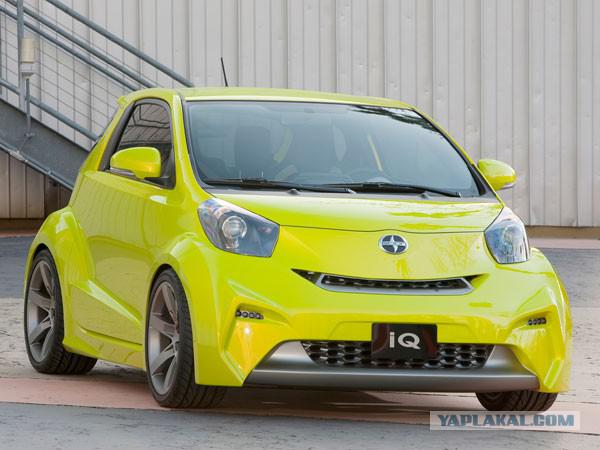 The philosophy of the brand - a cheap but memorable car dealership with a minimum margin. We can not say that sales are going very well (in 2013, sold 68,000 cars), but the Japanese do not surrender. Now Scion lineup up baby iQ (Toyota iQ), Coupe FR-S (Toyota GT86) and tC (Avensis), «cubic» pyatidverka xB (Toyota bB) and mikroven xD (Toyota ist).
...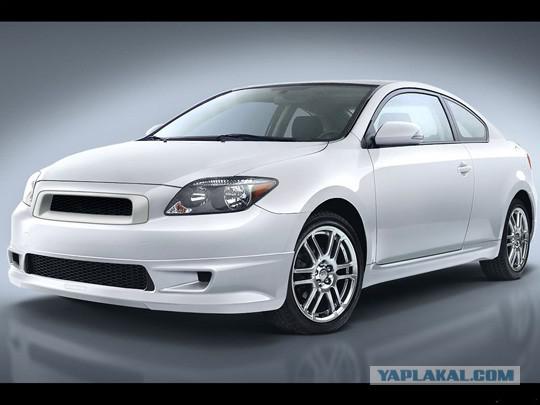 ALL!!!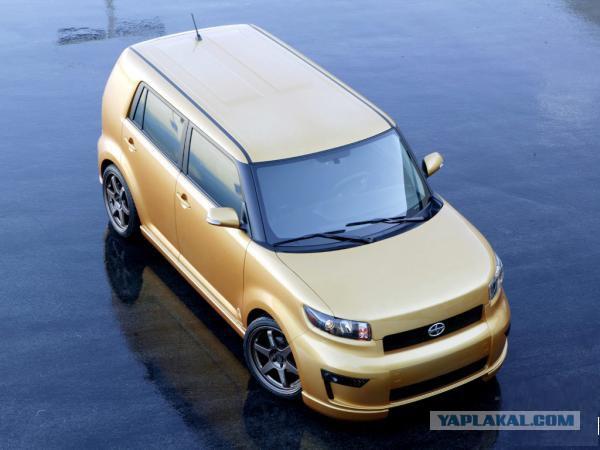 Source: