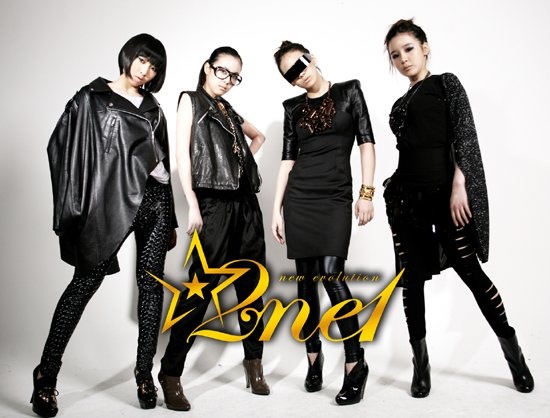 March 27th, YG Entertainment has released, a group of 4-yoh man we know as female counterpart of Big Bang, a group called 2NE1 ".  
Name of the group «2NE1» stands for To Anyone.
The group was first mentioned in the press in late 2008, when it was rumored that YG Entertainment to create a female version of Big Bang, called Sista. In response to these rumors president of YG Entertainment stated that the title has not yet been determined. In January 2009 it was announced that «Female Big Bang» debuts in July 2009 as part of the 3 members - CL, Minzy, and Bom. Later that same month, he announced that joins the group as Dara. In the end, YG Entertainment announced that the group will consist of 4 people, and debut in May 2009.
The company said that the group had trained for 4 years, and that their debut album will contain a composition produced by G-Dragon'om. The original name of the band was "21", but as soon discovered the singer with the same name, the band was quickly renamed «2NE1».
_________________________________________________________________________________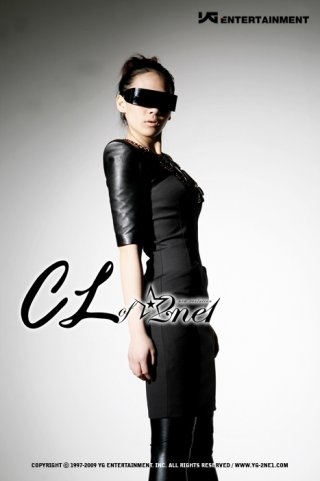 Name: Lee Chae Rin / Faith Lee (이채 린) / Lee Chae Rin
Stage name: CL / SL
Standings: leader, rapper, vocal
Born: February 26, 1991
Specialty: Rap Music, Singing, Dancing,
Knowledge: English, Japanese and French
Height: 162 cm
Blood Group: II (A)
Religion: katolizm
Place of Birth: Seoul
Hobbies: Shopping, writing lyrics, painting
Favorite color: black, white
Family: Parents and younger sister
CL - the leader of the group. This girl has dreamed of becoming a singer since elementary school and at age 13 she first came to the studio «YG Entertainment». In 2006, she became actively engaged in singing, in late 2007 Song Contest channel SBS, which was attended by the team «YG FAMILY», she performed a rap song, and in 2008 received public recognition as a talented rapper, performing a rap -partiyu the song singer Om Jong Hwa «DJ». Budding singer is a fan of Madonna and Lady Gaga. Amazing fact: 'ciel' in French means "sky blue" because CL is the sky, then means that its name reflects its desire to reach the sky in all that she does. Traveled around the world with his father, a teacher, because of what and can speak 4 languages.
___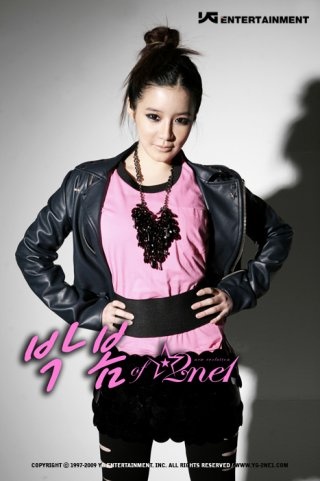 Name: Park Bom Lee (박봄 이) / Jenny Park / Park Bom And
Stage name: Bom / Bom
Standings: main vocals
Born: March 24, 1984
Height: 165 cm
Blood Group: IV (AB)
Religion: Christianity
Specialty: Singing, dancing
Hobbies: Listening to music
Favorite color: green, pink, red
Knowledge: Playing the piano, flute and cello, speaks English and Japanese
She studied at the Berklee College of Music in the United States. YG hit the third attempt. First sang together with Big Bang song 'We belong Together'. After studying 10 years in the United States, Bomi returned to Korea to gain popularity in the music industry. In 2006, she starred in a commercial cell phones «Any Star», made in the form of a music video, along with singer Lee Hyo Ri. In this commercial for Park Bom played a girl who dreams of becoming a star that suddenly had the chance to go on stage instead of the top stars Lee Hyo Ri. After that she had to perform several musical parts in the songs of the group «Big Bang», as well as to take part in their concerts. Unusual singer's voice has a special appeal. Expected to Bom had debuted as a solo artist of 2007, but the president of YG, Yang Hyun Seok decided it would be better that she made her debut with the SL Means and Dara. Some fans have noted that suited her role as a mother group because of her gentle personality.
___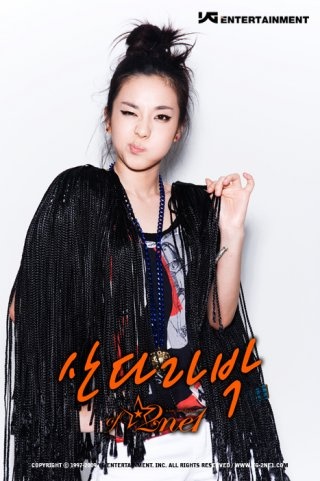 Name: Sandara Park (박 산다라) / Pak Sundara
Stage name: Dara / Dara
Born: November 12, 1984
Standings: vocals, dancer
Birthplace: Busan
Height: 162 cm
Blood Group: II (A)
Specialty: Singing, dancing, ms, actress
Religion: no
Knowledge: English & Tagalog, acting
Hobbies: listening to music, internet
Favorite color: pink
Family: Parents, younger brother and sister
When the future singer was studying in 5th grade of elementary school, her family moved to the Philippines. Having lived more than 10 years in this country, in 2004, she took part in a televised competition for the Philippine TV «ABS» «Star Circle Quest» («We are looking for talents"), which was highly appreciated by the judges. The singer looks back on a lot of experience of participation in various programs in the Philippines, in connection with what it called the "Philippine Boa" and she enjoys the greatest interest among Internet users. Appearing together with the lead singer of «Big Bang» topom in the video for the song singer Gummy «I'm Sorry» («I'm sorry"), she charmed everyone with his natural charm. Gift also managed to record six albums (Double Platinum (selling 60, 000+ copies)). In early 2008, YG confirmed that Sundara will be part of a new girl group YG family, female counterpart of Big Bang. 7 starred in the series "Il Ji Mae Returns." Hyo Ri big fan.
___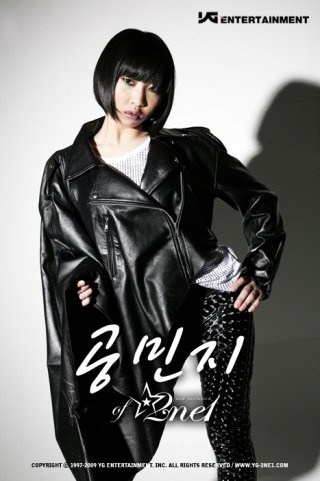 Name: Kong MinJi / Gong Min-ji (공 민지) / Con Min Zhi
Stage name: MinZy / Means
Born: January 18, 1994
Standings: dancer, rap, vocal
Place of Birth: Seoul
Height: 161 cm
Blood Type: I (O)
Specialty: Rap Music, dancing, singing
Religion: CHRISTIANI
Knowledge: Japanese and Chinese
Hobbies: listening to music, writing lyrics, composing music songs
Family: Parents and older sister
Means have to grandniece famous Korean dancer Gon Jin Ok, and has a special dance abilities. Girl with childhood was fond of dancing and when I was in 4th grade elementary school, took 1st place in the dancing competition in Gwangju, followed by a victory in the other dance competitions. Being a fan of the singer Rihanna and group «Black Eyed Peas», it is the main link of the dance group «2NE1». YG noticed exceptional dance skills on one site (online video). Initially, Means, as was supposed to make his debut with the agency YG trainee Mae Donii but Dhoni decided to change the company. YG came to the age of 6 years, with Dragone and Tae Yang. Cide loves to tease her, even more than the Son of Ri.