Label YG Entertainment has decided to organize a new group for this selected six people:
G-Dragon, Tae Yang, TOP, Dae Sung, Seung Ri and SO-1.
But the group did not have time yet to make his debut, and it has already left the SO-1.
There were guys officially at 19 August 2006, at a concert dedicated to the 10th-ment label YG Entertainment «YG Family» held in the Olympic Park in Seoul. However, the young men were not new to the music scene. G-Dragon and Tae Yang of their record label YG Entertainment noticed when the boy was still 12 years old, and took under his wing. G-Dragon participated in the recording of the album Perry «The Storm». A Tae Yang in one album and two albums Wheesung Se7en. Seung Ri took part in the show «Battle Shinhwa»
_________________________________________________________________________________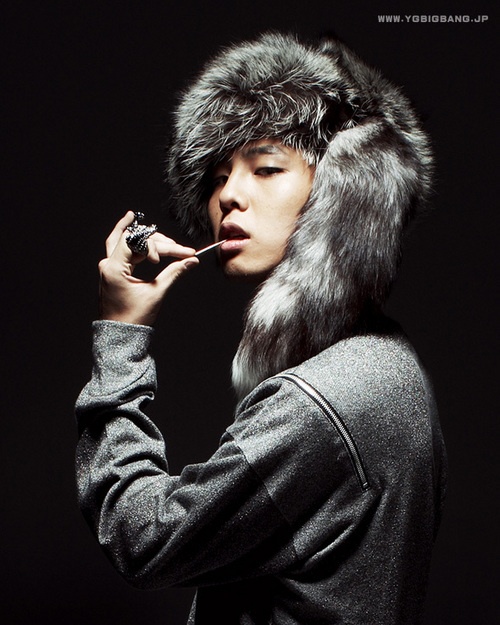 G-Dragon G- 드래곤 em>:
Role: Leader / Chief rapper
Real name: Kwon ChiЁn (권지용, Kwon JiYong)
Date of birth: 1988.08.18
Height: 177
Weight: 58
Blood Group: A
Education: Seoul and senior high school Korean [Traditional Arts (Seoul Korean Traditional Arts Middle & High School)
Skills: rap, dance, Beat Boxing, songwriting, singing, and languages ​​(Chinese and English)
Debut: DaeHanMinGook Hip Hop Flex 2001
Hobbies: drawing and listening to music
Loves: fashion, cooking, fresh donuts, dogs, cats, drawing (stars and skeletons), books (fiction, manga and magazines), watching cartoons, and himself
Religion: Christian
Family: parents and older sister (Dami)
G-Dragon began his career as a child, imitating the famous American child performers. He also worked as a model. But, nevertheless, he could not release the album. In January 2001, GD debuted at DaeHanMinGook Hip Hop Flex, where a compilation album as a rapper uchuvstvoval. After his debut, he was selected with the TeYanom for the role of small JinuSeans in their MV, which was published in February of the same year (MV called A-Yo).
< Interesting facts * His two tattoos mean - on the right hand «vita dolce» - the sweet life (ital.), And on the left - moderate - a musical term. They were made Carey Heart, Pink ex-husband at the Palms in Las Vegas, in a tattoo parlor «Hart & Hurtington Tattoo Parlor".
* "G-Dragon" coined from its original name (JiYong - ChiЁn) because it means Dragon Yong and Ji sounds like a "G".
* He loves it when his name is "leader Kwon"
* GD older sister owns online clothing store (www.style-luv.co.kr/)
* His childhood friend - Kanninen of Super Junior.
___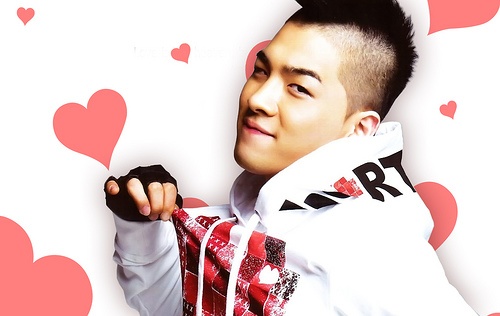 Tae Yang 태양 em>:
Role: singer
Real Name: Don ЁnBe (동영배, Dong Yong Bae)
Date of birth: 1988.05.18
Height: 174
Weight: 56
Blood Type: AB
Education: University of Theatre and Cinematography Techin (Daejin University in Theater & Film) since 2008
Skills: rap, dance, beat boxing, singing, languages ​​(English, Japanese)
Debut: YG Family's second album in 2002
Dislikes: church, summer, different clothes, games, Manhwa
Religion: Christian
Family: parents and older brother (Don HёnBe)
As a child, TeYan started playing in the fifth grade. He was selected for the role Sean'a in MV JuniSean with GD. After that, he joined the YG Family, and was deeply impressed by the creativity JuniSean.
His debut as a rap artist was in 2002 (the second album YG Family). He, as well as G-Dragon, performed with many well-known performers YG.
He had to make his debut with the GD as a rap duo GDYB in 2004, but they never did.
< Interesting facts * Before were created Big Bang, TeYan with GD were known as GDYB and acted in concert SE7EN'a as rappers and dancers bekgraundnye.
* TeYan with YG for a very long time (a little less than GD)
first appeared in the MV A-Yo JuniSean'ov as a young version of Juni
it is called "Dad" in the group because he is trying to talk with the children, if they have any problems.
* Keeps to himself Bible
* After filming "Ma Girl" said "Guys, I'm dead! I kissed a girl! "
* TeYan quite good at playing the piano, because my mother bought him his, impressed by this and instill a love of music and play on the keyboard.
___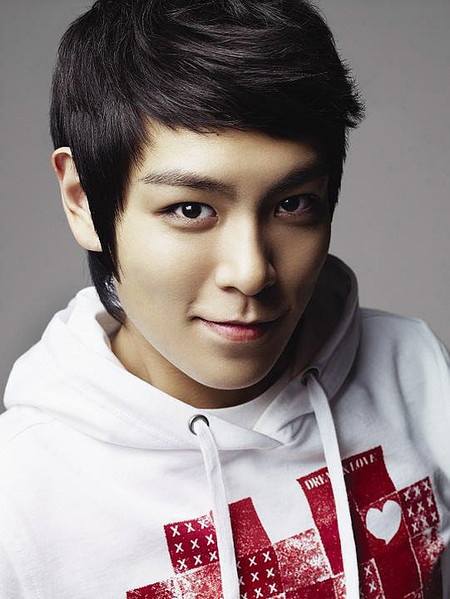 T.O.P. Em>:
Role: rapper / beat boxer
Real name: Chve SynHёn (최승현, Choi Seung Hyun)
Date of birth: 1987.11.4
Height: 181
Weight: 65
Blood Group: B
Education: Seoul Art Academy (Seoul Art College), University of Theatre and Cinematography Danguk (Dangook University in Theater & Film) - since 2008
Skills: rap, Beat Boxing, songwriting
Debut: Big Bang
Hobbies: reading and swimming
Loves: theater performances, music, fashion design
Family: parents and older sister
Even despite the fact that the Big Bang was the debut TOP'a, he successfully performed the rap since the days of high school under the name Tempo. He began performing in small underground clubs with their older friends. They never released an album, but to distribute their music through the Internet in MP3 format.
TOP only one Big Bang, who did not train to become a singer. He sings only small parts in the songs.
< Interesting facts * The oldest of the Big Bang
* He is asleep, wearing on a bunch of clothes
* Performed at the club at the Gangnam (one of the most affluent areas of Seoul) in 2002 ~ 2005
* His name, T.O.P. was chosen not to themselves, but SE7EN'om.
___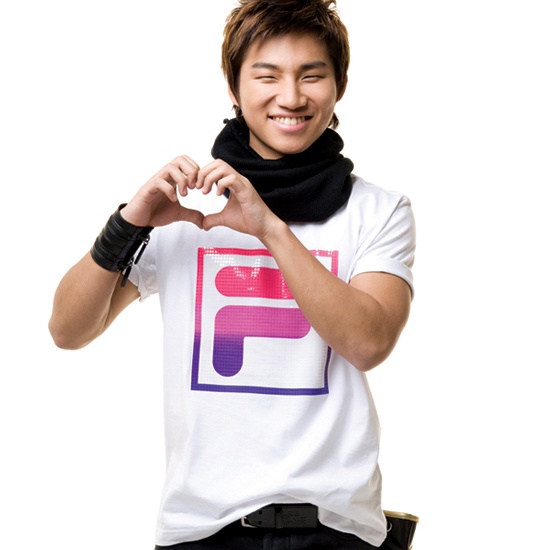 Dae Sung 대성 em>:
Role: singer
Real name: Kang TeSon (강대성, Kang DaeSung)
Date of birth: 1989.04.26
Height: 178
Weight: 63
Blood Group: O
Education: High School KyeongIn (KyeongIn High School)
Skills: singing
Debut: Big Bang
Dislikes: rap, beat boxing
Of the musicians he respects: Usher, Ne-Yo, Wheesung
Family: parents and older sister (Bora)
TeSon was selected after auditions, and even despite the fact that among Staffa called it "ugly boy", he became one of the most popular members of the group. During his vocal training, practicing with TeSon Wheesung'om that one of his favorite musical artists. Wheesung well as helping other members of the Big Bang.
During training TeSon earned a laryngitis (called the disease of teachers - difficulty with singing, speech, pronunciation), which is common among the performers. He got worse at the end of 2006, and he had to recover before recording the second single Big Bang. Fortunately Gummy, who suffered the same disease, helped TeSonu recover and come back to normal. After this incident, they remained friends. (By the way Gummy says "Alla?" (Ёboseyo?) At the beginning of MV "Lie")
< Interesting facts * Big fan of Doraemon and has all sorts of stuff with it - from trinkets and amulets to chopsticks.
* Has been nicknamed the "terrible", but later became one of the most popular members of the group.
* Known for his good sense of humor.
___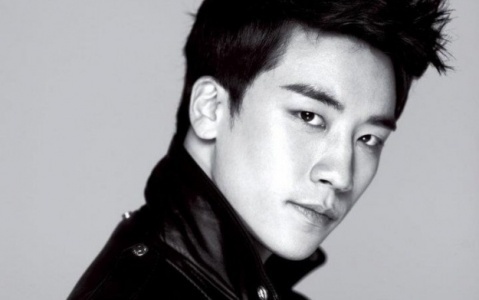 Seung Ri 승리 em>:
Role: singer, dancer
Real name: And SynHёn (이승현, Lee Seung Hyun)
(Victory)
Date of birth: 1990.12.12
Height: 176
Weight: 60
Blood Group: A
Skills: singing, dancing, hareografiya
Debut: Big Bang
Likes: foreign languages ​​
Family: parents and younger brother and sister
SynRi of Kvangdzhu, the sixth most important city in Korea. Prior to the Big Bang, he was a member of Ilhwan, dance group Kvangdzhu.
He also danced to "" Hong Gil Dong festival ».
In summer 2005, Synri appears in the episode "Battle Shinhva", but was expelled from there on due to the fact that it is not enough singing impressed the jury that can not be said about his dancing. Plays in musicals and films.
< Interesting facts * The youngest in the group
* In the new apartment shares a room with TeSonom, and in the old slept with GD, which constantly climbed to cuddle him in a dream
* Sometimes called Panda or Baby Panda because of the dark circles around the eyes.