Author Alexander Belenky aka macos
Source:
macos.livejournal.com/900450.html
When the screens went netlenka "What do men", the whole world heard a funny word Beldyazhki. No one wondered whether there is such a huge village in Russia, because he understood: Beldyazhki - a collective image. In it all merged and responded: neremontirovannaya hotel for a long time and with strict but kind inside the administrator-matron, and a refrigerator, as if the boundary of the castle. And even the Germans.
Beldyazhki exist not only in kinofolklore, but in reality. It is a small village in the Oryol region is not the same as in the movie, there is not even a hotel, especially the airport, which could fly reclamation. But there are local craftsmen who made monster truck-based Zaporozhets, a school, worked for six students and country club, which this year is impossible to drink.
The most famous village in the country lives as if nothing had happened. Did something happen?
One warm spring day we went zizis ride a small but proud SUV. In Beldyazhki!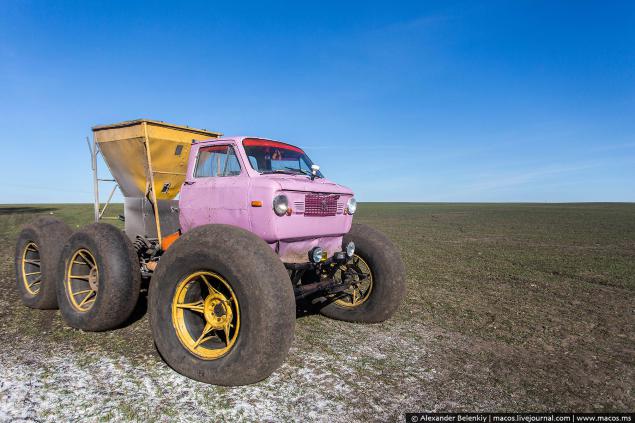 1 long or short it, but go to the Beldyazhek about seven hours from Moscow. I will not talk in detail about the federal highways in Russia, and so you know, and judging by the post on the topic, it suits you completely.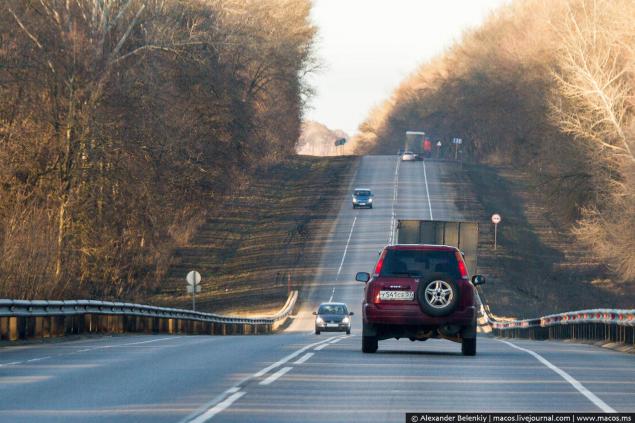 2 of these monsters on the cover we met ten kilometers to themselves Beldyazhek. Two "Zaporozhets" flashy colors on huge wheels, standing on the edge of the forest. From a distance it seemed that now rural rednecks start their race for survival. We even turned to look at it. It turned out, Satan-machines are quite peaceful purposes and serve for the spreading of fertilizer on fields. In contrast to the tractor, due to the nature of their wheels, they do not spoil the earth.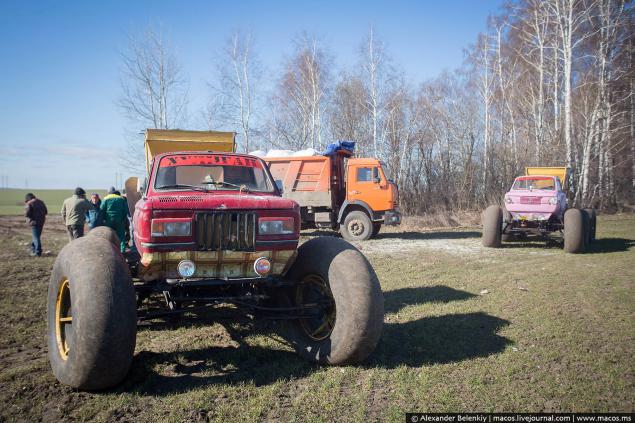 3 Of course, it's tough home-made: say, in general all the domestic auto industry is assembled in the machine.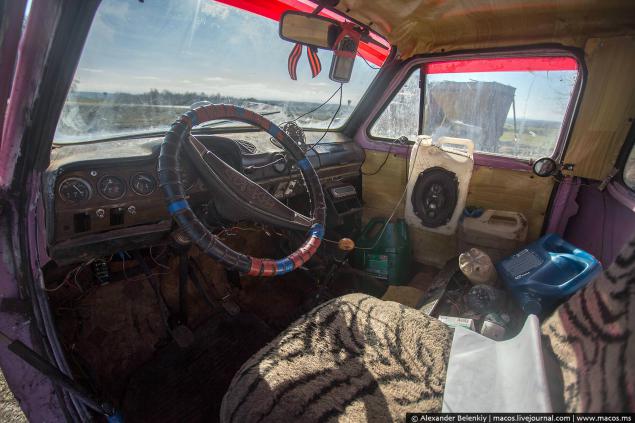 4 Valery came up with these machines that live in the neighboring village Beldyazhkami. He is a local businessman, oligarch consider: these machines fertilizer Valery twelve pieces, all different, were going out of scrap materials. And yet it has its own air force, several homemade airplanes: they are now working in the Belgorod region. When the season ends, Valery invited us to her house. So, closer to the fall, going to him, a wonderful report will be released.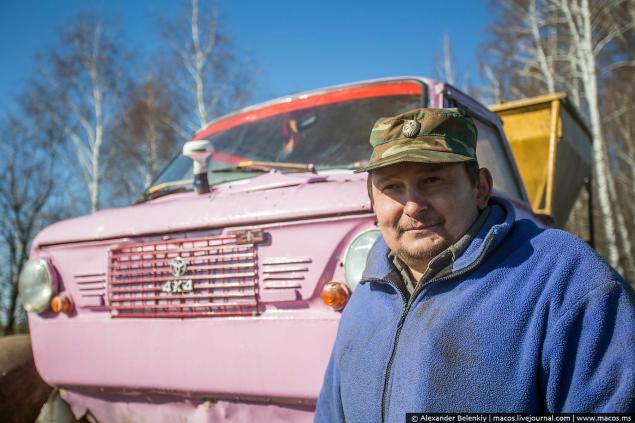 5 What Beldyazhki? They are almost on the federal highway M-2 "Crimea", which leads in Ukraine. Many travelers made a detour to the ten kilometers to take a picture with a pointer. Entrance sign, unfortunately, does not exist: a small village.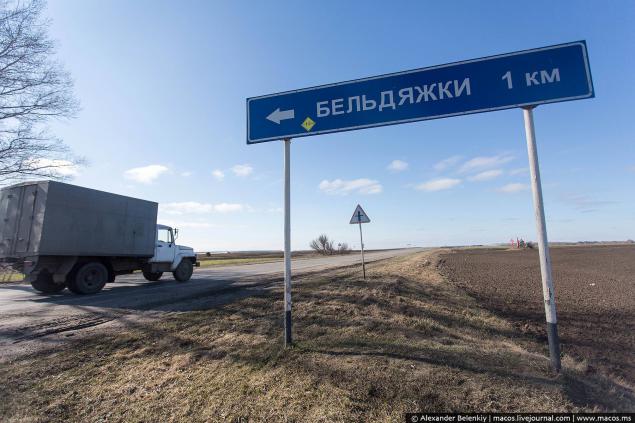 6 Previously, there was a large and rich farm, but left whole. Now something reviving. Private funds and industrious hands of Tajiks. It is unlikely that there will be a place beldyazhtsam, and who work almost all gone.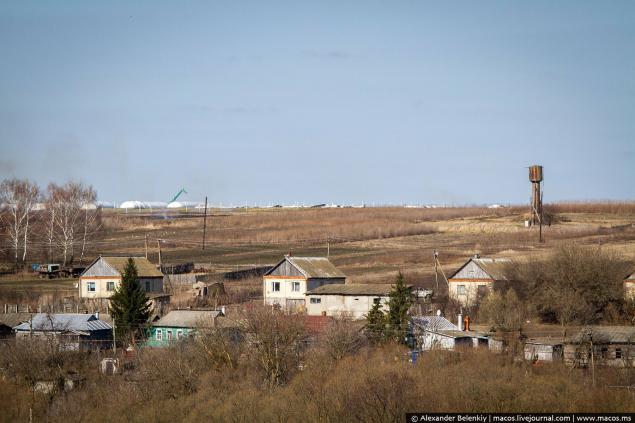 7 I have a feeling that most of our villages is being used only as a summer residence for city dwellers: there lived grandparents died, the house selling sorry, but there is no desire to live there. Here come the weekend. Those who live permanently, holds some cattle - units.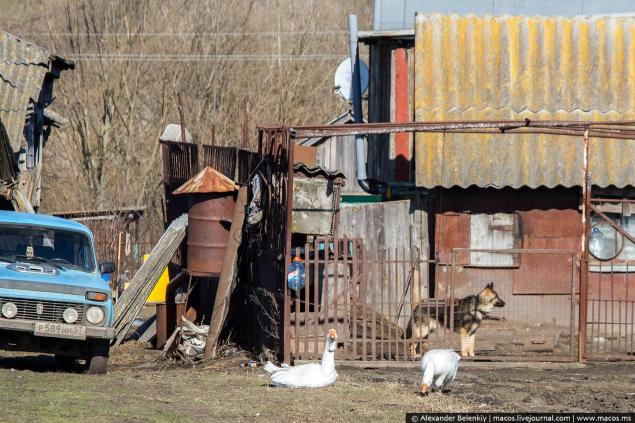 8 Windows and doors boarded up. Once there was a post office in Russia.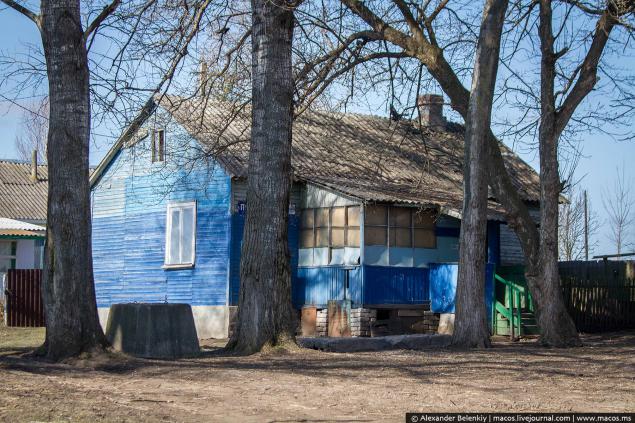 9 Main Street in Beldyazhkah. If this can be called a street. Since the village was the center of the collective farm, there remained a lot of public buildings. All of them are empty. There is no road, just mud and manure. Was the asphalt here someday?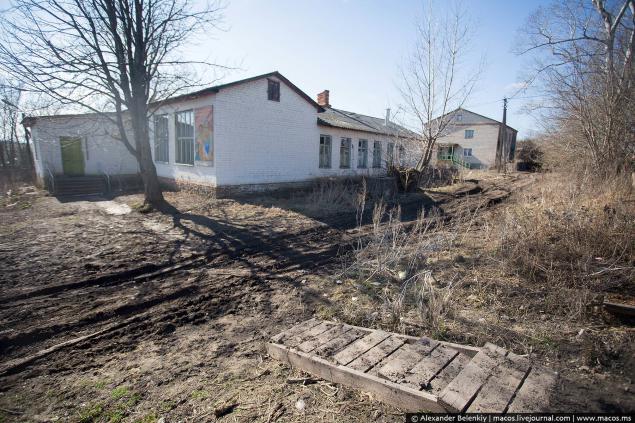 10 Beldyazhskaya high-rise building. This house seems inhabited only one apartment. In general, before it was a school, then a hostel. Reclamation, if they ever found themselves there, could live here. Zhanna Friske, Victor and asshole - all have found a place. Just do not go.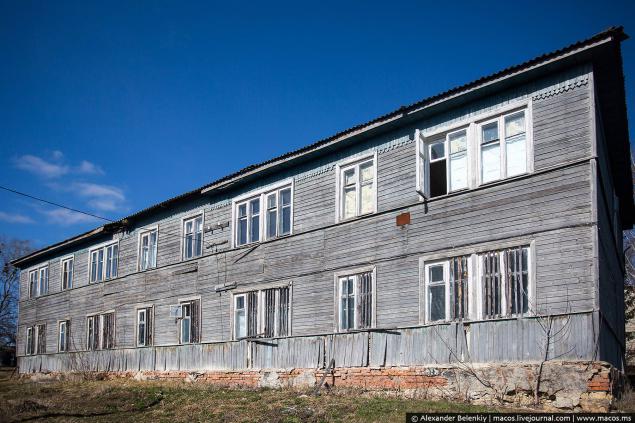 11 Still lives because the village? He lives! When we got out of the car with their cameras and went to the war memorial, we were approached by a woman from the administration. She thought we were checking out the Eagle and not a little frightened. We arrived some people, walking, taking pictures of the village. It seems ashamed of devastation, but what did she do?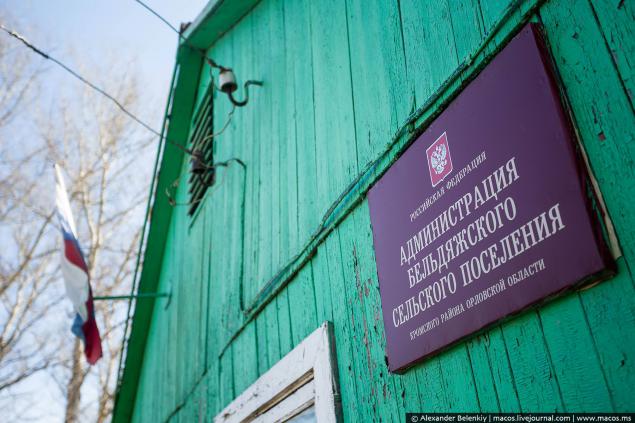 12 When he learned that we had come "for the movie," she laughed, but somehow sad. And even agreed to show the inner sanctum of the village - the local club.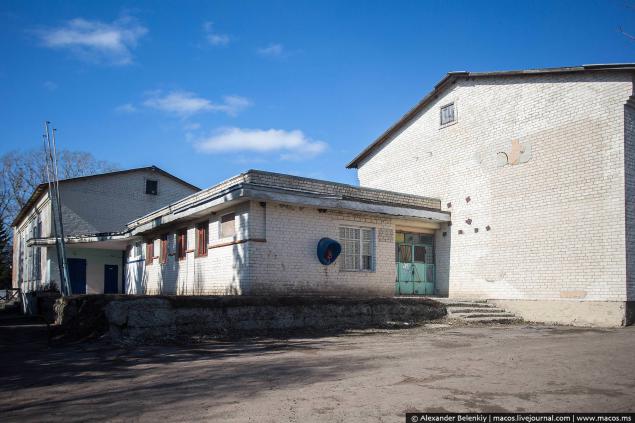 13 On the wall are the ruins of mosaic with the Olympic rings. Moscow-80, of course. It so happened that the eightieth Olympiad came to its echoes of deaf villages that can not be said about Sochi. But - time will tell.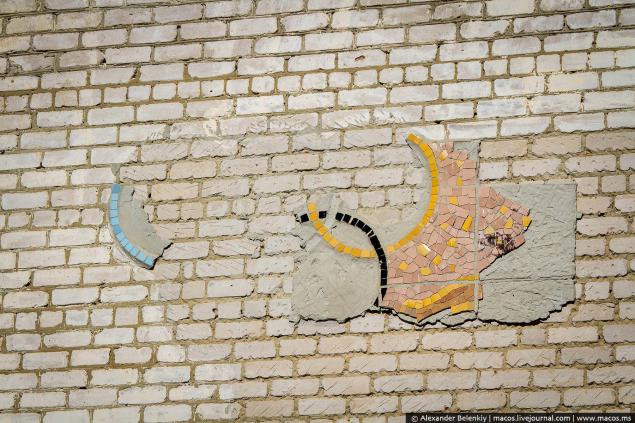 14 redhead woman opened the door to us blue country club.
15 Inside a very authentic, though predictable. All that we are somewhere already seen. In kindergarten, at school? Familiar interior for anyone born in the USSR.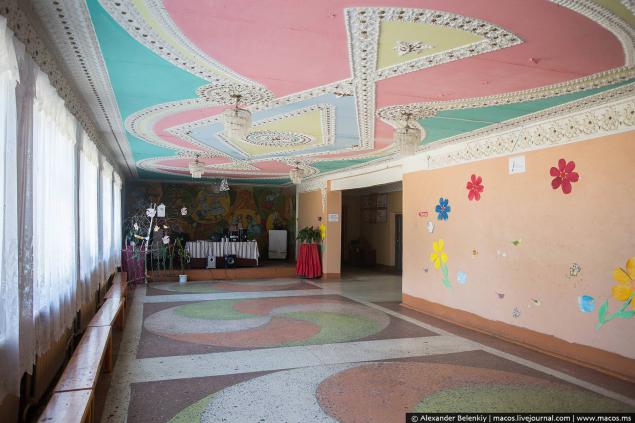 16 Looking at the photos, they celebrate their holiday here every now the few village. New Year, March 8, Victory Day ... at faded photographs no longer understand how many years ago it had a basketball team.
17 But I somehow wanted to make a report about a similar village festival. As long as they still are, because such communes life in modern Russia is rare, people are increasingly fenced off from each other by high fences. They are not visible in Beldyazhkah that can not but rejoice.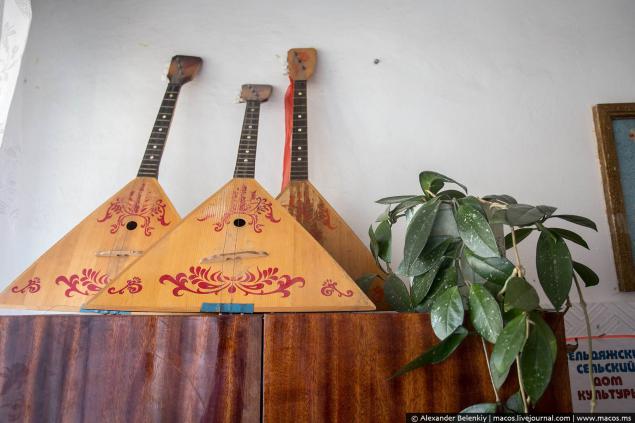 18 Assembly Hall. Previously, there were concerts, and film cool.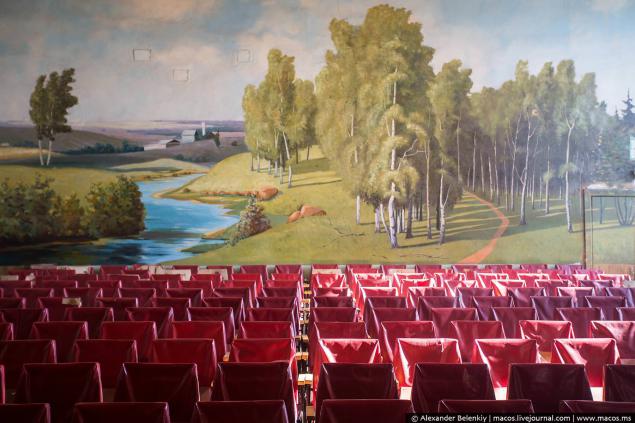 19 Behind the scenes hidden Ilyich.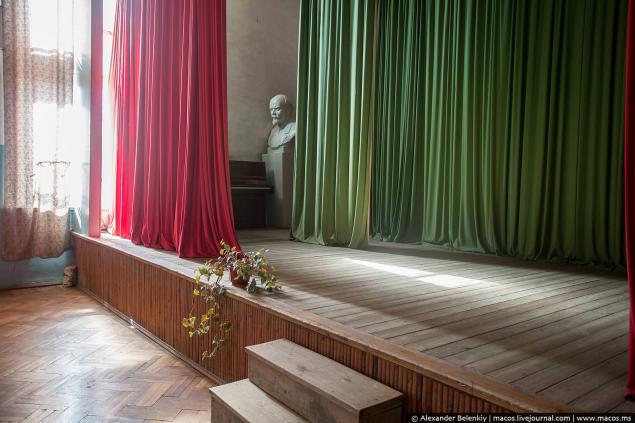 20 But that's all in Beldyazhkah nothing else to do, people on the streets almost there. Come explore the surroundings area, having escaped the endless fields, towards littered horizons.
21 Horizons and the truth turned out to be inundated. Garbage. Huge dump stinks right on the edge of the field, the crows were flying around and buzzing flies. Waste tend to penetrate deep into the earth, and it is unlikely on this earth will grow delicious bread and healthy vegetables. But Orlovschina - Black Earth region, the fertile land, which turned into a dustbin.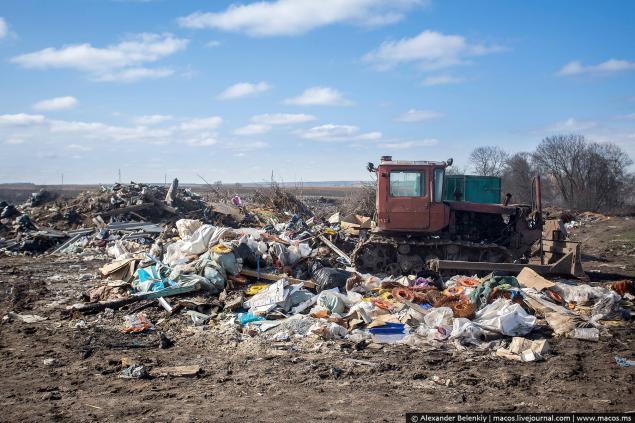 22 We rested in a branch of the railway. In a single-track freight train track puffed. Along the road there was a dump, and could be seen on the map navigator station Gostomlya and around - nothing. So I wonder what kind of station is one in this a wilderness. But the primer for some reason we did not go, we decided to return to the track, drive a few kilometers to the town Gostomel, there must be a way to the station.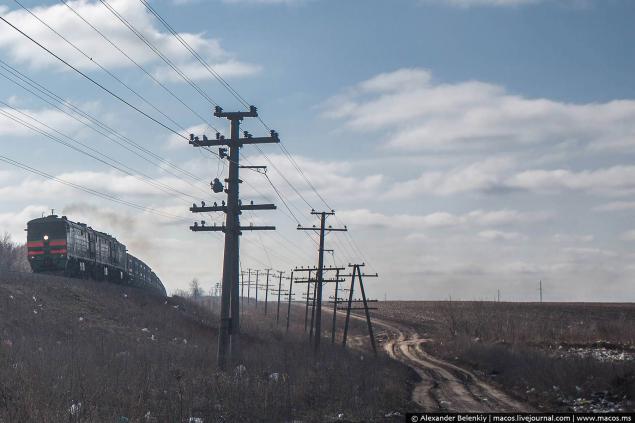 23 But the road was not. Local surprised: "The station? So there is not here! ". Only one woman, procuring rabbit pelts, said that you just need to turn right and go in this direction.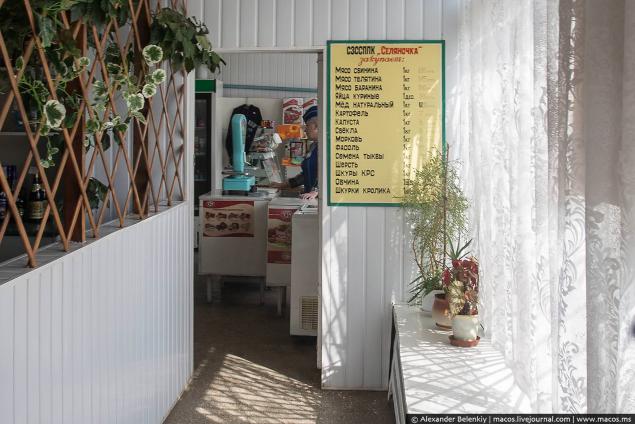 24 As Beldyazhkah in Gostomle was also a cultural and sports complex. But not saved.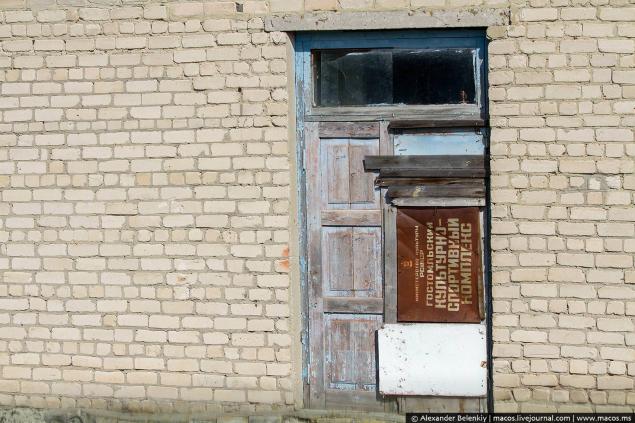 25 Kitty basking in the sun.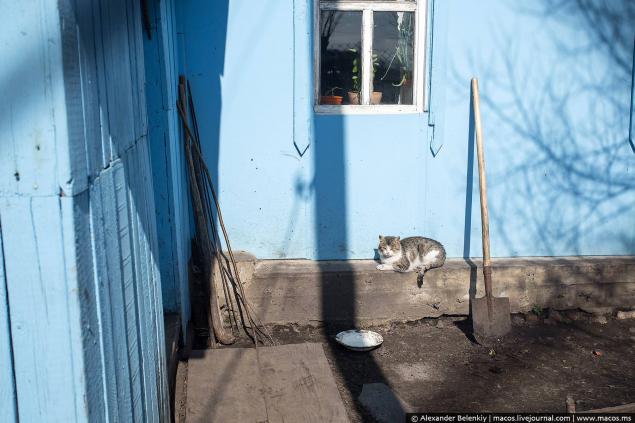 27 Of course, the fact we went to the invincible Suzuki Jimny, not to pay attention to such nonsense as the road. But wander had pretty, Yandex cards do not always reflect the reality and deep rivers dzhimnik not able to overcome.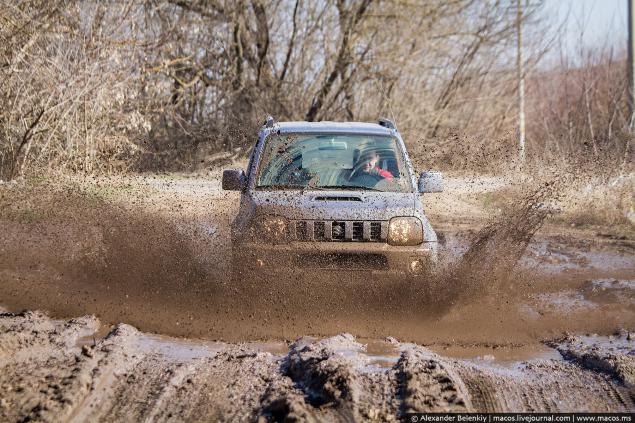 28 Again came upon the railway. So, go right. By the station, we tried to go with three different sides and each time ran into some obstacles.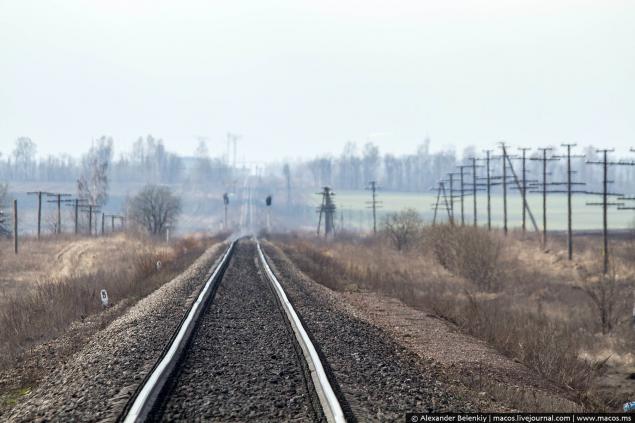 29 This summer, again wait for forest fires. Already, all the lights.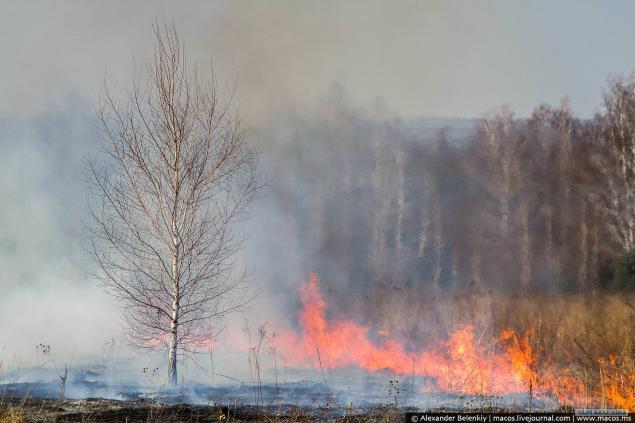 30 Turn your head to the left - everything, no forest fires. Peace and grace. That's just the way we look at things from one angle, and crop problems, noting only that something good. Of course, you can go and admire the countryside.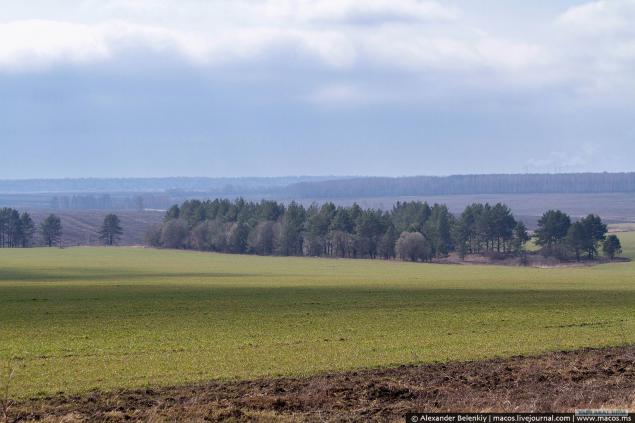 31 But when entering the semi-abandoned village where rotting appliances, which once worked people harvested - really nothing ekaet?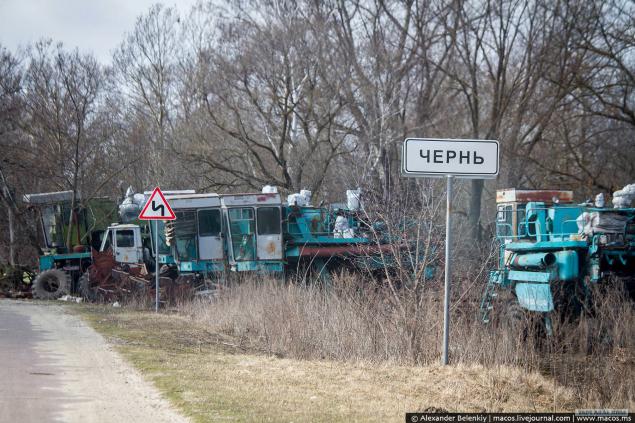 32 When Rolled road through the forest on the quality rather than the paved road, full of holes and potholes? It's okay, right?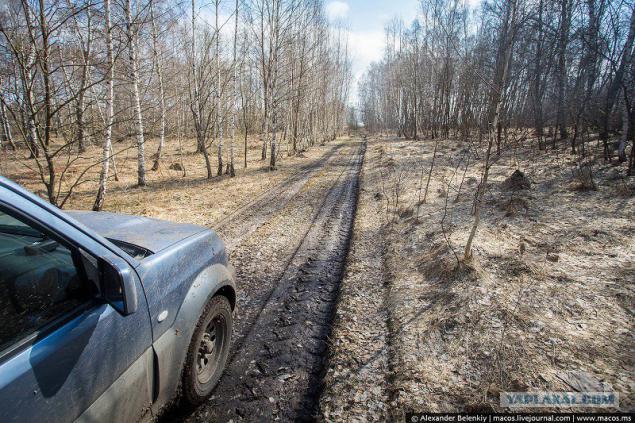 33 Leaving the forest, we stumble to a stop next to the tracks.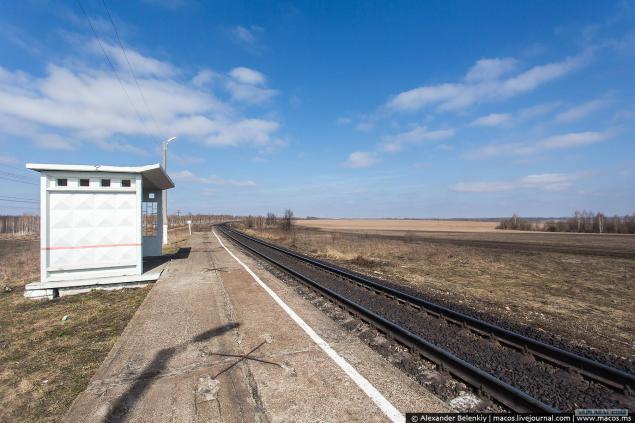 34 That which does not expect: it has an effect, inside the pavilion hangs schedule. Four times a day here walking train. Well, as the train is probably diesel. Trains run in Orel, Bryansk and Kursk region.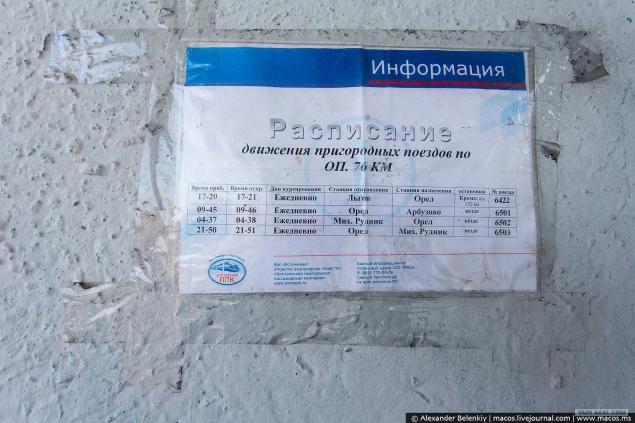 35 But Gostomlya - on. We accept a strategically important decision, just go along the glands, because we have to look for procedure simply driveways. Especially as a kind of road there.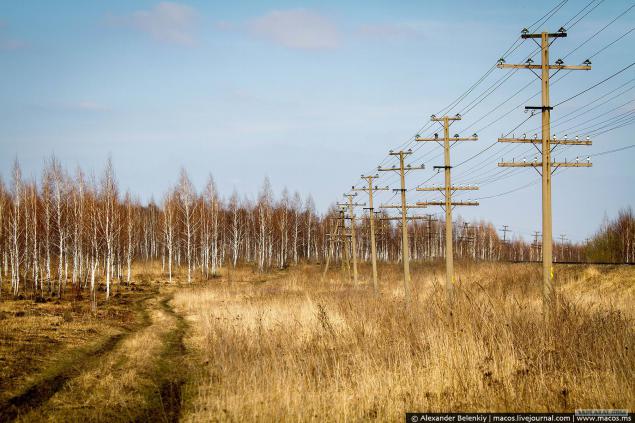 36 Station we still got. The more you want something, the greater the disappointment. The mysterious and elusive Gostomlya been abandoned.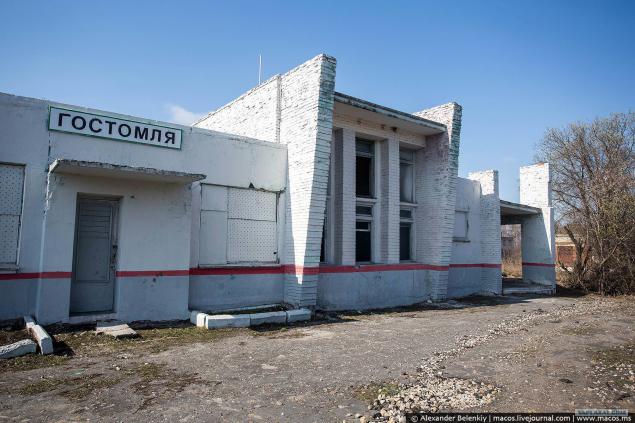 37 In general, a strange place. Station Gostomlya, indeed, far from the city Gostoml around for kilometers deserted. But right next to the station - two-storey house. Which, moreover, is inhabited!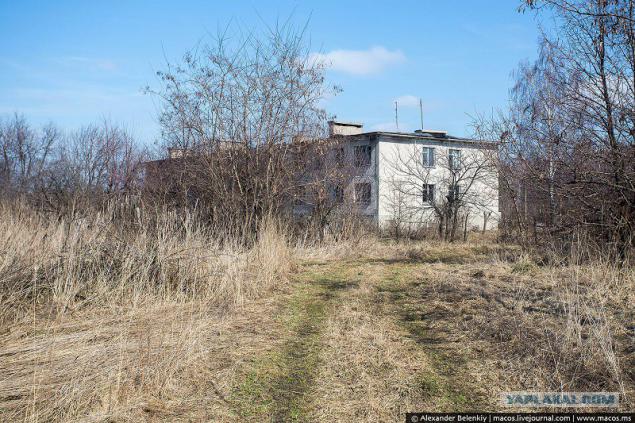 38 I would like to go there very much. But scary, too, Andrew said that there's probably live some illegals, perhaps even criminals, and our cameras they do not like. Or vice versa - like. Then he learned that still are not bandits and Tajiks live in the house at the abandoned station, and ordinary people. In dvukhetazhke live several families. And just for them here every day goes by train to other cities picks up and returns back.
In another way, a way, the roads in the district is almost there, and where do the people living in this wilderness, the money for the car. Buses do not go too. Only these rare trains. And they will soon be canceled, as the Government of the Oryol region does not believe that these trains are needed: so that there are five bucks on the village. And how many more of these Gostomley the region, which also can easily be cut off from the world as a result of traditional inactivity, greed and indifference?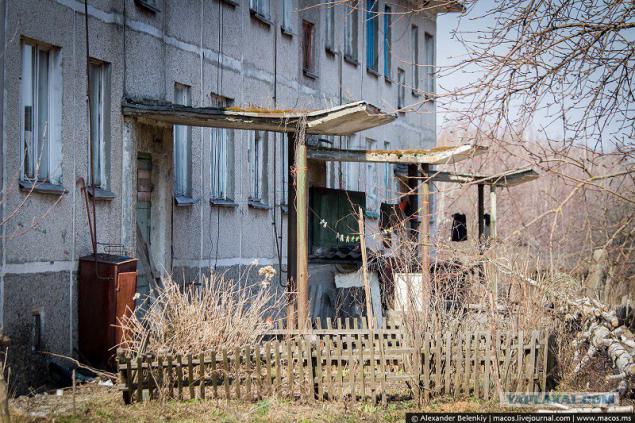 When 39 of these villages you come here podbeldyazhnyh in Orel, he seems to center in the world, a stronghold of civilization and the best city on the planet. And I understand why nobody wants to live in the country, why is there a zero birth rate and why we have potatoes from Belarus, zucchini from Turkey, and tomatoes from Israel.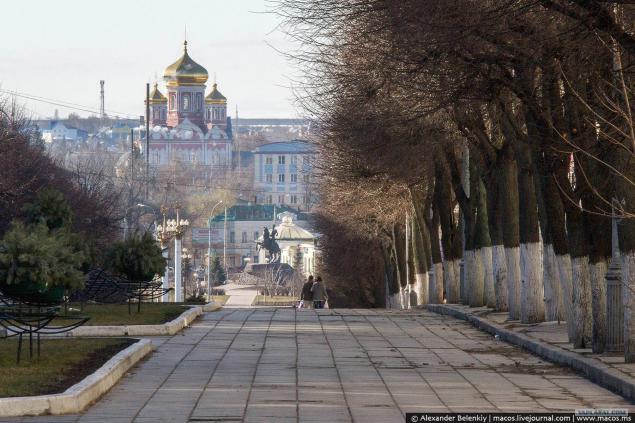 40 But, turning off the main street of the Eagle see that here, life is far from the twenty-first century. And here I also understand why even the residents of large cities tend to go to Moscow. Because the Eagle really looks like. So people live.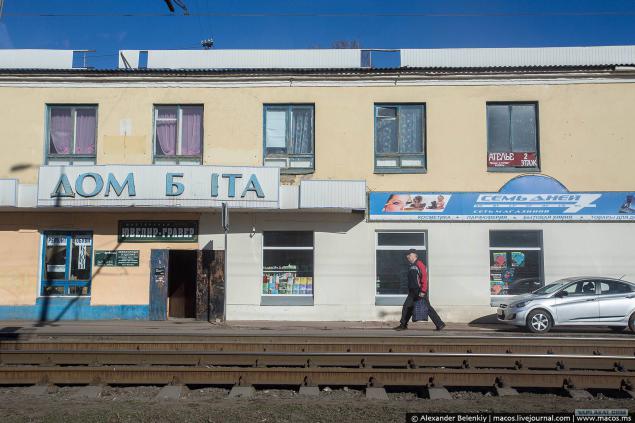 41 When I wrote a post about a trip to Kaluga, many kaluzhane outraged and told that their city has many beautiful buildings. MEND, Orel many beautiful buildings. Here are the local office of Rostelecom.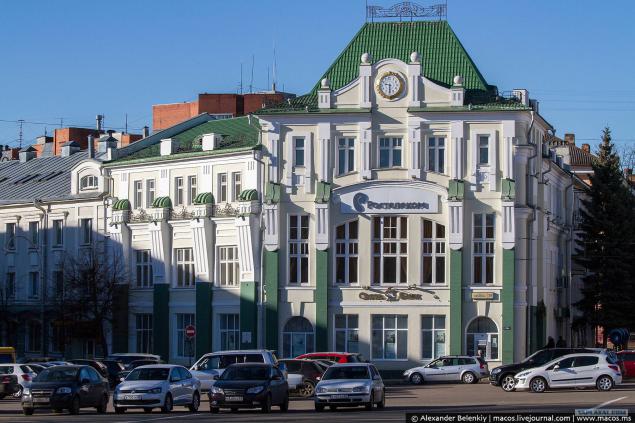 42 So live officials. The ones who do not have money to Beldyazhki, trains, pensions ... Arbitration Court of the Oryol region. Already shines. Under the roof, even the penthouse.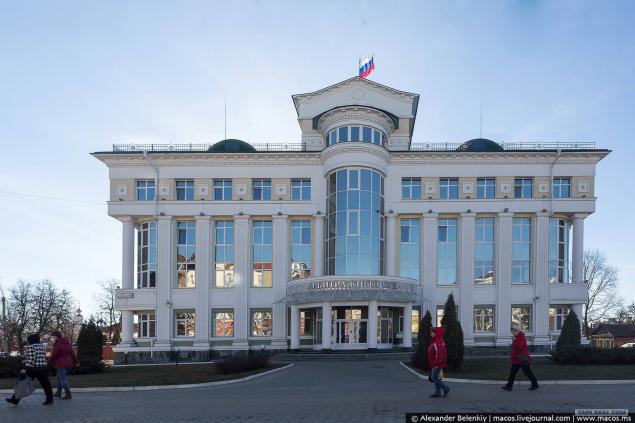 A normal 43 Eagle - here it is. Soviet, shabby, dusty. But you can not show it, it is shameful and bad, better to consult museum and administration building.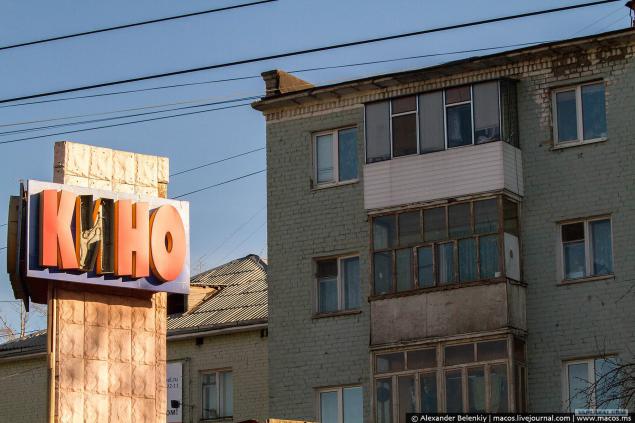 44 The building itself - the Soviet model, with Lenin on the square. But much more interesting car of the governor, facing the entrance. The newly appointed governor even took office, and while acting as a modest but migalochku to himself once put. Cool thing that flasher illegal. On machines officials there should be no special signals, but since I live in Russia ... but it is illegal because it is the only series of numbers "chlenovoz", which can be equipped with a flashing light AMR97. But is there anyone Dedo to such things as "superfluous" blue bucket? And the governor to change the car. Not that you will pass on the Mercedes in Beldyazhki Gostomlyu yes, do not look how the people live. Simply consider that there is no one. That explains a lot.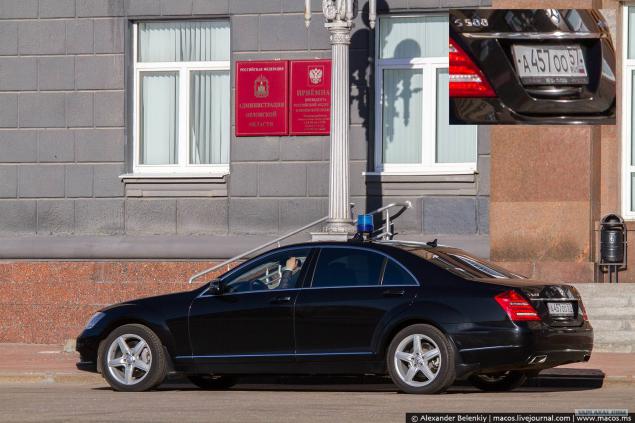 45 Taxi Advertising on trolley - is also five points. It would be necessary to Valery with his "Zaporozhets" to expand, to open commercial production. His machine is very useful when the efforts of the local authorities, finally, canceled trains, trolley routes will be removed, destroyed tram, as already done in many Russian cities.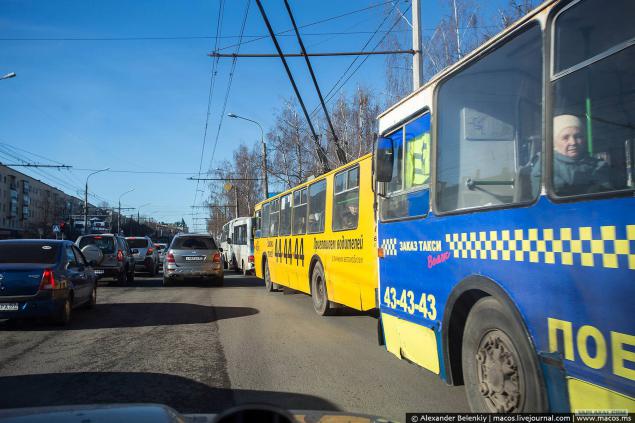 46 And the old tram running along the rusty rails in the middle of rural landscape - an excellent frame for the passing by the Muscovites, but people live with it. Or is it too convenient for everybody?
(this is the last frame of reportage macos)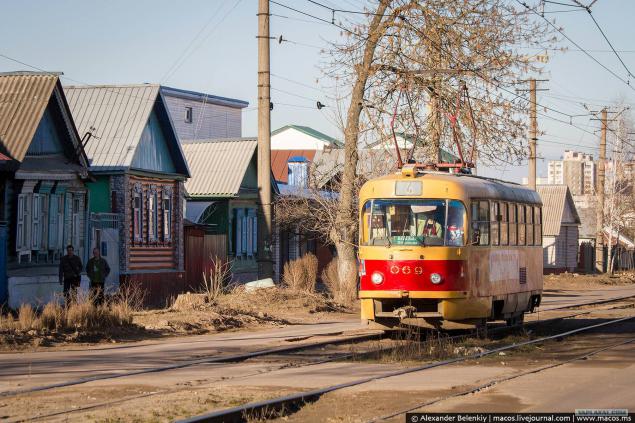 Source: