Few people know that exactly opposite the Kremlin, in the recesses of leaving inland from the Sofia quay, just behind the pompous building of the Russian oil giant's alley households lost most that neither is a private home, where his wife from birth lives 73-year-old university professor them. Bauman - Victor Rozanov. The most central of the homeowners and direct neighbor of the Kremlin.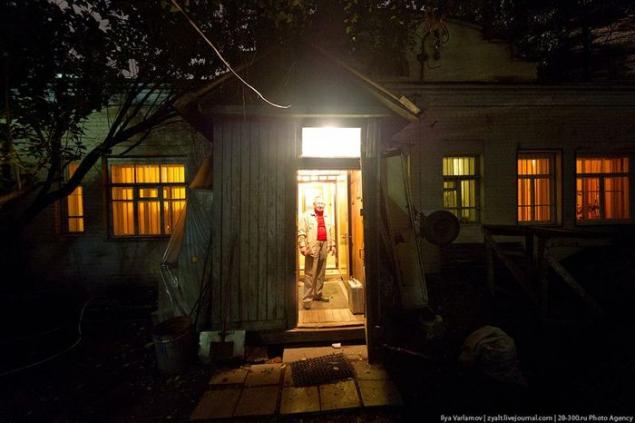 Victor A. looks very cheerfully and with good intentions, it does not give, and 70 years, with a good half of life from time to time he is fighting for his home. First time to evict him and his family tried 40 years ago. Do not evicted. "My house - my fortress" - these words are rightly Victor A. can say about your home.
From the roof overlooking the Kremlin. You can read the time on the clock of the Spasskaya tower.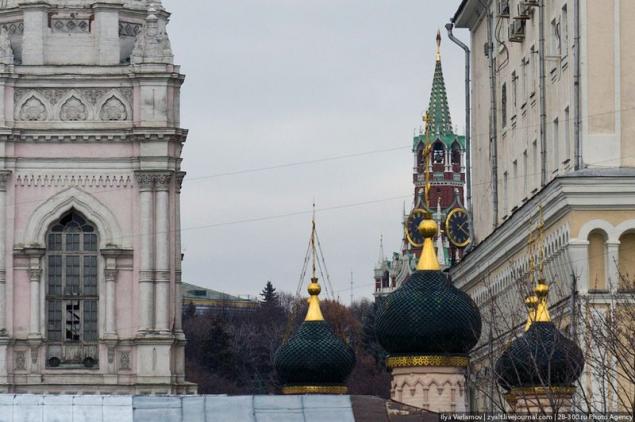 How long have you lived here?
From birth, in 1938. In the 20's, when the Bolsheviks goof, announced the Institute of developers. The man took the collapse of the building, restored, and he gave it the right to acquire ownership. And his father in 1920 saw the house, the roof it was not, there were no windows, doors, too, were only mountains of ice on the water pipe burst, but he picked it up and restored. Where our family lived. In 1941, when the war began bread cards were not given the owners of the buildings. What to do? Two children, I, my sister, my father was working at a defense plant. Do not starve same die. Passed the House State, and when they returned from the evacuation there was already communal, four families were living. Then, when Nikita began to build five-story building, the people began to disperse, get an apartment, it was necessary not to allow another sleeping. The remaining two families, my neighbors. Neighbors left, but I refused and tried to help evict the prosecutor, did not happen. And then I have a house privatized, all restored in its present form, but in fact it is restitution. I restored everything that belonged to my father, it took about 6 years in the House, and the same on the ground, 326 sq.m.
On the site is a boat. Previously, it could pull on the Moscow River directly opposite the Kremlin. Now it has to go to the nearest boat station.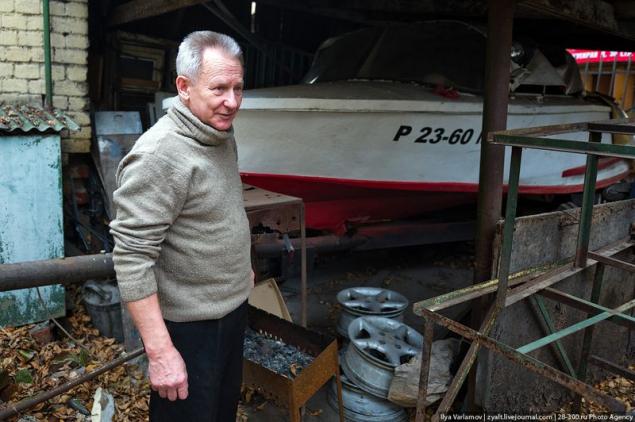 And in the 1990s, you did not try to evict you? ABOUT! We tried to evict the first time in 1971, in the 90's it all threatened to roll up the asphalt. [Victor A. whereas his wife and brought dogs]