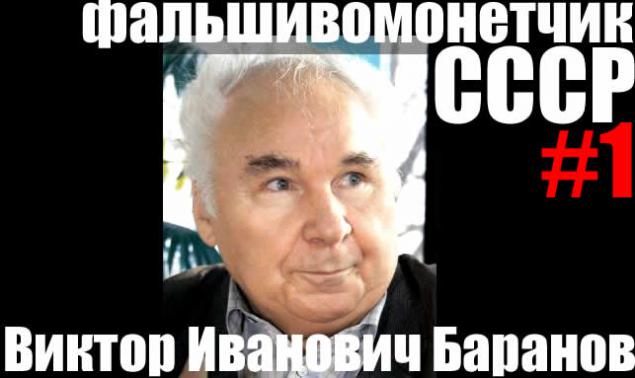 Viktor Baranov became the most legendary figure in the history of Soviet fake money. Self-taught artist and inventor, innovator, born in Stavropol considered fake dollars below their dignity. "Making them - is like coffee to brew" - so fond of talking to investigators. He specialized only on Soviet karbovanets. And so it all began ...
In the mid-70s in 105 cities bankers found 46 counterfeit bills pyatidesyatirublevogo dignity and 415 fakes in denominations of 25 rubles.
Self-made 25-of 50-ruble note and showed Goznaka experts. And only the last tion given categorical conclusion: the money brought by the examination of the sample in 1961 are unique and duplicates are made the same way.
Tyne and online services, including the KGB, alarmed: Is the USSR acts gang of counterfeiters? Many were convinced that the money produced a team of criminals, and competent in monetary printing, versed in many industries and sciences. When a forgery was reported in the party top, investigation units were tasked to find and neutralize the gang.
Operational headquarters interrogation group engaged in the analysis of which of the cities of the USSR found most counterfeit quarter and polusotennyh? And here it was reported that on the territory of Stavropol in the period from February 14 to April 12, employees of banks and outlets withdrawn from circulation 86 fake 25-ruble notes. Had to adopt a version of that gang working in the region.
Baranov made many inventions, which the company offers, but they tend to remain unclaimed. This has led to the production of Victor money, in order to assert themselves and have the means to finance their own inventions.
Viktor Baranov could be a famous inventor, but his ideas were not wanted. And he became the most famous in the USSR forger.
Life of Victor I. Baranov - Soviet "counterfeiter number 1" might have been quite different if the country has been applied to his talent.
April 12, 1977. Cherkessk. Farmers Market. Shop adygeets just told police a few minutes ago he was approached with a request to exchange the buyer dvadtsatipyatirublevye paper. Merchants also asked to pay attention, if someone will offer in the market quarter-or silver coins? So he drew. Yes, of course, it will show the buyer. Here's one - with a portfolio.
Documents of a suspicious buyer were in order: Viktor Baranov, a resident of Stavropol. But certainly as he was in order with cash, the police did not dream. The portfolio Viktor Ivanovich were 1,925 rubles quarter-tickets. These 77 banknotes steel Baranova same than 33 iron for Professor Pleischner - a sign of failure.
 - So who are you? - The investigator asked him when the police brought the owner of suspicious money in the department.
 - I counterfeiter, - said the king of counterfeiters.
"When brought to the investigator, I immediately looked at all - I wanted to jump out the window. But it was low on the second floor. If only the fourth ... »
We sit with Viktor Ivanovich Baranov in Stavropol tea - here he usually appoints people to the meeting as a small apartment in a hostel, where in addition to the 64-year-old Baranova live his 32-year-old wife and heir to two and a half years, is not well suited for a meeting with journalists. < br />
Before Viktor Ivanovich on a table lined with strange objects: brick, glued to the glass chips, a bottle labeled "glue-paste" Delight ". This is the latest invention Baranov. But first, we ask that tell the main story - about how he became the most famous forger of the USSR.
TOO good fake
From a law enforcement perspective, this story began in the mid 70s. By 1977 in 76 regions of the USSR, from Vilnius to Tashkent, was found 46 counterfeit notes pyatidesyatirublevogo par and 415 - dvadtsatipyatirublevogo, had, according to experts, a single source of origin. Exceptionally high quality fakes made counterintelligence suspected CIA, which, of course, could easily print rubles factory method in the United States and then spread through the agency of the Soviet Union. Along with espionage and tested traditional version - it is assumed that counterfeiters obtained technology directly from Goznaka. More than five hundred employees almost a year were under-clock surveillance of the KGB, until re-examination is not established that Gosznak here at anything - just someone in the country too well versed in the process of printing money.
Counterintelligence regretfully left the idea to find in the USSR American sowers, spreading bank notes, and the KGB with the Interior Ministry to focus on finding a group of counterfeiters inside the country.
Gradually able to determine that in the south of Russia quality fakes appear more frequently than in other regions. Then circle the search narrowed to Stavropol, where for three months in 1977 were found 86 fake dvadtsatipyatirublevok immediately. Finally, thanks to the vigilance of the seller-Adygeys was arrested first, as did the security forces, members of the gang.
Evidence of guilt
"I have decided for myself a long time - says Baranov - if caught, will not twist, twirl. I never lied to the police. " The police about it then, however, did not know and thought Victor Ivanovich courier counterfeiters, who decided to take all the blame upon himself to shield accomplices. Because no one person can make fake money such impeccable quality!
"In Stavropol I was taken as a general - says Baranov. - Ahead of the traffic police drove two cars with flashing lights ».
There he immediately led the police to his barn, where during the search were found compact typography, printed money packs and five notebooks describing long-term studies. On the same day on the table Interior Minister Shchelokova lay the report and the next morning in the Stavropol flew a group of Moscow experts.
During the investigative experiment Viktor Ivanovich in front of distinguished guests created on paper watermarks, laminated high and gravure printing, cut sheet and numerator paid treasury room. By the end of the submission of skeptics in the room was no more. All believed in a miracle and that the magician must be rolled-decent time.
After that, by the decision of the Main Investigation Department of the Ministry of Internal Affairs of the USSR to the criminal case number 193 on the discovery of counterfeit banknotes dvadtsatipyatirublevogo dignity, where it all began, was attached a hundred similar cases. To be shot in the USSR and sentenced for lesser crimes.
ARTIST offend everyone can
From the point of view of Victor Ivanovich Baranov, this story began in childhood, when he first looked with admiration banknotes czarist Russia. "In me because blood flows artist - explains Victor Ivanovich. - My uncle, burned-out at the front in the tank, was an artist. And I drew pictures to the army - "Alenushka", "Three hunters", went to the open air, painted from life. " But not so terrible was to Goznaka artistic talent Baranova, as his talent for inventions. Before to take up the money, he had tried to propose to the Committee of the invention in the Council of Ministers of the USSR an elegant solution to the problem of sorting potatoes. He was refused under the pretext of improper filling out a form. Then he tried to implement at the winery folding boxes for transportation of glass, but the chief engineer said bluntly inventor: "I do not need it. And you do not need. " Then Baranov Unicycle invented the car, for which the building, according to his calculations, it was necessary to 30,000 rubles. According to other estimates it appeared that the same amount he would have to collect old age. Unless, of course, does not begin to print them yourself. "I was sure that I did not succeed. But still decided to try it. " So it all started. We asked Baranov, he would make money if the government immediately assess his invention. "If once supported - perhaps would not" - without much confidence he said.
ONE FOR ALL
The path to the high rank of the king of counterfeiters Soviet Viktor Ivanovich began with the fact that the coin dipped in ink and put it to paper. This was in 1965. After thinking about Get imprint, he went to the regional library to them. Mikhail Lermontov, thinking to find there its interesting books on printing. Neither there nor in second-hand stores, or in conversations with employees printing of the newspaper "Stavropol Pravda" secret knowledge mint Baranov, alas, is not acquired. And then Viktor Ivanovich took a vacation and flew to Moscow.
In those days they Library. Lenin hospitably opens its doors to any Soviet citizen, eager to learn, and very soon Baranov has outlined the book on printing. Books were many, time is short, so guests of the capital stole several rarities. "I could not resist, sinful - explains Victor Ivanovich his immoral act. - It was the only thing in my life stealing. " Then he went to second-hand books and enrich the German author Ginaksa "Fundamentals of Modern zincographies" employee Gosznakoizdata Krylov "Manufacture of printing" 1921 issue and "Fundamentals of reproduction equipment" Schultz. With these precious finds Baranov and returned home.
After studying literature, Baranov realized that you have to thoroughly master the nearly 20 specialties. In fact, the task was impossible: he had to repeat alone that created the whole production, which had at its disposal trade secrets, difficult materials and unique human resources. Baranov but somehow did not attach any importance to this - locked in the barn and started experiments.
Four years it took him to learn how to watermark and desired paper quality, two and a half - to make intaglio ink, a year left to paint for printing. Equipment parts, parts of it ordered craftsmen in different factories Stavropol. Chemicals bought with hands on transformer factory. During the years of experiments in the shed he studied etching and photographs, mastered copy to albumin, gelatin, PVA and PVA, learned to make wooden and rubber pad. This was done by Baranov-techie. Baranov artist engaged playback protective mesh on the bills - whimsical patterns superimposed on each other (the result of clever work of artists, engravers and DIY guilloche Goznaka). To the casual eye they looked faded stains, but Baranov layer by layer "understand" safety net, with surprise detecting image lions' heads and mythical animals. "For me a few shirts simply rotted in the 12 years of research," - says the king of counterfeiters. - I could sit in the barn and the day and two. " He retired from the Regional Committee of the drivers and went to work as a fireman, to be on duty day through three.
In Baranova had no friends, because friends like to go and see without knocking. For suspicious neighbors regularly arranged "open day". Curious old women, looked into the studio, overlooking the bench press, magnifier and tanks for the developer - the most interesting Rams hid unassembled under the shelves. Only a suspicious neighbor Hunter continued to believe that Baranov night pours into the barn fraction.
Finally in 1976, printed in the next sample pyatidesyatirublevki, he could not find it in contrast to the present fifty dollars. Only Lenin gave a fake on the watermark. "I did fifteen years younger than done - explains the Rams. - Old did not like. " Could begin to enrich themselves. But, oddly enough, the Rams did not rush to print money bags. Even the police admit that the Rams used his money machine very modestly. The only major acquisition over the years has become a car. And then, according to Viktor Ivanovich, the entire amount has been paid to them from honest labor savings. "In restaurants I did not go, do not smoke, drink, girls I did not have. And the TV was not, there was only a small refrigerator. I did not have - I did the work. " All the money went to the production of new equipment. Native fake bills he did not give. "My wife once asked where the money - says Baranov. - I said that I offer my invention plants. Wife I did not give a lot of money - 25, 30, 50 rubles ».
In parallel with the study of coinage Baranov observe the behavior of sellers in the market to understand how to "go the money." For example, fishmongers always take notes with wet hands, in the hands of meat traders are often in the blood. Caucasians are willing to take new crisp bills. As a result, Baranov added a 70 fifty dollars, and then decided to engage with them. Tired of candy wrappers.
AGAIN TWENTY FIVE
King decided to wipe the counterfeiters quarter - the most secure and the most, according to Baranov, a beautiful treasury note USSR. "If the ruble was the most secure, I would have made the ruble," - says Viktor Ivanovich, and we believe him. Not greed killed the king of counterfeiters, and pride.
According to the familiar technology masterfully recreated the bill and printing enough money (under assumptions of the police, about 5,000 rubles), went to market them in the Crimea. And then came the incident. Having bought in Simferopol on the street at some tomatoes grandmother, he went to the phone booth to call, forgetting briefcase full of money. Already moving away at a decent distance, he realized what had happened and rushed back. But neither grandmother nor the more the portfolio was not there. Thus trade tomatoes brought in that day brisk resident of Simferopol 5000 rubles pure broth. A heartbroken Rams went back to Stavropol run on the new machine.
That's when a new batch quarter maestro made a fatal mistake. Perpetuating clichés to create a protective grid, Baranov did not pay attention to the fact that cliche reversed. As a result, printed money, he found that in the place where the waves rise must be proved descent. Believing that no one would notice, he decided not to reject the party. However, in one of the banks, which in the end came this bill, keen cashier noticed the difference and raised the alarm. From this point on, as they say in the thriller, to live in freedom Baranov remained a matter of months.
ARREST Baranova
"By the time of his arrest, I had to sort out all the equipment, - he said. - Is going to pass on ponds and lakes and throw it out there in pieces. Not thrown because April dirt, not proedesh. And thank God. And it would have divers look for these parts at the bottom of reservoirs ».
From Stavropol jail Baranov moved to Moscow in Butyrka. Every day he visited specialists, which he spent twelve investigative experiments demonstrated the victory of the human mind over Goznak.
Technological Goznaka wrote in his report: "Made Baranov VI fake banknotes worth 25 and 50 rubles externally similar to the authentic bills and identifiable difficult to handle. That is why this fake is very dangerous and could cause distrust of the authenticity of bank notes ».
Viktor Ivanovich willingly shared their experience. Twelve years he hid, and finally there are people who can evaluate his talent and enormous project. King of counterfeiters gladly gave her a prescription solution, herbs copper is several times faster than it did in Goznak (under the name "Baranowski solvent" it was used in the production of the next 15 years). For the Minister of Interior Shchelokova Baranov on ten sheets outlined recommendations for improving protection against counterfeiting rubles ... Probably much more useful to report Viktor competent authorities, taking into account that firing squad for his replacement colony, thus given three years less than the maximum term. "Not only printed money - offers an explanation of humanity court Baranov. - And that would have been shot. But you know, I'll tell you: it would be better shot. I would not have suffered eleven years old when his hands were shaking from hunger, snow, wet feet and ten trucks with concrete that need to shovel a shovel. Every day. Actually printed Baranov lot - about 30 000 rubles, but only a fraction of the money he put into circulation, most still remained in the barn.
Baranov served a term in a colony of special regime Dimitrovgrad, Ulyanovsk Oblast. As a true passionary, he showed his talents there, "I wrote in the newspaper. Once won the competition for the best article on all the CTI. I then sent the prize - 10 rubles. And I was the director - led initiative. Choir we had three hundred people first place seven years in a row to do. "