On the official website of "Gazprom" taken "notice number 64/081008-WC on the request for quotations." Tender Committee of JSC "Gazprom" (contact person: Sergey Bronnikov) from 8 to 17 October gathering applications for the "right to sign the agreement to supply equipment for stables for the branches of OJSC" Gazprom "for the needs of JSC" Gazprom ". Place of delivery - branch of JSC "Gazprom", "DP" Bogorodskoe "village Bogorodskoye, Moskovskaya oblast.
"Gazprom" require "a solarium Warendorfer, Standart II model with built-in thermal showers each panel (2 pcs.) And elements for the neck (2 pcs.)." Delivery must be made in the fourth quarter of 2008. Reserve price of the contract, together with VAT is 338 thousand rubles. Bidders must "possess the necessary professional knowledge, qualifications and experience of delivery of quality equipment for stables».
No doubt: solarium stable - this is exactly what is now imperative gas monopoly. Horses need to sunbathe and improve their health. And hardly anyone will dare to ask of unwanted questions about why, in fact, "Gazprom" stable?
But let's not offend "Gazprom" - where care is not only about horses. Declared still collecting applications for multiple requests.
Thus, the company orders the medical and beauty equipment to its pension "Morozovka" in Solnechnogorsk district of the Moscow region a total of 4, 2 million rubles. Requirements for the delivery of "hot tub Florida 300, vertical solarium" Aurora ", the device" Oberon "with a laptop, a therapeutic setting Thermo SPA c option Aqua Jet, Laser physiotherapy complex Milt-K, couch wet massage Orient, massage couch LOMI-LOMI ultrasonic apparatus ALGODERM, beauticians chair Beauty Star III, towel warmer HOT CABI, beautician stool Rondo ... ». The crisis of crisis, and the staff of "Gazprom" must cherish health. It is because, like the rest of the company - a national treasure.
© Boris Vishnevsky, a columnist for "Novaya»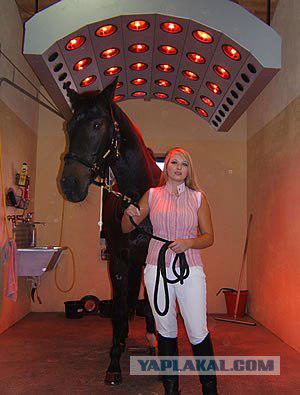 Source: