© perm.irr.ru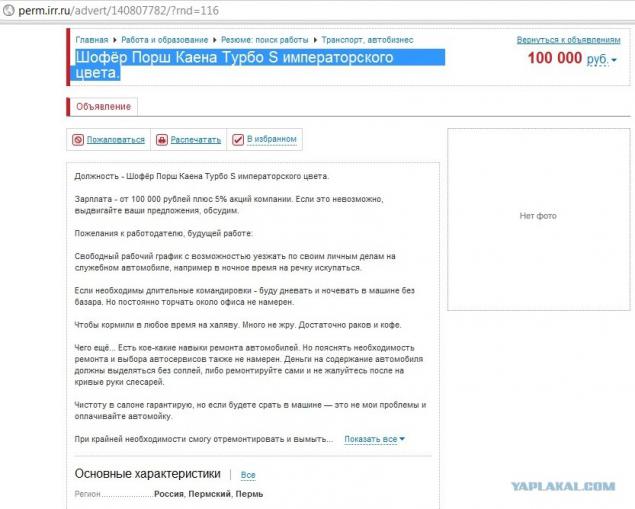 Full text:
Position - The driver Caen Porsche Turbo S imperial color.
Salary - 100 000, plus 5% of the company. If this is not possible, pull your suggestions, discuss.
Wishes to the employer, future work:
Free work schedule with the ability to go to their private affairs in a service car, for example at night to the river to bathe.
If you need long trips - I will spend the day and spend the night in the car without the bazaar. But constantly hang around the office does not intend to.
To feed at any time for free. Many do not zhru. Suffice cancers and coffee.
What else ... there are some car repair skills. But to explain the need for repair and car service of choice does not intend to. Money for car maintenance should be allocated without snot or repair themselves and do not complain when on curves hands locksmiths.
Cleanliness cabin guarantee, but if you to shit in the car - it's not my problem and pay a car wash.
When emergency able to repair ... and wash the car yourself. And, of course, I will be happy to do all this and much more, such as mood mesh of any size on any standard platform. Claims for the appearance should not be. One hell sitting in the car, and if they go out - at the gas station, which in addition to a full tank and ninety-eight cases do not have to. Hence, a jacket and a white shirt dress will not. If you need a constant connection - MTS, direct city number and the rate at the expense of the company Ultra. I do not smoke and do not drink. And I never have done it. Therefore, do not smoke in the car - it is essential. Also, I do not tolerate drunk - hence the second principle. If so Hunt will fire me, it is enough to say a fortnight - and I'll get fired. As will continue without me - I do not care. Experience: 19 years experience Skills: guarantee proper operation in all conditions, at any time and at any speed. If necessary, I can anneal - but questions about tire wear and brake did not accept. More ... I am able to, as you have read above, drive fast without harm to the vehicle. And it is expensive. So Porsche has to be shod in tires Nokia Haq Z Suv summer and winter Nokia Hakapelita Seven Suv. If you need to break speed limits and traffic regulations in general - I will do, but for some money. The machine spirit, finalized and will bring to mind at all. Riders are not consulted. Achievements on the last job: hold out for seven years as a personal driver only because of conflicting motivations. Namely - the love of truth, humanity and desire to help one's neighbor. Solid company, but rapidly samoiznichtozhaetsya that was the reason for the search of new and promising work. I understand the need to provide additional information so supplement - None punch at the user level with the prospect. Education: Basic - Average Additional - and there should be no problems with the documents. Officially my secondary education. This is enough to drive a car and demand to present the diploma of Moscow State University at least silly. For more information: Having a car - there is a willingness to travel - Ready to (a) the degree of limitation of ability to work - No Importance - Urgent
Source: