I never noticed that your neighbor is incredibly similar to his bulldog? On the same machine. Car owners often identify themselves with their cars. Now you see why some road users are more prone to aggression (which is behind the wheel too often ends in tears) than others? They perceive the surrounding space as an extension of their personal.
Let's look at what a car ride the most dangerous drivers. You are mistaken if you think that among them only the owners of brand new executive class sedans and large SUVs. Once upon a time is not necessary, there are also very quiet person behind the wheel of these cars. But in general, they behave quite unashamedly, are not inclined to give way, and try to cut perceived as a personal insult. The reason is clear: such a machine on the road as in the subway Ambala, who is used to that before it all step aside.
I noticed that quite uncompromising are ladies, especially behind the wheel of such cars as the Toyota RAV 4: in a traffic jam, they are often doing their utmost to keep out in a number of the treacherous swine that dare to violate their space, to the point that provoked crash sharp and strong pressure on the gas (ladies, you would be first to the therapist, and then you behind the wheel).
Drivers of "Gazelle", "Porter" and small razvoznyih vans also did not differ calm: chaotic and aggressive rebuilding without the inclusion of turn signals, and other people in his row to see they also do not like ... They are hard work when the legs feed you, you're forced them sort through what is called the wear ...
Oddly enough, the drivers of sports cars (and supercars to the heap) calm and compliant, and most of them quite polite (they are often prone to flash "emergency gang", they say, "thank you"). And all because these guys are basically perceive the world of fun and sometimes a little inadequate: they flow - this is not a battlefield, is the playing field on which the other members of the movement is not a potential threat, but merely an obstacle that we must quickly go round. And we are in traffic calming and baldeem by decreasing the wave of happiness and drive. It seems that such drivers are inherent touches a psychological portrait of strong athlete: I almost never seen, for example, weightlifter was overly aggressive, quite the contrary.
However, owners of fast cars are often used for their intended purpose, creating some tension on the road. But this fact is compensated by the fact that most turned on fast machines people have to cancel the driving skills, an understanding of how to act in emergency situations, as well as uncommon reaction. This is not to mention the fact that experienced "athletes" have a cool head on his shoulders, that lightning calculates all the possible risks while driving.
But drivers in semi "vegetables" such as the Mazda 3 or BMW junior series (especially with some tuning besvkusno types of vinyl stickers or darkened Chinese optics "Angel Eyes") is often aggressive, and its space in front of bdyat like watchdogs! And they just often fight ...
Now it's your turn: what car drivers seem to be the most aggressive to you? Maybe you caught some more interesting trends?
© Peter Maximov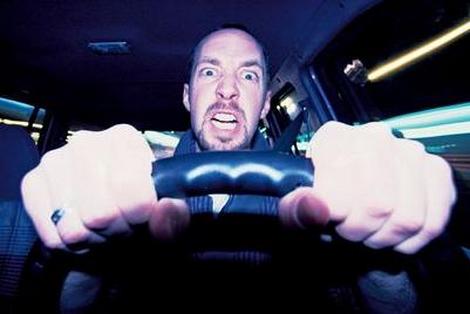 Source: