I got here on another trip to Moscow, this time by Bulgakov places. And, as they say, do not care frost. And you are always in the summer all the time? Here's something!
Thoughtlessly forgotten to put on his head and the wind, all the more penetrating it through the ears. The hands feel cold, but how, without a camera? Without it, no way.
So we started with the Tverskoy Boulevard from home Griboyedov (as in the novel), but, in real life, as we see, the house is worth.
And today is the Literary Institute Gorky. Bulgakov's novel mentioned monument to the famous poet Alexander Ivanovich Zhytomyr, who became famous only in that poisoned sturgeon. In the real world just before the house is a monument to Herzen. Sturgeon second freshness does not happen, - taught in Moscow restaurateurs Voland. I think that would be horrified, realizing that we now have available the second freshness.
source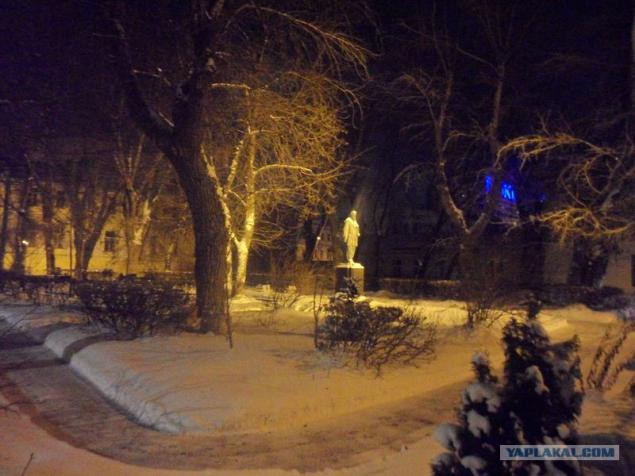 "She was carrying repulsive, alarming yellow flowers ... The devil knows their names, but they are the first reason appear in Moscow. And these flowers are very clearly distinguished it on the black spring coat.
(In the hands of Margaret were Mimosa.)
She was carrying yellow flowers! Not a good color. She turned a lane from Tverskaya and then turned around. »
Description Looking for margaritas with Master coincides with an acquaintance of the writer and his wife. And now we go to this symbolic place.
Along the way, by the way, we have another fun place, however, and has no relation to the novel. And this house is called "Upskirt" very obscene joked. Here on this pinnacle in the 30s was a huge (Tsereteli be envied) statue of a ballerina with a highly raised leg. And when she fell off a hand, it finally removed.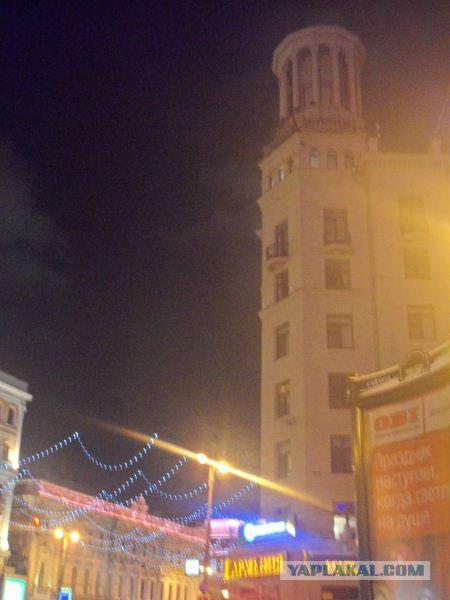 Just behind this house and we located the correct lane. Where there is at least an interesting house. In 1913, at the Grand Gnezdnikovsky Lane Russified German Ernst-Richard Karlovich Nirnzee built its own 10-storey apartment building. In those days, it was the first skyscraper in Moscow. In the 20s there was opened a viewing platform, a restaurant rebuilt roof, "and even a desperate clown became famous thanks to the famous roof - he stood for a long time on their hands, holding the bars. In the basement of this house located such well-known to all Moscow theaters as the cabaret "Die Fledermaus" Gypsy Theatre "Romen»
... She looked at me in surprise, and I suddenly and unexpectedly, I realized that all my life I loved this woman is! ...
Beautiful recognition, right? A recognition of the evidence of the queen, as would say the Attorney General of the USSR Vyshinsky, who, incidentally, also lived here and was the owner of a personal elevator lifter, delivered directly into his apartment. And yet, Ryazanov shot here his "Office Romance».
Hmm, still able to do before the Revolution apartment houses. And live in it is not less important citizens.
Sori for the quality, but it was too dark.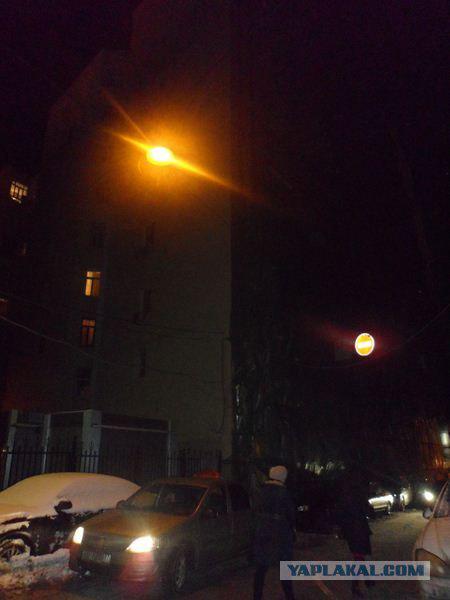 Ironically, for some reason there is a shop avosek as if symbolizing the ... ... maybe blow by the sword of justice.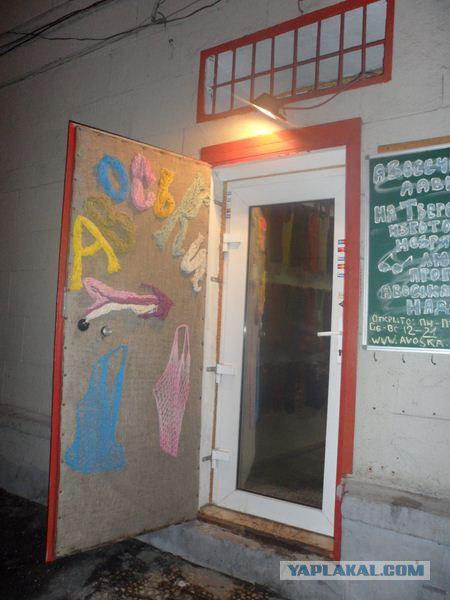 "Margarita Nikolaevna did not need the money. Margarita Nikolayevna could buy whatever she liked. Ever since nineteen she married and got into the house, she did not know happiness. »
And we're going to look: is so good was the house? Hmm. Not deceived writer. And, indeed, nothing wrong. After all, this house was built for a millionaire Savva Morozov. And now it is receiving the Ministry of Foreign Affairs of Russia.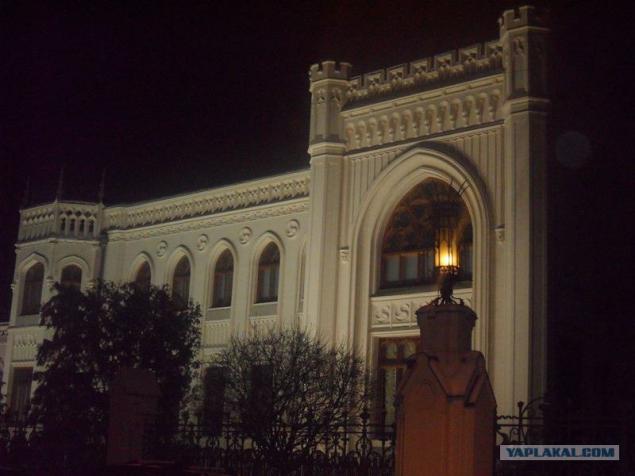 "He who loves must share the fate of someone he loves.»
And we are moving in the lane Mansurovsky.
"I'm broke, I'm bored and I want to go to the basement.»
Before us appears and this house, which lived in the basement of the Master. Will the modern glamor lady Margarita? I think that is unlikely.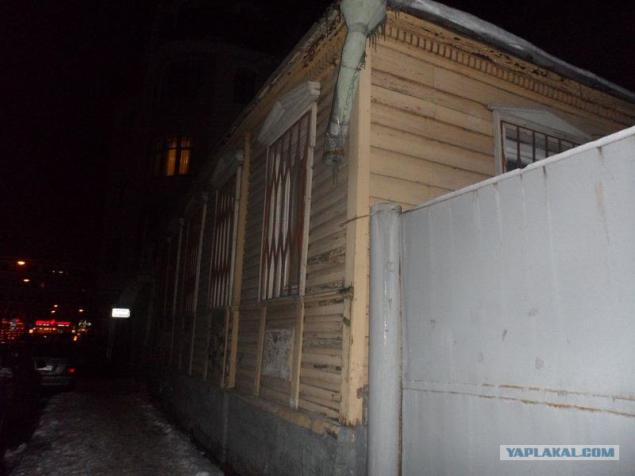 And here is the pond. Patriarchal Why? Because before there were three. Just then, two ponds disposed of, and the name has stuck. Nearby there Trekhprudny alley.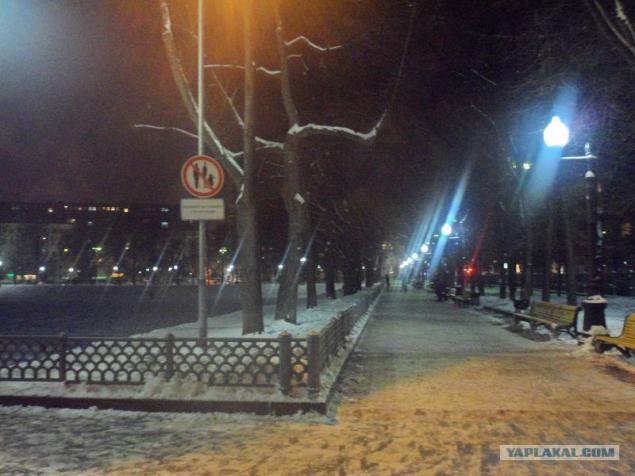 In Soviet times, ponds, of course, called Pioneer. The sign near the pond warns that you should not talk to strangers, and this right is easily convinced: the drunk ran that required (demanded it !!!) to add it melochishku.
So much for the beautiful place of worship. Denying uncle in his pleasures, goes further.
 - Damn! - I slipped on sobyaninskih tratuary.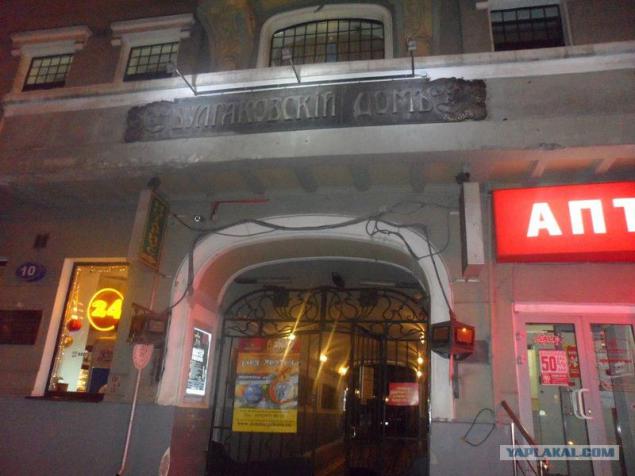 And he, in the yard of the well-immediately went out to meet.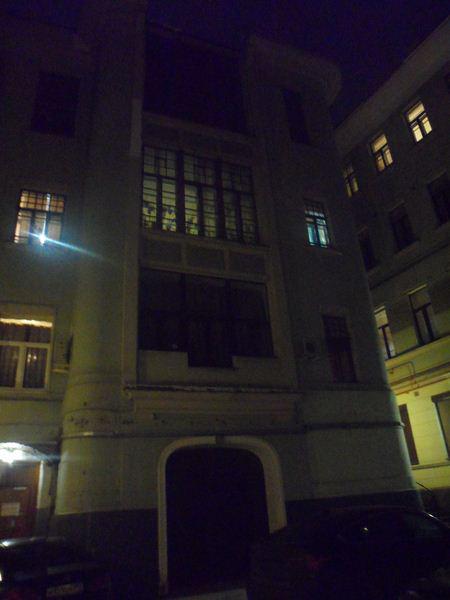 - Begemot- I thought.
 - Another bulgakonoid- thought the cat.
In fact, go find out what he thought, but he looked menacing.
Sam cat merged with the surrounding environment and the photograph go unnoticed.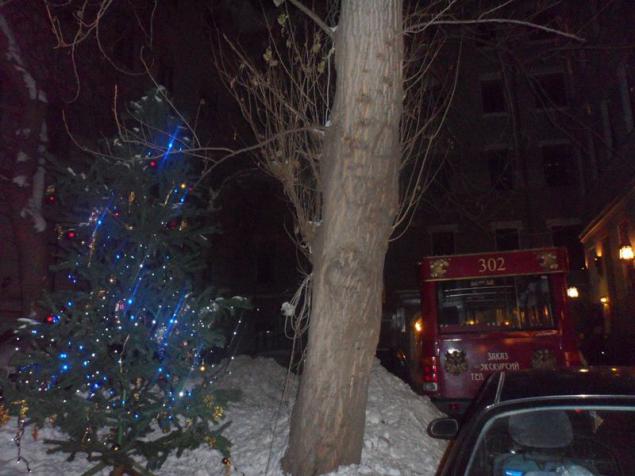 -Trezvost Is not a virtue, but the lack of rocks - all of a sudden, for some reason, said the attendant at the museum.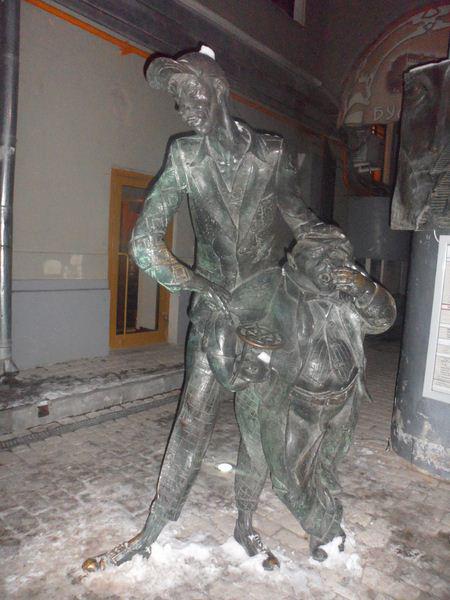 More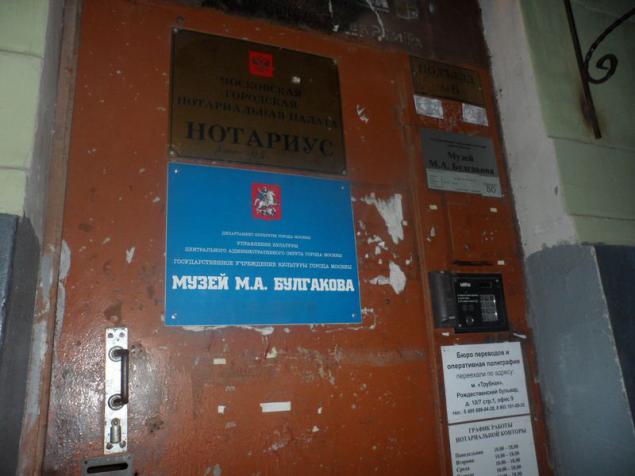 "It's nice to hear that you are so polite handle the cat. Cats usually somehow say "you", although no one cat had no one drunk bruderschaft "-vspomnila looked at to accompany me, and that led to the museum's café, Behemoth.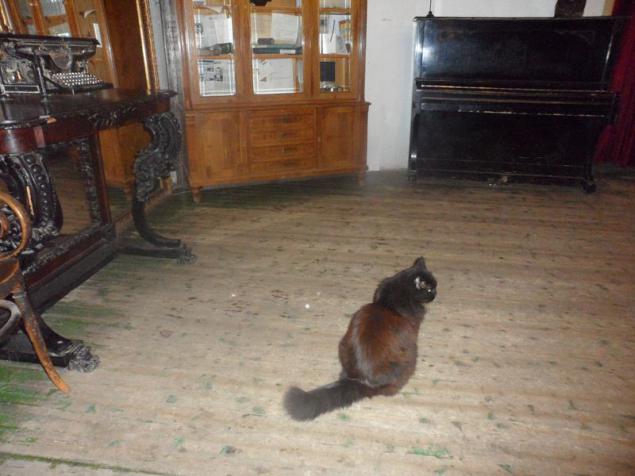 Winking cat, and, mentally noting that already talk to him, I went to the apartment.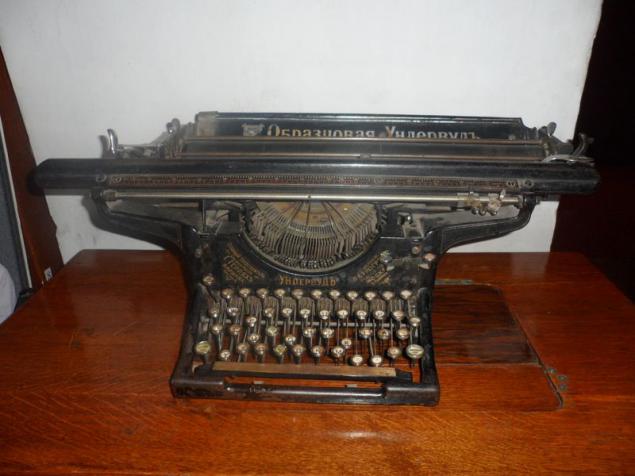 Where literally everything is permeated with mysticism.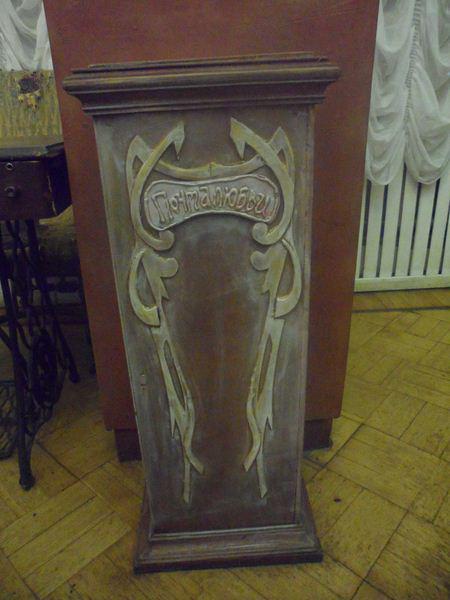 More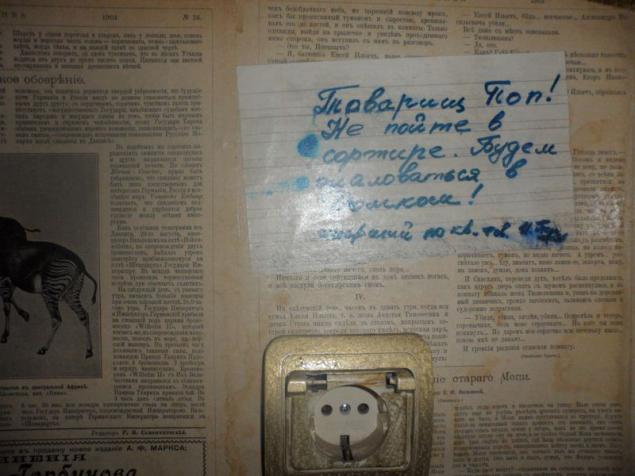 and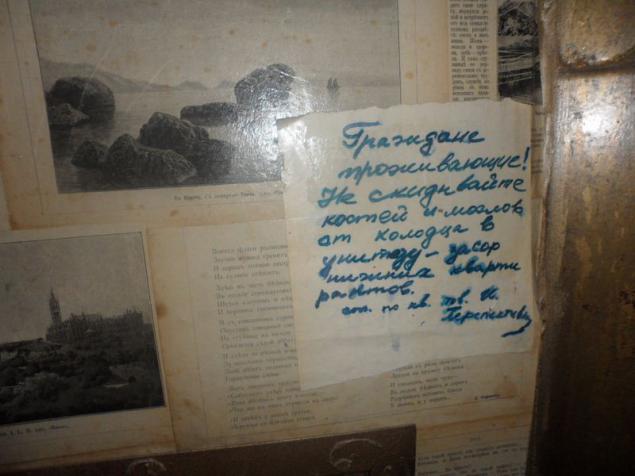 Well, they have a toilet.))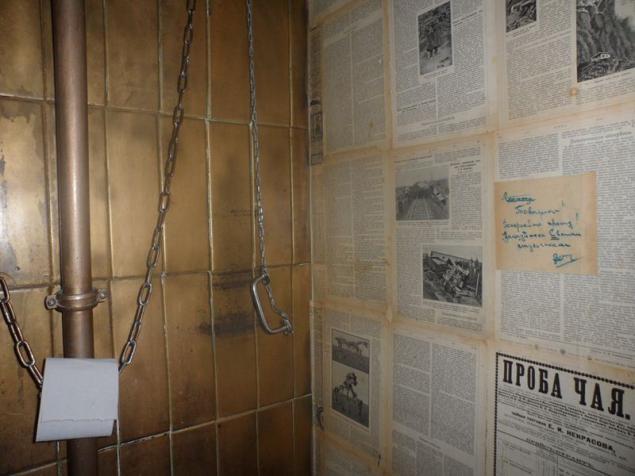 Here is a visual aid that the head should be protected ...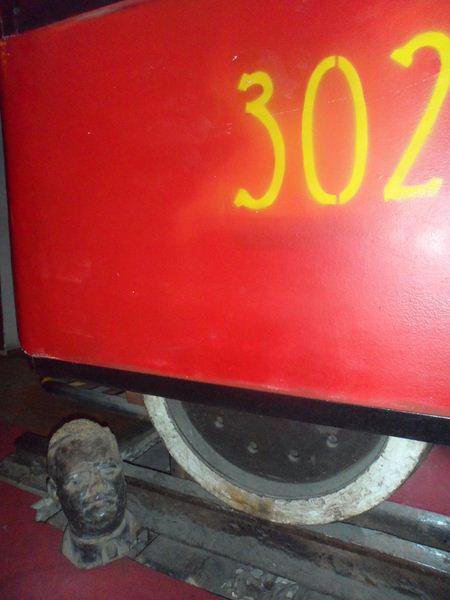 Traveling on the novel, almost completed ...
And here is (to paraphrase a bit of our President) she flew ...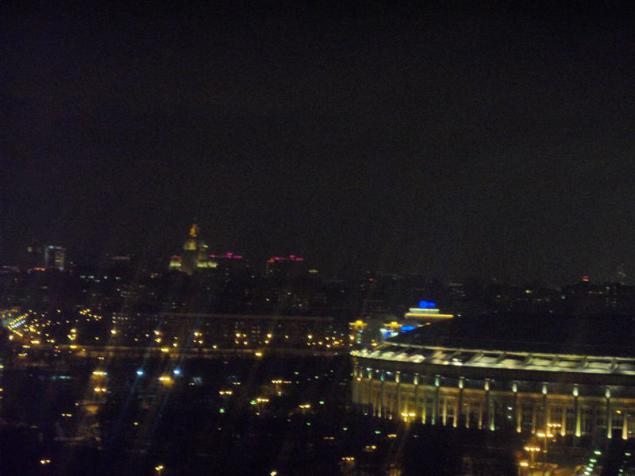 RS
- ... And you say - with a smile, he turned to the master - that your novel will bring you more surprises.
- It is very sad, - replied the master.
- No, no, it's not sad - said Woland - nothing terrible will not be.
And, surprise, really it was.
Bulgakov wrote "Master and Margarita" 12 years and knowing the state of his health, very afraid that will not have time. His wife, he is punished to pay half the fee for a book to someone who first bring flowers to his grave. And such a person really was.
These pictures do in the summer, but since then nothing has changed.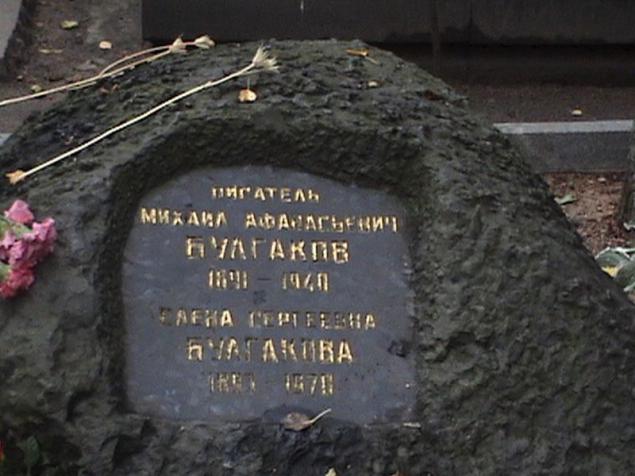 According to the second legend, raving Bulgakov Gogol asked (and that was his idol), cover it with a piece of overcoat. So Bulgakov's wife came to the cemetery to her husband, once I saw a pile of stones and derelict parts of the monument. The guards explained that it is a converted pieces of the monument to Gogol. Elena decided that this is vindicated predictions. It is a piece of stone from the tomb of Gogol and Bulgakov covered grave.
RS 2
All the same, the weather is not conducive for long outdoor walks. The next place to be warmer.
Completed.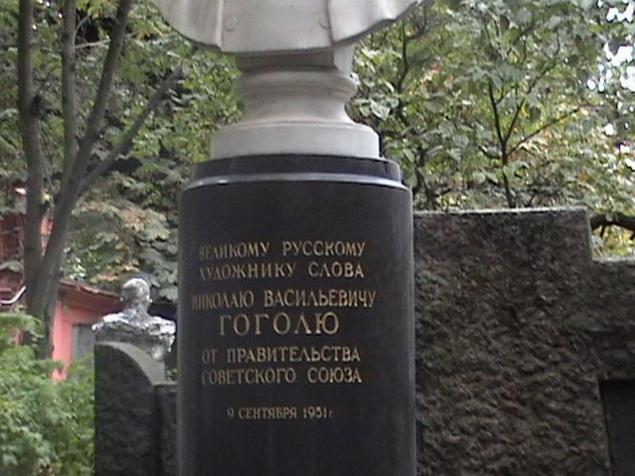 Source: