Driving in China - this is a topic about which you can write a book. It will definitely be a bestseller.
Driving in China - a tragi-comedy, action, thriller and action movie. I can not help wondering Chinese behavior on the roads.
And not to be dispersed in the city of more than sixty. Someday I'll write about this several separate positions, and perhaps shoot a video.
And today - about how I hand over to the driver's license.
China does not recognize the Russian law. And even internationally unrecognized. If you want to drive in China - you need to get local.
And then with no options. In principle, you can do without any rights. Traffic police is not here as a phenomenon.
There is no one sitting in the bushes with radar and hiding around the corner, waiting to see what you drive flashing yellow.
All cameras solved. Broke - if you pay a fine. The receipt you will receive by mail or SMS-Coy phone.
Face to face with the police you do not communicate at all ever. Except, of course, failures.
7 photo here
I printed the most nightmarish tickets and want to share with you.
I want you to laugh and cried with me. Let's start with the inexplicable. Do not look for logic here.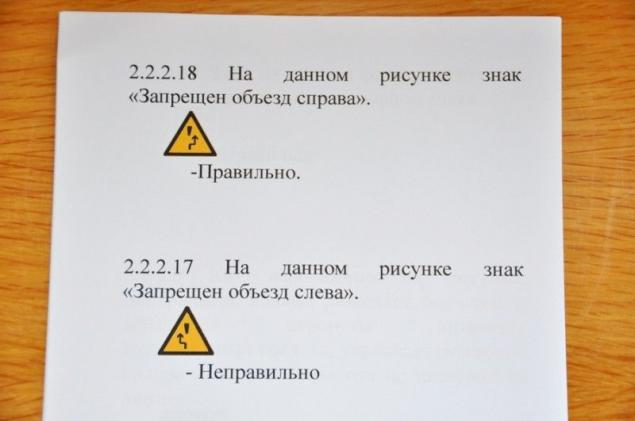 And if you are someone scratched and you do not have a driver's license, then wait for trouble. Moreover, serious.
Of course, to decide, but decide for money. Well, in general, that I explain? Rights needed. This is understandable.
I went to the police and admitted honestly that I laovaev. And I'm from Russia. And what I really need a driver's license.
I explained the procedure for surrender, given the list of documents uploaded to the flash drive in 1500 theoretical questions, pat on the shoulder and said:
"Go, man, and teach diligently».
If you already have rights in your country, "driving" do not need to take. It is credited automatically.
It is necessary to pass a theory. "A piece of cake!" - I thought, lit desk lamp and the flash drive inserted into the computer.
After reading the first ten questions I sincerely laughed. After reading a hundred - I thought that must be it someone's joke.
After reading two hundred - I stopped smiling. On the issue of three hundred and I cried excitedly.
The second week I bison these tickets. The second week, I feel like a victim of someone's evil genius.
This is the Chinese absurd, multiplied by Google-transleyt. And they are not one hundred percent. And not two hundred. Their fifteen hundred! Fuck!
Or, for example, about the infernal ticket "system rulirovaniya."
Now I understand why all the Chinese people are hiding under the chair when deployed in the deep valleys.
Question about flip-flops - it's a masterpiece. Not in slippers! I beg you, do not in slippers!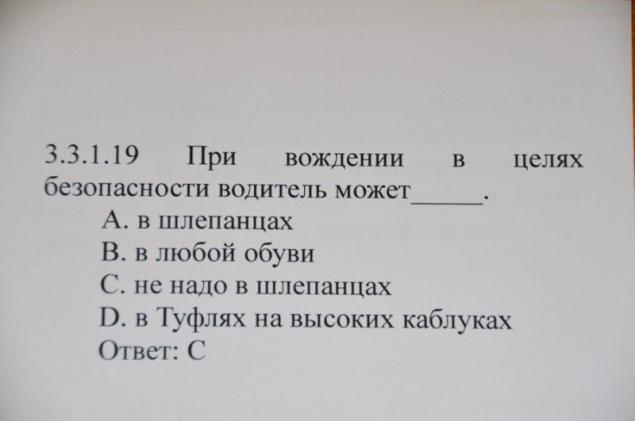 Questions from regulirovschietsey - it is a whole genre. They are a lot like hell. And all of them are meaningless. Firstly, I've never seen traffic controllers in China.
Secondly, no one ever uses such zamorochennye gestures. The only thing that saves this regulirovschitsa in my eyes - it was her wonderfully sexy white socks.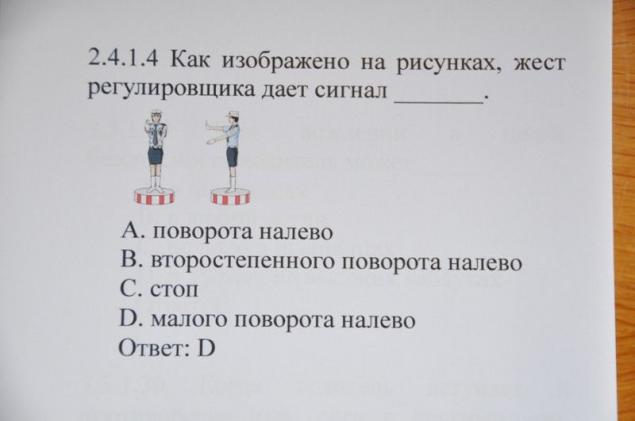 This ticket can be re-read many times - meaning you would not understand. "Go, boy, teach diligently!» ...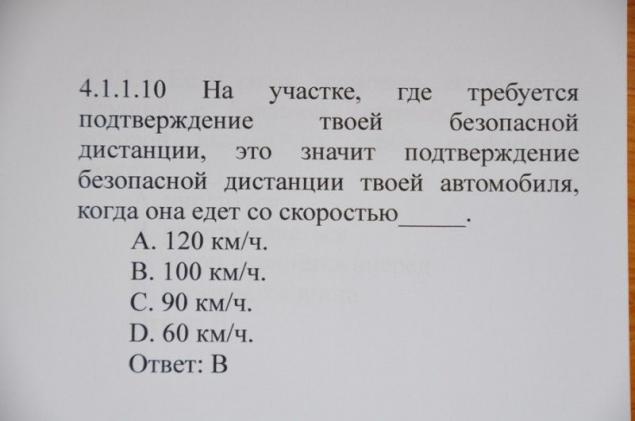 That's the real rzhaka - a question about the accident a disaster. I'd like to say "to pull both feet." But the right answer yet - "to jump to the side."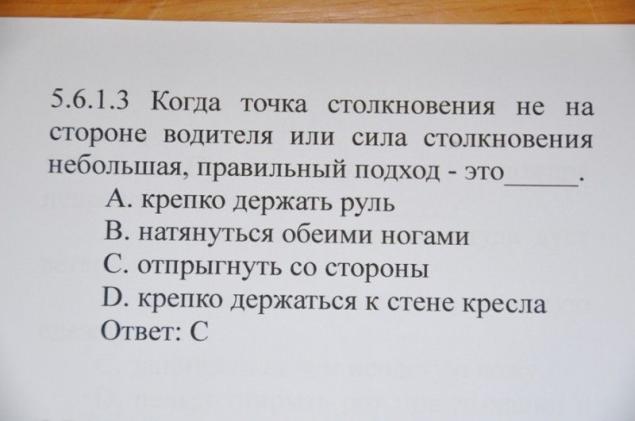 You know how to avoid "collisions from behind"? I'll explain in a few words, it is not difficult. ))
And so on and so on and so forth ...
1500! Vrotmnenogi!
These useless knowledge does not make me better, smarter or more experienced. And to be honest, I feel sorry for his time.
But the rules are necessary, and the only thing left in this situation - it does not analyze and laugh. And in the intervals between the tickets thinking about golf regulirovschitsy.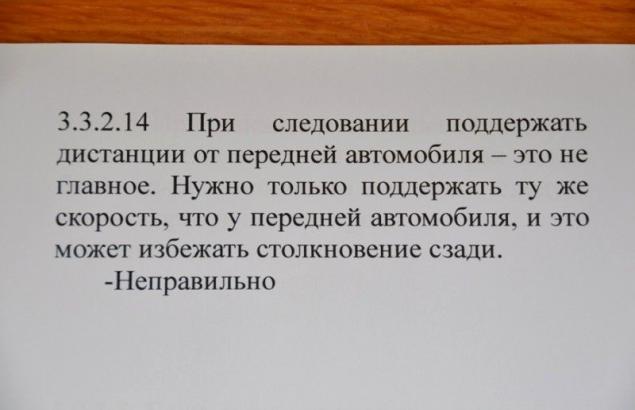 Source: