25 photos here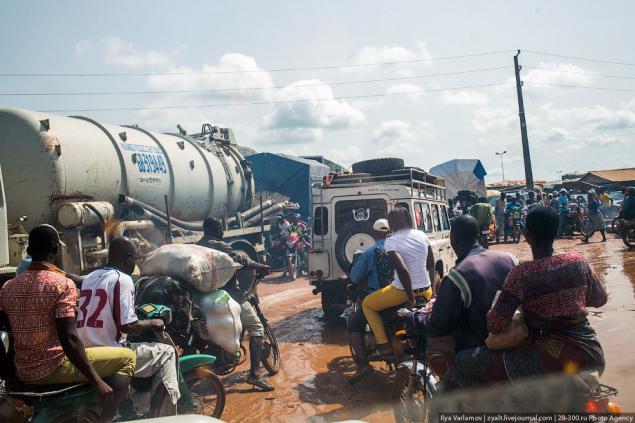 Nigeria - the first dangerous country on our route. When people know that we're going through Nigeria, they usually roll their eyes, sigh heavily and say something like, "Oh-oh-oh-oh ... White Nigeria. by cars ... Well, well ... the poor man. " Nigeria now really restless. In the north there are any riots on religious grounds, local pirates constantly abduct and kill people. In general, ordinary African life that is boiling.
About the border of Benin and Nigeria also had a lot of horror stories. Chief among them: "Yet no one was passing the border without a bribe." We went without bribes, except for two cigarettes. And especially nobody extorted. Head of Protocol deftly handles all rogues at customs.
Yesterday there was a small fire - burned a Chinese inverter. We're going quietly, not bothering anyone, when suddenly there was some terrible gnashing of inverter sees the flames and the whole interior of the car and clouds of smoke. Well, that does not light up and the garbage bags lying on the floor, and then there would now be a Defender.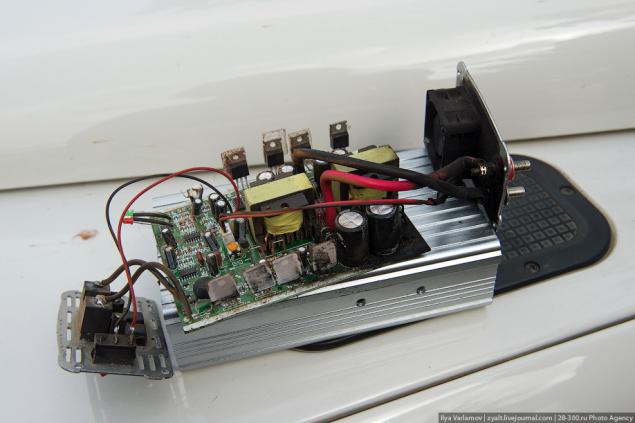 02. Depart from Benin to the border with Nigeria.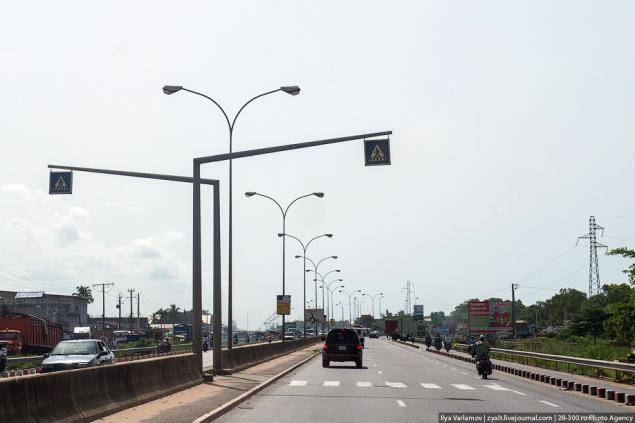 03. Toll road.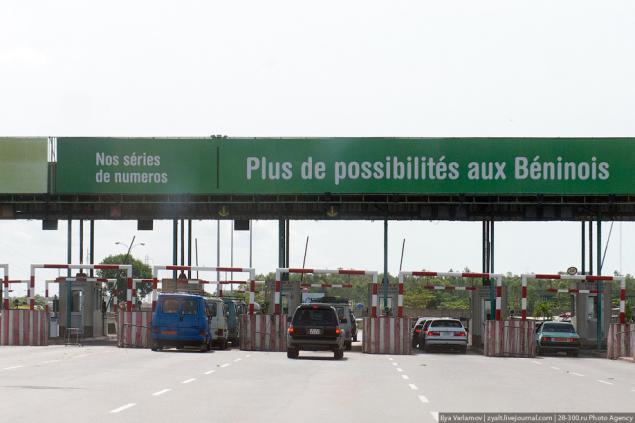 04. The border with Nigeria is really like a branch of hell, even by African standards. It starts in 5 kilometers to the border. A huge, endless queue of trucks. It seems that they are there for months.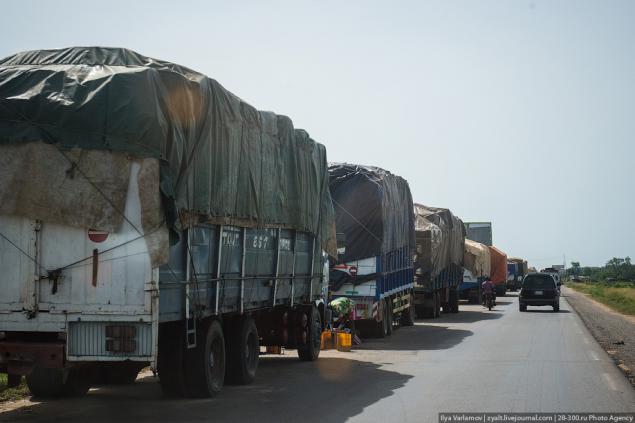 05. passenger cars and motorcycles passed fairly quickly. On the border of chaos. I like it very much reminded the border of Turkey and Iraq, where I spent a day in hell queues.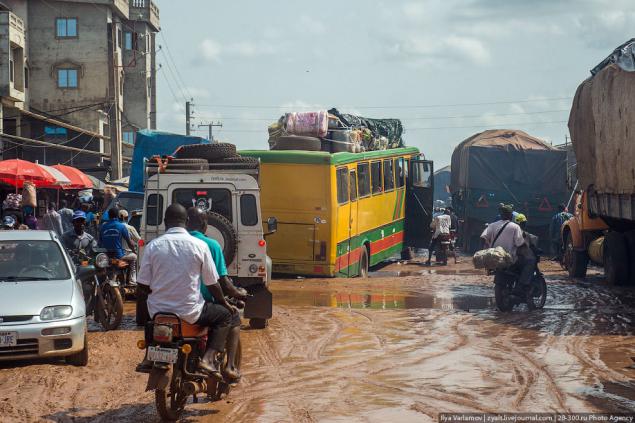 06. Now imagine a border that goes around 5,000 - 8,000 people per hour. It wagons, cars and hundreds of motorcycles. Now imagine the festival Invasion field after the rain, remember these shots with mud to their knees? And now imagine any downloaded crowded street in an Asian city. Now, if all this mix - get the border of Benin and Nigeria. Horrible dirt and confusion, thousands of people with bales of ants they are only comprehensible trails. There is no infrastructure - everything is done on the knees. Huge queues, a lot of merchants who sell everything from fake belts to contraband gasoline. This will be the border with Nigeria.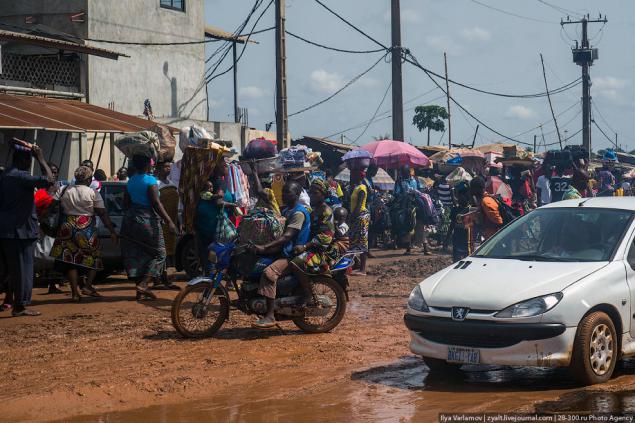 07. Stick to the drums - it kranitsa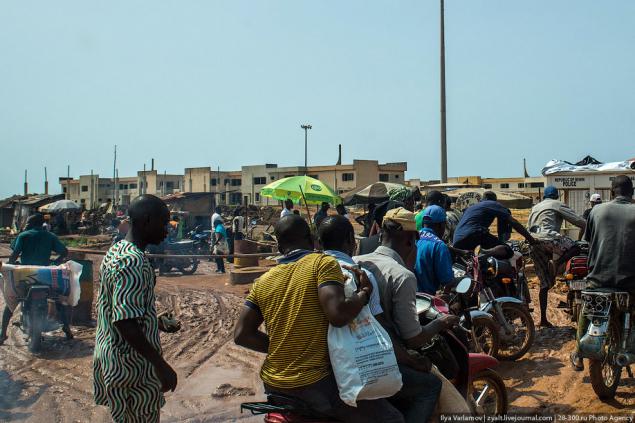 08. Heap merchants settled down here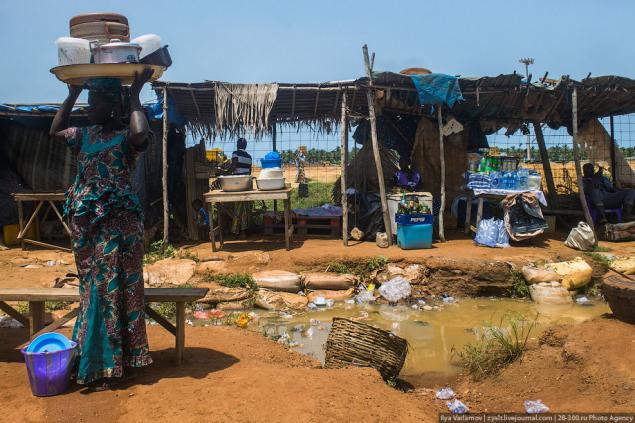 09. The shape of the border guard include rubber boots. In between checking documents can be shaved.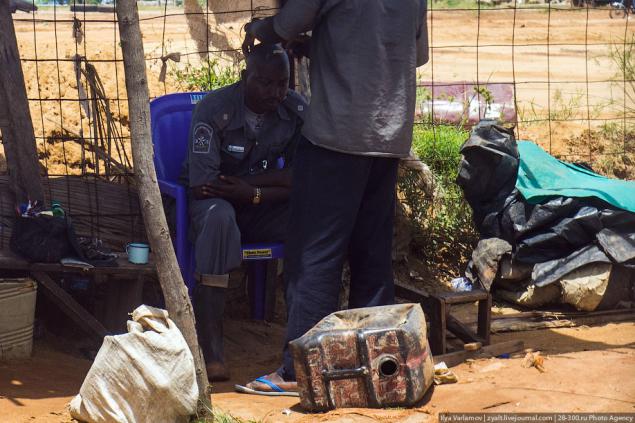 10. Nigeria's 175 million people live, more than in Russia. It just feels like cars on the streets many times more than their neighbors, all the way from the border to the city are some buildings.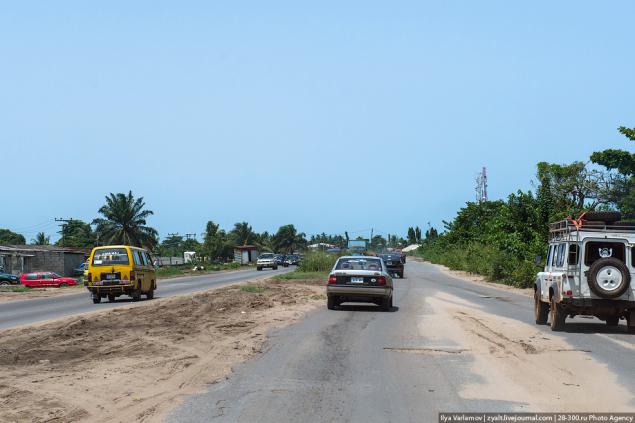 11. Prior to the largest city of Nigeria, Lagos, about 100 km to go. At this distance on the road, we pass through 17! roadblocks. Stop time - the police, the military, some sanitary control. Sometimes it comes to humor, and the posts are just 50 meters. This greatly hinders the movement Add to this the broken roads.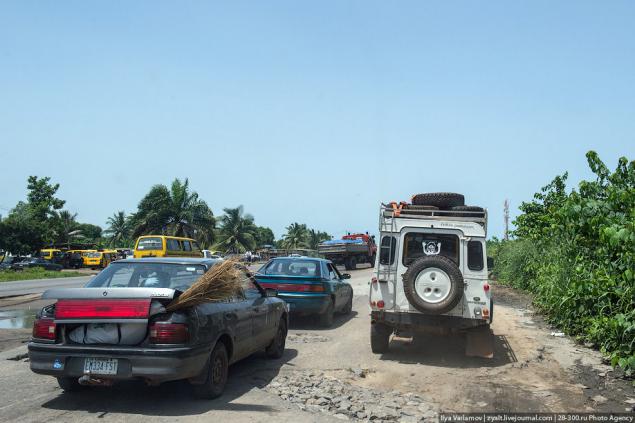 12. Along the road are selling furniture, all broken.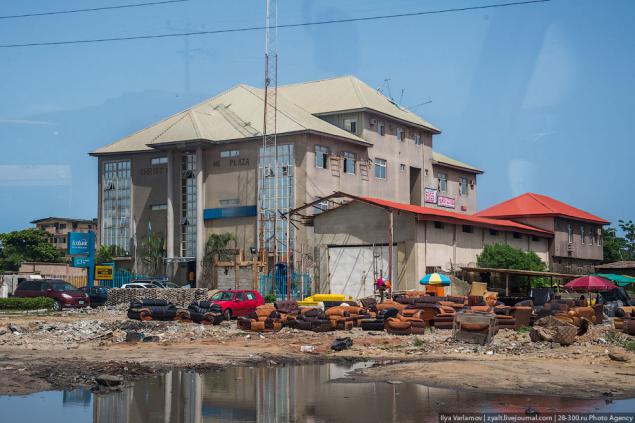 13. At the entrance to Lagos begin jams. Traffic - the main attraction of the twelve millionth city.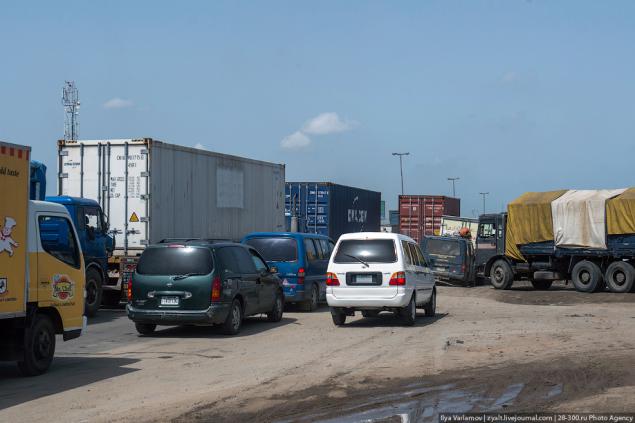 14. It is worth everything. 30 kilometers to the hotel we were going for 4 hours.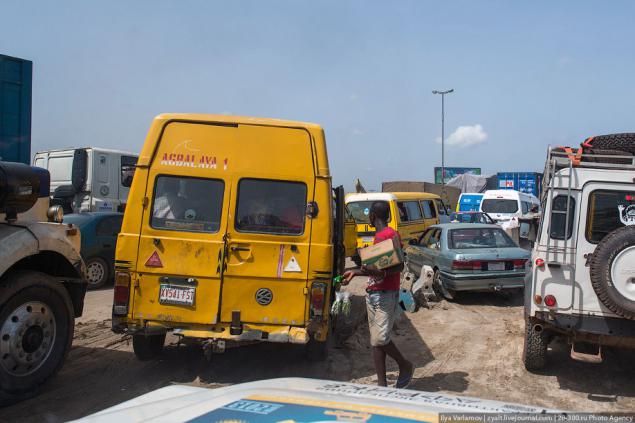 15. The reasons for a lot of traffic jams - broken roads, a lot of buses that stop wherever they want, complete disregard of traffic rules, breaking trucks, etc.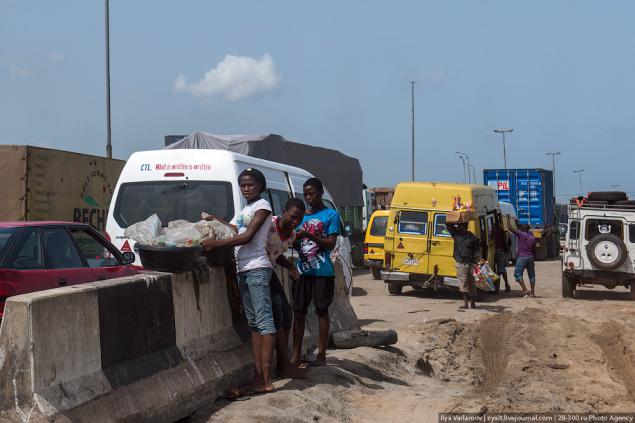 16. Roads in the city ...
17. In the middle of something being built.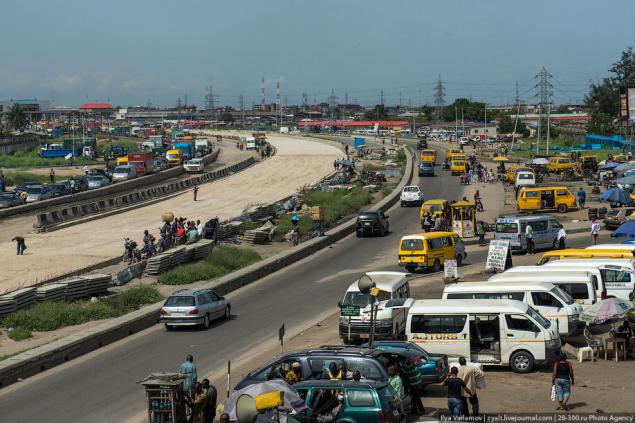 18. traffic inhabits a bunch of traders. Sell ​​everything from gasoline to belts and bags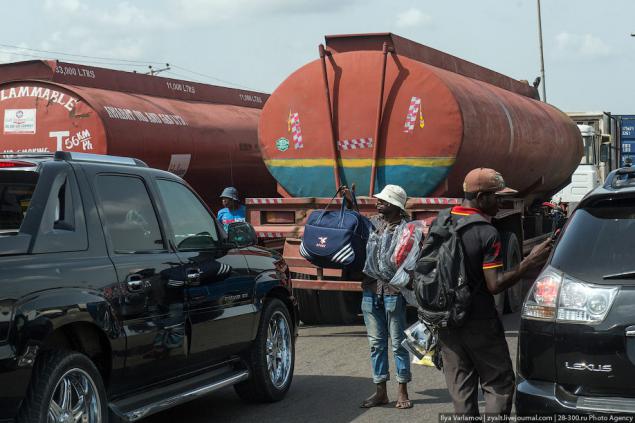 19.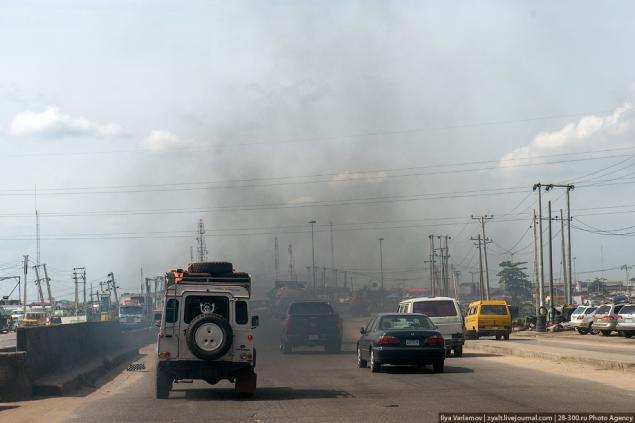 20. If you type in Google "Lagos", the first thing you get photos Lagos traffic jams.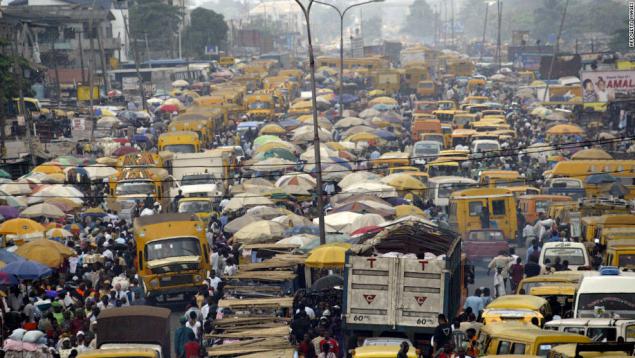 21. Looking at all this beauty are aware that in the city center, we do not find ourselves. For this purpose it is necessary to allocate a separate day.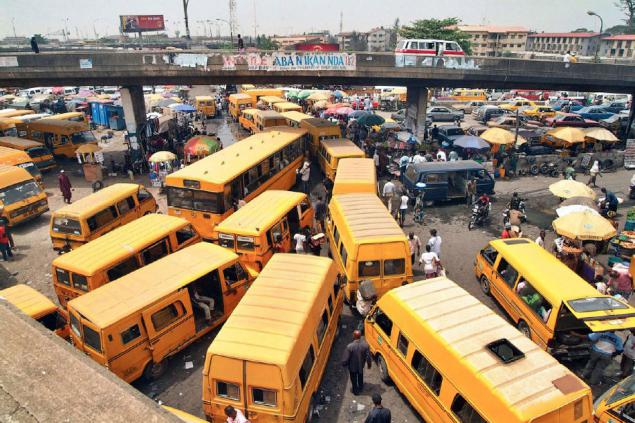 22. The city looks like.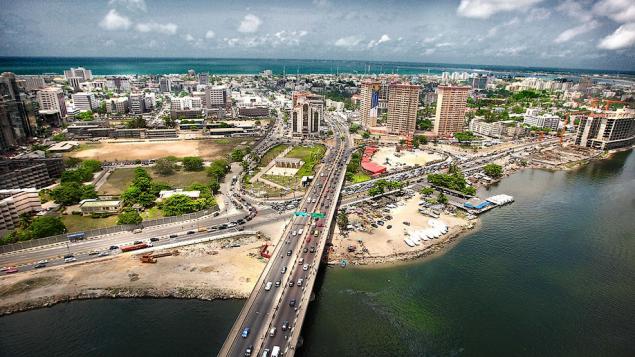 23. Along the roadsides selling dogs.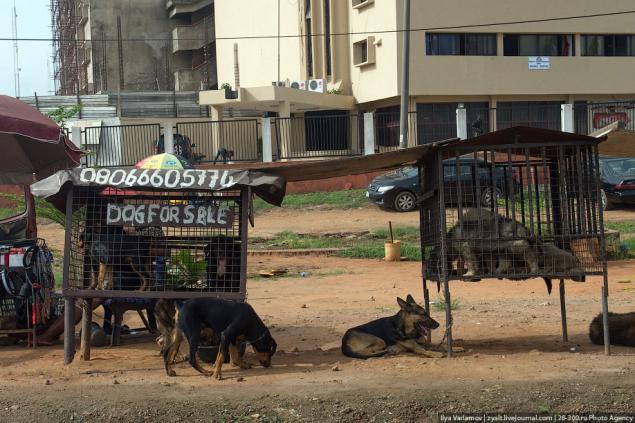 24. At the airport, you can not sit on the parapet. At the same time the building will not let anyone and greeters are all on the street.
Posted in [mergetime] 1368278424 [/ mergetime]
Thank you for attention.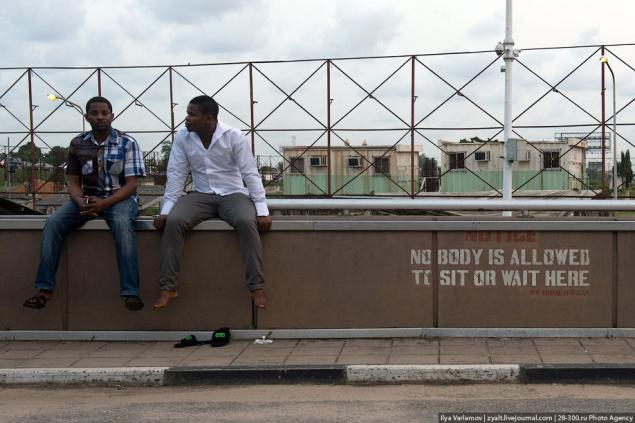 ​​
Source: