Sometimes Belarusian "garage" masters can compete with foreign tuners. At least the problems and original ideas have not. So, on the idea of ​​Victor and his son Paul from Gomel old "Zaporozhets' 1967 release was the racing model. This tuning is difficult not to call deep from ZAZ left little detail, he had to sacrifice for the sake of "donor» - Volkswagen Jetta. After 5 years of constant improvements machine has become a permanent participant of various exhibitions of local races and drag racing.
Text + 25 ph
via Onliner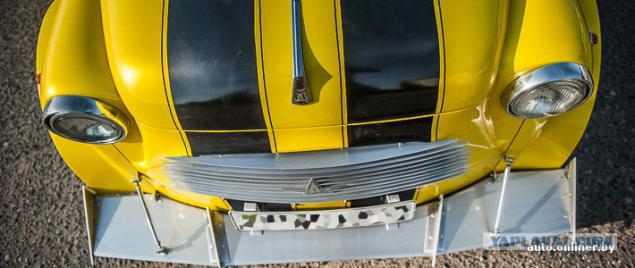 2.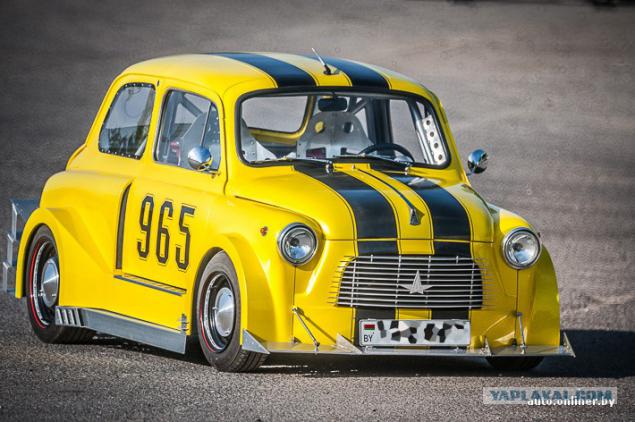 3.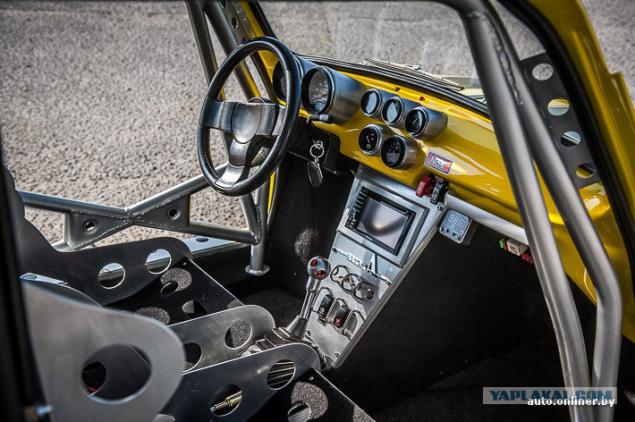 4.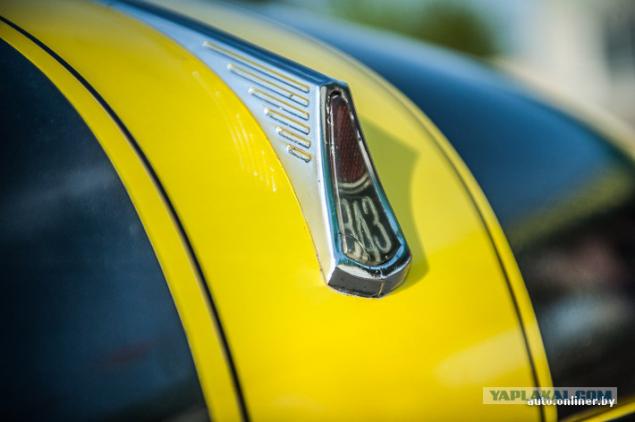 "At first, the idea - my father and I originally wanted to make the car an unusual, but then decided that it would be ZAZ-965 - told Onliner.by motorist from Gomel. - It was planned that this would be a show car. They wanted to carry him on the show. Over time, the idea evolved into a design in the style of DTM, and with it came and "Zaporozhets" ».
5.
6.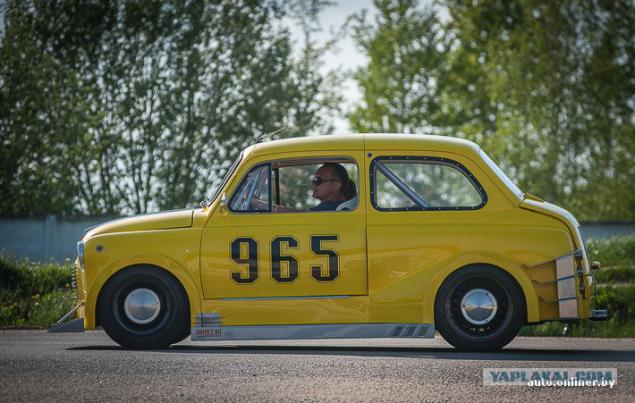 7.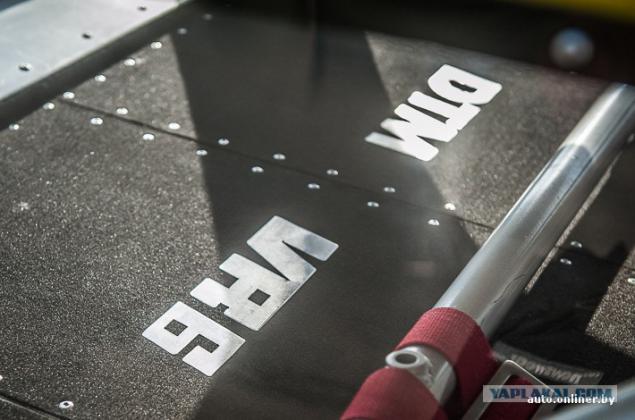 8.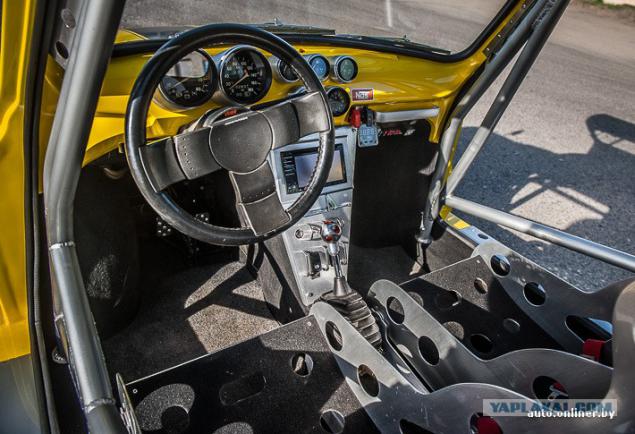 9.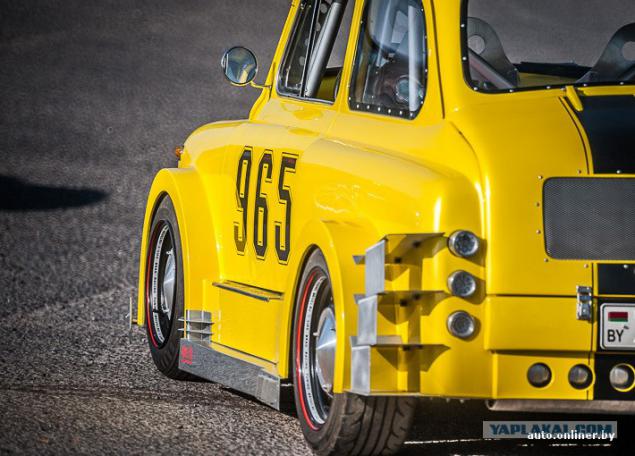 "We bought the car 4, 5 years ago on the ad. She was not in good condition, just what was needed - says Paul. - Immediately we decided to do everything with your hands, with minimal costs. His father worked as an auto mechanic, so the prospect of handmade We are not afraid. "Donor" was found in Minsk. They became broken in the rear Volkswagen Jetta. The case remained for small - to rearrange the "before" Jetta in place "backside", "Zaporozhets". Thanks to the "donor" Our model has the engine of 1, 8 liters, transmission, suspension, braking system. A lot of time spent on it to figure out how to arrange the main components. As improvements changed the rotten body parts. Now the old "camel case" reminded hood racks, roof and side doors. The last part was to also change ».
10.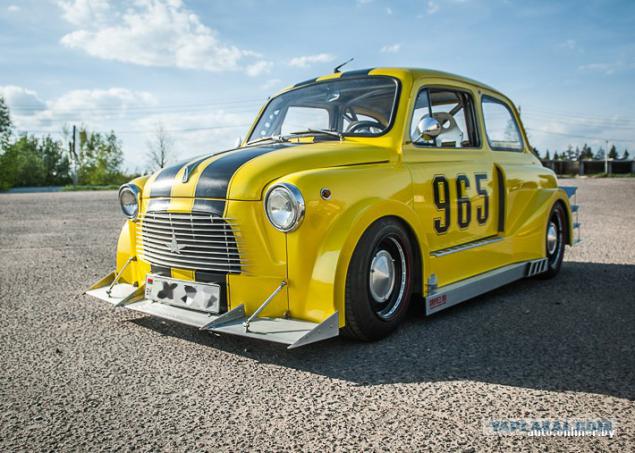 11.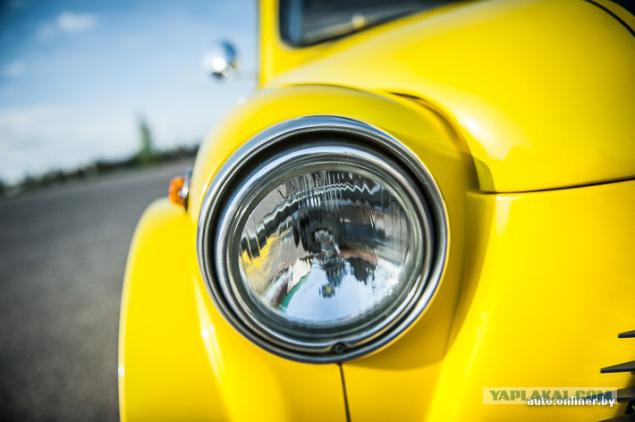 12.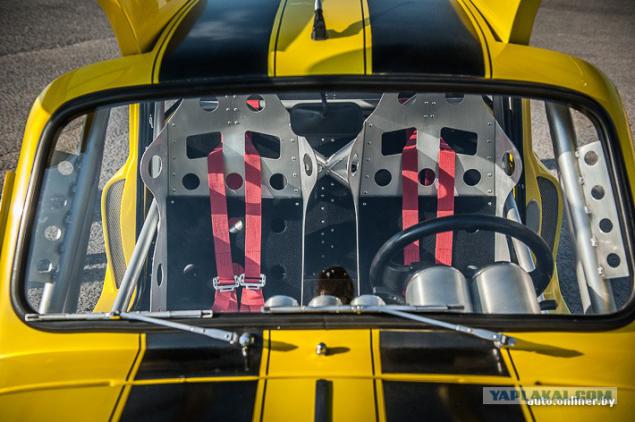 "It was decided to do the doors on a" gull-wing "- continues to describe the transformation of the car owner. - He developed the mechanism of opening. Instead, it uses a hidden hinge axis. Raised door damper on the tailgate Ford Transit, but then there were glass and acoustic insulation, and to help him come second. Next was a long romp with mechanics: not once have improved suspension, braking and exhaust systems, we developed a gear selection radiator appeared in front, took the place of a spare wheel. The function of the rear lights have become converted to perform flashlights bought in the market. Then began embellishment: the body was painted in yellow (for a long time could not decide on the color) of the panels of the luggage compartment to the scrap decommissioned bus Ikarus (they are made of aluminum) are made skirts, front spoiler, side skirts. Rear-view mirrors "given" some motorcycle ».
13.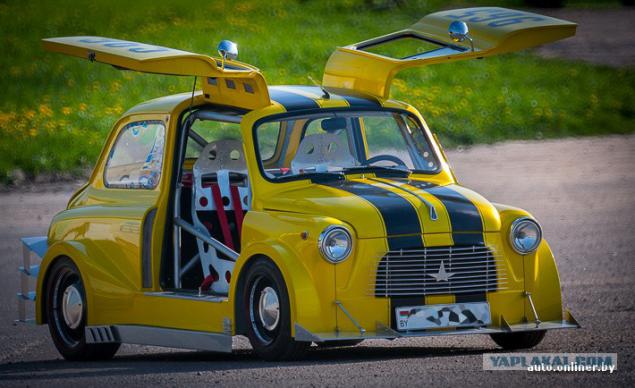 14.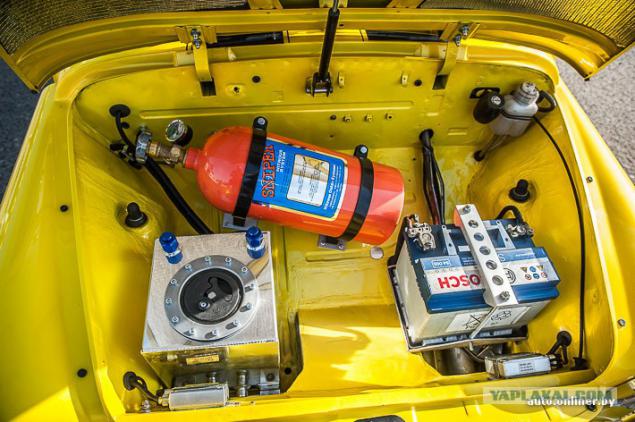 15.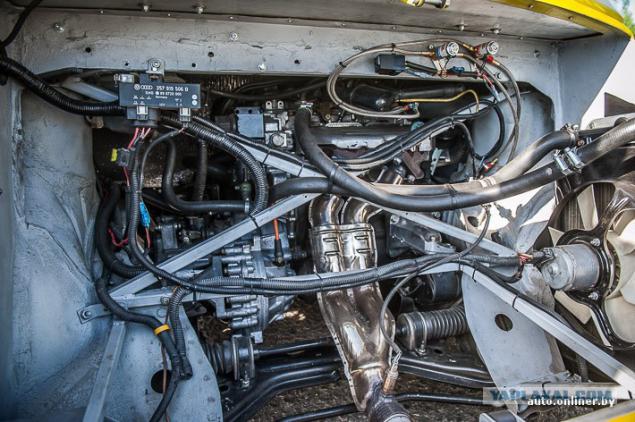 16.
"It is time to convert the interior. Glass electrolifts received from Daewoo, - says the young man. - Castle of the Volkswagen Golf built into the lower part of the door. As already mentioned, the door put in acoustics, noise and vibration isolation plastered. Inside is a furniture handle. Aluminum Enclosure made of aluminum strips that envelope around pipes of different diameters. Rudder found by chance on a car, it is still written DESIGIN FA PORSHE. The console is also made of aluminum yourself. We set an alarm, with its management bound to open the doors. It was still a lot of work in the evenings. Let me just say that out of the garage for the first time the car left two years later after got there ».
17.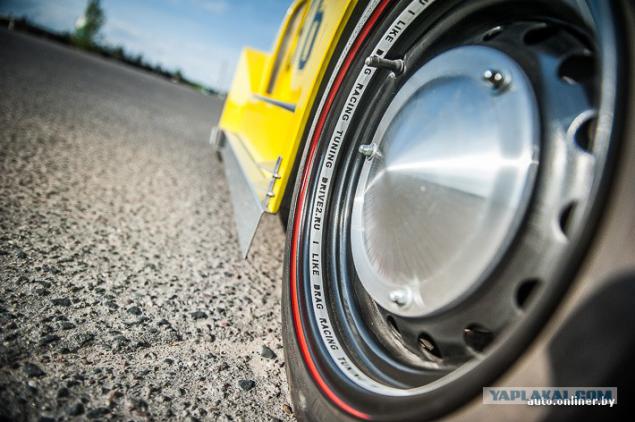 18.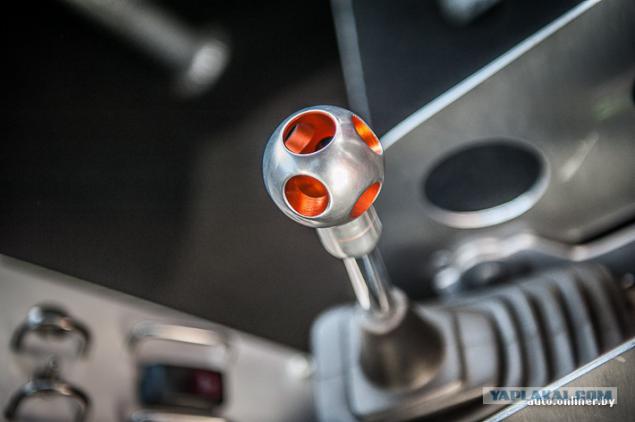 19.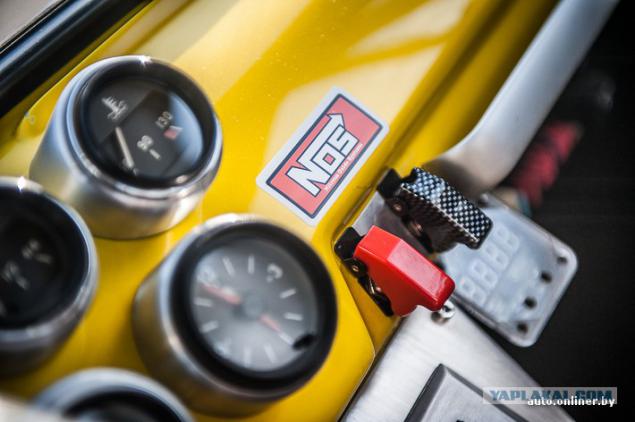 It took a lot of time, was made more than a dozen improvements, before the car took its present appearance. "Now our ZAZ got powerful engine - sums up Paul. - It is VR6 engine capacity of 2, 8 l, aluminum (natural, home-made) seats, roll cage, nitrous oxide injection system. According to the results of today we have a "Zaporozhets" capacity of over 250 liters. s., which can easily get up to speed at 200 km / h and accelerate to hundreds of 5, 5 seconds ».
20.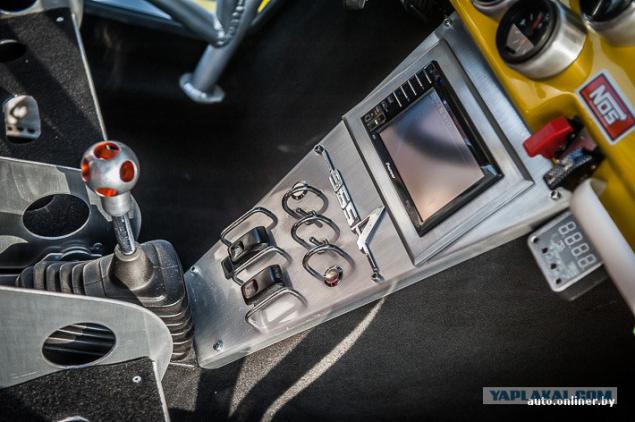 21.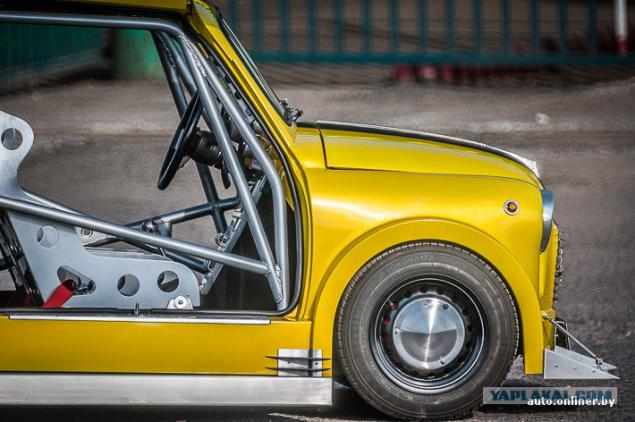 22.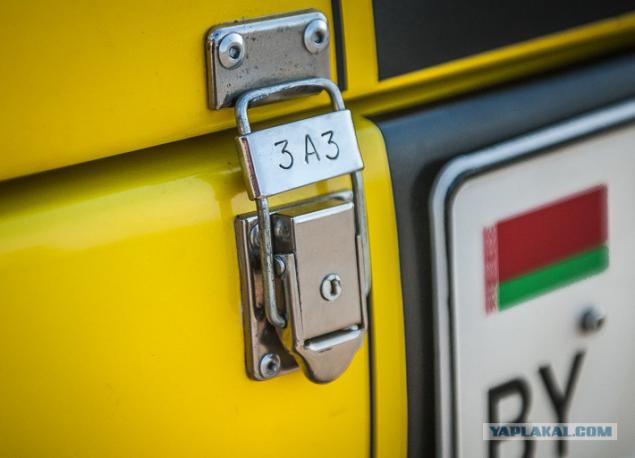 23.
24.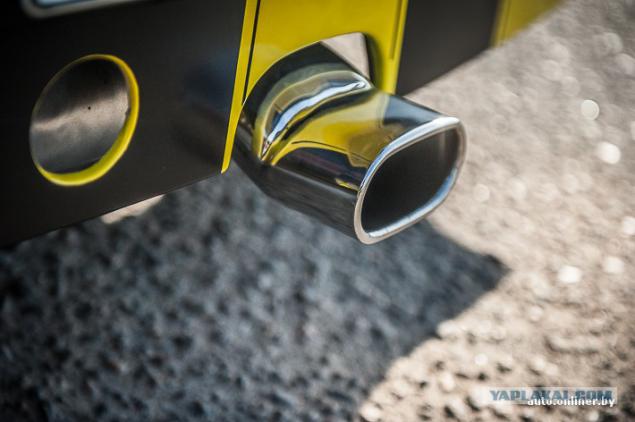 That's all.
25.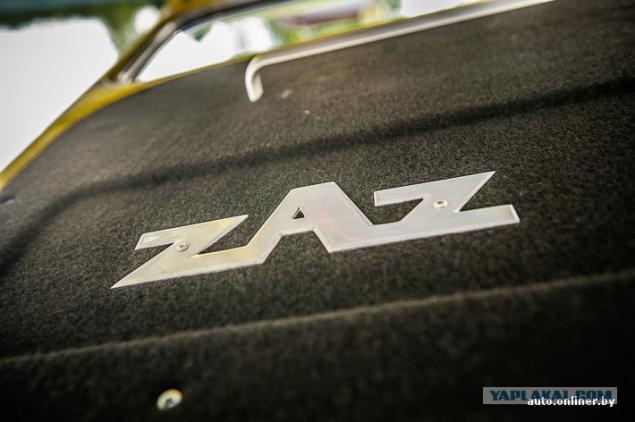 Source: