Hello everyone!
It has long been a fan of Yap long read it today and decided to post his first post, so please do not kick much, but to understand and simple as possible, if something is not done right)))
On Yap became seen interest in the various motorcycle technology and custom projects. I would like to briefly tell you what Customizing and how to do it. Prior to that published only baykposte, all my pictures, so there is no proof, then edinstvennoe- will write more understandable language and try to eliminate technical terms.
So start with a small project review and alterations BMW R80 in the flat-tracker (1984 release, 800ss, 53 horses, a type of engine- boxer). Everything is done in Cyprus, the island of love this is in the Mediterranean)
The project is a joint, are carried out by my studio Wild Garage and forces RZ Customs, this is my old partner, with him and with my brother started to Cyprus to promote Russian customizing and Russian biker movement, before that, he worked on the restoration of mopeds and malokubaturnyh motorcycle, then our paths route to the target dispersed and now just are good partners.
55 pictures.
1.Takim he was a regular P80, which is already adapted seat cafe reyserskuyu and removed a little underweight.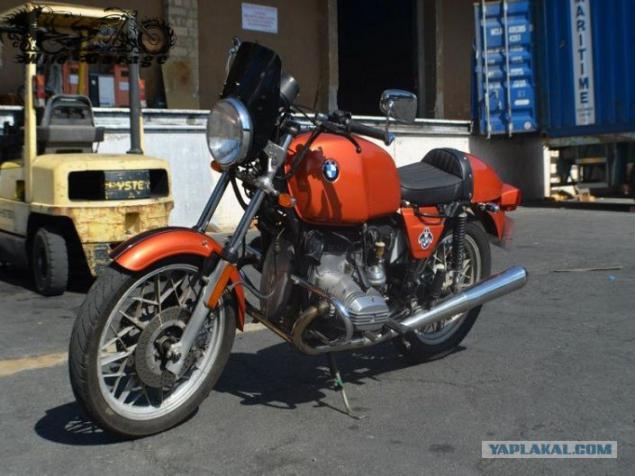 2. Every project begins with a complete disassembly of the motorcycle, there are fans to show off custom bikes, while changing only the fuel tank and seat, it is not custom, but little alteration. Custom project he shirokogranen and includes complete disassembly, troubleshooting, fitting the parameters of the client changes to the technical qualities and a lot of other things.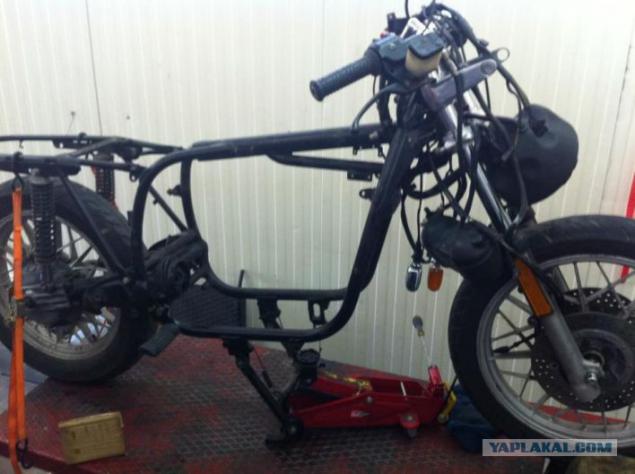 3 ...
4. Parse to the last screw. All items must pass Troubleshooting (checking), worn parts in a critical and near-critical state definitely changed. Do not mount parts with values ​​close to the critical!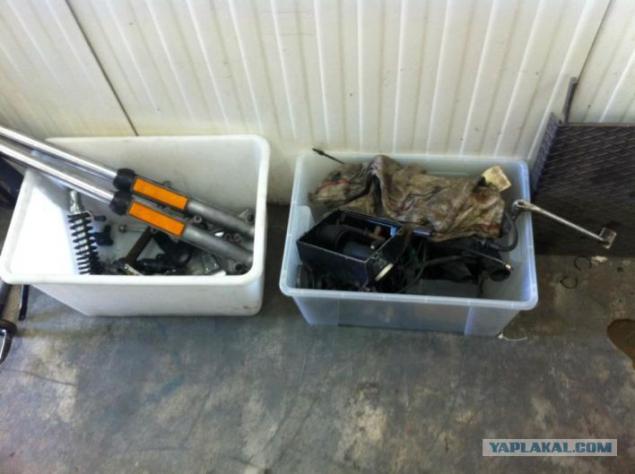 5. The use of a Chinese parts and substitutes! Absolutely not!
6.That flaming heart with dirty streaks, but what there is)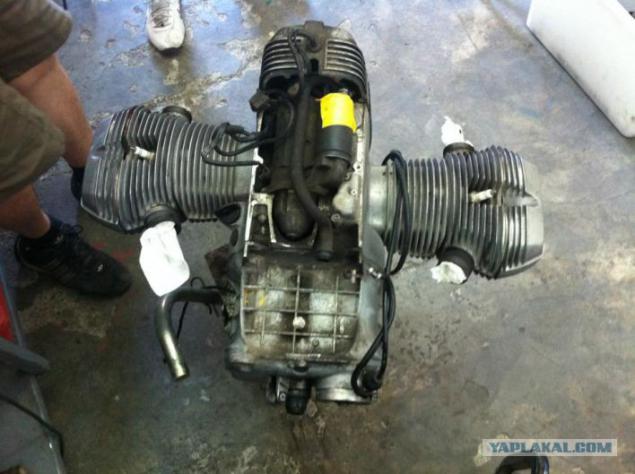 7.Vse to the last screw should be disassembled and examined.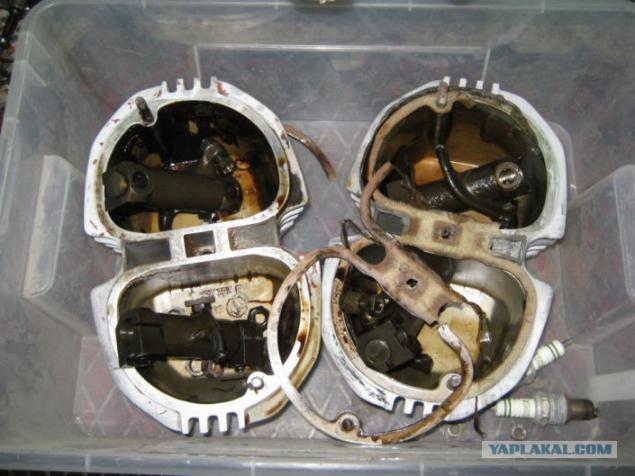 8 ...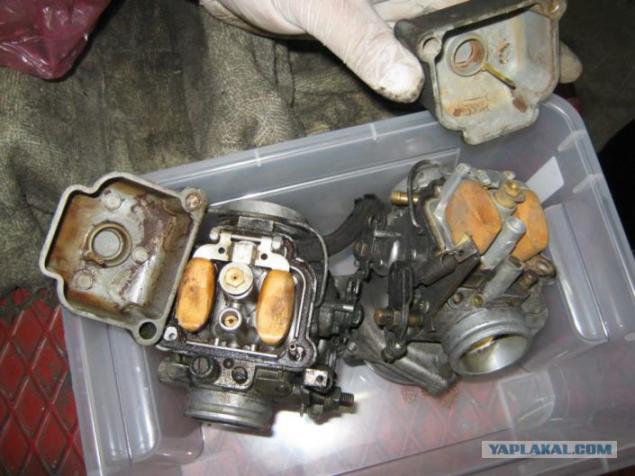 9. The metal parts are sent to the sand blasting and processing, it is necessary for high-quality color. For painting of metal parts using powder coating, with a baking oven. Very durable finish!
10 ...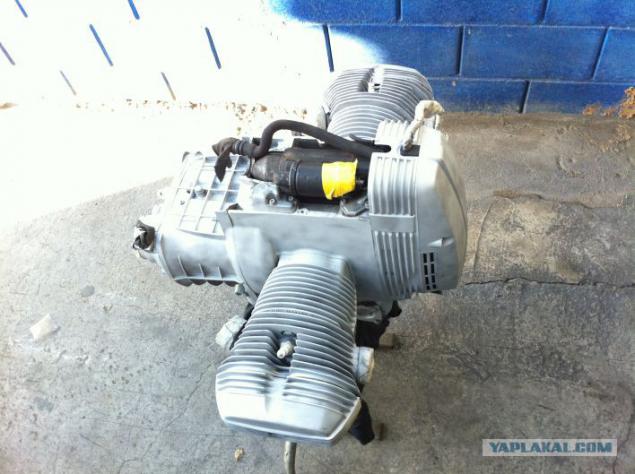 11. Otpeskostruennye parts.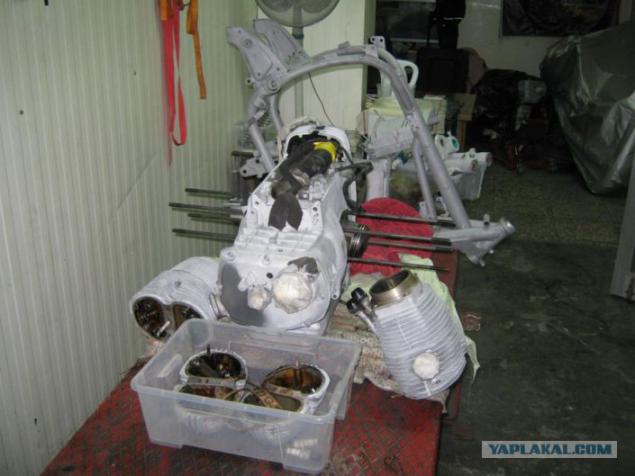 12. And here is the result, still hot to zapchaski straight from the oven)) incident !!))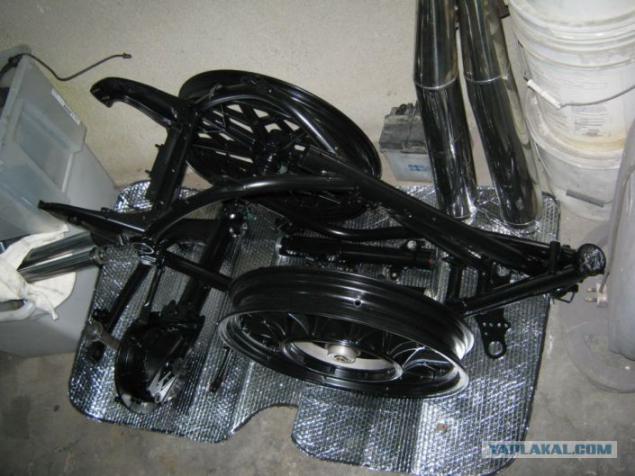 13 ...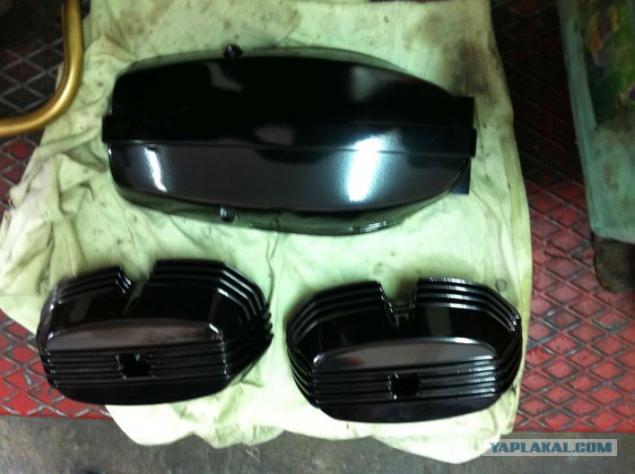 14. Wheels with powder coloring.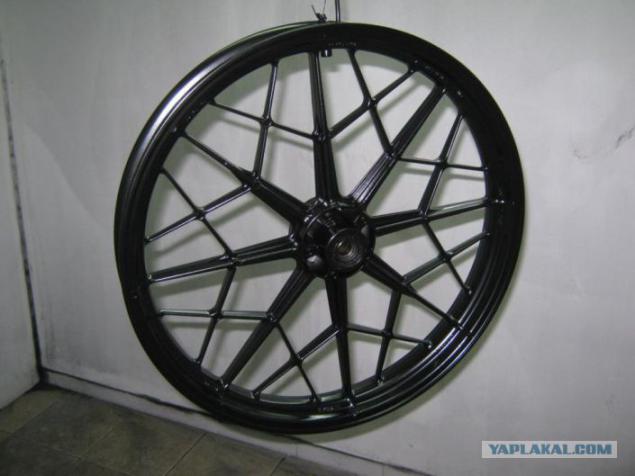 15 ...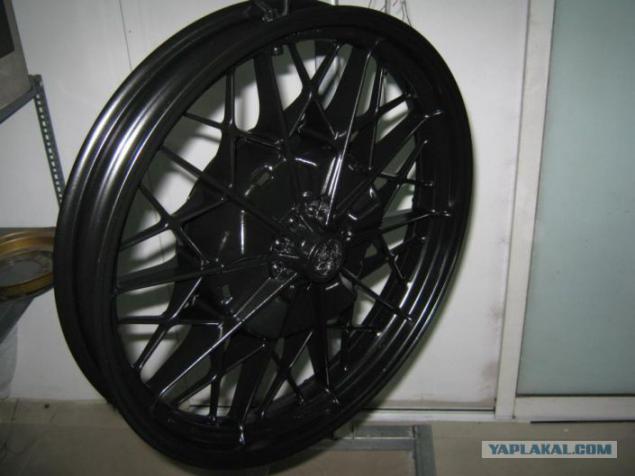 16. Parts of the frame processed and colored, new parts have come, some parts are made by hand, start to build the project!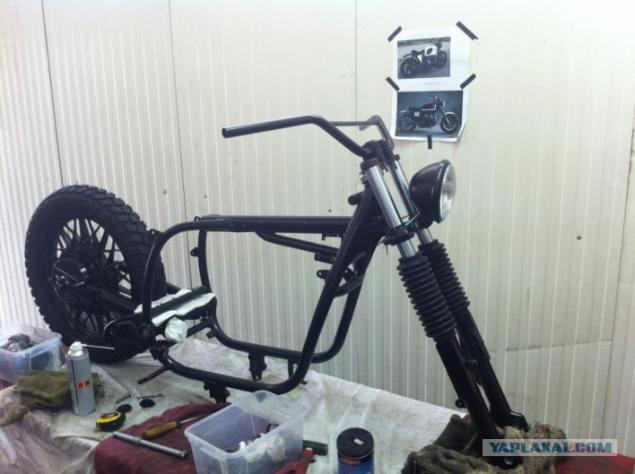 17 ...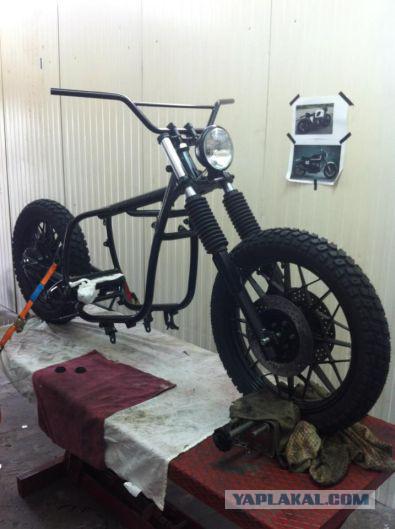 18. The quality of the powder coating can be estimated by this picture: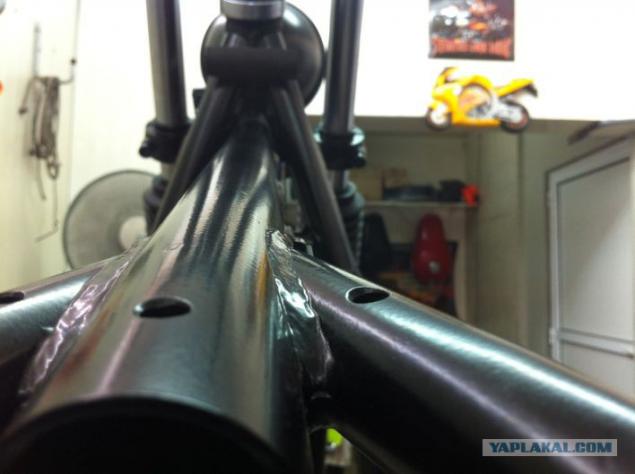 19. Continue to work with the motor, below the cylinder head and the valve before and after grinding and polishing.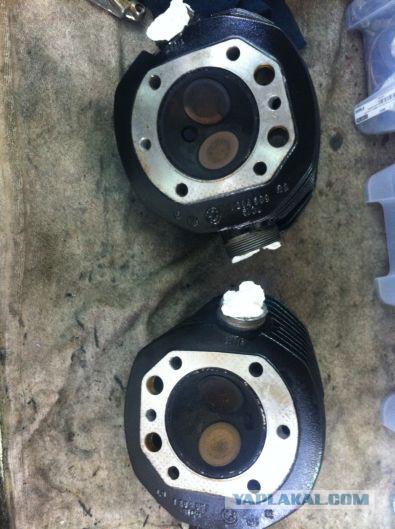 20 ...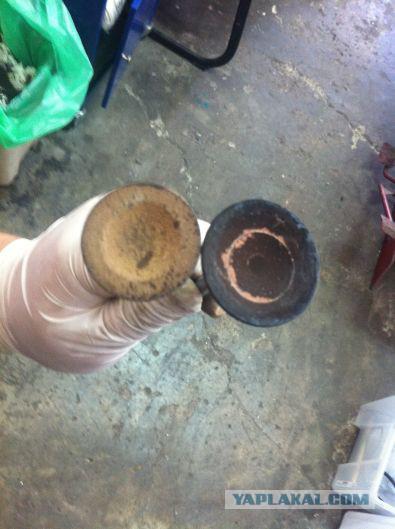 21 ...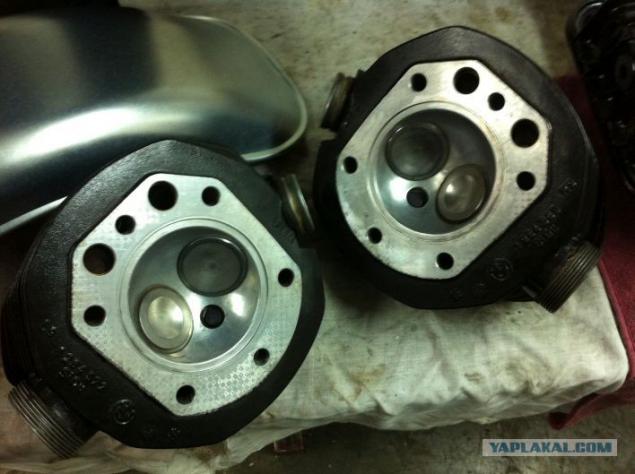 22.Kakoy the exclusive project without beautiful? Done by hand))) polished edges, and all for the sake of beauty)))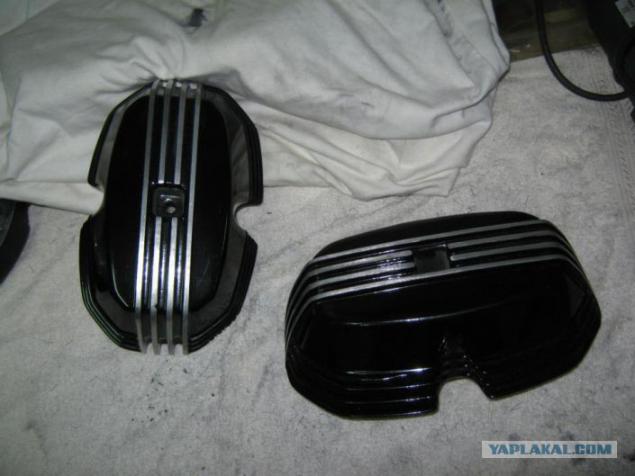 23 ...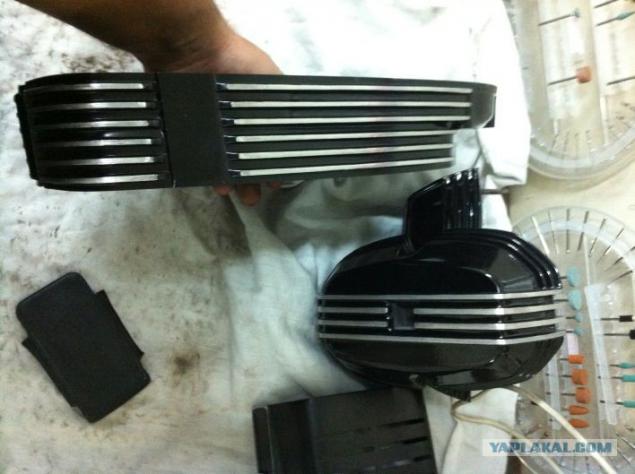 24 ...
25. Putting the motor unit is closed, all the parts are replaced, repaired or rebuilt. It is important to do everything neat and clean so that no dirt where you should not.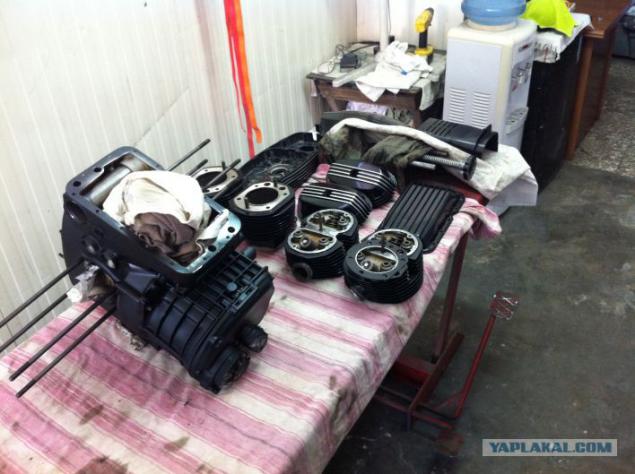 26 ...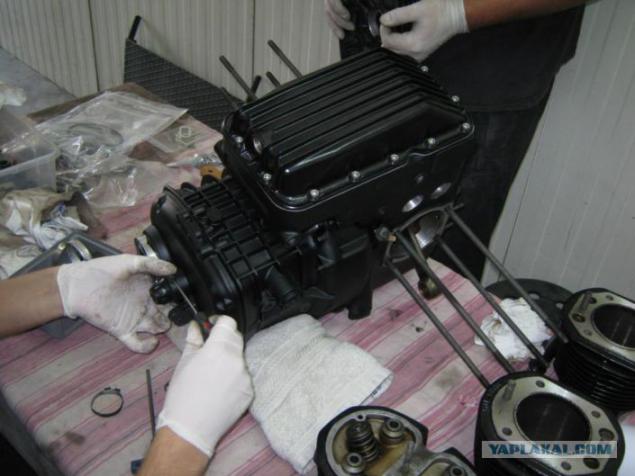 27. Fiery heart of the project is ready! Condition New: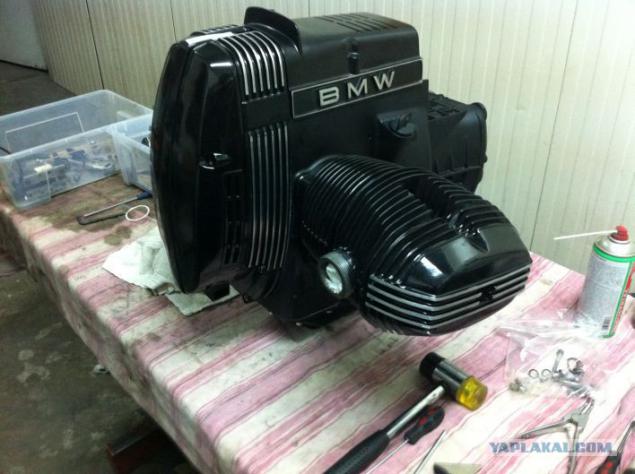 28. And this is a handmade with metal, so far without her custom design))) All pens, gentlemen.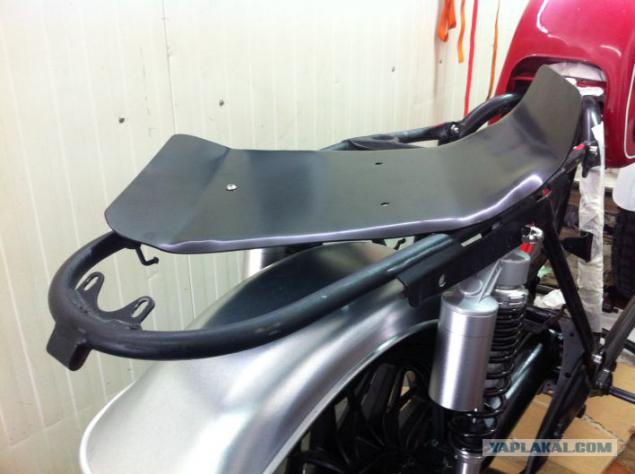 29 ...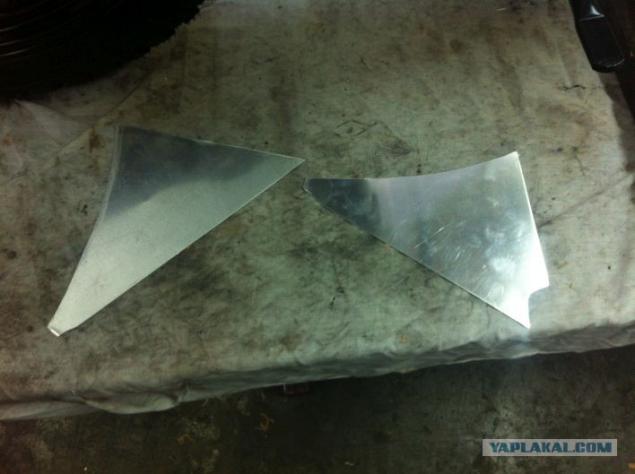 30 ...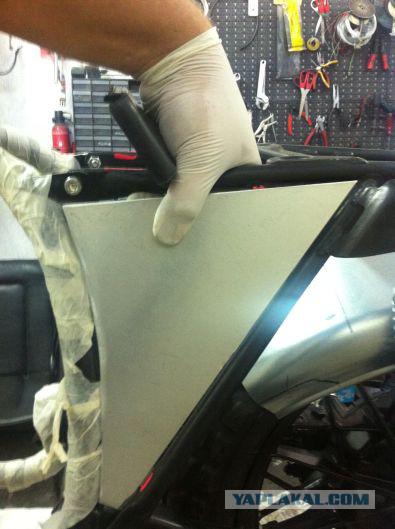 31. The new seat is completely handmade.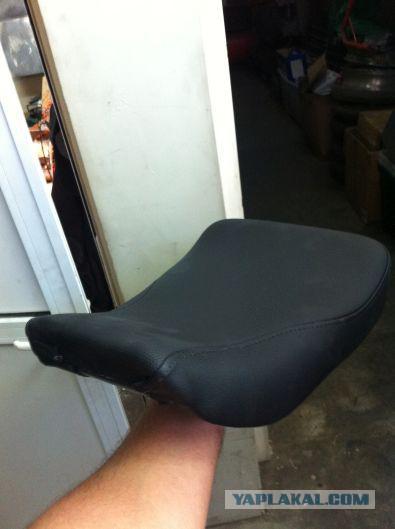 32.A new rear tail is made specifically for the customer, cooked, shaped and colored powder.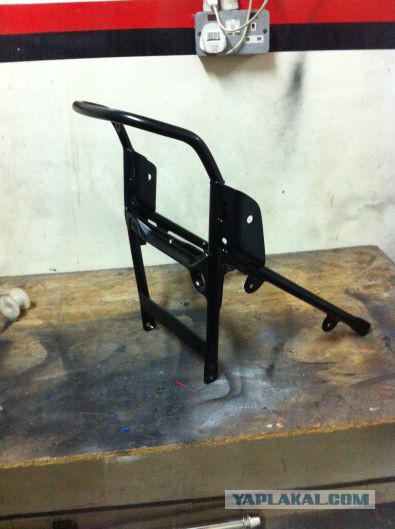 33. Here carburetors, held Troubleshooting, preset and certainly polished and shining like a cat's egg)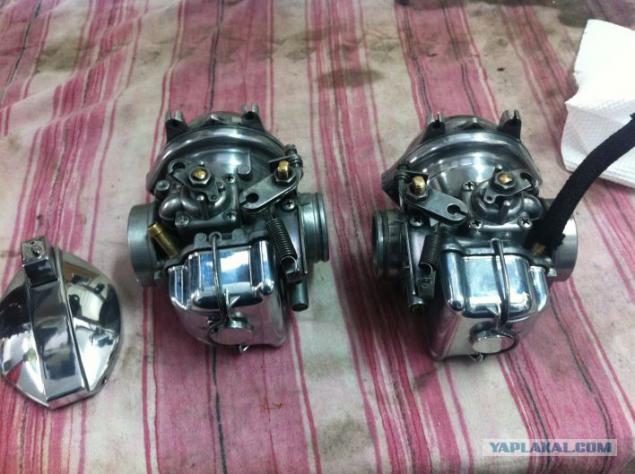 34. But the colored fuel tank, fully restored inside and outside)) krasoten!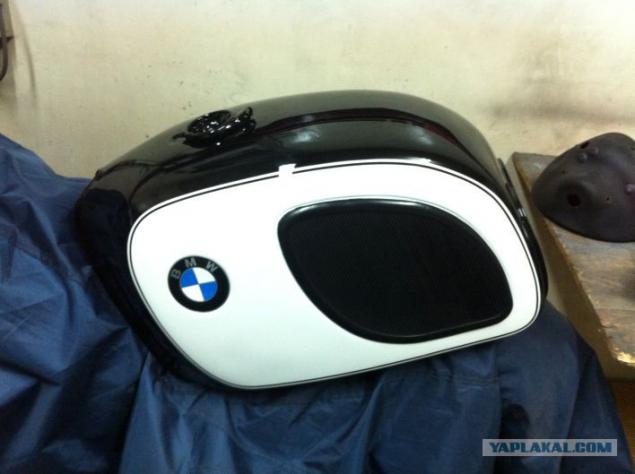 35. Hope and heart is in the right place! Motor mounted in a frame. It is necessary to closely monitor the progress of installation of the motor, so as not to scratch the surface. And indeed in this case the accuracy and care the key to success! Without it anywhere ...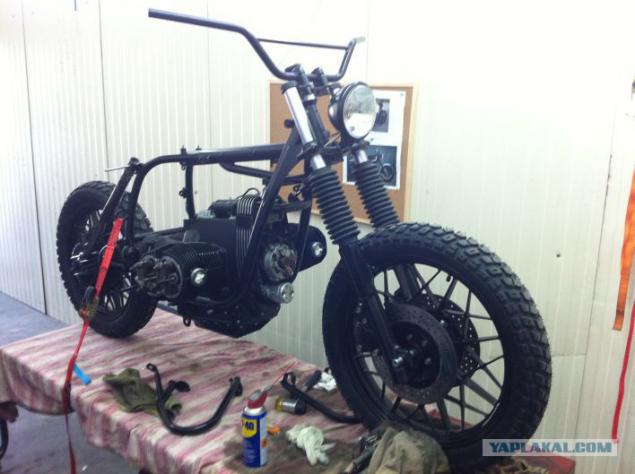 36. Pre-fit all attachments, is still not fixed, check.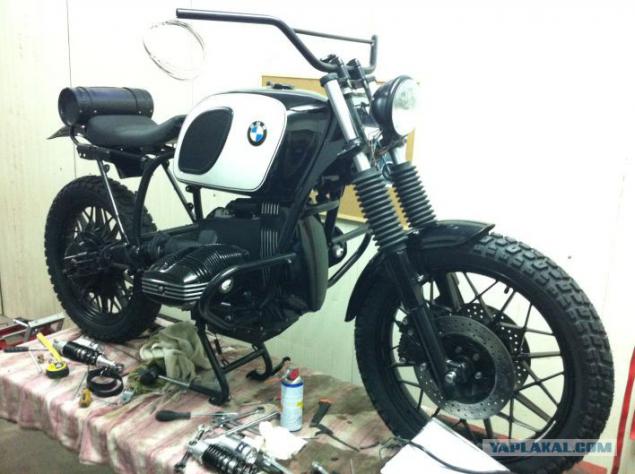 37. Since this is a custom design, it is natural it is completely standard wiring redone. Standard wiring Ridge gutting, pull and throw the wire already on the project, make changes to the scheme. It is very tedious work that does not allow mistakes.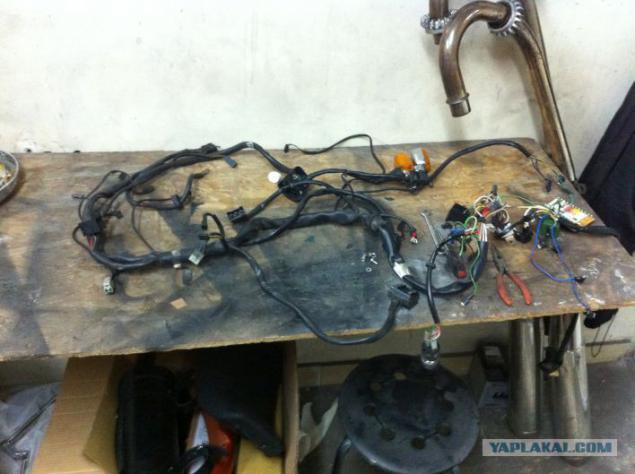 38 ...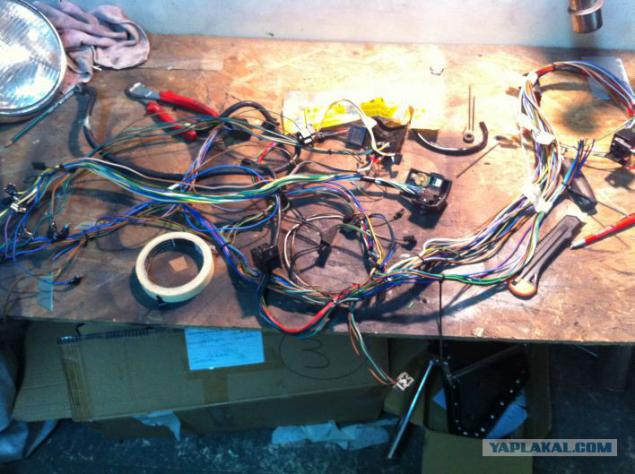 39 ...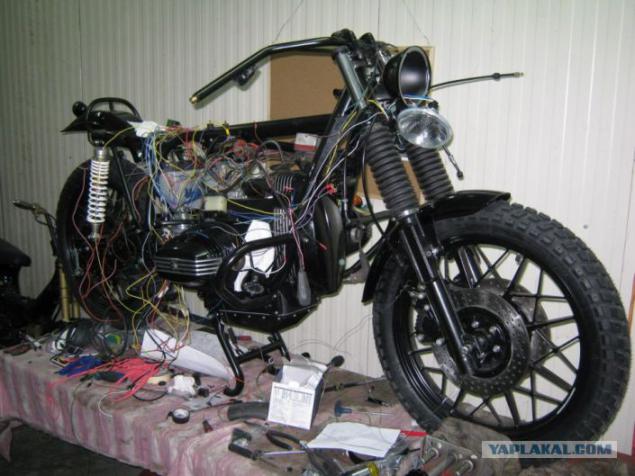 40 ...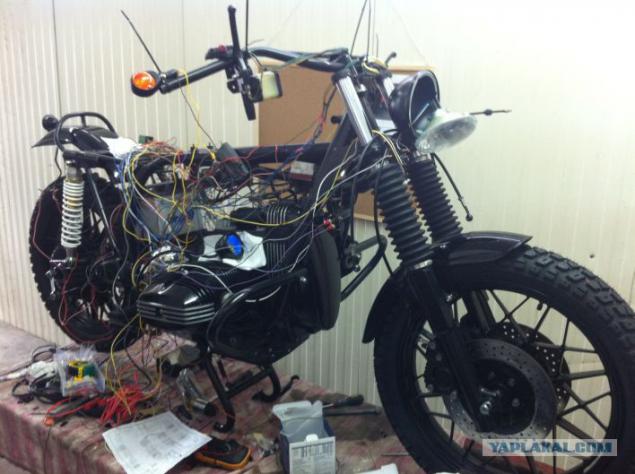 41. Made a new box for electrical elements, painted. Also, you can contemplate the Bible))) circuitry with alterations, is now an integral part of this project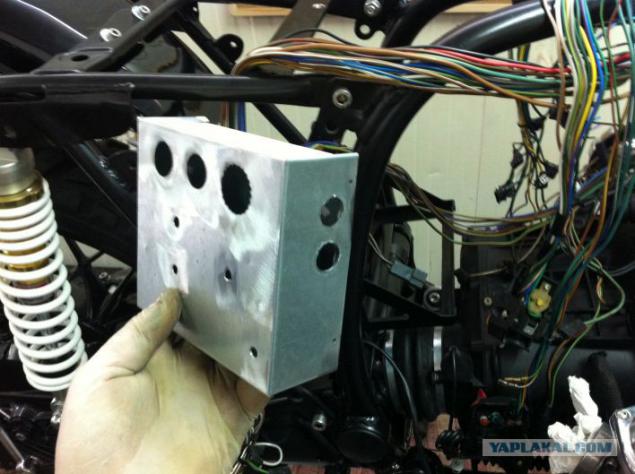 42 ...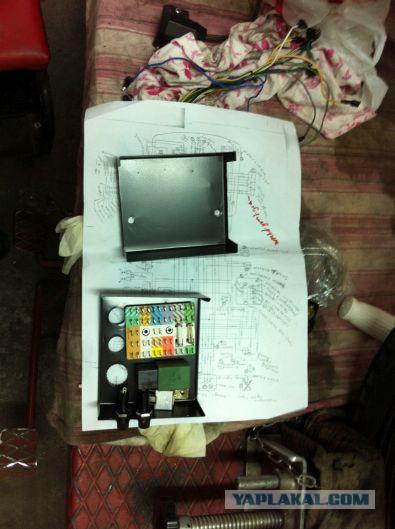 43 ...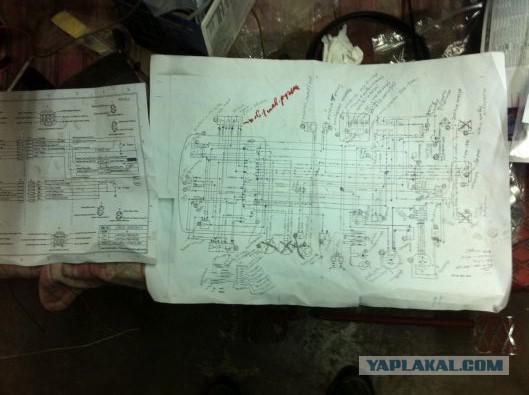 44. Wiring laid in steering wheel, isolate. Already more or less pretty sight, though still far from the end.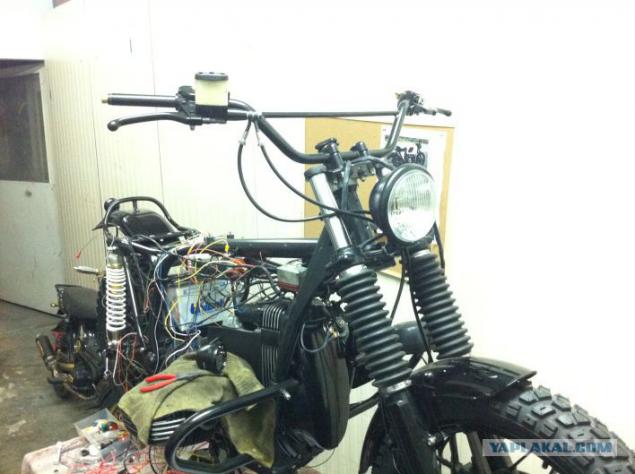 45. Almost done with wiring.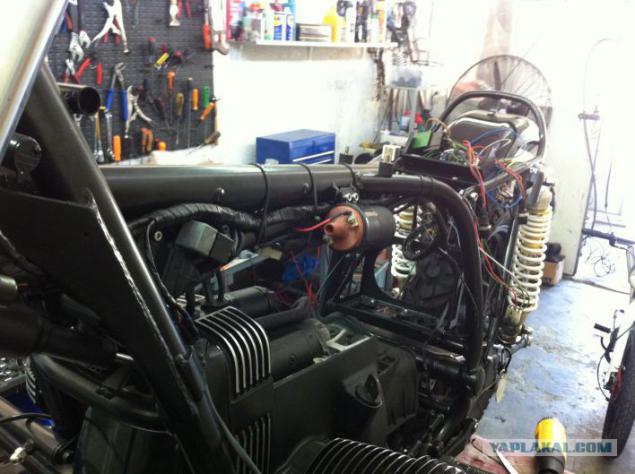 46. ​​Provision is finished, hang up and fix all attachments, check everything and perform a trial run. Everything is fine!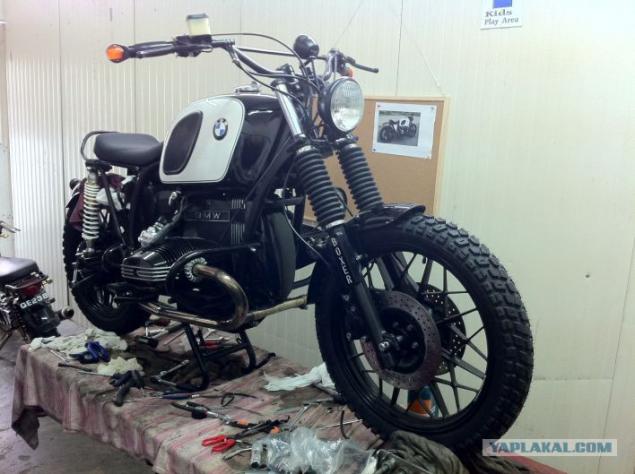 47. roll off the lift.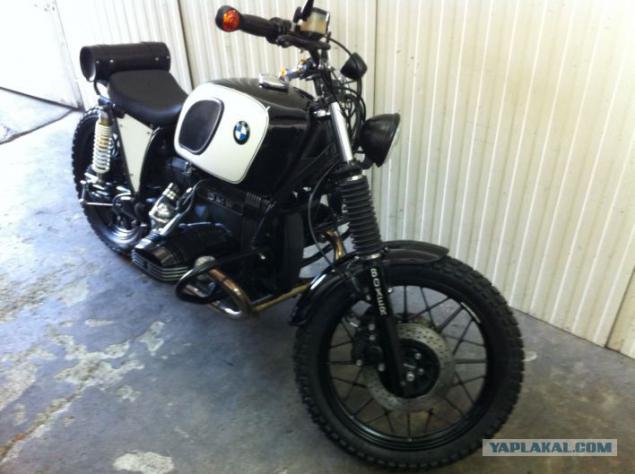 48. We leave for the run-in and test: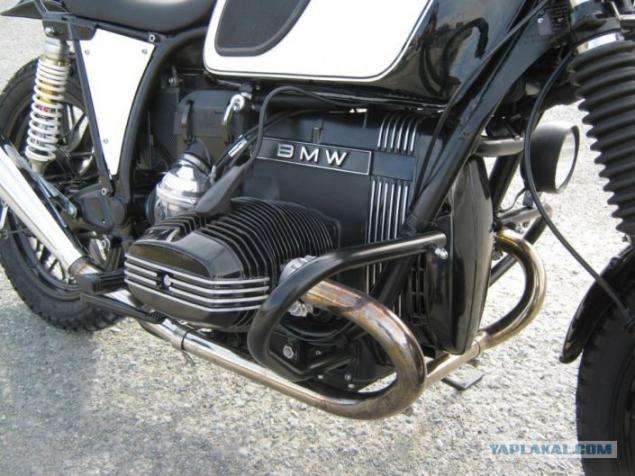 49 ...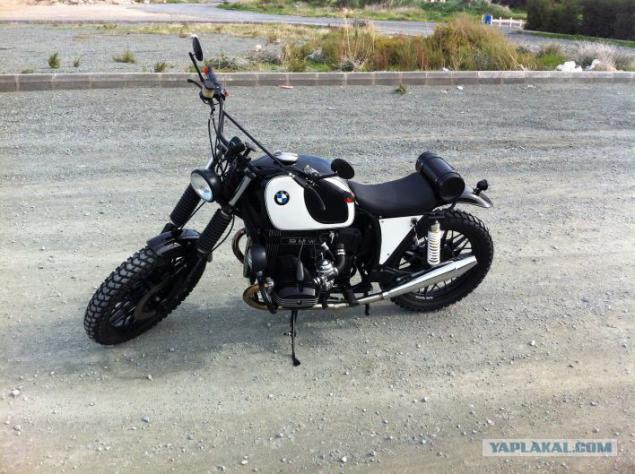 50 ...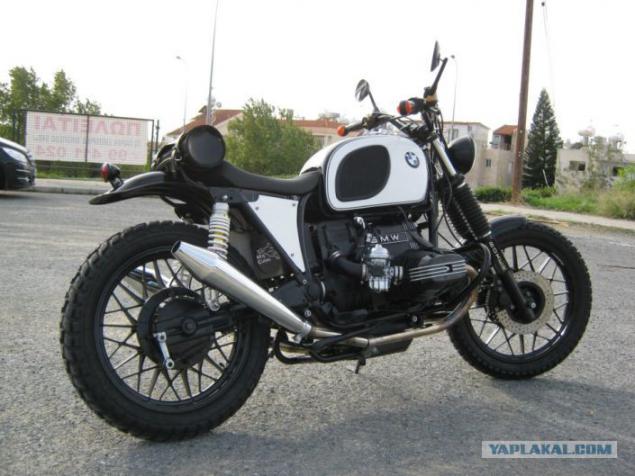 51. After the test project donastraivaetsya (valves, carburetors, etc.), small kosyachki removed, was also painted part of the exhaust path, and wrapped knee exhaust, special termoobmotkoy.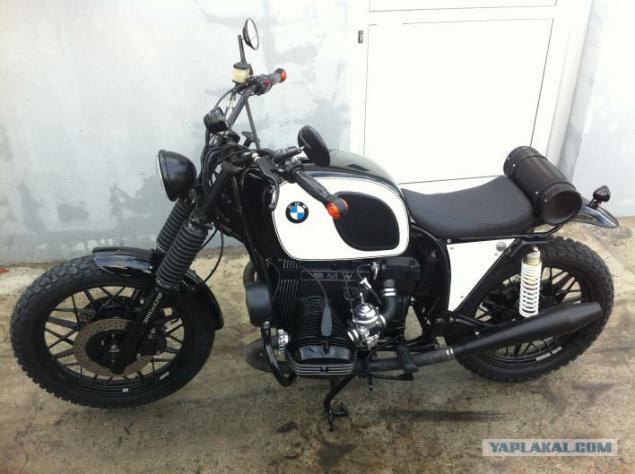 52. Pass the project satisfied customers))) He is very happy and immediately sending test his new horse.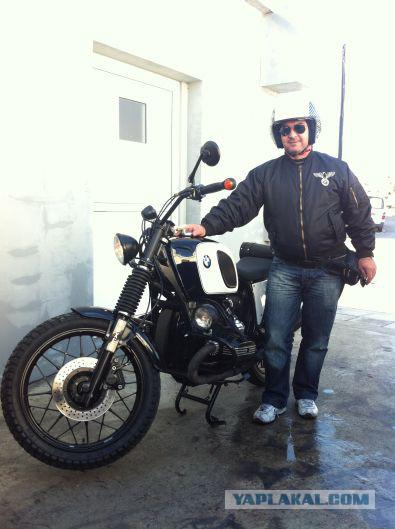 53. Do not resist and began to do wheelies))) Upon receipt of the project, the customer threw a grand booze for us at a local rock bar, walked three days)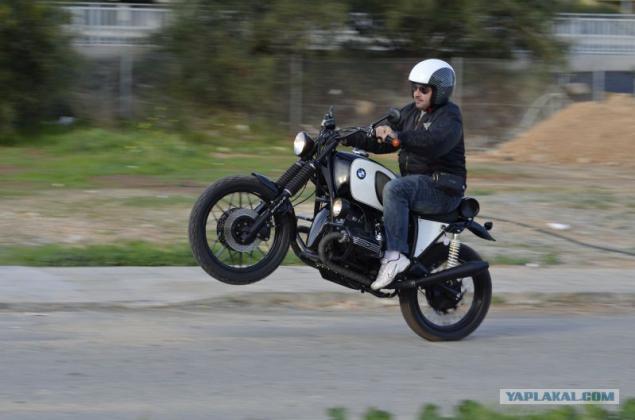 54. And some beautiful pictures on the seed)))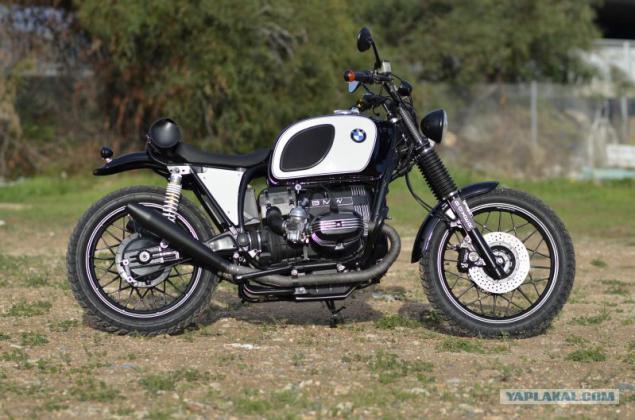 55 ...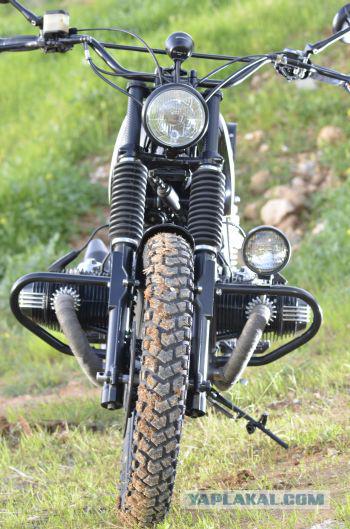 Generally love for motorcycles with my childhood, right from the very, after a 5-year-old gave me Izsak, after I had just clambered. In Russia, mainly dealt with only technical improvements Soviet motorcycles, to the beautiful is not reached, was actively engaged in motorcycle sport. Later rebuilt and scan old photos and make a separate post from my collection of Russian motorcycles, sorry little pictures, as in those days were only film soap dish)
Thank you all for your attention and your time, I hope it was not done in vain. If the post is interesting, then soon you expect exciting posts about tuning and restoration of the Urals, on the construction of blazing turbo design, and much more!
Website workshop:
wildgarage.com.cy
Facebook page:
www.facebook.com/wildgaragecy
Behind this all, fasting is over, I apologize for the ability to make some low-quality photos, you can kick and criticize))) All good week !!!
Source: