Could not help but to post this story. I do not want to offend or hurt someone's self-government. This krosspost from the mouth of the witnesses of these events.
... According to intelligence reports, carefully drawn up operotdelom Ukrainian Navy based on the collective views Russian TV news staff Square Ukrainian Navy had long suspected that the Russian Black Sea Fleet is preparing some kind of nasty.
And it guessed svidomye! Twice as much guessed.
Firstly, the Black Sea Fleet, which many have long been looked at as hireyuschy Area Russian naval zoo, suddenly came to life. Upon learning of summer lightning over Tskhinvali, a sleepy stupor threw many years and chose the anchor. Then famously moved to Novorossiysk Purdy and there in these Purdy, even someone slightly poprinuzhdal. To the world.
... When the sea breeze blew clouds of gunpowder smoke, the number of pacifists from foreign shores soared to unimaginable heights. Those who disagree with the interpretation of the Black Sea Fleet is the concept of "the first guy in the village" moved to an underwater position ...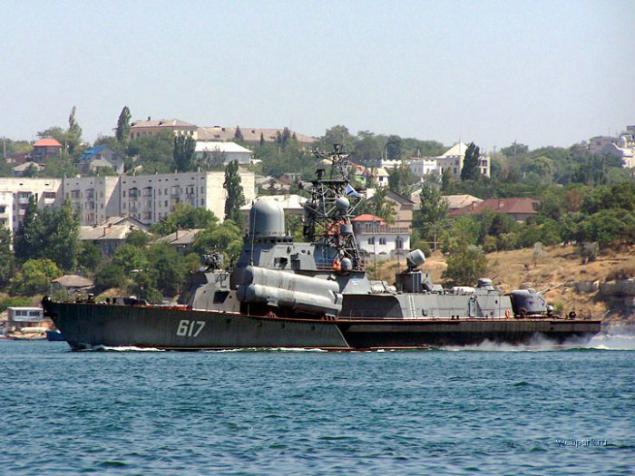 Second, much to the surprise of Kiev, frolic in plenty, BSF has decided to return to Sevastopol. On a smoke break and recharge. To wives and mistresses. Without permission.
And he returned.
This was too much. It's not climbed in any gate, not to mention the Kiev gate. It's time to make it clear klyatyh Muscovites that the Ukrainian Navy to be trifled with!
... And now meet prushchego from Novorossiysk Russian small rocket ship "Mirage" goes Ukrainian Knight - missile boat "Kakhovka" board U-154.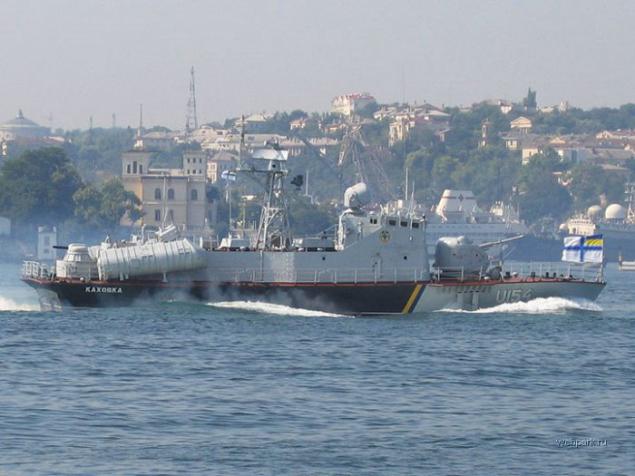 Goes well. Does not sink. Terrible picture - from third-party viewers as much heart sank.
What will happen, something will ...
Cap "Kakhovka" It seems he did not know what would happen. For received orders to make a demonstration of naval power in Ukraine. But how exactly this off - to break the head itself ...
Demonstratively spit under the stem "Mirage"? Trim to the course and wagged his finger menacingly? The choice of actions was rich as ever and cap "Kakhovka" would probably have something sort uchudil. Bold and uncompromising. But apparently not the fate of the day was Ukrainian Navy famous throughout the world lightning Victoria ...
Right in the middle CCF - fairway warships in "Kakhovka" cropped dviglo. At all. Command "Stop the car!" Ukrainian cap, of course, gave, but solely by virtue of the share of pedantry. With all other parties to the team was already full profanation as board U-154 and so froze as taped.
Stood awkwardly in the middle of raskoryachivshis CCF. Having risen from the bowels katernyh mechanic shrugged helplessly. Cap silently swore and filed a new team. Over "Kakhovka" took off signal "I stand without stroke. Can not control ».
 - Repin's painting "Have come!" - Said one of the onlookers shore.
Standing immediately grabbed the Russian correspondent mobile: "Alla! Dispatched from Sevastopol. Ukrainian Navy defiantly blocked the entrance to the bay! Perhaps this is a political provocation! .. »
"Wind-wind, you are powerful, you're chasing a flock of clouds ...» ©
Well, in actual fact the wind was not very powerful. But his rickety blows were enough to ensure that obeznozhenny U-154 began to drift towards the breakwater with confidence. With predictable APB prospects. Cap "Kakhovka" darted across the bridge:
 - Urgent! Radio on the beach! Ask your mother, tug!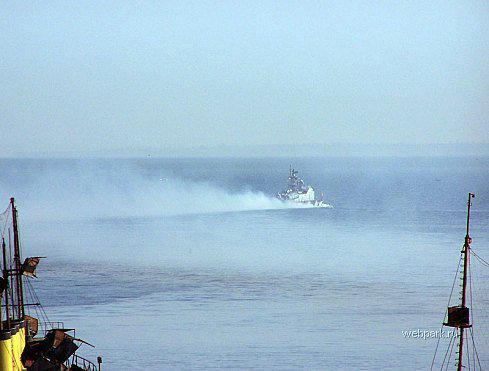 Beach heeded pleas. After Brownian throwing the chain of command signal finally got the address - from the wall dumps another beauty and pride of Ukrainian Navy - tug "Krasnoperekopsk." Old and zachuhannoy as shit mammoth. The world no longer exists people who would remember him as a young and loschёnym. Which year Ukrainian Navy could not scrape together the hryvnia at this painting hung with old tires dreadnought ...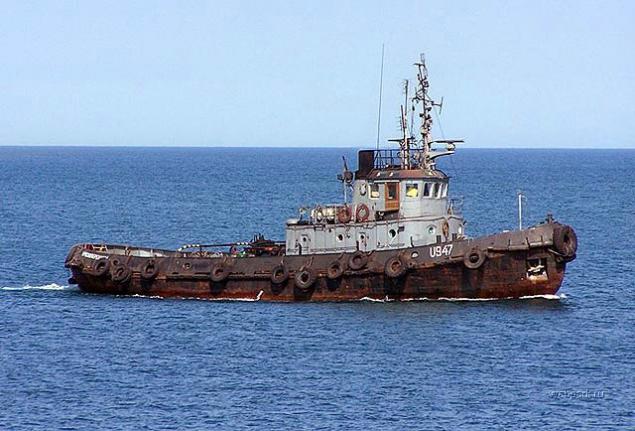 Help arrived in time.
After that, it was found that at Dreadnought "Krasnoperekopsk" somewhere barked towing end.
 - Scribe. - With knowledge of the matter said cap "Kakhovka", just remember that its missile boats such property was not found too now ... Because was loaned another plavedinitse Ukrainian Navy.
The final appearance of added glamor mise en scene of Russian "Mirage", just lёgshego the input alignments.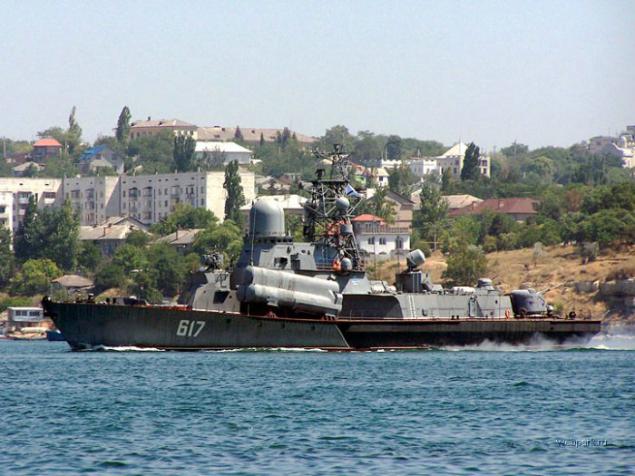 I must say that the Russian MRK fuss Ukrainian Navy strike force in the fairway was received with great suspicion ... So when "Krasnoperekopsk" from hopelessness butted his tires "Kakhovka" and began pressing the missile boat to the shore, on the MRC played alarm.
Just in case.
Executing a command to test cranking, moved their trunks artavtomaty "Mirage» ...
... It was then on a boat with a tug and farrowed. And yelled, "You cho? Ohreneli ?! Do not shoot! We're not specifically blyayayayayaya! .. »
Invisible dove of peace porsknul Intermedia ships once a single fleet and plunged into the depths.
"Mirage" de-energize the trunks, took a little to the side, rounded frozen fairway Ukrainian couple and went to the pier. Brazenly poblёskivaya hastily stained after recent fighting starts "pipe" PKRov. Under the cheers from the shore, waving and clapping fireworks Russian flags.
With stern IRAs someone maliciously boatswain team showed "Kakhovka" tow end.
This frank glumёzh to "Kakhovka" and "Krasnoperekopsk" Review not met. There joyfully embraced! ..
 - Official P.S.
"Sevastopol, August 22, 2008 - RIA Novosti. Small rocket ship (MRC) "Mirage" Black Sea Fleet took part in the operation to force Georgia to peace, returned Friday to the main naval base - Sevastopol, RIA Novosti correspondent reported.
According to military sources in Sevastopol, it MRK "Mirage" destroyed antiship complex "Malachite" August 10, one of four Georgian boats that attacked the detachment of Black Sea Fleet ships off the coast of Georgia.
Sevastopol and guests approach "Mirage" in the base were fireworks, national Russian flags and shouting "Hurrah".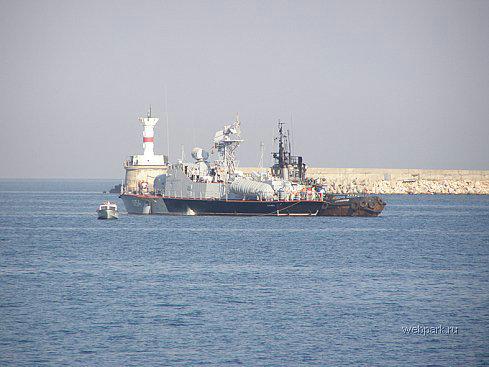 At the same time, representatives of "Student Brotherhood" who came from the western regions of Ukraine, passed through the alley Primorsky Boulevard with the national flags of Ukraine, chanted "Shame" and "Down", with four representatives of "Student Brotherhood" was accompanied by eight police officers.
At 09.03 "Mirage" is moored to the dock, and then the demonstrators dispersed.
30 minutes before the call "Mirage" in the base of the channel at the entrance of Sevastopol Bay arrived missile boat naval forces of Ukraine "Kakhovka" who defiantly stood on the entrance channel to practice maneuvers machines, and then to "Kakhovka" came the tug and pulled the stand demagnetization ... »
/ RIA Novosti /
u-96