From the center of the village Nikolaevka separates Krasnoyarsk Transsib and a concrete wall along the railroad right of way. Before the revolution it was a working-class suburbs, named, by the way, according to local newspaper the early twentieth century, "out of a sense of loyalty gratitude for giving the railroad almighty name of August and the Monarch." Today Nikolaevka - a kind of ghetto, in which the "compact" inhabits the criminal people. At some point in Nikolaevka lives "pious robber" Andrew Pepper. To find it, you need to ask anyone on the street - just show his house.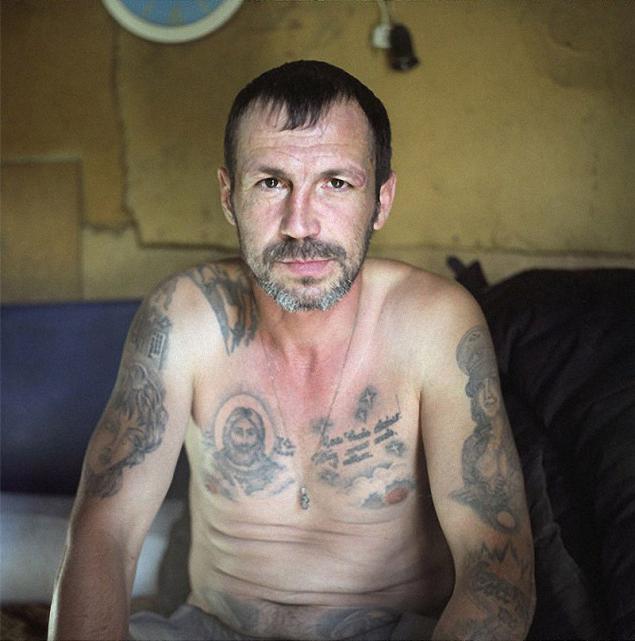 Mykolaivka before the revolution was the working-class suburbs of Krasnoyarsk. Today, it is an area densely populated by people with a criminal past and the present. From the center of Nikolaevka - a kind of ghetto - separates the Trans-Siberian Railway and the concrete wall, built along the railroad right of way.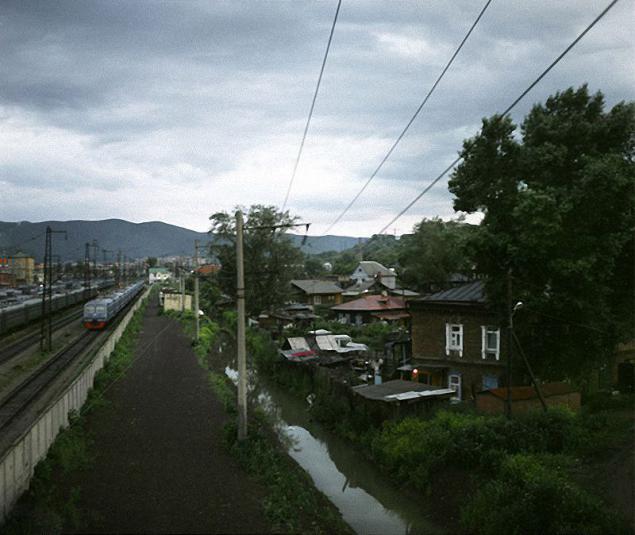 Past Pepper vaguely. Several convictions for robbery, a great camp experience. Who has long been at liberty. During one of his terms Pepper offered to build a church in the area and made it. Later released, he met with his father Valery Soldatov, who then headed the diocesan department of the prisoners began to work for him in the temple, wore the cassock, all rank by rank, and even my father put him in his dorm. Today, all this in the past.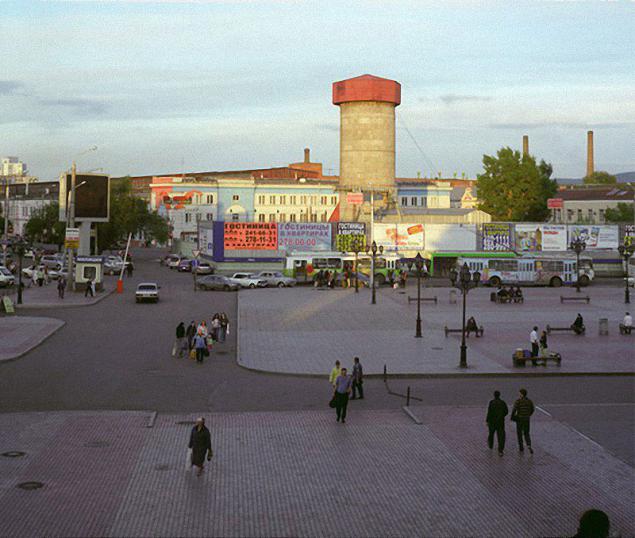 Railway Station Square in Krasnoyarsk. Stations have been and remain a center of attraction of the criminal folk. Pass on the Trans-Siberian soldiers and tourists, for example, are offered supposedly hashish, which is actually nothing more than a mixture of dried chewing gum, ash and tobacco.
For some reason one driven him Peretz returned to his world in a familiar environment, but with serious criminal intent seems tied. Now he is the owner of "raspberry", which can come either released from prison, to get some time with shelter and a table and decide what to do next. At Easter, Andrew still comes to the Father Valery communion, and the last time gave him an Easter egg with a felt-tip touching inscription: "Bath of pepper and Valentósa." Valentós - is Andrew's wife, Valentina.
The colony of strict regime №6 is situated right in the middle of a residential district of Krasnoyarsk. In the twilight of the Soviet regime (in October 1991) there has been a large-scale riot and hostage victims. Prisoners held power for over a month in prison, seizing weapons from the staff. With the Krasnoyarsk "six" started a wave of prison riots that swept the country at the time of the Soviet collapse.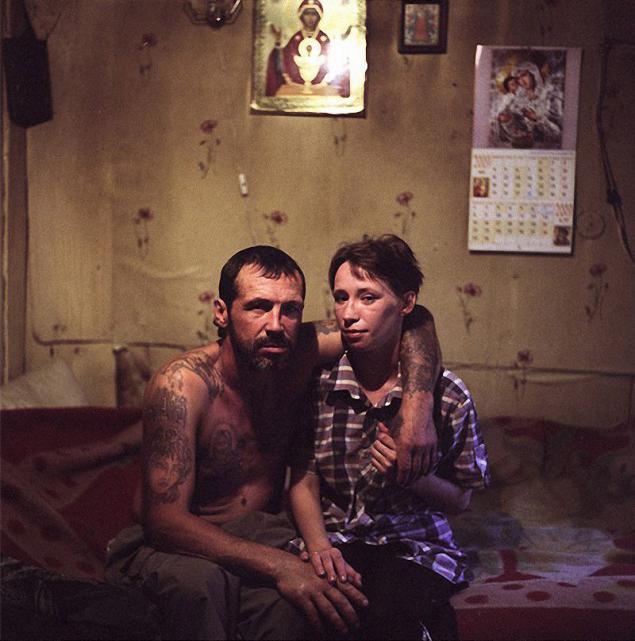 Pepper and Valentós
The life of a former felon - a continuous struggle for survival. Recently, half-burned house Peppers - someone threw into the yard firebombs. "Nothing, I like Job-suffering, loss of life and go further," - he says. Then he found near the corpse and the police, according to him, he immediately tried to "hang" all of it - barely strayed. Of course, all the talk - about the unfairness of the "system" and the eternal resistance to it.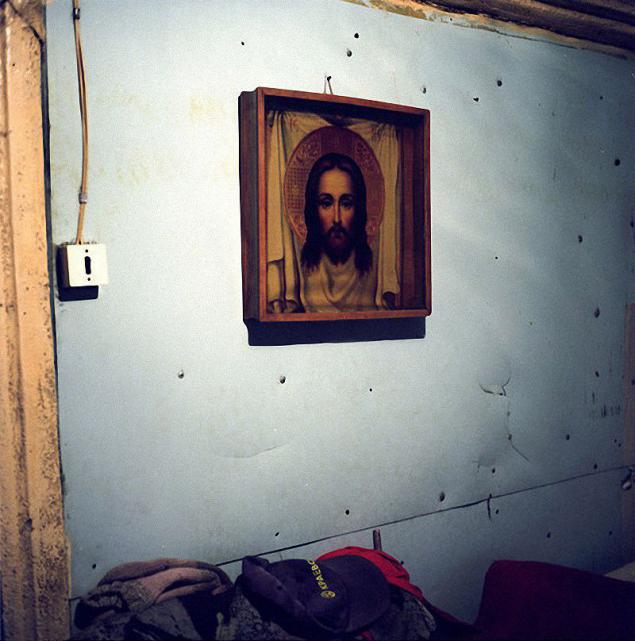 Icon of the Saviour in the house Andrew Pepper.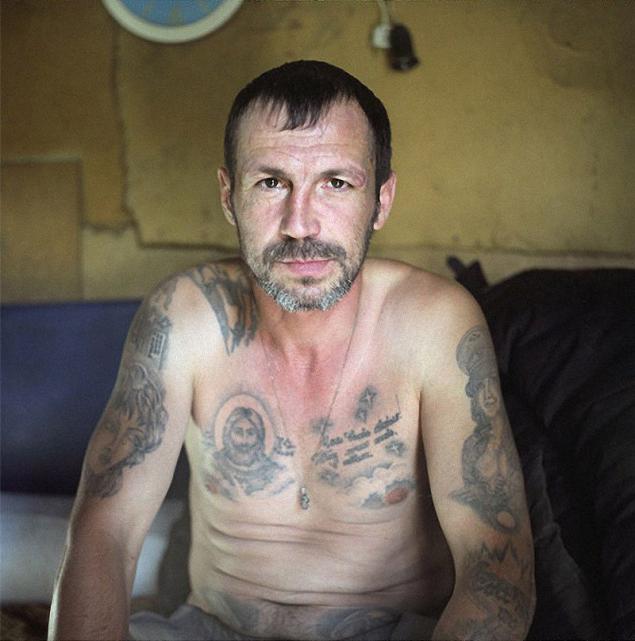 Andrew Perez, owner of "raspberry" - places where released from prison can come and live for a while, trying to decide what to do next.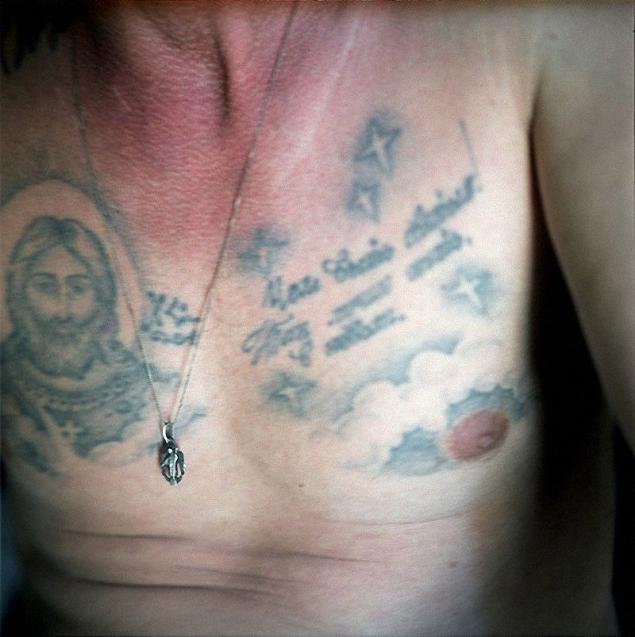 "How to be a saint, it is better to live in captivity»
Communicating with former prisoners on their "territory", you come to a paradoxical conclusion. At a time when the social fabric of Russian society is broken when a disorganized society where there is almost no trust, social solidarity and mutual assistance, criminal environment remains almost the only layer of society, where it all is preserved, albeit in a peculiar form. At the same time the nature of criminal relations, thieves slang, culture and consumer habits has long spilled over the gate areas and prisons and entered into the flesh and blood of the Russian state and society. All because of the area: the informal hierarchy, the cult of power and money, distrust and suspicion, dissolute hedonism, poured into alcoholism and drug addiction. But here again a paradox: a society, having absorbed the culture and habits of criminal and considers its bawdy songs, however, has not developed, and obviously does not want to develop any measures the social reintegration of those who go out from prison.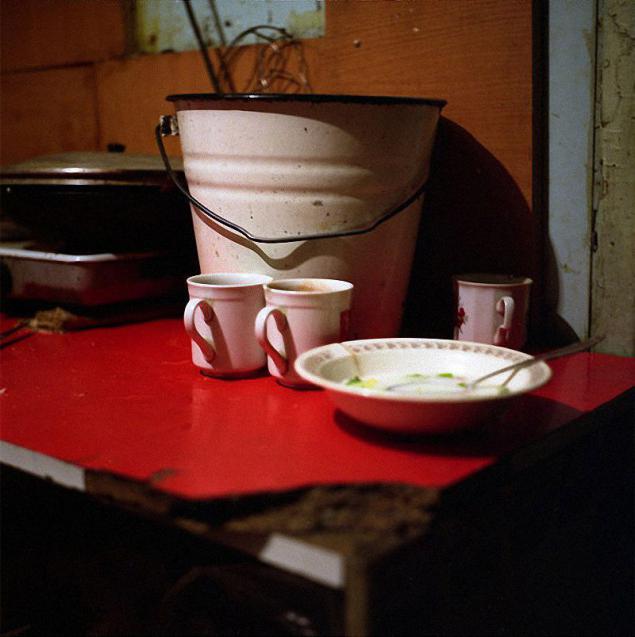 The simple life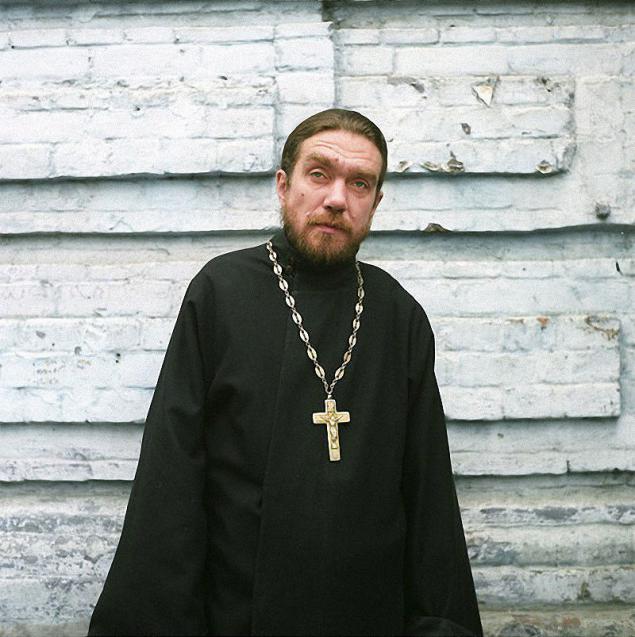 Father Valery Soldatov once headed the diocesan department for work with prisoners. Andrew Perez worked for him in the temple, wore the cassock. Then they parted ways. My father believed that hardened criminals is almost impossible to correct. "Maybe someone has turned out at me - no».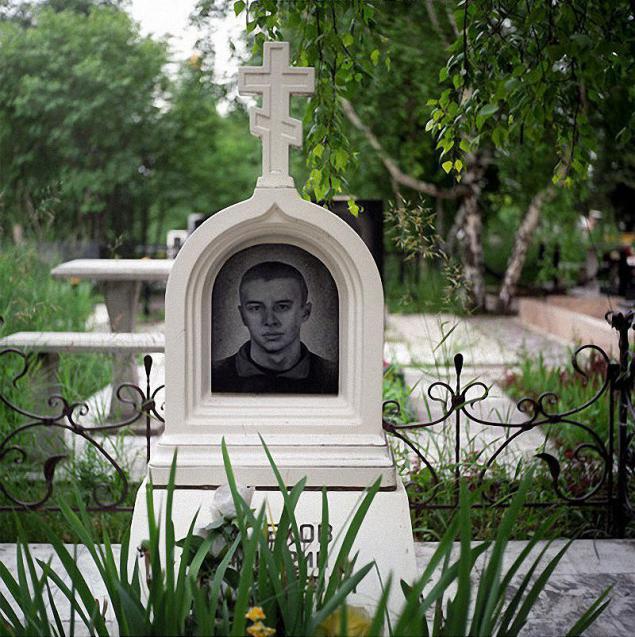 Krasnoyarsk Badalyk Cemetery - the last resting place of many "soldiers" and "authorities" who perished in the criminal wars of the mid-1990s.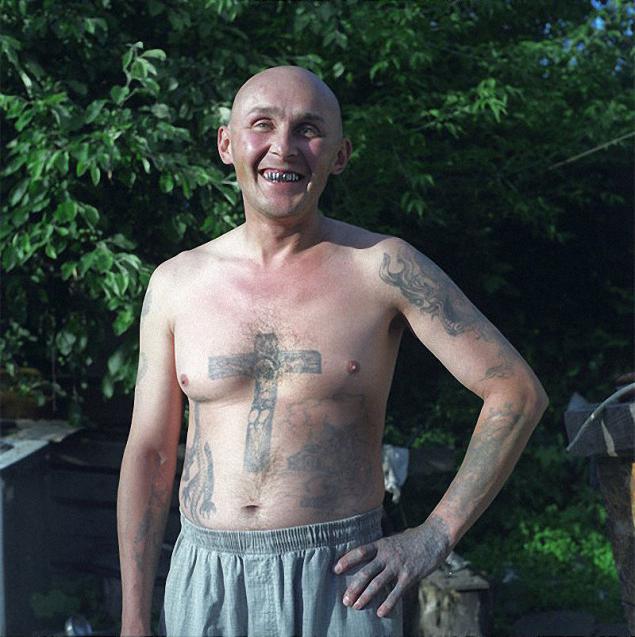 Edward, a repeat offender and kolschik (Specialist Application tattoos), 39 years, of which more than half - in places of detention.
"The problems are not wanted," - said a businessman from Krasnoyarsk to the question whether he is ready to hire ex-cons. It can be understood. Criminal psychology is that people see themselves as part of the criminal world, will not work hard for a modest salary, if in front of him loomed the prospect of easy money and beautiful (in his view) life. The circle is complete: public or state structures that would socialize criminals there, and those that have, there are more for show. Some criminals can and want to go back into society and get a criminal path, but poverty wages that they can offer at the labor exchange, they do not agree. Going beyond the prison fence, they are faced with an invisible wall of alienation, and thus forced to seek support from their own kind to survive.
Jack, a resident of Nikolayevka. Eugene's mother, which in addition to her other two children, working on the railroad as a cleaner, living with a repeat offender, recently released from prison.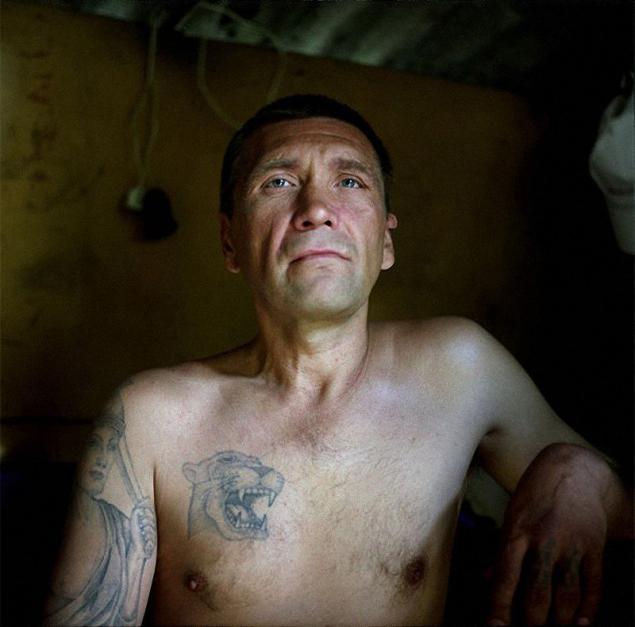 Sanya Gromadsky, 41 years old. Member of the rebellion of prisoners in Krasnoyarsk colony №6 in October 1991 Gromadsky - is not a name, but a nickname, one of its periods served in prison in a remote Siberian village Gromadsky.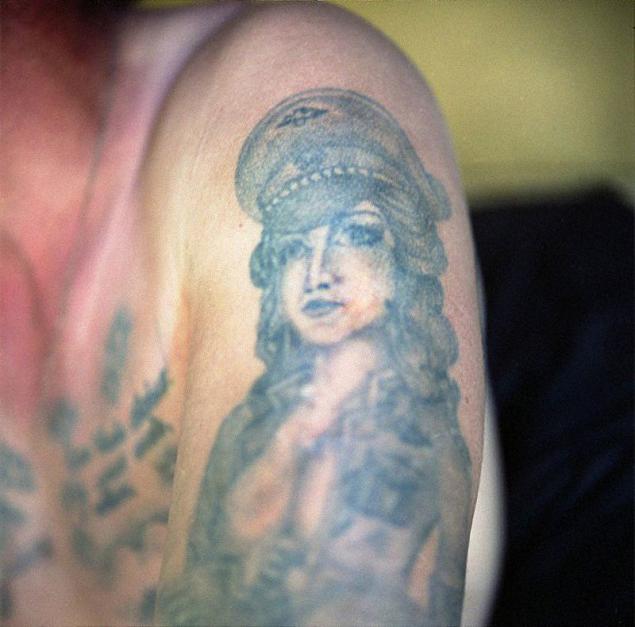 Tattoo in the form of an aunt with bare breasts in a Nazi cap. Nazi symbols was very popular among criminals under the Soviet regime. According to them, it does not mean that they share the Nazi ideology, but rather was a symbol of resistance to "the system".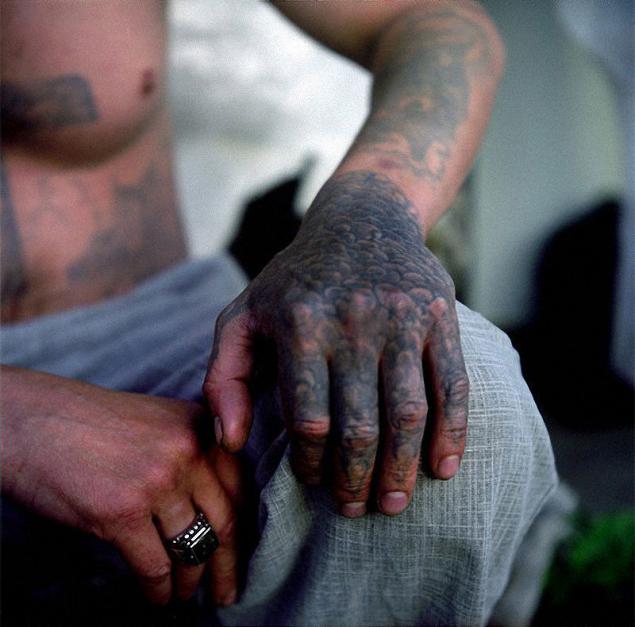 Hand kolschika - Specialist Application tattoos.
Obscene proverb ("The cop did not fuck her mouth with Kraslag we do not go"), impaled on his feet pepper, well reflects this reality. Tattoos do not withdraw, it does not pull out pepper and "guests" of his raspberries criminal environment. Moreover, in terms of degradation of state institutions and the continuing crackdown crime remains an attractive form of social protest, and sometimes the means of basic survival. Lack of capacity and skills of peaceful and civilized removal of social tension pushes many crimes.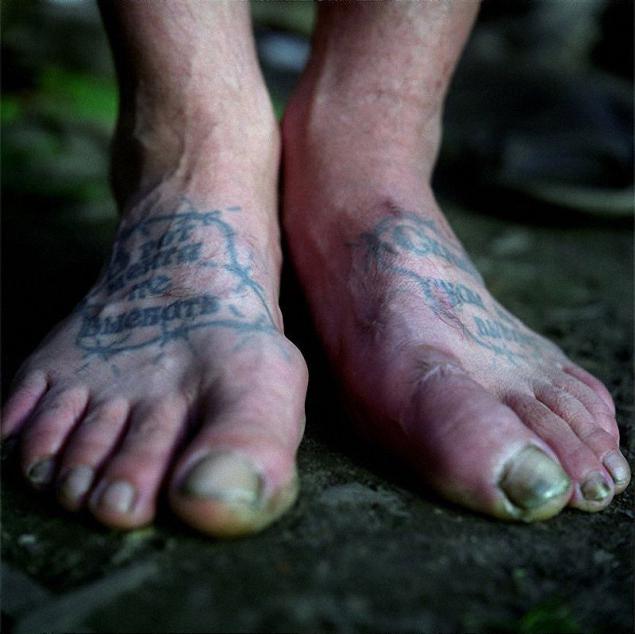 "In the mouth ment not fuck with Kraslag we do not go"