A new collection of Italian duo brought two pieces of news - good and bad. Let's start with the bad: Domenico Dolce and Stefano Gabbana have reaffirmed their predictability, showing another amazes with luxury and splendor imagination on the Italian theme. At this time, the starting point for the collection were the mosaics, ornaments and utensils in the Byzantine ecclesiastical spirit, referring to the decoration of the famous early Christian basilicas of Ravenna.
There were, of course, no way of favorite designers dressed in lace Sicilian beauty.
The good news - in the collection was presented to a variety of beautiful, do not hit any creative originality or design search and unconditionally just beautiful and feminine things.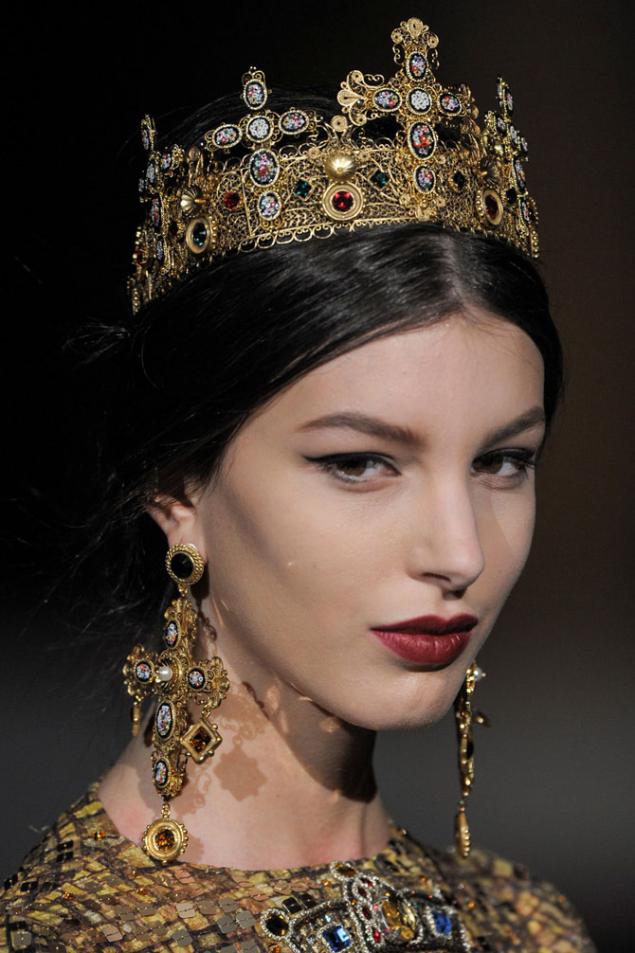 Everyone decides for itself how to deal with the obvious fact that the famous Italian designers have long abandoned any risk and the experiment was, and from time to time choose the beaten track exquisite decorative stylization.
The purpose, meaning of creativity, calling the designer, and the very definition of the profession, "fashion designer" - an open question, allowing different, sometimes opposing views and interpretations. Therefore, dropping moments related to the field of subjective reasoning, let us return to the collection itself as such.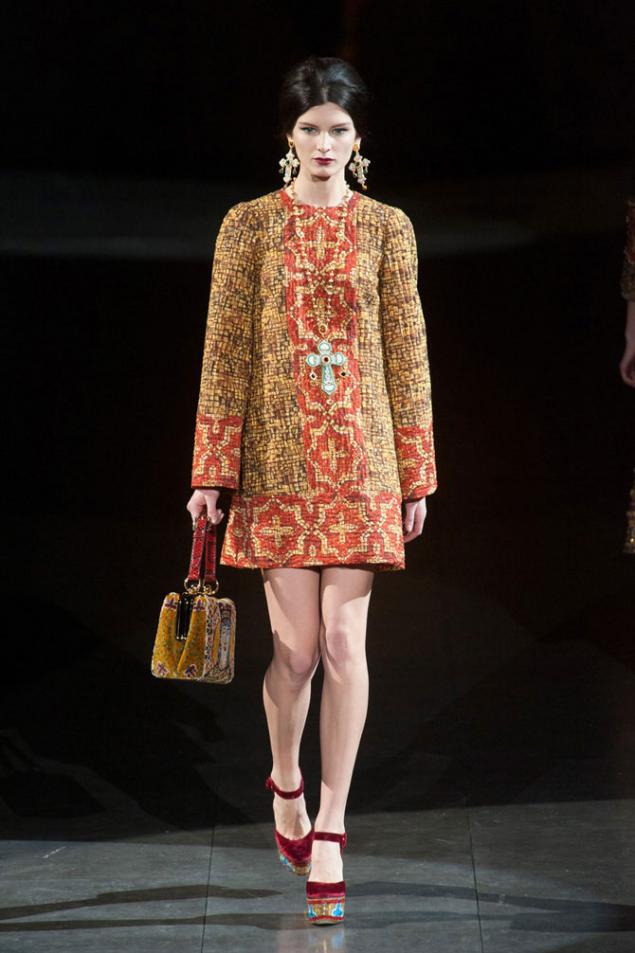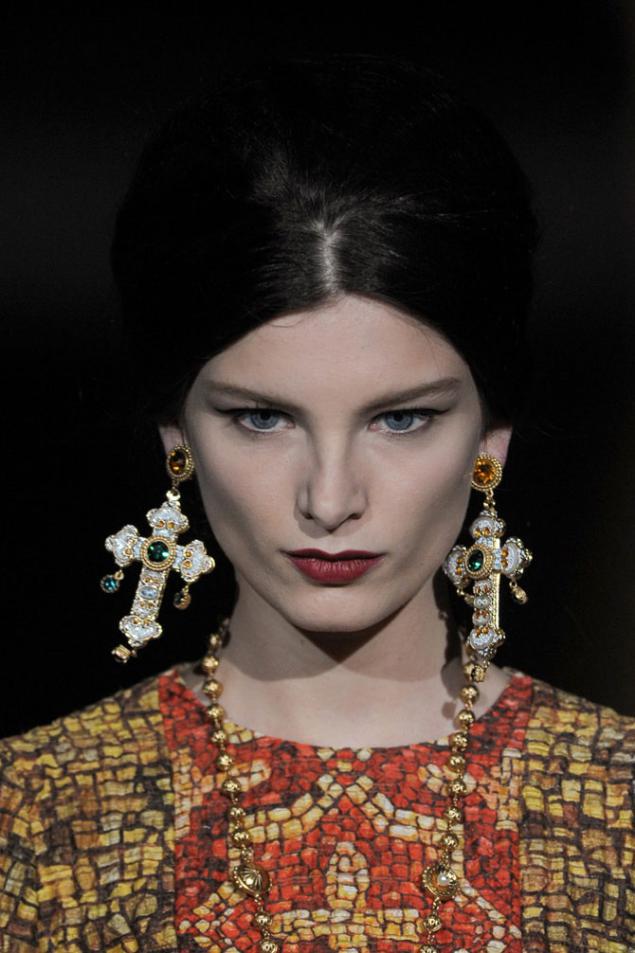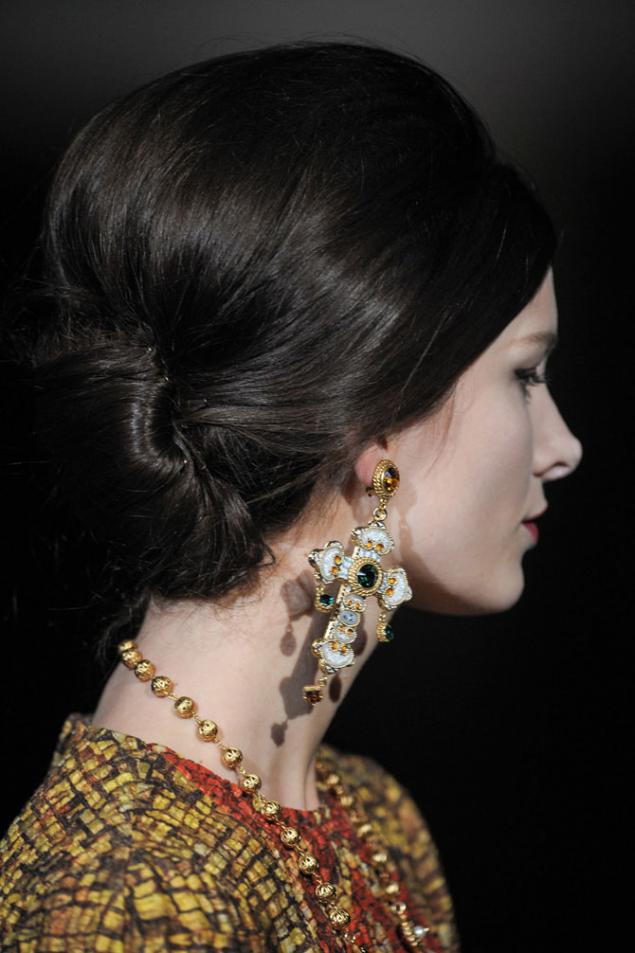 Her "Byzantine" part of the luxury, entertainment, art-for-scrupulous, detailed and accurate. According to her, as well as on many previous collections Dolce & Gabbana, you can get an idea of ​​the whole formation of the Italian culture. Not to mention the fact that these models, combining color and matte gold leaf and traditional shades of mosaics - ocher, blue, burgundy, light brown, pale green, complemented by precise historical "Accessories" (decorated with bright stones Byzantine crown, big earrings crosses on chains), well "work" optically and obviously cause a stir fashion editors and stylists.
And some of them - for example, a short "golden" dress straps with flared skirt mini dress with a straight silhouette and sleeves "three-quarters" of the tissue on which the reproduced image mosaic pattern and lace, and of course, silver-embroidered gold sequin dress with a narrow image of an angel on his chest - can be completely attributed to commercial.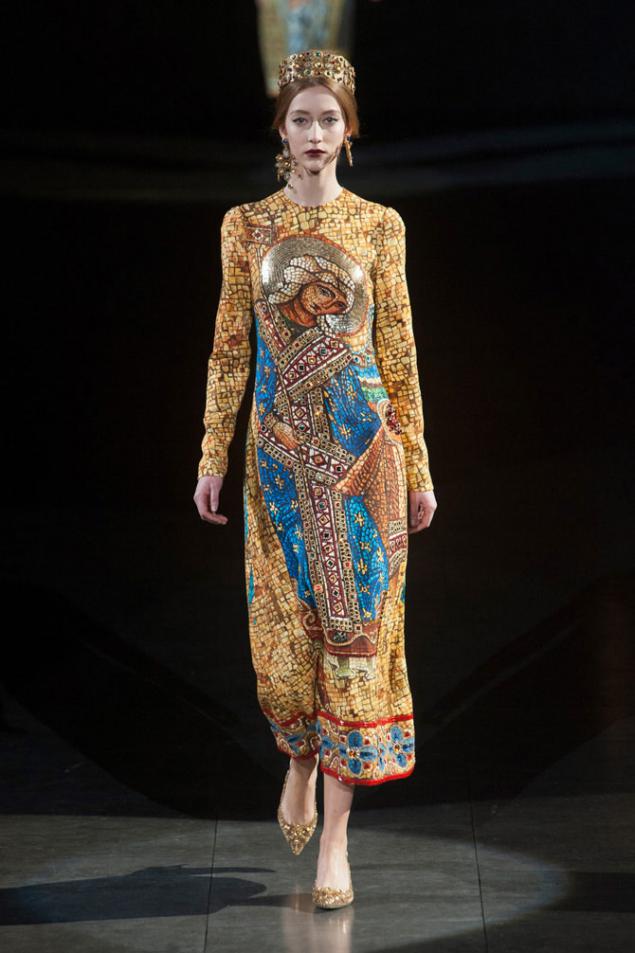 But "unhistorical" part of the collection has pleased many elegant silhouettes, soft black and gray buklirovannymi fabrics, fine costume cell and the spirit of Roman classics of 1950-1960, familiar to us from black-and-white ribbons of Italian neorealism. Graceful and trapezoidal form-fitting coat with wide sleeves, short jackets with rounded neck, narrow skirts and Thayer-midi is very elegant and at the same time practical. "The Sicilian" is the theme gave us amazing sensual and luxurious black lace dress and delicate ensembles with skirts and blouses and romantic mini-dresses of white lace.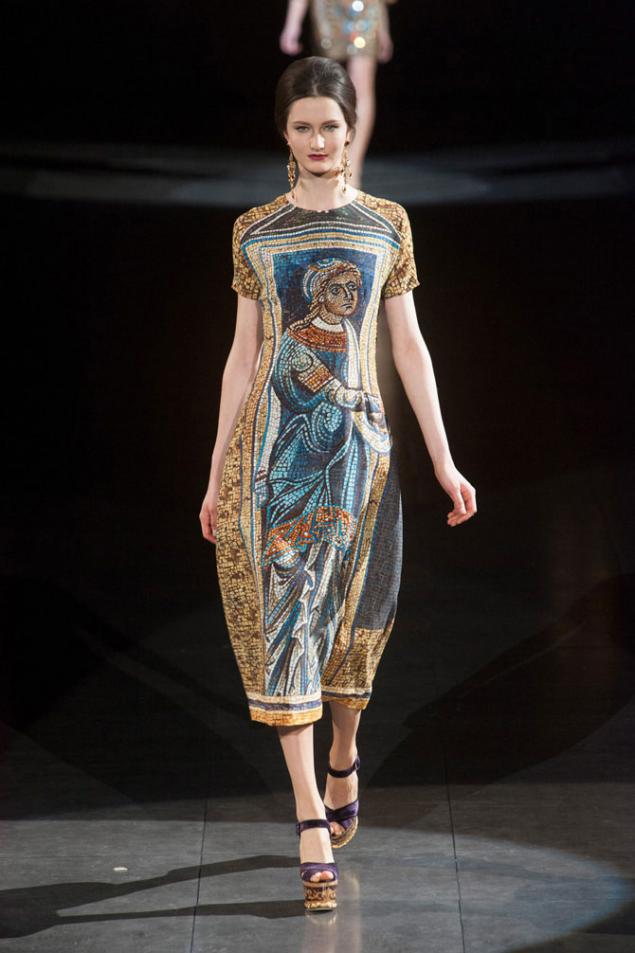 A series of dresses and coats shades of garnet and ruby, with embroidery, lace details and inlays, has become a kind of link between Byzantium and Sicily. Luxury, wealth, brilliance, greatness - at least in the Italian duo did not disappoint our expectations. After the first rush to accuse him of repeating himself comes next, more rational thought sometimes of fashion is not expected deep sense and innovative ideas, and celebration and fiesta. A Dolce & Gabbana - a holiday that is always with us.