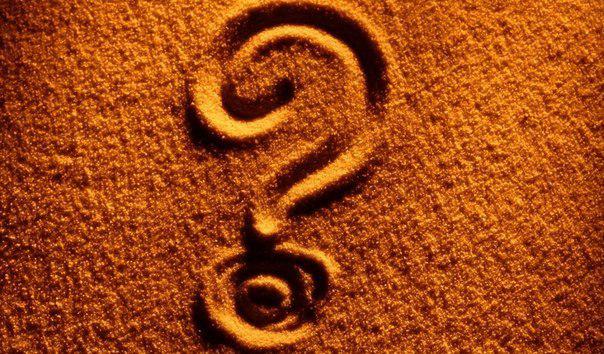 In order to get the right answers, we must first be able to ask the right questions.
only valid question directs us and makes us look for the correct answer, which may just be the key that will open the exit door.
Steven Aitchison suggests that knows the secret components of a proper question. He has created a list of 30 questions which, in his opinion, should ask themselves every person.
5 is a proper question
1. He must strive for results.
2. It must be simple and clear.
3. It should open up new opportunities.
4. It should make you think.
5. It should give impetus to action.
Questions
1. What can I do today to achieve your goals?
2. At what time to work productively all?
3. What can I do today to pamper yourself?
4. For what 5 things I can be grateful in your life?
5. What can I do today to change someone's life?
6. What feature of my character is the best?
7. What do I really want to do in life?
8. Do I really want these people (list) attended in my life?
9. What can I do to save each day, a small amount?
10. How much I watch TV during the day?
11. Do I really need all this stuff?
12. When was the last time I read a good book?
13. When was the last time I said, "No»?
14. Does it really matter what I think about other people?
15. What do I want to achieve this year?
16. What is the next "great goal", which I want to achieve?
17. What can I do to feel happy?
18. When was the last time I broke my comfort zone boundary?
19. What are my values ​​in life?
20. What steps should I take today to move toward what was intended?
21. How should look like my perfect day: from the moment of awakening and until bedtime?
22. What are the good habits I would like to instill in yourself?
23. How do I get rid of bad habits?
24. Who inspires me the most?
25. What are the qualities of the people that I admire?
26. My dreams will remain just a dream, or I can make them real?
27. What would happen if I let go ...?
28. What I really like about my work?
29. What would you do differently if I had the opportunity again to live this moment?
30. What will I do after read these questions?
Questions really simple and clear. And if you answer them truthfully, you can see from the picture of his life. The procedure may not be very pleasant, and opened your eyes picture - not necessarily to please you. But it is precisely in order to change everything for the better, and we ask ourselves these questions!