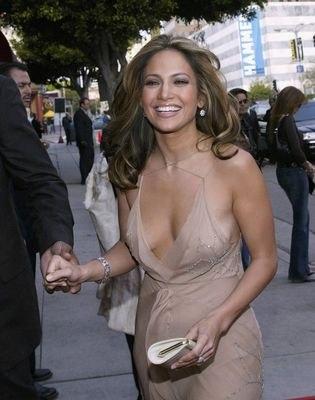 Jennifer Lynn Lopez was born July 24, 1969, the much-loved singer and actress. But not only its creative talent deserves admiration and encouragement. She is young, energetic, beautiful, her appearance and Latin American pro-active attitude brought to mind not just one person, and virtually no one could remain indifferent.
Now Jennifer Lopez plays in films, records and sells huge circulations albums collects a frenzied halls and stadiums at their concerts, great dancing, and she still beautiful designer and producer. But she is not enough! She has decided to try his hand in business and made the right decision - her perfume «Glow by J.Lo», wildly popular throughout the world.
Who would have thought it would be that way, because it all began banal.
Girl Jennifer grew up in the Bronx, a poor neighborhood in New York, she attended Catholic school and also fond of choreography and singing.
When Jenny graduated from college, then he got a job at a law office. At the same time it did not leave the idea to succeed in the song and dance career, so she is still at night and performed in nightclubs. Success came by itself - and it hit the dancer group New Kids on the Block. Then he became a member of the dance teams of Mark Antony and Janet Jackson.
Then she could try himself in small roles in television series. A picture of "My Family" officially launched her acting career. Notably the following, with the talent and a lot of fans, the film "Gigli" brought actress nomination for the award "Golden Raspberry" as worst actress of the year.
But the album «J to tha LO !: The Remixes», got into the Guinness Book of Records.
Recently Jennifer pays special attention to the development of their own business, which is also multi-faceted. She has a clothing line and reinforces its position on the market perfumes, plus its Cuban cuisine restaurant in Pasadena.
And in his spare time, this is a happy wife of a millionaire Marc Anthony and caring mom to twins - little daughter Amy and son Max.