Recently, I view a list of one hundred greatest musicians of all time, compiled by the American music broadcaster VH-1, and wondered how often sound in my player hits those Americans whose work is considered immortal. The result surprised me a little. Songs, at least ten of the first fifteen artists I listen to almost daily. There was two questions. First - I really so old-fashioned? Second - when I listen to music all the rest?
But then I thought that these guys deserve to wipe their records to holes. Here are the top people whose songs I still half the earthlings are willing to listen endlessly.
Won in the survey, of course, The Beatles. Why them? Silly question - because it is a whole epoch. This is the spirit adamant 60s, this hairstyle "Bob" and pants - flared. To be honest, I'm not the most ardent fan of the legendary quartet, but sometimes listen to their most popular hits, and seemed to move in time. Turn louder «A day in the life», put on your glasses, your world is filled with romance hippie. And ran into the street, this bright - bright life!
Beatles.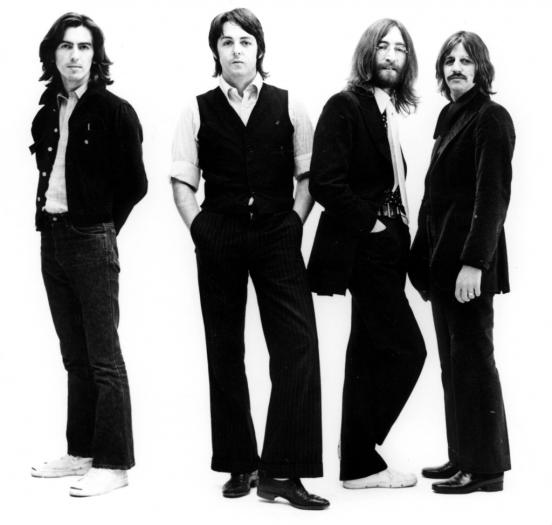 Michael Jackson took the second place in the list of VH-1. In my, perhaps even the first. Then go to the expense of entire albums that I listen cycles. Not thinking of his unhappy fate scandals, just turn «Is not no sunshine» 1972 and depart.
Michael Young. Almost so he sang one of my favorite songs «Is not no sunshine».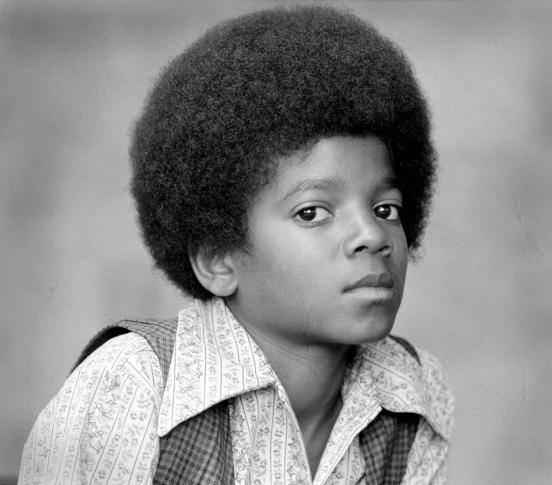 Immediately recognized that the pillars of the music in the next place the list in my iPod does not. Fact - Led Zeppelin and Bob Dylan did not charge and does not excite. Here are The Rolling Stones - is another matter. Cutie Mick Jagger so comical and so pulls foot jumps on the stage that the truth of his song «Can not get no satisfaction» does not inspire confidence. Apparently, Mick is experiencing regular satisfekshn, especially at concerts. For this, and his love. And for the hit «Sympathy for the devil», written under the impression from reading "The Master and Margarita" and provocative emblem of the group, which can now be easily printed on a T-shirt.
Handsome Mick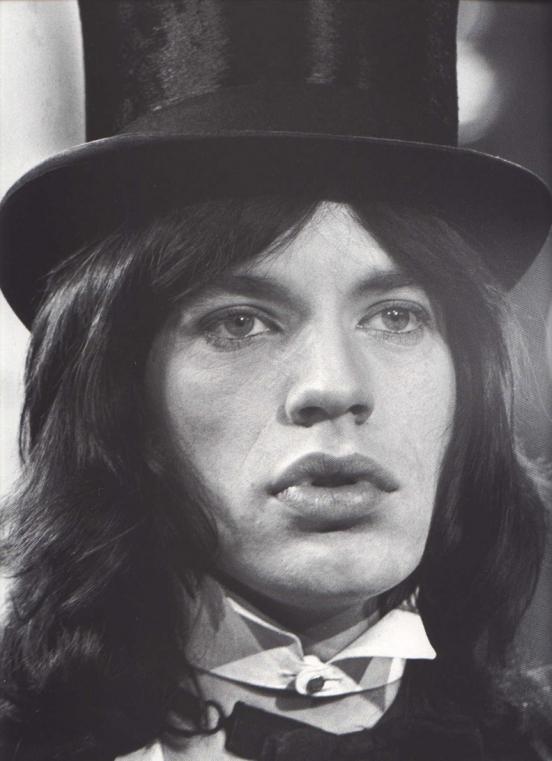 This is followed by Jimmy Hendrix. The man, in love with guitar, subjecting it to his will. I respect his virtuosity, but I confess that it is not mine. In contrast, for example, the song «The Doors» (their work, in my opinion, unjustly judged only place 65m). Jimmy Morrison - that's a real genius in my universe. Particularly impressive is his early poetry. And impressed by the number of colors and tourists at his grave at Pere Lachaise cemetery in Paris. Is not the main indicator of immortality!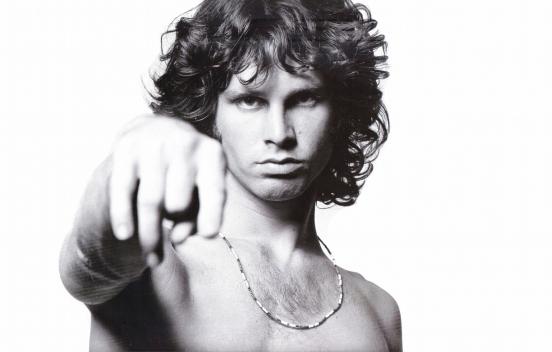 Seventh on the list of Prince. Whether because of his appearance, whether because of the similarity of musical style, but for me it has always been a kind of shadow Jackson. And it is biased and does not allow me to delve into his work. But «Little Red Corvette» hityara do so!
Truth is like?
Well, where do without dudes Elvis? It is the eighth. And for good reason. This rock 'n' roll energy charge can give a few! And become the most commercially successful performer in the history of pop music, but also make your funky hairstyle copied millions - that's even more so! Well, how would we live today if back in 1946 the mother of Elvis did not skimp and would buy him a bike? But his mother saved and gave his son a guitar. Thus was born the greatest idol of modern times. Aida listening to Elvis and make new remixes of his super-hit!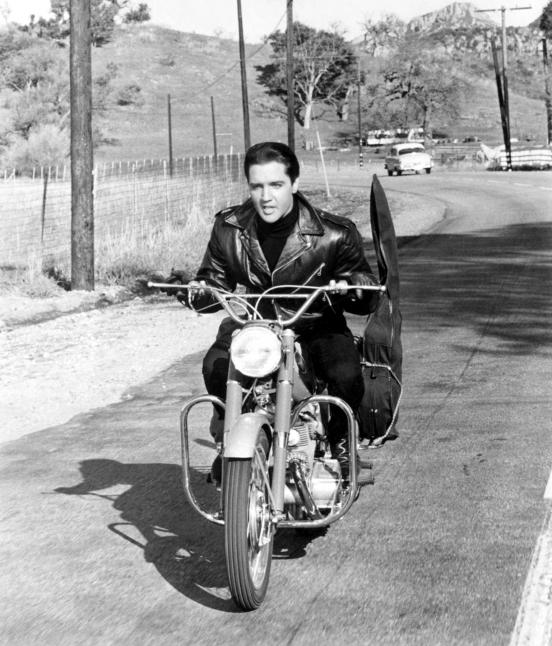 Missed James Brown, in his time to inspire the same Prince. For his work for me is that the dark forest. And I remember better than those without whom my little world of music there - my beloved «Queen». It is their video for the song «I want to break free», where a mustachioed Freddie walks in a pink T-shirt and leather yubchonke, as well as the chorus of «Halileo!» In the "Bohemian Rhapsody" terrifies me at the age of 7-years. Now their album «Night at the opera» I think the height of perfection, and of Mercury - god of music. By the way, «Queen» in the list of VH1 took only - only the 17th place.
The same T-shirt ...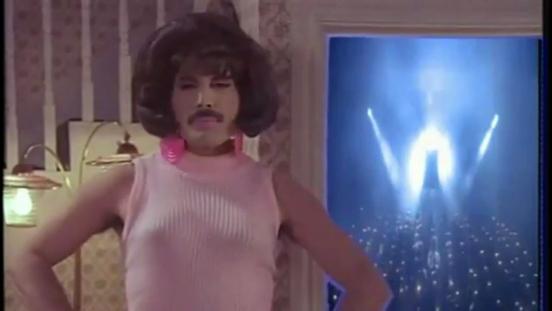 May lava!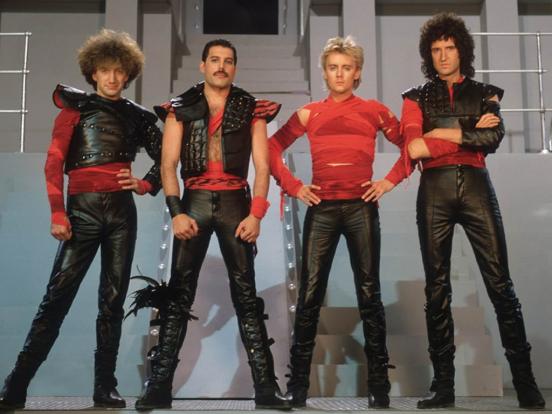 Closes ten top sheet respected Stevie Wonder was said resident Comedy Club, Stepan Amazing translated into Russian. Man, indeed, amazing, no joke. Because, despite his blindness, presented the women's favorite lyrical hit «I just called to say I love you», and around the world a hundred beautiful songs sung by a wonderful voice. These are the miracles happen!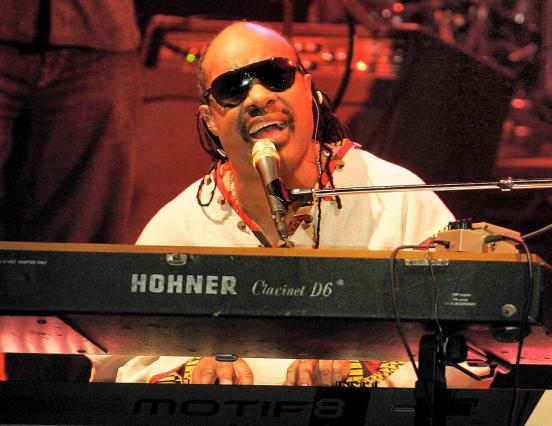 Such is the top ten. But my wish list would be incomplete without Madonna (she 16ya list VH1) and Pink Floyd (18e place). Madonna love for her black eyebrows, inspiring live show and a song «Nothing fails». Well, for what it is the only one - a sinful Madonna modernity.
My favorite eyebrows.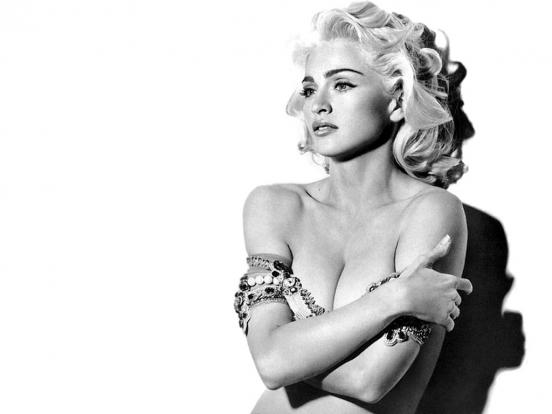 Pink Floyd fell in love, oddly enough, after visiting the Caucasus. I never thought that in a small village in the mountains shall find the name of the club rockers. In a dark smoky room heard the whole concert recording Pink Floyd, occasionally dilutable The Rolling Stones and other classic rock. And this is something there! This is the real popularity.
The original top list of VH1:
100 Alicia Keys
99 Hall & Oates
98 Depeche Mode
97 Pretenders
96 Journey
95 OutKast
94 Mariah Carey
93 Pearl Jam
92 LL Cool J
91 Green Day
90 Elvis Costello
89 Beastie Boys
88 Bee Gees
87 George Michael
86 N.W.A.
85 The Band
84 Curtis Mayfield
83 Earth, Wind and Fire
82 Steely Dan
81 ABBA
80 Mary J. Blige
79 Eminem
78 Judas Priest
77 Lynyrd Skynyrd
76 Run-D.M.C.
75 Rush
74 The Cure
73 Van Morrison
72 Janis Joplin
71 R.E.M.
70 Def Leppard
69 Tupac Shakur
68 Otis Redding
67 Coldplay
66 Justin Timberlake
65 The Doors
64 Talking Heads
63 Notorious B.I.G.
62 Genesis
61 Cream
60 Whitney Houston
59 Tom Petty & The Heartbreakers
58 Cheap Trick
57 Iggy & The Stooges
56 KISS
55 Peter Gabriel
54 Public Enemy
53 Little Richard
52 Beyoncé
51 Billy Joel
50 Sade
49 Parliament-Funkadelic
48 Rage Against The Machine
47 Jay-Z
46 Ramones
45 Al Green
44 Joni Mitchell
43 Ray Charles
42 Metallica
41 Van Halen
40 The Police
39 The Kinks
38 Sly & The Family Stone
37 Fleetwood Mac
36 Paul McCartney
35 Johnny Cash
34 Tina Turner
33 Guns N 'Roses
32 Black Sabbath
31 John Lennon
30 Aerosmith
29 Radiohead
28 Elton John
27 Aretha Franklin
26 Neil Young
25 Chuck Berry
24 The Velvet Underground
23 AC / DC
22 The Clash
21 Bruce Springsteen
20 Marvin Gaye
19 U2
18 Pink Floyd
17 Queen
16 Madonna
15 The Beach Boys
14 Nirvana
13 The Who
12 David Bowie
11 Bob Marley
10 Stevie Wonder
09 James Brown
08 Elvis Presley
07 Prince
06 Jimi Hendrix
05 Rolling Stones
04 Led Zeppelin
03 Bob Dylan
02 Michael Jackson
01 The Beatles