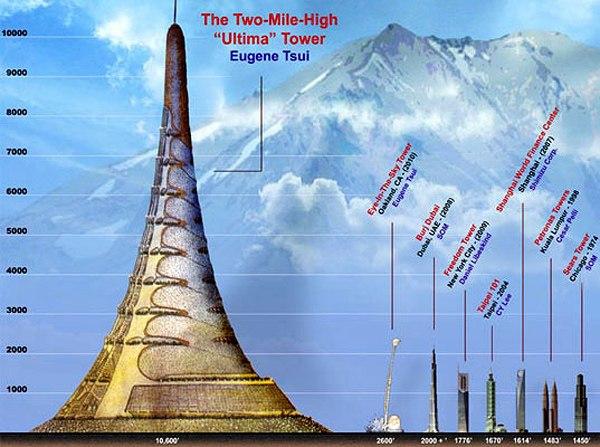 Its height should be at 4000 meters above sea level, and the number of floors - 800. Due to the 600-meter foundation design can be placed directly over the sea. X-Seed 4000 should contain from 700 000 to 1 000 000 inhabitants.  
The project is being developed for the Japanese capital construction company "Tas Corporation" as the building of the future, which will be combined ultra-modern life and interaction with nature.
Unlike conventional skyscrapers, X-Seed 4000 will protect its inhabitants from the pressure drop and change of weather conditions over the entire height of the building. It is designed to use solar energy for power supply of the entire system climate control in the building.
Elevators 200 are designed to deliver passengers to the upper floor for 30 minutes. In addition to thousands of apartments and offices in the X-Seed 4000 will and entertainment centers, parks, and forests.
The estimated cost of construction X-Seed 4000 - 600-900 billion in 2006 prices.
Plan X-Seed 4000 is designed for 8 years of construction.
Project X-Seed 4000 fall under the definition # arcology.
In 1966-1967, the chief designer of the Ostankino television tower NV Nikitin with VI Travushem commissioned by a Japanese company (the owner Mitsusiba) drafted a steel lattice tower shell height of 4 kilometers (4,000 meters) similar to X-Seed 4000. The project was closed for an indefinite period.