Lac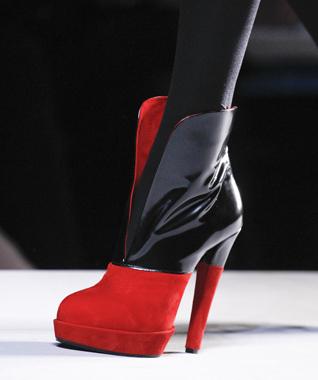 Fall 2011 - rather, it is a combination of all that has been fashionable than the emergence of a fundamentally new trends. At least, the feeling created when viewing footwear collections. For example, the mode remains in the varnish. The main difference is that now it is diluted with a combination of opaque materials or colored inserts. At Chloe is presented elegant lacquered shoes with suede large bow at the Viktor & Rolf - a combination of lacquer and matte leather in different colors, from Marc Jacobs - noble black neighborhood and deep burgundy. Some designers, including Antonio Marras, presented a delicate decision - barely noticeable shine, producing more impression is very expensive leather than varnish. The choice is so great, and the nail itself is so familiar that the trend will fit any young lady. The main thing - do not wear shoes to a lacquer bag.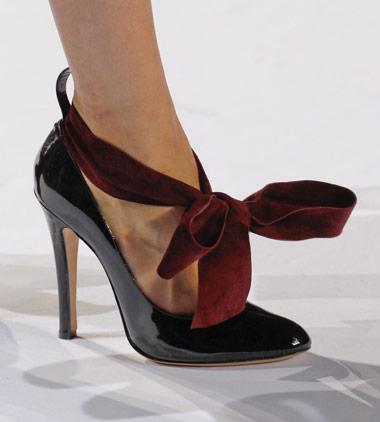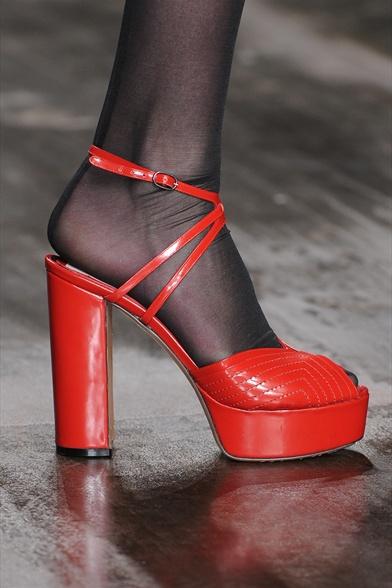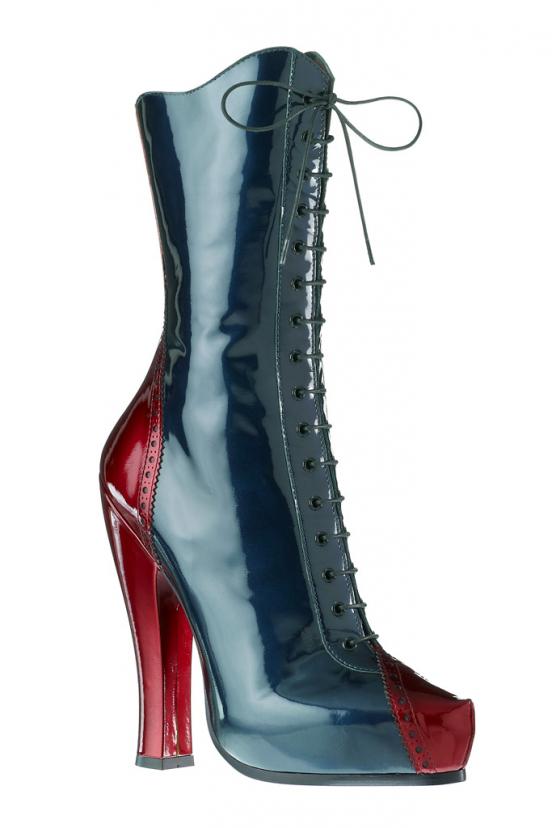 Free bootleg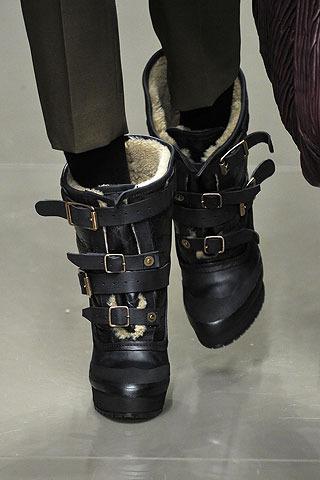 The next trend - free bootleg, sometimes slightly gathered on the ankle, sometimes preserving the form. The first option is well acquainted long ago, only now the boot is often decorated with fringe. Such models can be found at the Isabel Marrant, she managed to combine perfectly with glamor and a cowboy theme, and, in spite of the fringe, her boots are fine "every day" (who wear the same shoes every day?))) At Diane von Furstenberg trend is represented in the classical solution - Boots strict, no-nonsense, they hold their shape even though that is not covered in the shin.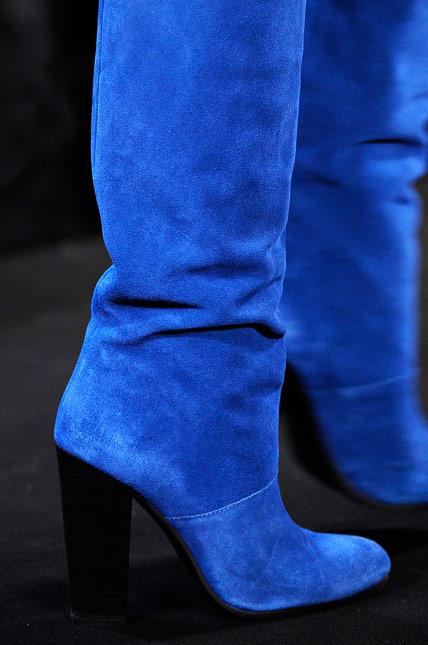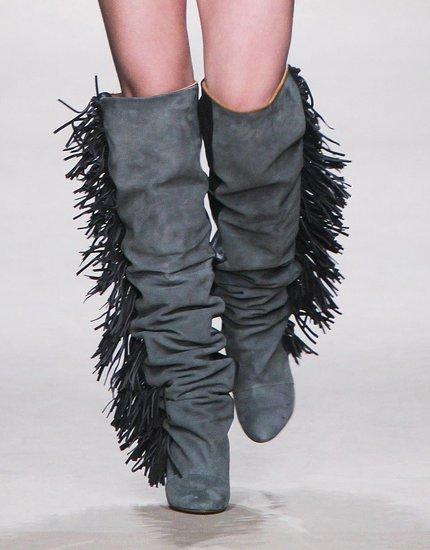 And here at Vurberry trend presented so extravagant that few on a dare. Rough boots with decorative straps, in which between fur lining and ankle about three-centimeter gap. However, to pick up the boots to taste problems will not be. But they will not all. And the girls with very skinny legs such decisions better beware.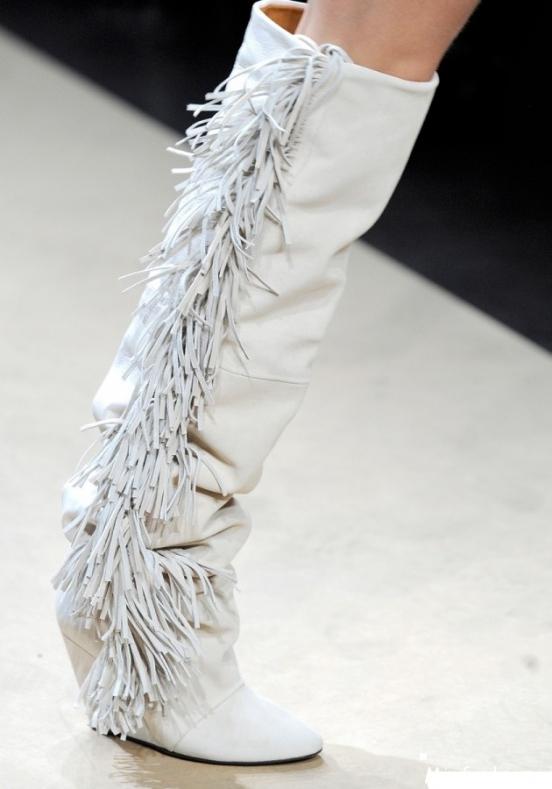 High boots
This season-high boots can reach up to the hip. Such models are a variety of brands including Christian Dior, Roberto Cavalli and Vurberry. Often they are decorated with elegant metal parts and are presented as models of matte leather and lacquer. Fit girls who know how to behave with dignity. Otherwise, the association with the heroine Julia Roberts in "Pretty Woman" too intrusive.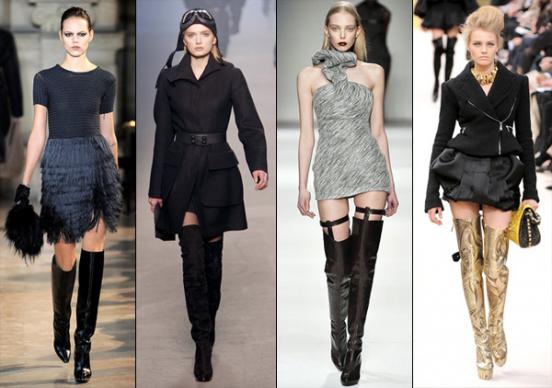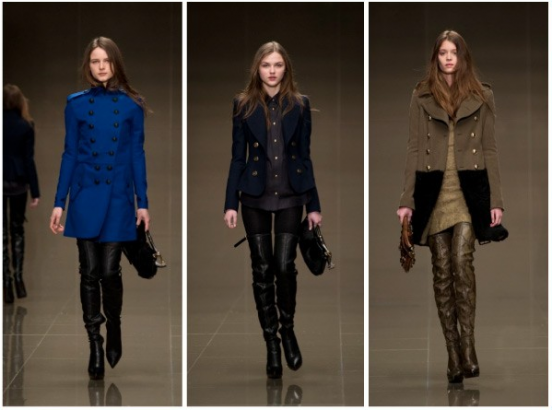 Fur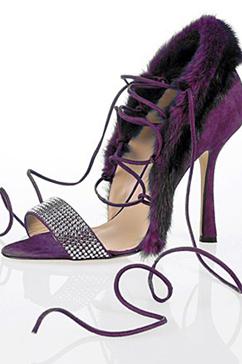 Fur beaten in different ways - it can be a small detail, for example, a delicate fringe like Etro, and maybe a lush boots resembling dog wrapped around the legs of his mistress like Chanel and Lanvin. And if the rim or slightly protruding lining will go to almost all, here's boots with a top of a lush fur - an extravagant piece of clothing, which, firstly, you must skillfully combine with other things, and secondly, to lower the girls is not an option - will look rough.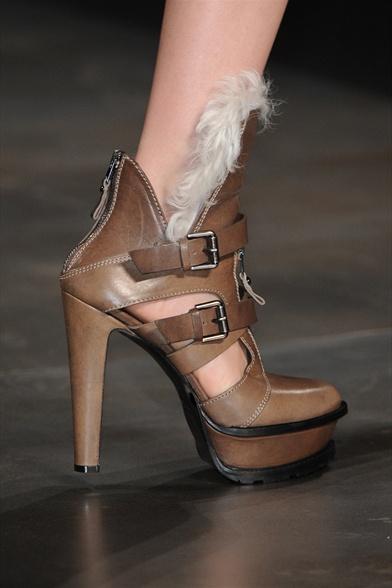 Lush fur is presented here Chanel and Lanvin: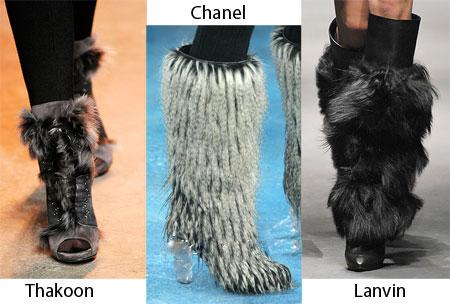 Socks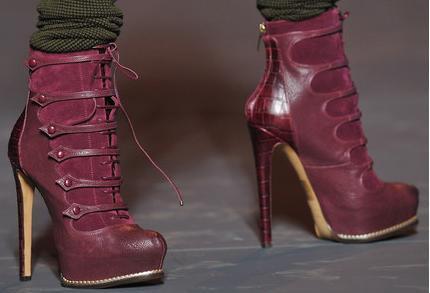 Perhaps this trend can be called a really fresh. Now in vogue wear open-toed shoes and high socks that look out of the boot. Some designers even offer them a little is gathered, adding the image of an elaborate carelessness. Such solutions are offered in many homes, including Christian Dior and Marc Jacobs. It should be noted that the trend there is something both vintage and defiant. Will all those who will like, most importantly - skillfully create a complete image to the socks look exactly fashionable detail, but not sloppy.