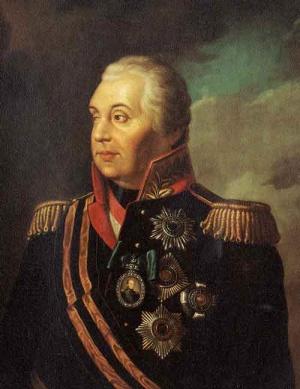 They say that the language to Kiev. In the thirties of the last century have added this saying. "Or to Magadan." This is closer in meaning to another proverb. "My tongue - my enemy»
With ikonoobraznym Mikhail Kutuzov definitely a great general, something like that just happened. As a young man, he was a General Staff officer envoys. And there was very intemperate tongue. Especially loved to walk on especially high-ranking. One of his politically incorrect jokes, released to the Catherine II and Count Rumyantsev reached the addressee. And the career of the future Field Marshal and the winner of Napoleon went a slightly different way. He was sent to the army in the Crimean peninsula.
And in July 1774 during the assault on the village of noise, which is near Alushta, Colonel Kutuzov was wounded, incompatible with life. The bullet passed through his left temple and nasal cavity, went through his right eye. But he survived. But lost an eye.
When Catherine came to information about what happened (and during the assault Kutuzov showed personal courage in the struggle with vastly superior in numbers by the Turks), she said the following: "One must take care of Kutuzov, he will be a great general", and then signed a decree in which sends it to Austria for treatment.
After this incident, Kutuzov became much less witty.