Charming 26-year-old actress Rooney Mara, who became well known for the role played Lisbeth Salander in the Hollywood film version of "The Girl with the Dragon Tattoo," has been nominated for "Oscar", although roles in movies she has one, two and obchelsya, but talent is something there! How strange that only one role can turn the life of the actor on its head, and in the case of Rooney for the better. Now her name in new projects, and it increasingly appears on the social events. Slowly getting used to life star, Rooney is becoming more stylish and attractive. Stylists and makeup artists work their best, maintaining excellent image of the actress, who has appeared after the release of "The Girl with the Dragon Tattoo", because before Rooney was not such a change and went to her advantage. Non-standard for Hollywood outfits and quite standard footwear Rooney (cool name) will see in this post.
While Rooney was not much public appearances, as we would like, and she squeezed a little more, but I think in the future it mastered and will shine like a true Hollywood movie star. The main thing that the girl did not zazvezdilsya, and it is often observed among celebrities and this is sad. I think it could be a very good actress and prove to everyone that "The Girl with the Dragon Tattoo" - this is just the beginning. The film is wonderful, all advise (Craig and Mara - a great pair). In the photo below the recent release of the actress in the world, and it looks just fine. Yes, crooked legs, but small breasts, but it does it matter when the girl is so charming and pretty face? Dressed too fine. Color of the dress she is perfect, and even the color of lipstick and even more so. Here are just shoes from Prada had to choose black, not beige, though, and so it is good looks.
Compared to other celebrities Rooney, of course, stands out. No it more the confidence in the other girls-actresses who smile from ear to ear and always stand in a pose - hands on hips. Perhaps with time and Rooney all this comes, the film industry is such a thing ... She reminds me of a simple girl who is very happy turn of events in his life, but still a little afraid of Fame. In the photo below Rooney does not look like her heroine Lisbeth Salander, in life the actress is much more feminine and modest. I do not like the dress (especially the upper part of it), but the shoes are luxurious!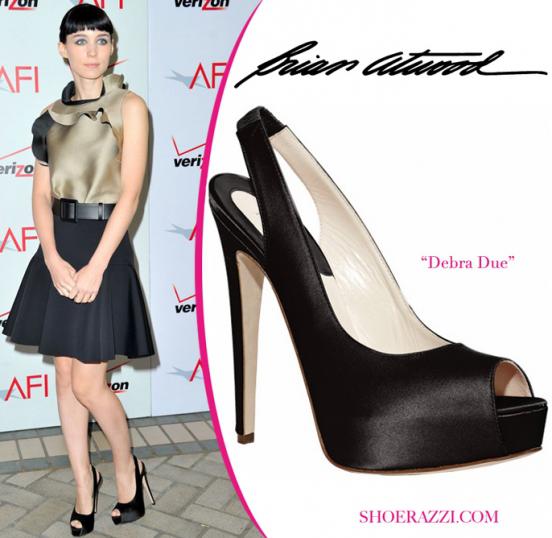 Black - it's a win-win situation in any color (except for your own wedding), so Rooney often chooses black dress. I really like that now her hair color is very dark (with light is a cutie, but simpleton). Shoes on the bottom photo mind-blowing, coloring good. I like this, but only for shoes and accessories, or dazzled.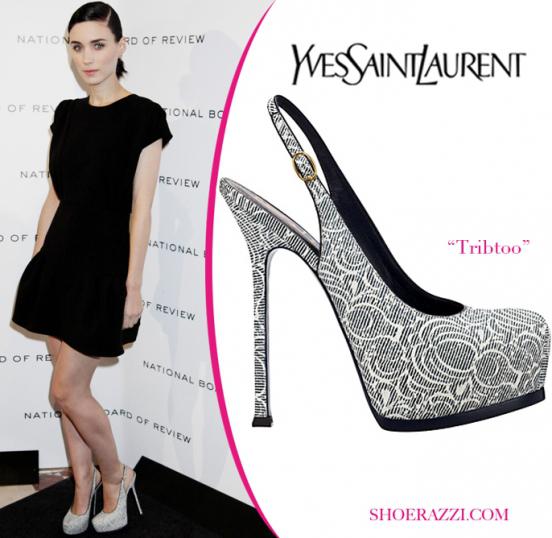 Wow, Rooney in a leather dress! Not every girl will approach such a dress and Rooney is not one of those lucky few. Dress sitting so good, and the style of some strange. Shoes pleased, excellent choice.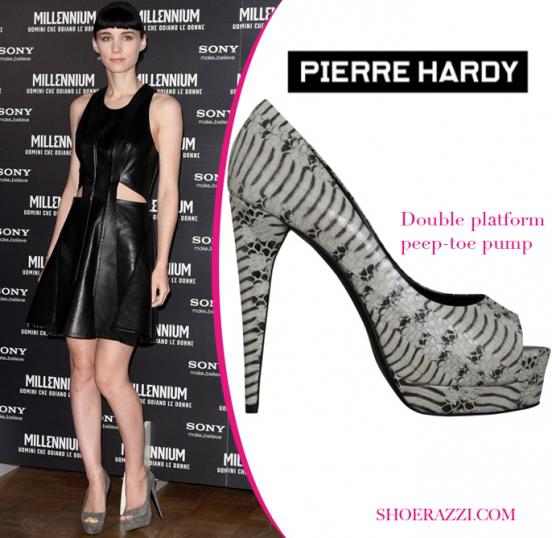 Nicholas Kirkwood begins to delight me with their creations on a par with Christian Labutenom. Gorgeous shoes, and what the right color ... wow, just wow! That's just it seems Rooney chose black version of the same model, but I like her gothic image (only a bandage with an urgent need to remove the head).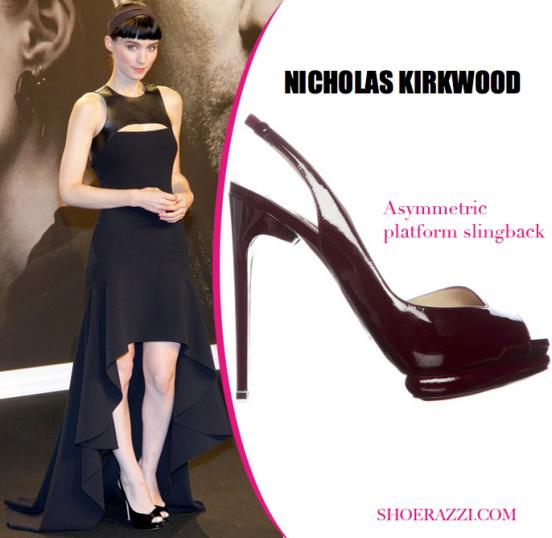 Well, what does without shoes review wedgies? Yeah, no. Rooney also tried on shoes at a great platform that is certainly pleasant to me. I did love the shoes wedges. That's just weird dress again ... Come on, I'm surprised. It's a budding actress Rooney Mara, who are in no hurry to show all its beauty. Modest, shy and very sweet girl. I like these. Sometimes.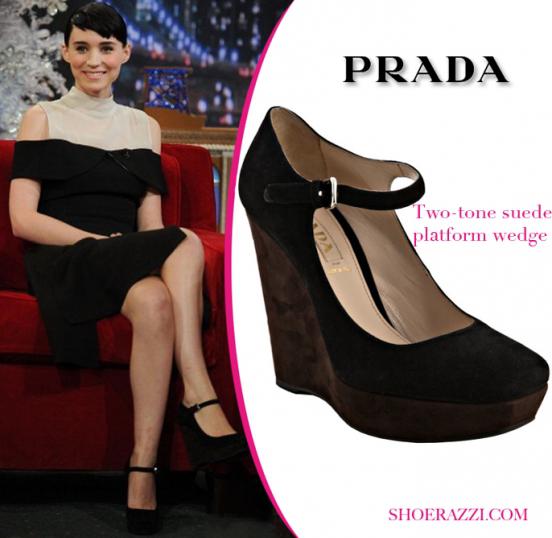 Oh-e-she ... "Who are you drove this coat, honey?" ... It would fit 3 Rooney Mara, not just one. Well at least the flesh-colored shoes by Brian Atwood brighten up this horror.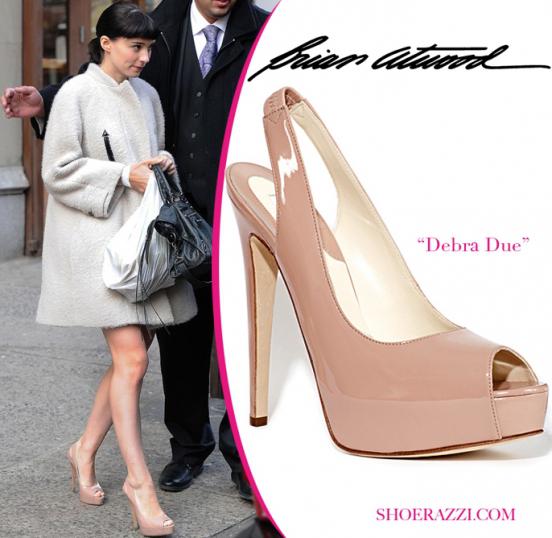 That's what I understand! Rooney I was hooked, and its role, and its image is the film «The girl with the dragon tattoo». In the picture she is just amazing good-looking, black color to it, no doubt to face. If she chose yellow, not black shoes image became a failure, but it will do well. Image delicious! I really hope that in the future Mara will be one of the best actresses, she has the makings of a good.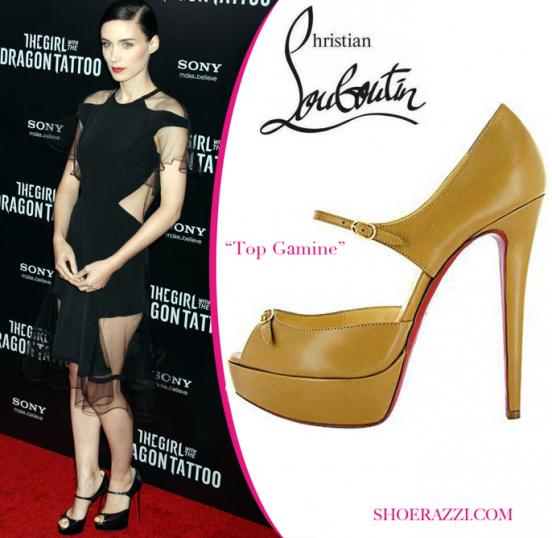 Shoes are not visible, but the positive photo :)