On the night of 14 to 15 April 1912 in the Atlantic Ocean sank the legendary "Titanic."
Lady Lucy Duff-Gordon, her husband and the maid, with whom she sailed to America to check the work of his fashion house, which she opened one in New York and one in Chicago, miraculously managed to sit down at the last lifeboat is rapidly expiring under water the biggest and beautiful in the world maritime liner. Like everyone else, I was fascinated by the beauty of the liner. I never dreamed of swimming in the luxury ... my lovely little cabin with an electric heater and pink curtains led me into raptures. Everything in this beautiful ship set me on a serene mood. I was in bed and was asleep when I was awakened by a strange rumbling, or even a funny noise. It seemed to me that someone's giant hand skated huge shary.Istoriya rescue Lucy Duff, of course, select it from a number of the other designers of the early 20th century. But in addition to this is undoubtedly the best of luck in her life was no less spectacular triumph of her brilliant career in the fashion industry.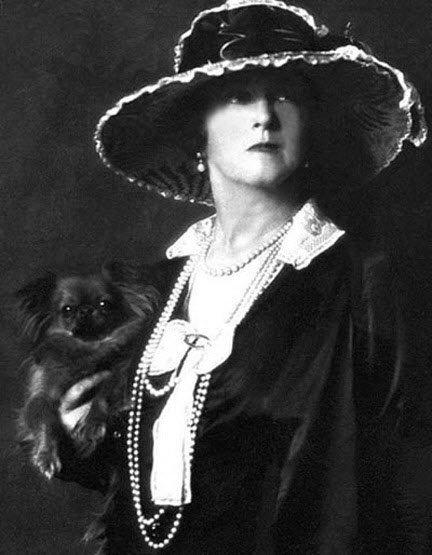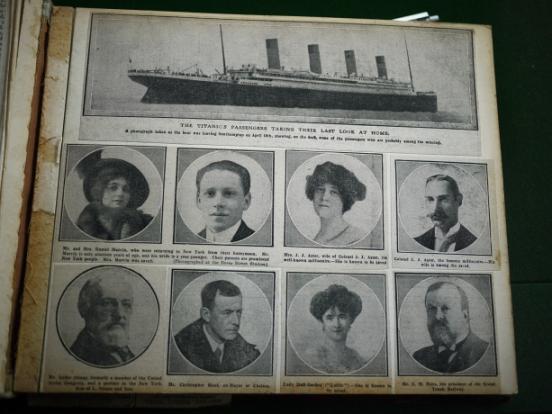 list of passengers of "Titanic": photo Lucy third of the second row.
Lucy Duff - Gordon was born in England in 1863, and while it still called Lucy Sutherland. When she turns 21, she marries. But after some time filed for divorce, which in those days was simply unheard of and unacceptable act. But Lucy gets her way, and then to feed themselves and another little girl, she begins to sew custom-made women's dresses and underwear.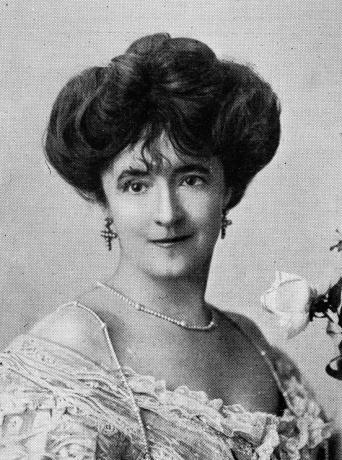 She first began to sew lingerie from lace, silk and silk mesh instead of flannel and lawn. Down with the Victorian modesty, long live the seduction and sensuality! Particular attention is paid Lucy negligees and nightshirts, because I do not doubt that every night the woman is obliged to look even more seductive than a day.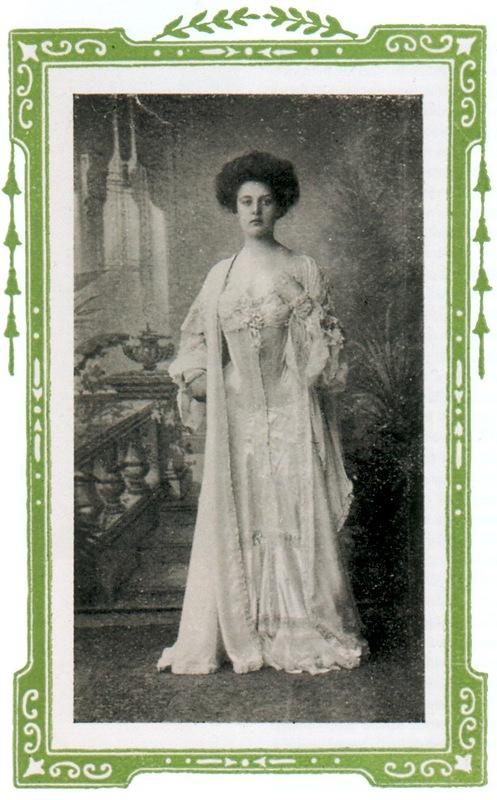 Lucy also brought into fashion softer corset. And her first client was the novelist Elinor Glyn, her own younger sister, which in turn had a large circle of influential friends and acquaintances, among them were actresses. As a result, clients of Lucy became the most popular actress of the early 20th century: Irene Castle, Lily Elsie, Gertie Millar. And at such a poёme designer opened his first London «Maison Lucile».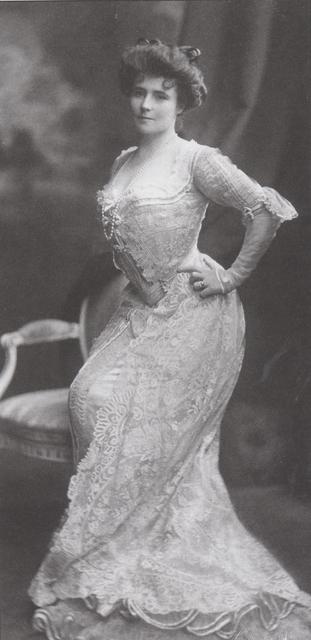 Eleanor, sister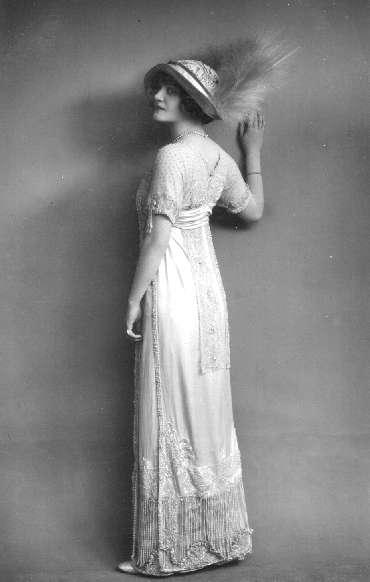 Actress Lily Elsie
Already in 1897, Lucy opens another shop: new and more on Hanover Square, and a little later, and the third - by George S. - Street. As a result, by 1900, her fashion house moved to Hanover Square and is becoming one of the most prestigious in London. The great success of its models Lucy explained by the fact that it is not easy to create fancy dresses, but still tried to reflect the character ordered it. I've never designed a dress, not taking into account the nature of women. I think that it should certainly be fun its owner, become a part of her personality.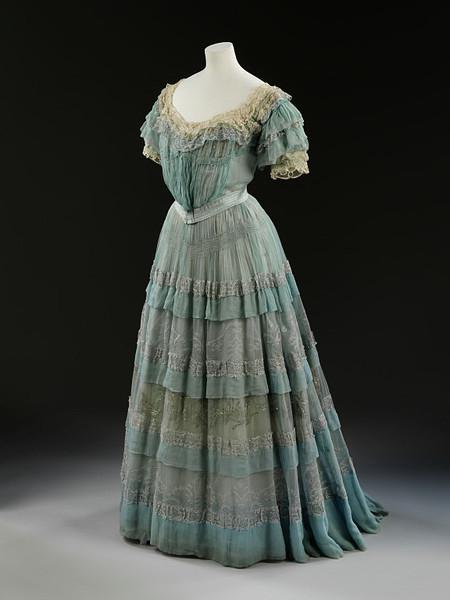 From the Victoria and Albert Museum in London.
Lucy has also worked with the theater. After the resounding success of her costumes for the operetta "The Merry Widow", the majority of the London department store began to order a copy of hats from popular operettas. The triumph of the play "The Merry Widow" was also a personal triumph for me, of all the plays that I wore, and there were many, she was my favorite. Hat "The Merry Widow", which I developed for Lily Elsie came into vogue under the name "Lucille".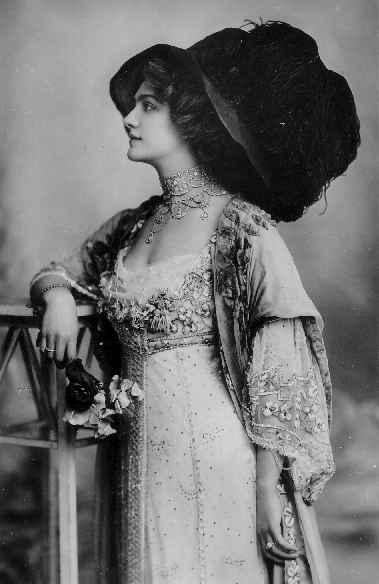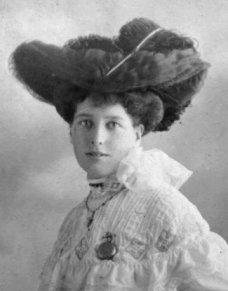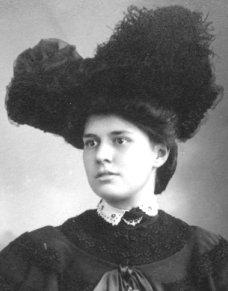 Lily Elsie, one of the most famous British actresses of that era, Lucy worked as a personal stylist - not only created outfits for performances, but also developed a style in daily life Lily has found a way to the barber styling for the actress, discussed the make-up, and, Naturally, sewed a huge wardrobe in the fashion house Lucille.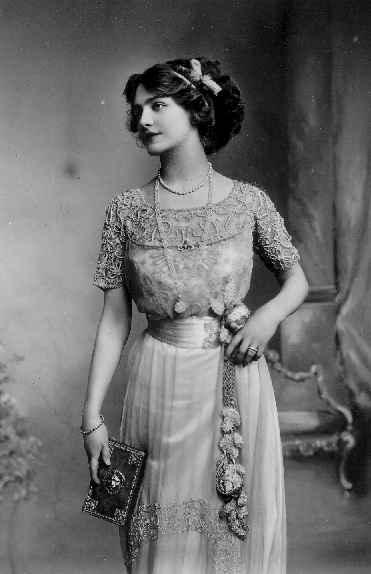 In the same 1900 a significant event happens in the personal life of Lucy - she meets Sir Cosmo Duff Gordon, and some time later marries him, and also becomes the owner of the international brand 'Lucile Ltd'. At this point, her clientele includes not only an actress, but also members of European royal families. Business itself, meanwhile, is expanding branches in New York - 1910 -1911 in Paris and Chicago in 1915.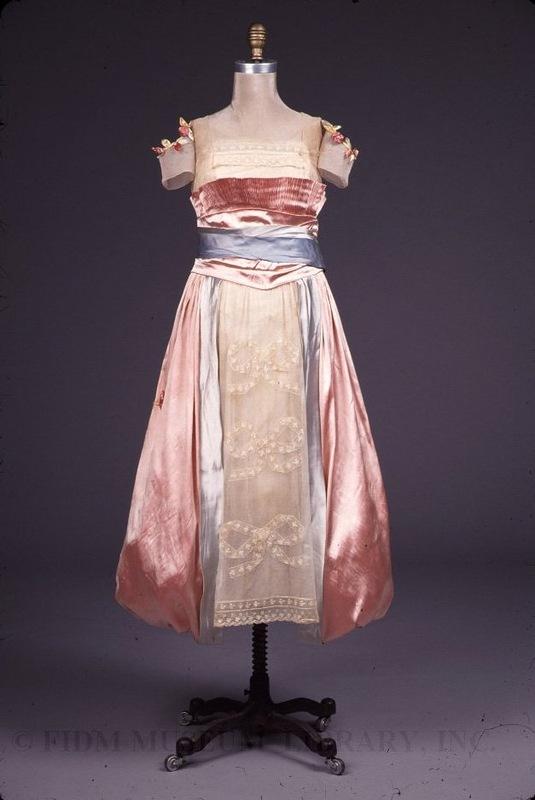 1917 Metropolitan Museum of Art, New York.
As it turned out, those American branches eventually helped to survive shopping in Europe during the First World War. Although it is because of them, Lucy and her husband were on the fateful "Titanic", only under the assumed name of Mr. and Mrs. Morgan.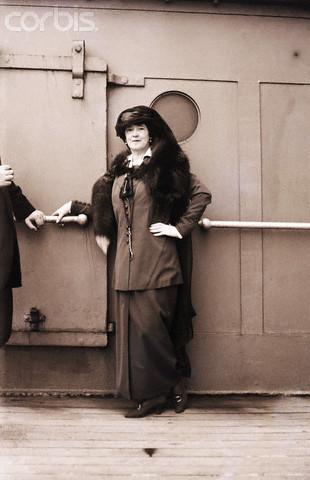 As already mentioned, Lucy and her husband escaped to the infamous "boat millionaires" (when, instead of 40 people on board were taken only 12, and they have no one else picked up as one of them pulled out a revolver and ordered to sail). After the rescue because the story was followed by endless litigation and the constant hassle.
In addition, the model Lucile shaped style "era" Titanic "- commonly referred to as the period in the history of fashion before the First World War.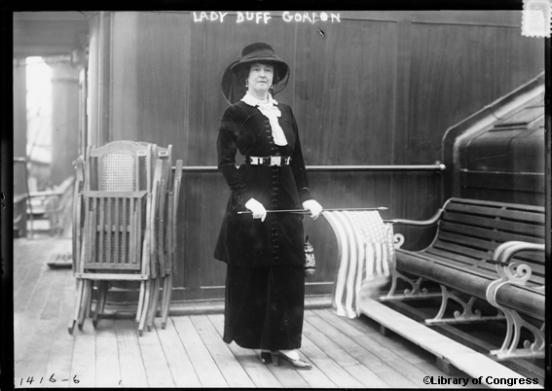 Lucy on "Titanic».
Lucy gave a clear preference for thin, well draped fabrics, silk flowers and delicate lace. This style Lucy went on its initial production of underwear, so she was able to work well with such delicate textures.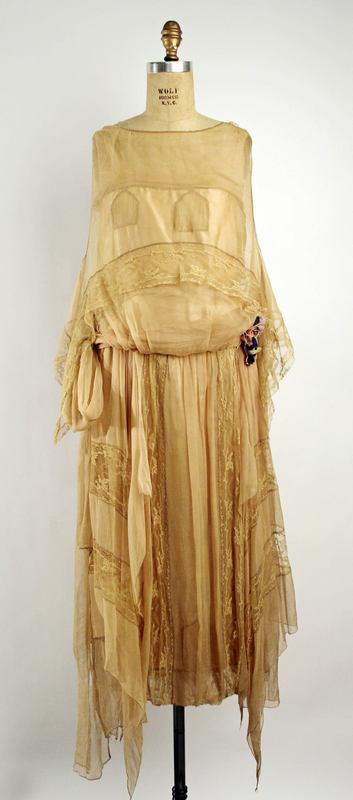 I felt intoxicated by touching yards shimmering silks, air, like a gossamer lace and long strips, thin and bright, all the colors of the rainbow. And from the creation of these garments, so beautiful, that they might could wear any princess in a fairy tale.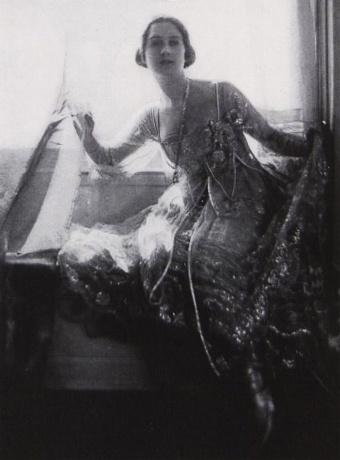 She was more like not to cut their models, and shear on a mannequin or model.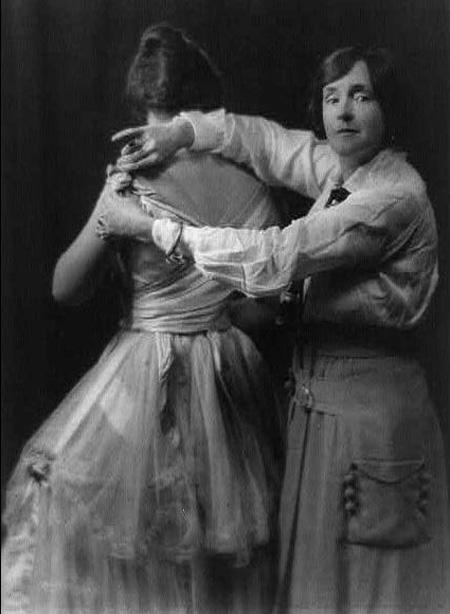 Lady Duff also invented the first demonstration of dresses on mannequins. The girls came out and showed dresses by "live" music. For each of them Lucy invented a beautiful poetic name.
She was trying to show was very nice, we can say even theatrically furnished. Fashion pre sent out invitations to guests, gave a little present after the show and treat a variety of goodies. Plateau called "pay emotions" were listed in the program under poetic names: "unfulfilled", "Sound breath" or "Bleeding soul».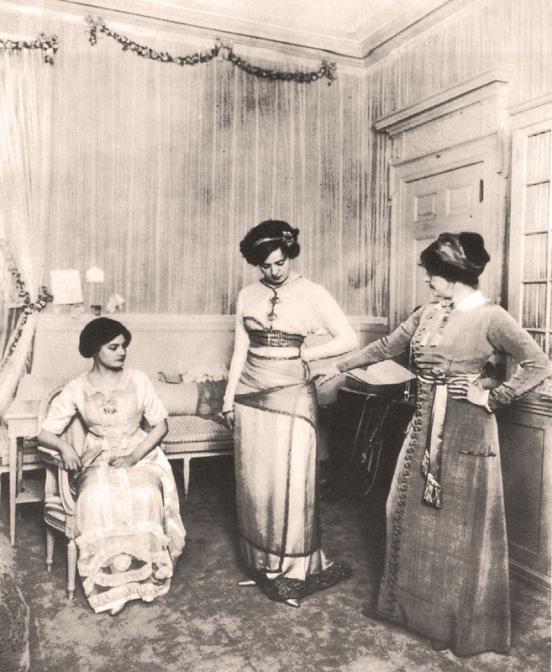 Lucy mannequins
Showing
Lady Duff also became one of the first European designers who designed the costumes for the then silent movies Hollywood. Her most famous movie star-ordered it was Mary Pickford. Since the initial stage of cinema there was no official costume designers, actors themselves bring costumes for the film to shoot. And since they are, of course, want to look gorgeous, it ordered outfits only famous couturier. In particular, at the Lucile Duff.
Also in the future of US affiliates began very famous costume designers 30s: Travis Banton and Howard Greer.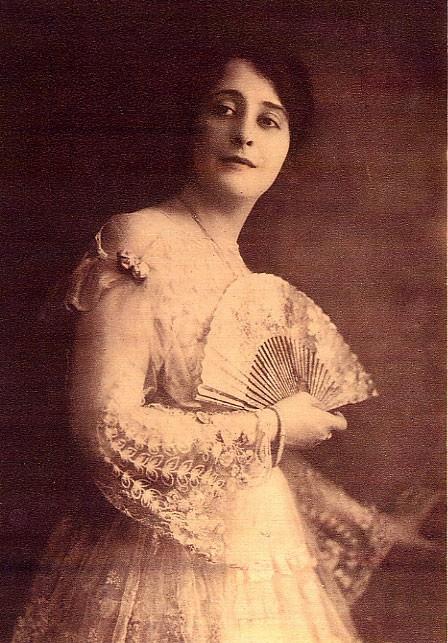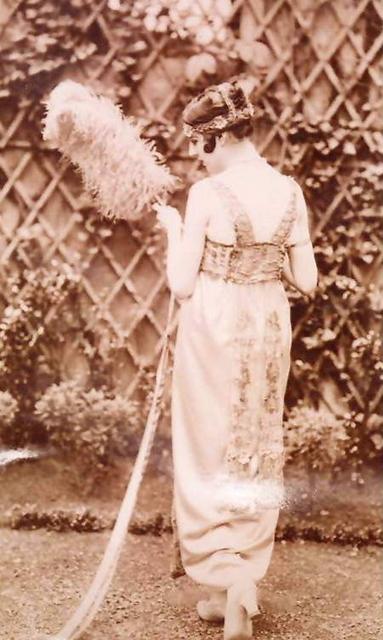 But, unfortunately, despite the huge success as a fashion designer Lucy, by 1923 it no longer had its own shares in the company Lucile Ltd. And this is a fairly common situation, especially for the present time. Its 4 offices were gradually closed, although a branch in Paris existed for a long time - until the mid-30s under the leadership of former assistant Lucy.
Until his death in 1935, she lived and worked in fashion for her: led fashion column and wrote a book with his autobiography. Lucy love for fashion, also remained in the genes of its offspring - her great-granddaughter has now created a company of lingerie «Lucile Lingerie».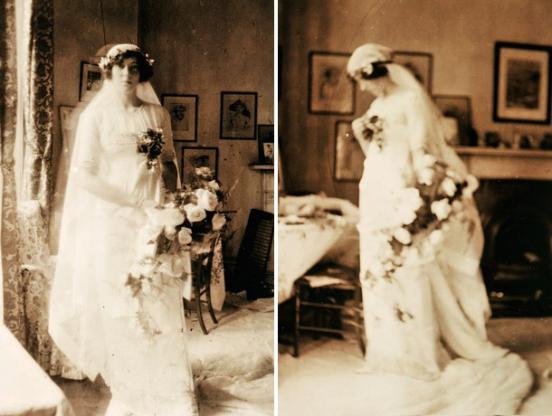 wedding dress from Lucy Duff