Such people like Florence Welch say, "not of this world ..." - and this is understandable idiom. Had he even told mimolёtom, it is absolutely fair. There is no doubt share that Florence - a 25-year-old Englishwoman stands out not only among ordinary man in the street, but also among the stars of the scene. It is not glamorous canary, and unusual in its style singer with a strong voice. Her stage images are always favorably with those of others, but, like any ordinary person interesting, Welch received negative responses to his side. Many people do not like neither the Florence or even more of its outstanding style of dress. But among connoisseurs of this fashion will always be those who will appreciate its taste appreciated. Maybe she does not present things the way we used to see (something that has at Florence by Kristen Stewart), but some of her clothes are very beautiful. I propose to look at the fifteen best bows singer who begins to become wildly popular.
In April 2012, at a party in Las Vegas Florence he performed with his group «Florence + the Machine» and showed the world even grim, but very eye-catching, dark green vintage dress unusually harmony with her hair color. Entangled print and many ruffles dress made from a simple cut dress interesting.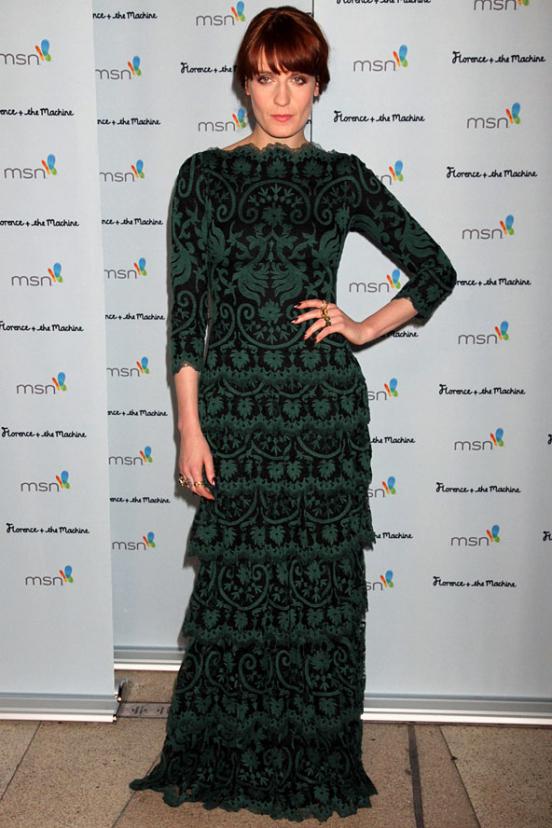 The shiny pearl dress Antonio Berardi in the spirit of rock 'n' roll '60s siren Florence appeared on VH1's evening December 2011. Light colors are too Welch, but to contrast with the aristocratic pale skin it is better to put on a little darker things. Here it looks like a Hollywood goddess of the last century and it is not bad at all.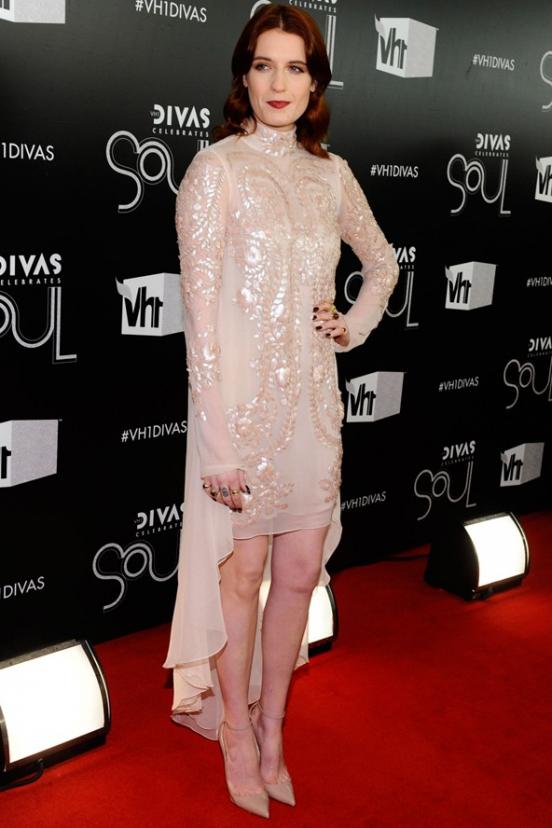 The original dress from the collection spring / summer 2012 with a particular fringe on the singer does not look the best way, but it is in itself such that adorn the only girl from a rare dozens.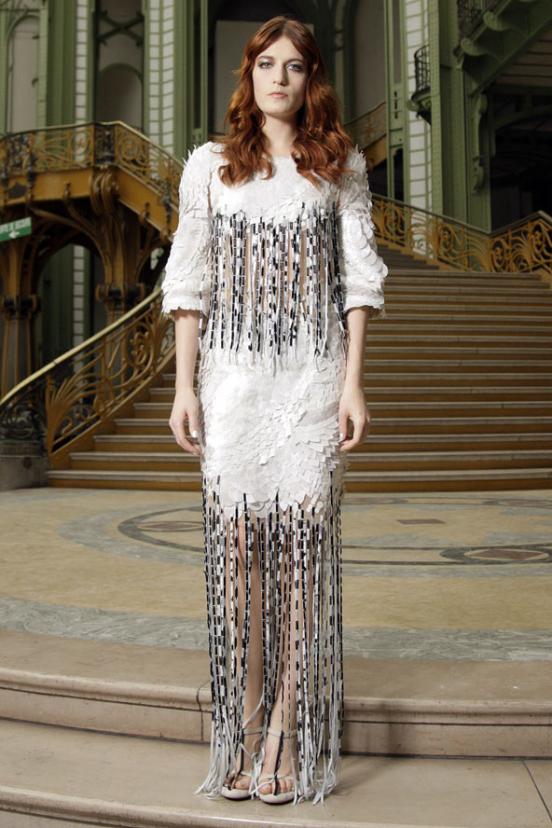 London photo exhibition in Florence and androgynous image: burgundy coat, a bright shirt and Fedor.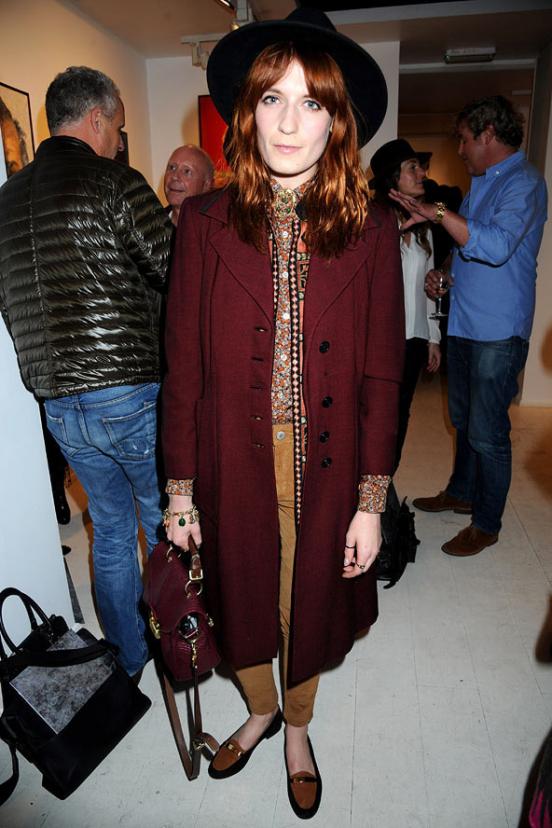 Great flying chiffon dress smartly waved in the wind last summer. In the picture the performance of Florence and her band on the show "Good Morning America."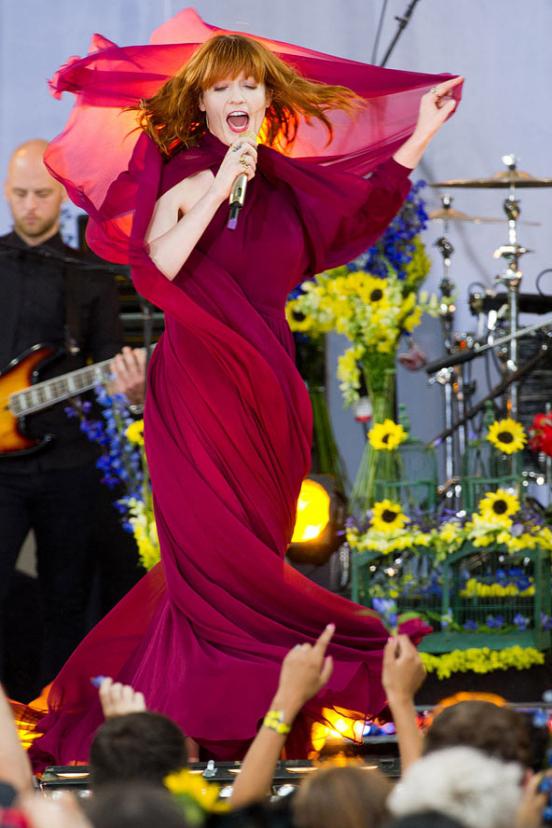 Dress bronzing Gucci - my personal favorite. It sits perfectly, and fringe gives zest.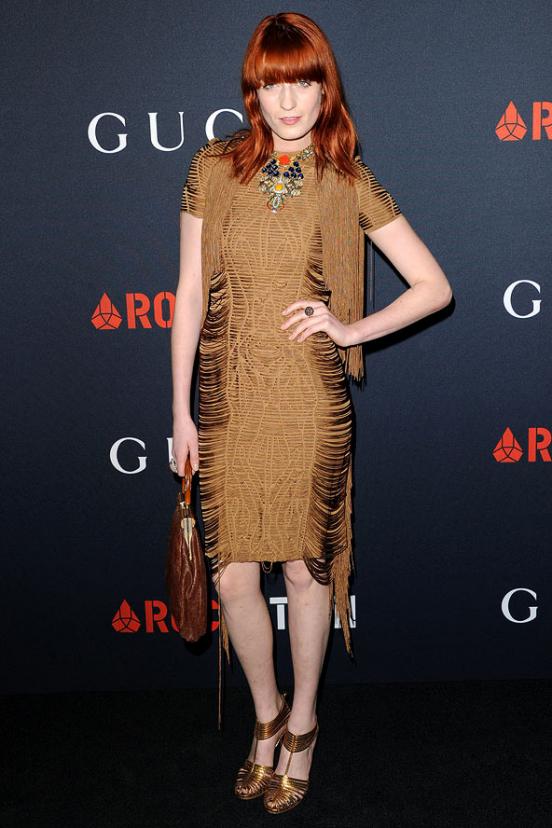 Sometimes Florence amenable glamorous trends and wears chic outfits. This dress is studded with loose jewelry, Welch demonstrated at «MTV Video Music Awards». Long zipper - is something like a piquant spices that adds image of sexuality.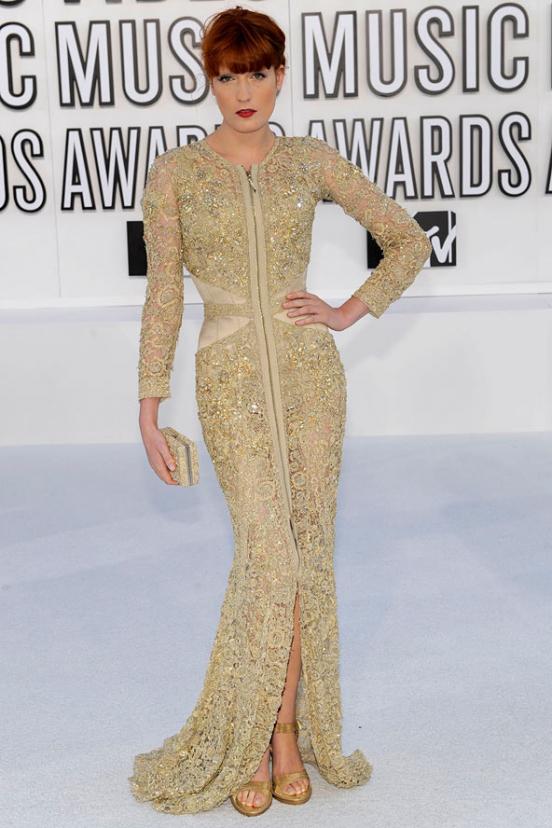 Ivory skin and red hair look great on a background of dress of the cobalt color. In this newly-air dress performed at the Florence «Oxegen Music Festival» in Ireland.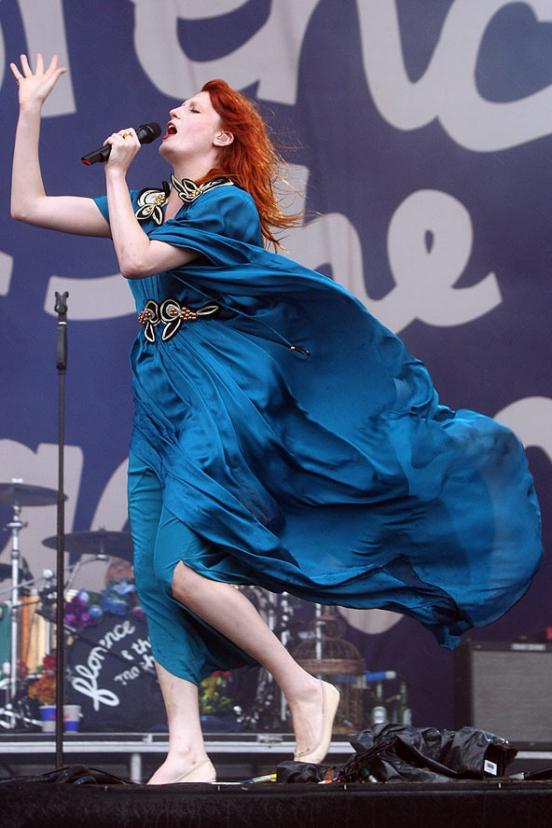 Vintage dresses nobody, apart Dita Von Teese of course, is not better than Florence Welch. Cool onions and hairstyle (haircut reminiscent of Natalia Oreiro in the early 2000s).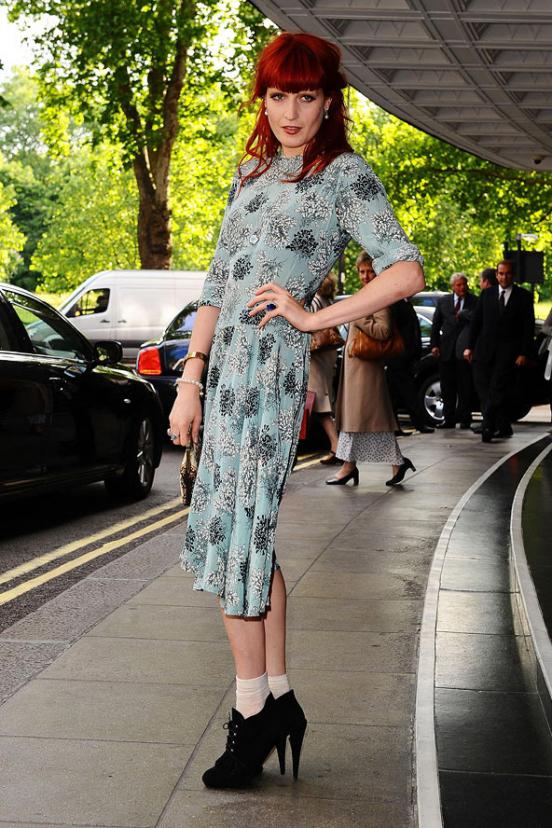 On the red carpet «GLAMOUR Women Of The Year Awards» Florence chose dark green mini dress with long sleeves. Yes, this palette to face her.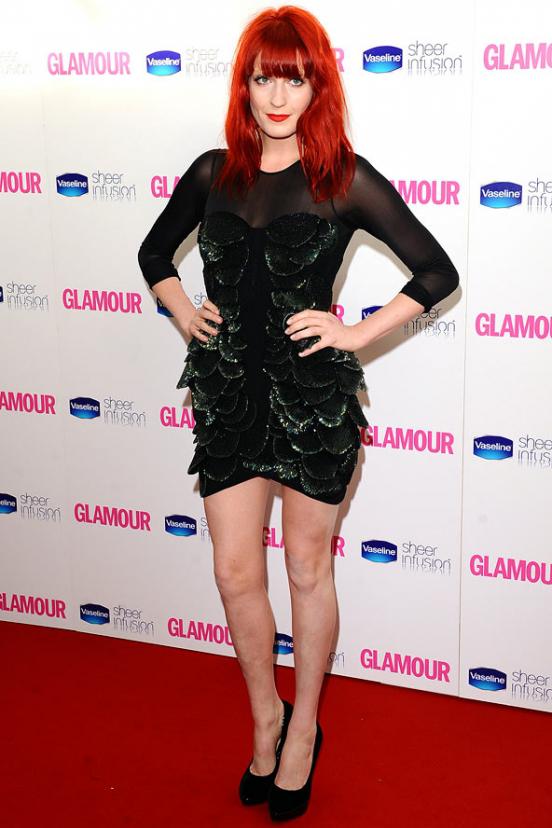 Wearing all white - is bad, you need something to dilute the color, but again there are people who are still allowed. Florence wore a crisp white mini dress, white sandals and socks of the same color. All together against the backdrop of a bold hair color and lip looks trivial and very cute.
Dramatic image of: flying white dress with gold accents.
In 2009, the singer took part in the «Barclaycard Mercury Prize at Grosvenor House Hotel» London, appeared in the Gothic onions. For today's Florence, this image would be a stranger, but three years ago she felt fine in this autfite.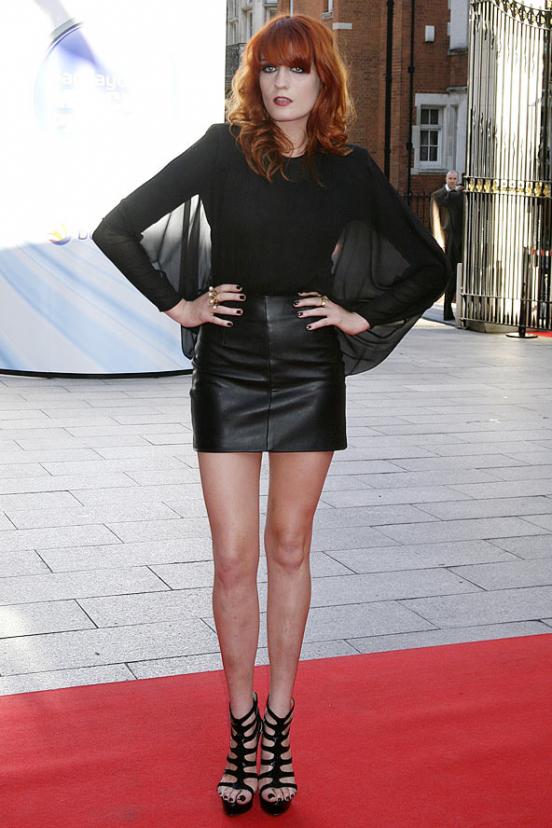 year 2009. Welch on «Barclaycard Mercury Prize».
This picture exactly four years. Such Florence was 21 years old. Since then love for vintage dresses she has not disappeared. Of course, she had a bit quirky style, but people with non-standard vision of beauty are necessary and important.