Almaty One family decided to move to live in the tropics, 13 thousand miles from home.
Let's see what it's like to live in the jungle without money and the usual creature comforts.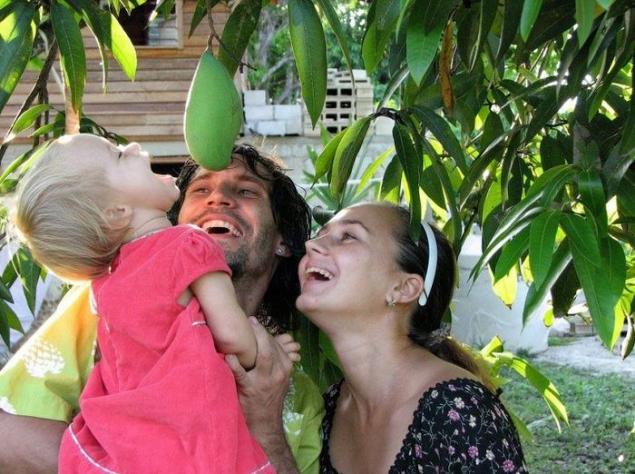 1. At first glance Borisov - an ordinary family: Andrew - a specialist in the field of Business Administration, Tatiana - a journalist, raising her daughter Aneta, now she is 2 years and 2 months. But this is only at first glance. A year ago, Andrew and Tanya threw his settled life and left the Almaty to relocate to Central America, in a little-known country called Belize. Now they live in the jungle, on the Caribbean coast.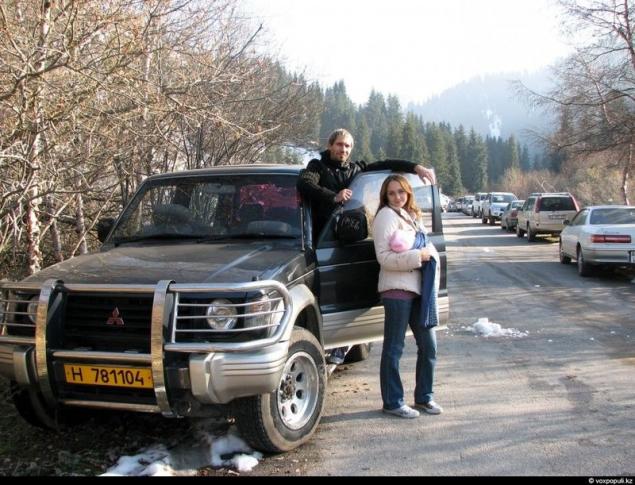 2. - In Almaty we had promising work, own apartment in a nice quiet area close to the circus. We went to the mountains, traveling - by car circled the floor of Kazakhstan, - says Tatiana. - And then suddenly realized that no longer want to sit all day in the office, stand for hours in traffic jams, to spend the weekend on shopping, movie theaters and other places of "cultural activities". I wanted to be closer to nature, to themselves and to each other.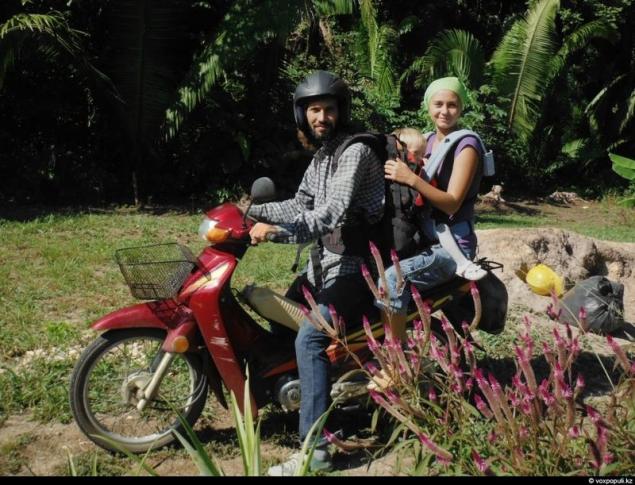 3. - No, we love Almaty, it's a great city, the best in the CIS. Insanely beautiful mountains, friendly people ... If pineapples are grown, and nearby was a couple of picturesque tropical islands, we would probably never left.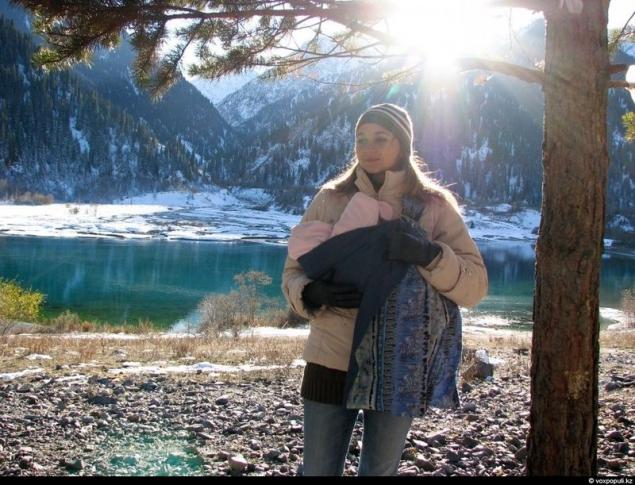 4. Pineapples and other fruits play in the life of the family role. Andrey, Tanya and Aneta - raw foodists, that is, do not eat food that has undergone heat treatment. - Several years ago, we realized that the perfect food for us - fruit and vegetables in Almaty delicious, unfortunately, only a few months a year. We just got sick there tasteless Chinese apples - that is another serious reason why we decided to go to the tropics.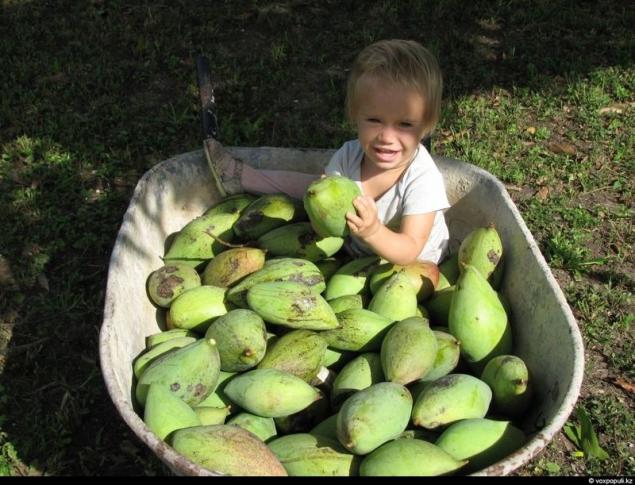 5. Selection of the country for emigration was not easy, looking for options around the world. Southeast Asia did not come, because there can not be a foreigner to buy property in the property. In Africa, the unfavorable political environment and crime. Stopped for Latin America and chose Belize - a country with simplified immigration regime, cheap real estate, low taxes, a stable political environment. And most importantly - all year round warm, near the Caribbean Sea and the unspoilt nature.
6. Belize - a small country in Central America, where only 300 thousand people. Previously, it was known as British Honduras. But local residents, apparently, did not wish to be named Hondurans, and in 1973 the country was renamed. The capital of Belize - Belmopan and largest city - Belize City, there lives a little more than 70 thousand people.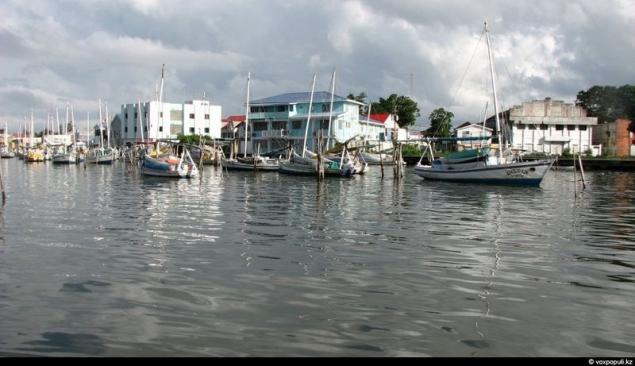 7. - Belize - very provincial country - says Tatiana. - Cities are mainly composed of the private sector, if you see the "restaurant", make no mistake - it will eatery. In general, all as in the village, something like our Uzun-Agach.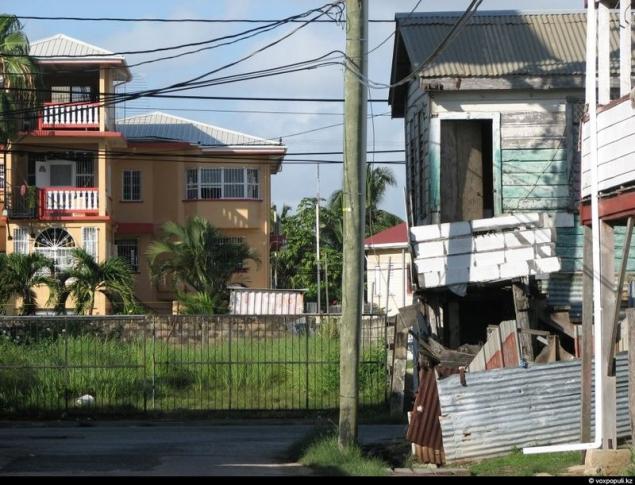 8. - Belize City and did the worst place in the country, we try as little as possible to go there. At least at night, there just is not worth to appear - criminal city. In addition, he is on the coast, and there are frequent hurricanes. In August Belizeans were waiting for the hurricane "Ernesto", but he turned to Mexico.
9. - In the capital - the city of Belmopan - quieter. But cities do not interest us, we do not knowingly fled the city. In Belize, we attracted untouched nature, good ecology, tropical forests, not yet contaminated by man.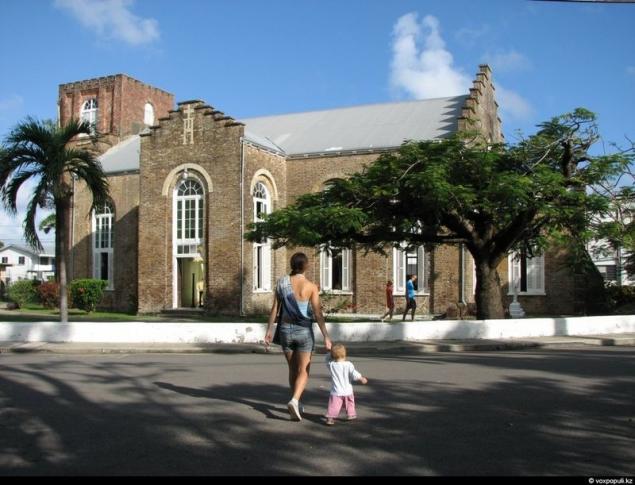 10. In the jungle Borisovs bought 10 acres of land near the coast. The nearest town - Belize City is also within reach, just 35 km away. Their dream, on the realization of which they toil - to create ecovillage and an organic farm in eco-tourism and earning, growing vegetables and fruits.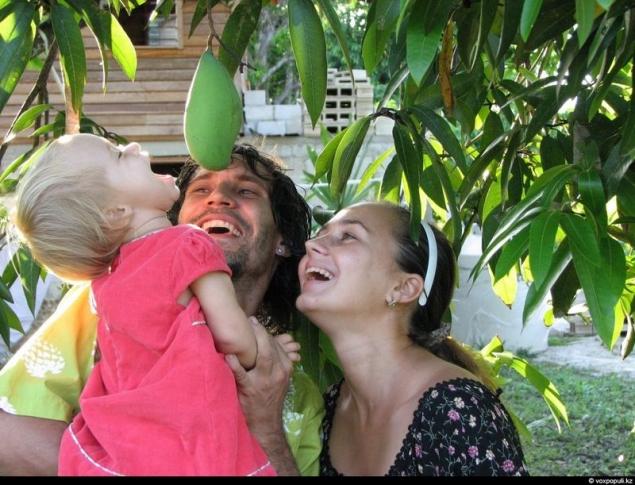 11. Now all the forces of migrants are left to build a house. For the past year they build it with your own hands, although he had had no experience in construction.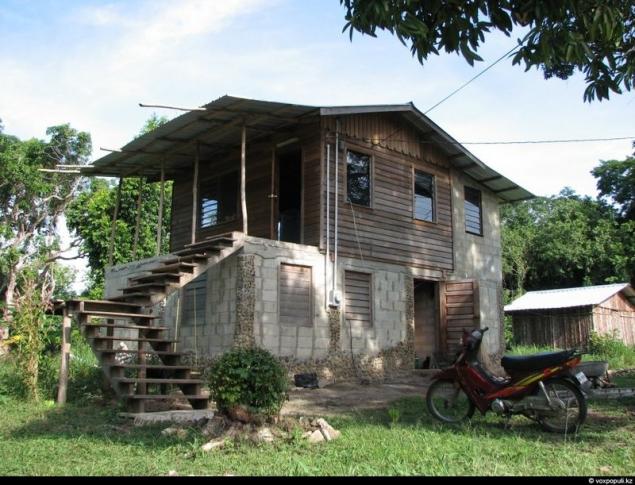 12. Fragile Tanya learned to mix cement, plaster and even deftly managed with a machete - a place for the construction had to struggle in the jungle.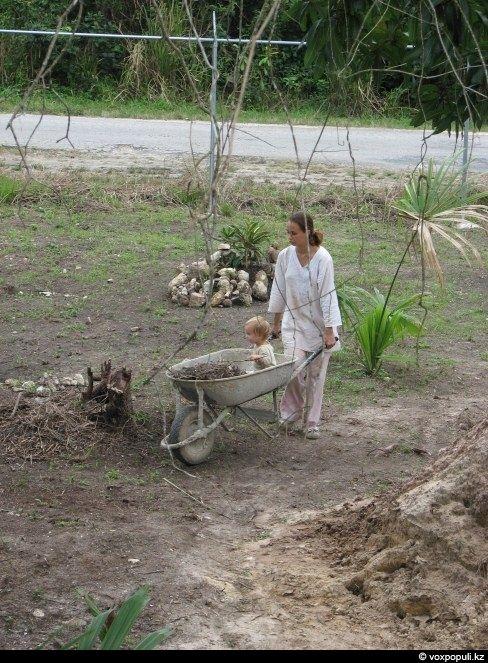 13. - First we cut down bushes, as the site was completely overgrown. Then we brought a wooden house on stilts, and took him without a ladder, and the first night had to sleep in the forest under the open sky. It was very scary. Well, after we ourselves undertook the construction, because it is much cheaper than to resort to hired workers.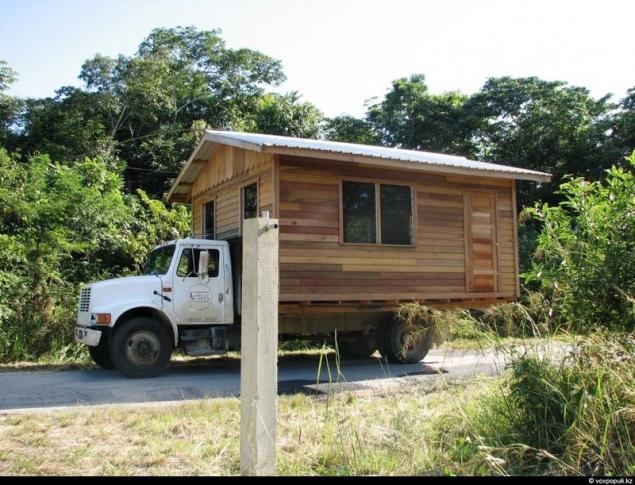 14. Stable income families now have no savings and only occasional earnings from work remotely. Tatiana, for example, writes articles for Kazakhstani and Russian glossy magazines. - We have enough. Here we spend a lot less than in Almaty, and generally try to use as little as possible with money. With neighbors we barter: we give them the tools - they give us vegetables or plants.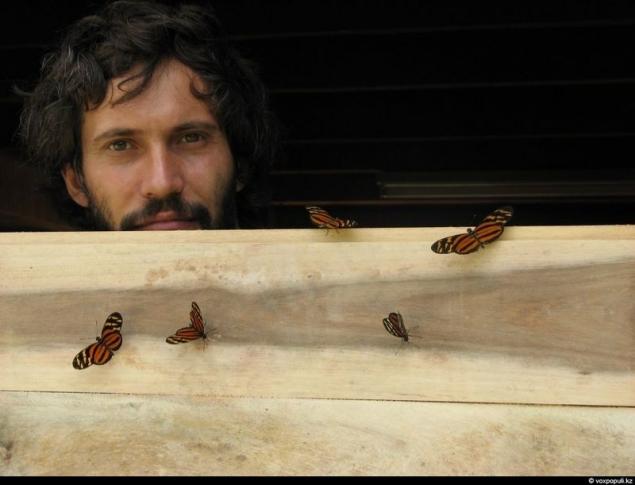 15. Such a large house built with Boris's "long-range" - plan to develop eco-tourism in Belize. Fortunately, apart from the sea and palm trees next to them, just 9 miles away, is a historic landmark - the ruins of the ancient Mayan city of Altun Ha.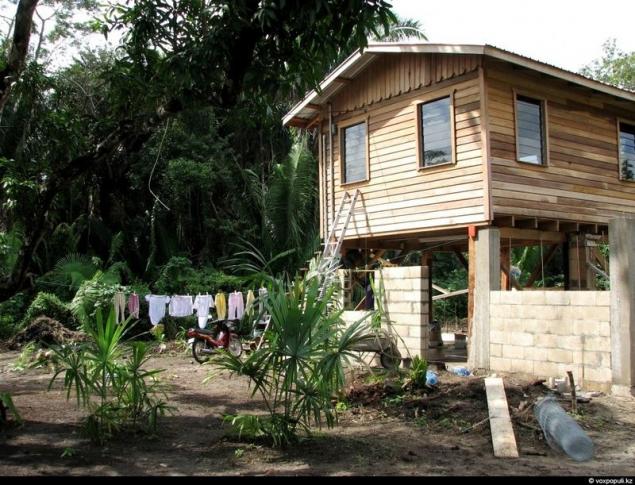 16. In addition, the family now joined the ranks of kauchserferov and plays host to travelers from around the world. Recently, for example, they stayed a Canadian artist who, in gratitude for shelter depicted by one of the walls of the house.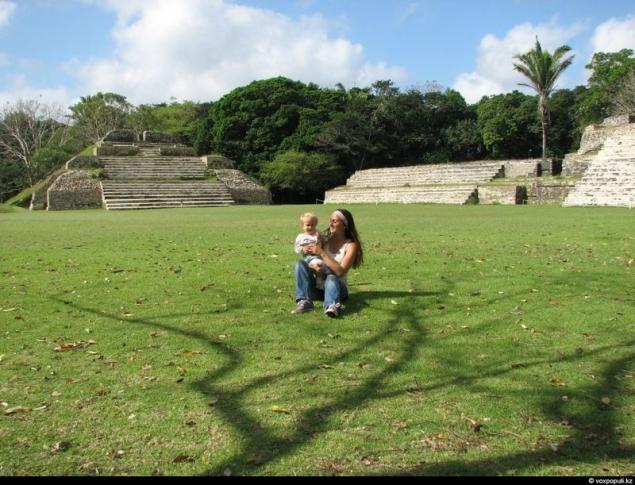 17. According to our heroes who want to stay in Belize rife - many want to spend December 2012 on the land of the Maya, the more so that now there are carnivals and ritual ceremonies in ancient temples. However, you can live in the tropics and longer - Borisov invites you to spend the winter. Application potential guests they take on their website junglia-belize.com. "Fee" for accommodation - help in setting up your home or work on a farm.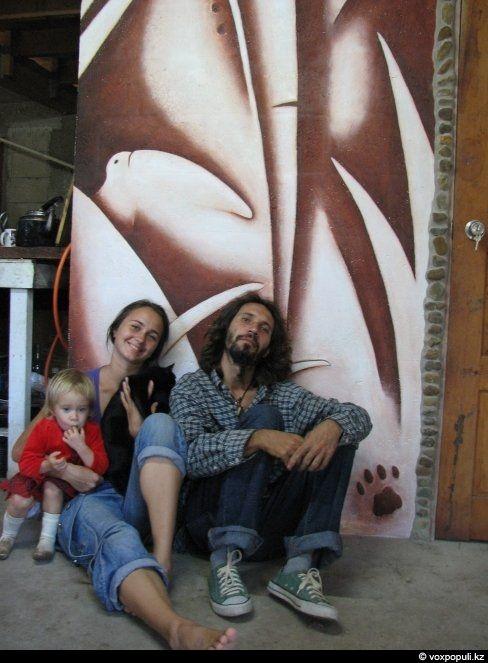 18. At their organic farm called "Daisy" is not bad grow bananas, yams (sweet potatoes), papaya and okra (tropical vegetable in the form of pods, to taste - something between eggplant and asparagus). With vegetables is more difficult: Tatyana and Andrey tried to grow tomatoes, cucumbers, squash, greens, but they immediately destroy pests.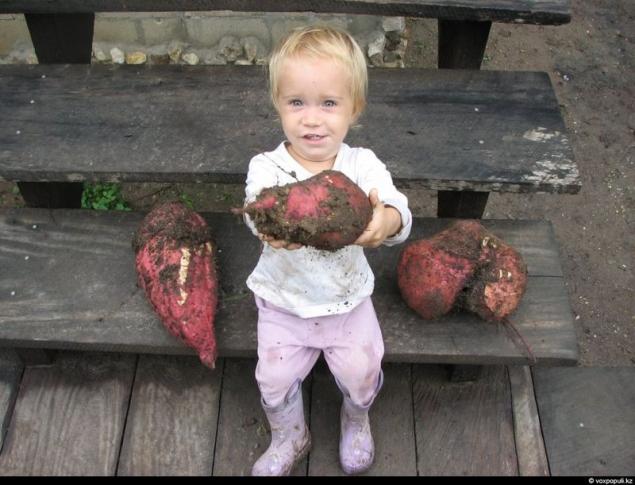 19. - We are beginning gardeners, learn from our mistakes. Chemical fertilizers are not using fundamentally, why fight weeds and pests can be difficult. On the development of high-grade organic farm needs at least three years. But we all come. For the majority of Belizeans farming - the main source of income, it inspires us.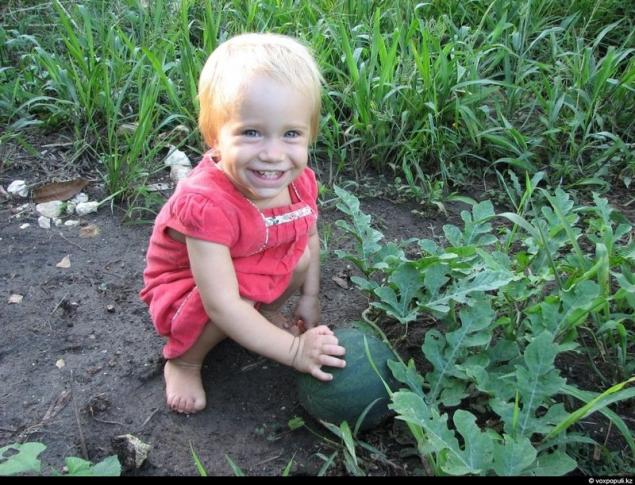 20. While grown on plantations of fruit Borisov is not even enough for himself. To the purchase is also not so simple. - Choice of local fruit is small - it is oranges ($ 0, 5, 7-10 pieces), bananas ($ 0, 5 for 8-10 pieces), pineapple ($ 1, 5), papaya ($ 0, 75), and even go for they must be within 25 miles. We need a lot of fruit, every 2 days to go after them on a motorcycle hard. Therefore, we temporarily moved from raw food vegetarianism: Eat food rice, legumes, dairy products, everything except the meat.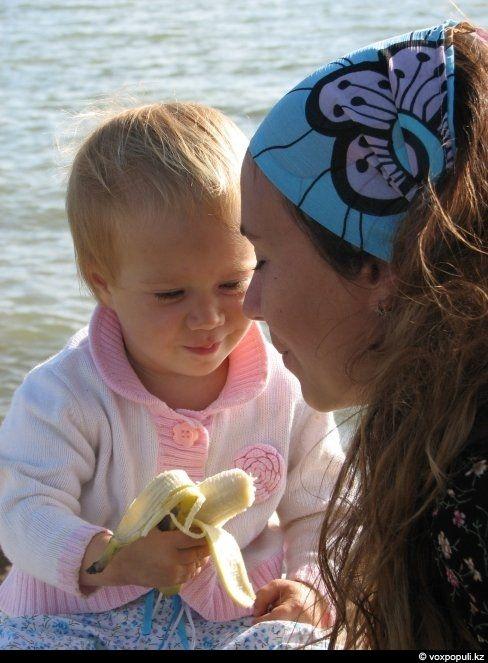 21. Our heroes have good relations with its neighbors. True, at first they wondered how these people from distant unknown country has managed to come live with him. Prior to that, they saw only immigrants from North America.
22. - Belizeans are mostly good, generous people, ready to help or share the right tools or seeds of plants. In addition, we live near the immigrants from the United States and Canada. Some have even a tennis court, swimming pool, golf course. Sometimes we go to them to rest.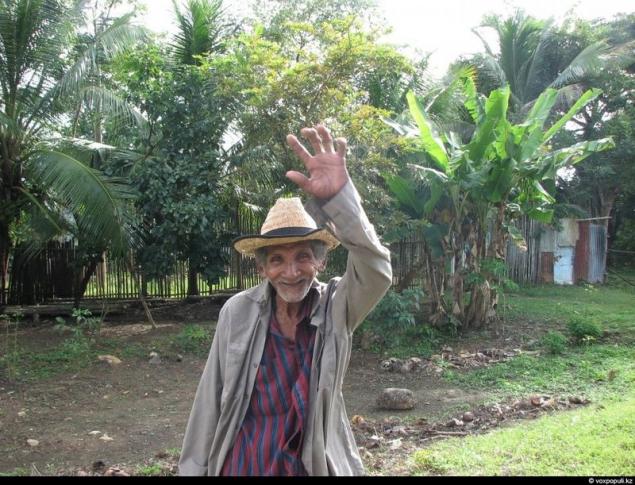 23 - Do not think that we live in total isolation from civilization. Yes, at first we did not have electricity - we lived with a candle and boiled tea on a fire. We now have electricity, mobile communications, the Internet, we were ready for a more spartan conditions.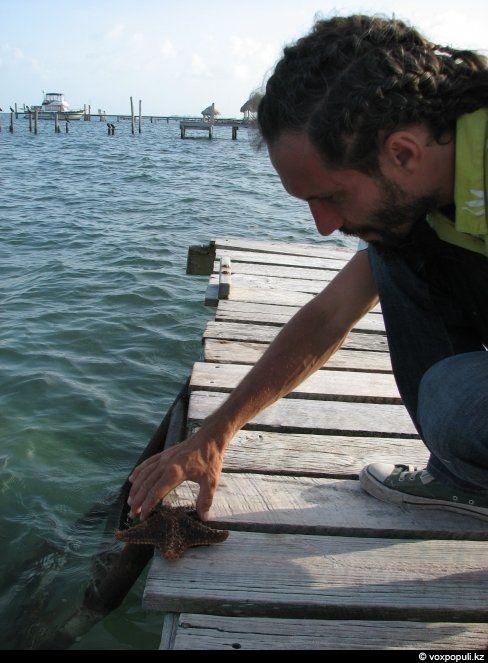 24. - We are often asked how to live in the jungle with a small child. And I think that it is much worse to live with the child in the space of 5 to 8 meters and breathing exhaust fumes for a walk. Here we do not get sick, and in which case we have a tropical forest - the best pharmacy. Education for remote Aneta plan.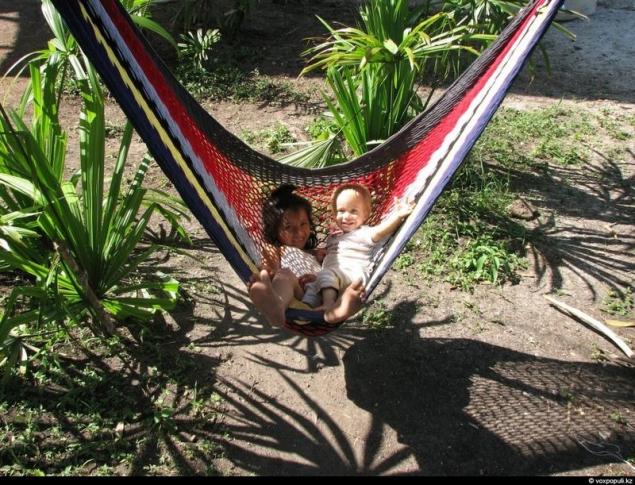 25. - Our native to the last hoped that we changed our minds to leave, and now believe that we are about to go back. But we are not guessing. Distant future we do not worry much, we rejoice in the present moment. Want to live in harmony with nature, provide for ourselves, less use of money and other benefits of civilization ... In general, take a smaller part in the destruction of the planet and more in their own spiritual development.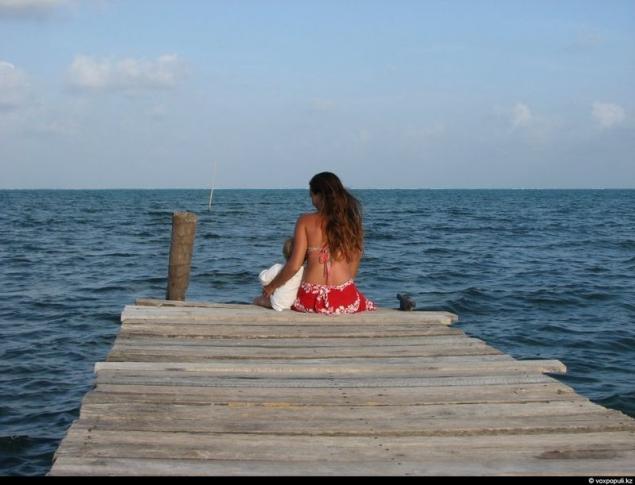 Source:
www.voxpopuli.kz