Traditional notions of the alarm, which is a panel with wires trailing from it, no longer correspond to the look of modern security systems.
Given the recent advances in the miniaturization of electronics, signaling what may look like anything way.
For example, gsm signaling can be represented as a miniature video camera with built-in wireless transmitter having a battery-powered. This alarm system is able to transmit video of what is happening in the protected area on the cell phone owner, using the wireless technology, GSM connectivity.
In another case, an alarm can be a detector with a wireless transmitter, which detect motion in a protected area, it refers to the specified mobile phone number of the SMS, delivers an alarm signal to the remote centralized protection or activate the siren. The developers of SWANN, engaged in security systems, offered a different vision of what to look for the house alarm. They created a gadget Wireless Mat Alarm at first glance does not seem more than a very ordinary doormats that lay at the entry door to it trap dirt and dust. Although, Wireless Mat Alarm properly fulfills its function rug, in fact, his appearance - a cover. The gadget is embedded wireless sensor responsive to the press: the guest is only set foot on the surface of the mat, as a signal it enters the receiving panel.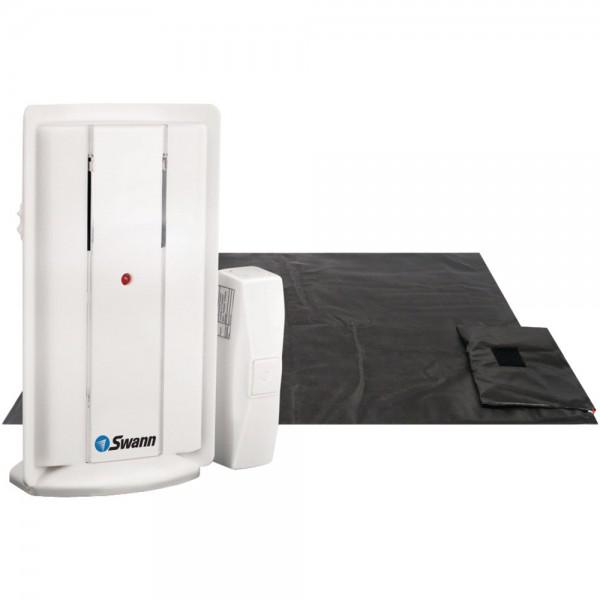 This panel can be connected to any electronic device: doorbell, regular or gsm alarm or siren will sound with a force of up to 120 dB. The receiver device should be located anywhere in the region of three meters from a wireless transmitter. Thus, Wireless Mat Alarm at the option of the owner can act as a harmless doorbell, as alarm or as a deafening siren that can rout any visitor.
Perhaps for a prosperous and law-abiding European invention like Wireless Mat Alarm may seem a good idea, but in our country with its use will certainly be difficulty. The main difficulty lies in the fact that for the majority of our fellow citizens 20 years of capitalism turned out to be too small a period to instil respect for the property of others - especially if the property is just outside the door is not bolted or locked in the castle.
For those who are still willing to risk, there is good news: Wireless Mat Alarm on sale at the biggest online store Amazon at a symbolic price - only $ 27.