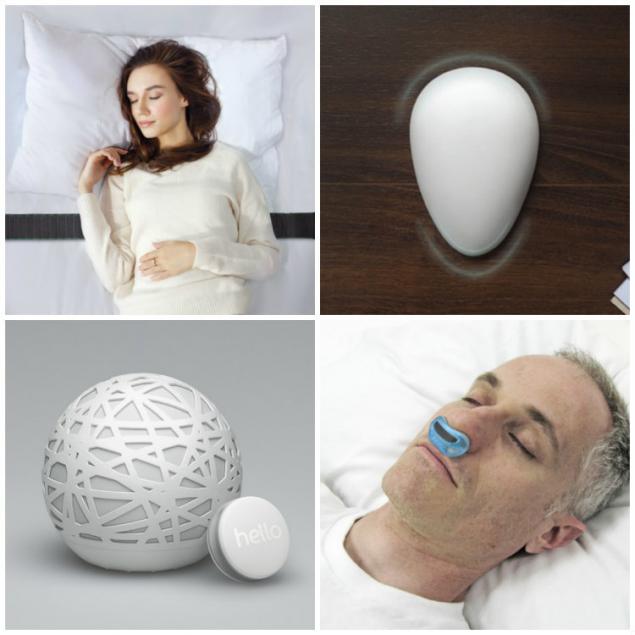 Clever gadgets so tightly into our lives, that the daytime are already no longer enough, so some of them are created in order to use them at night - to improve their knowledge. Such devices appears more and more, and has recently appeared on Kickstarter another smart device
Nora
- which reacts to and regulates snoring pillow, changing position of the head. This is a great example of how technology is making human life more comfortable, and the rest - full
In this regard, we decided to recall what has created interesting to us to know you better sleep. Spoiler: all with kraudfandingovyh sites.
RestOn h3>
RestOn (review on GeekTimes) - flexible strip similar Beddit, which in turn all bought Misfit, to sell to its logo, which in turn now продан Company Fossil . That is how.




An important difference is that one of them - Beddit - powered from the network, while RestOn internal battery. Gadgets are located under the sheet, and for the night monitoring the heartbeat and breathing, which is important if you want time to prevent violations, such as apnea syndrome dream , which is a major cause of oxygen deficiency with all its consequences.




The gadget is designed To sleep one ! Some more details about devayse в catalog Medgadgets .


Airing h3>
Airing - another device that immediately взлетел on Indiegogo , is an analogue of the oxygen canister for people who are afraid of sleep apnea. A small thing is to "push" the air during sleep, and small size allow to take it with you anywhere!





Nora h3>
Returning to the Nora . This, of course, not a medical invention and the causes of snoring, of which there are many, it can not cope. Rather, it will eliminate the consequences of a bad mood and lack of sleep for you and family members.



But it is - is not the first concept of its kind. At the time, there was an interesting acoustic "nanosnik» - Silent Partner < / , which blocked the sound waves so they do not reach the partner.





Remee h3>
Remee - Mask of lucid dreaming, studying the history of which is already leading our blog . The device represents a flexible electronic stuffing in the form of a mask, which is set the timer for a quick (REM) phase of sleep, and then starts sending personalized "the diode pattern", which serves as an external stimulus, stimulating lucid dreams.



Psychologists believe that this form of Dreams promotes creative thinking, citing the example of the periodic table, and in clinical practice, this method simplifies the fight against nightmares. Track and monitor the phases of sleep can and using bracelets that react to human movement during sleep and some suggest in any phase and at what time of night you stayed.

The quality of sleep can be evaluated and by means of special systems exclusively designed for this purpose. For example, Sense, which includes temperature sensors, humidity, light. That is, the device evaluates not only the quality of sleep, but the "suitability" of your room to sleep was comfortable.



And it looks "piece of iron" as a bold interior solution, which is also for many people is becoming increasingly important!


aXbo Couple h3>


Smart Service, working in conjunction with a pair of wristbands. Data obtained from the system wristbands allow you to select the best time to wake up one person or a couple.

To install the system you need to set an alarm, and to activate the sensor in the wristband. The temporary "window" to wake up - about 30 minutes.


AcousticSheep h3>
Life hacking on how to fall asleep faster, the company has developed a AcousticSheep , with which we also have you familiar < / a>. Their proposal - soft earphones bandage to sleep SleepPhones, without fear that will allow for the design, fill them with your favorite music or recommended.



Headphones are made of comfortable material and exist in wired and wireless versions. Sami speakers recoverable, which allows you to erase the headband. They are not broken and does not deteriorate, and if you fall asleep with them - will not cause discomfort.


Sleep Cycle Alarm Clock h3>
If desired, a third-party gadgets do not use, but the quality of sleep as a detector to work with your phone (no matter, iOS or Android). To do this, the application is installed on the smartphone Sleep Cycle , and the device itself placed under the sheets. It's cheaper than buying a tracker of sleep, but it should be understood that the functionality of this method is limited. However, telephone collects large amounts of data, and provides the user with information about the process of sleep (statistics may be daily, weekly).



Have Sleep Cycle and intelligent alarm clock that keeps track of the appearance of light sleep phase by time-lapse-up call, and gives the signal. Waking up is so much easier than using a conventional alarm clock.

By the way. A recent survey among the Dutch showed , people aged between 25 and 34 admit that the use of smartphones and tablets have a negative impact on their intimate relationships with partners . And this is another reason to take to the bedroom only useful gadgets.

Good night!

Source: geektimes.ru/company/medgadgets/blog/266178/