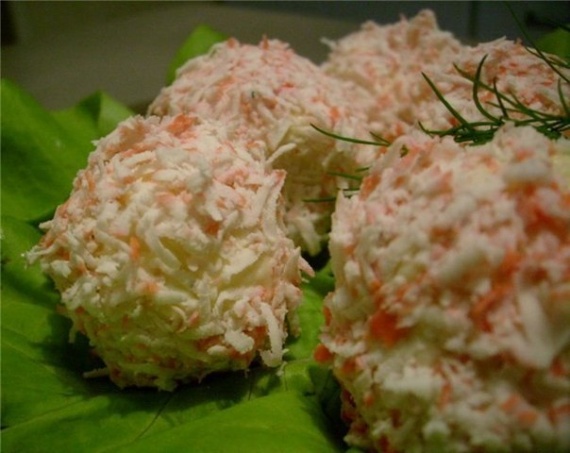 Ingredienty
200 g krabovyh palochek (krab.myaso).
150 g plavlennogo syra "Druzhba».
2 otvarnyh yaytsa.
2 zubchika chenoka.
Method prigotovleniya
Predvaritelno plavlenny cheese ohladit (luchshe put in the freezer nA nekotoroe TIME) to be able to nateret nA large terke. Krabovyh palochek tak zhe nateret nA large terke. Natertye cheese and krabovye palochek smeshat, dobavit melko porublennye yaytsa and large screen zubchika chesnoka, predvaritelno natertye nA melkoy terke.Dobavit sovsem nemnogo mayoneza. Sformirovat nebolshie shariki, obvalyat in predvaritelno natertoy krabovoy struzhke. Postavit in the refrigerator.
Kolichestvo Servings: 6