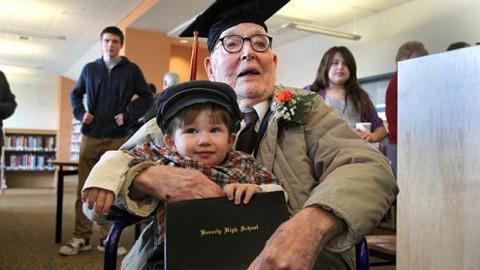 Was Fred Butler Beverly mechta.No not from the fact that in California, and that in Massachusetts. Imagine - a man raised five children lived sixty-five years of marriage, but it turns out he had a thing - he always remembered that he does not have a high school diploma.
At one time, for family reasons he was able to finish school - after the ninth grade he had to go to work. His father died, and Fred found himself in the company of a senior five brothers and sisters. Therefore, the study had to forget about.
Children and grandchildren as he regularly encouraged in the learning process. What did not work for himself - will let them.
Well, the children and grandchildren of Butler, knowing about the dream of the patriarch, organized a surprise for him with the award of the certificate. Everything was as it should be - welcoming ceremony, black robes, cap with a tassel. The mayor presented the pensioner coveted document. Thanks for the years of work at the local water utilities. And the old man excited assured that it is a real certificate and handed him over a set of life achievements. A pass any further examinations to confirm knowledge is not required.